Rochester's rich culture has provided inspiration for many literary works over the years. Local authors take our area's distinct elements — heritage, geography, tones — and use them to tell stories, create imagery, and ultimately touch others. City spoke with five of Rochester's need-to-know authors to find out how the city has affected their work.
Rochester is full of talented and inspiring authors, but we only had room to profile five in this year's Annual Manual. Whose work do you love to read? Let us know online at rochestercitynewspaper.com.
Peter Conners
Rochester is a major character in Peter Conners' most widely-known work: his memoir, "Growing Up Dead." It tells the story of Conners' obsession with the Grateful Dead as a young adult, and how it changed and consumed his life. He considers it to be one of the most defining works of his career. "It ended up resonating with a lot of different people," Conners says. "Anyone who is obsessed with music can understand the feeling of being moved by it."
Conners grew up in the Rochester suburbs, and his local roots have inspired his other writings. He credits the area's weather with giving his writing a distinct tone. "I think there's a color palette that goes along with Rochester," he says, "which I would describe as gray. Living here has tinted my writing gray. It's not negative — it's just the shadings we live with."
PHOTO BY ASHLEIGH DESKINS
Peter Conners wrote his memoir, "Growing Up Dead," about his youth as a Deadhead in Rochester's suburbs.
Today, Conners has settled into Rochester. "I have three kids here and my family is here," he said. In addition to writing, he also works as a publisher with BOA Editions, Ltd., which is approaching its 40th anniversary. Conners just finished his newest book, which is set to come out this fall. He describes the book, "The F*ck It List," as a sort of "anti-bucket list." "I took people's bucket lists and went through and deflated the premise of them. It's a collection of fiction, non-fiction, poetry, and other works. They're fun little pieces."
You can find out more about Peter Conners at growingupdead.com.
Gregory Gerard
The Catholic nature of the Rochester area had a large impact on Gregory Gerard's upbringing — the writer grew up in Macedon and attended McQuaid Jesuit High School. "As a gay man, I grew up struggling with the gay Catholic issue," he says. "I wanted to share my story with others who might be struggling, too."
This was the inspiration for Gerard's first published work, a memoir titled "In Jupiter's Shadow." Although the book was met with a lukewarm reception from his alma mater, Gerard was determined to reach young people who might be struggling with religion and sexuality. He recorded a video for the It Gets Better Project, an outreach program designed to inspire hope for LGBT youth facing harassment.
Gerard has also been teaching writing courses at Writers and Books for nearly seven years. "I took my first writing courses there, and it helped me in a lot of ways as a new writer," he says. "I love that I get to encourage other writers and see what they write. Rochester is a wonderful city for creativity." He calls Writers and Books a "gem of a resource," and says that Rochester is a perfect city for those who love to "hole up and write."
In 2014, Gerard took on a new project called "The Big Brick Review." Inspired by the San Francisco-based journal, "Tiny Lights," "The Big Brick Review" receives personal essay submissions and posts them online. As of this time, all of those submissions come from an annual essay contest — the deadline for the inaugural contest was February 15, 2015 — and Gerard says he received nearly 75 submissions.
He is also working on a fictional series called "The Martini Chronicles." "It explores and celebrates the friendship between single gay men and married straight women," he says. "Each week, they meet at a bar called The Martini Chronicles and have conversations. Every chapter is a new week and conversation." The series also features martini recipes concocted by Gerard's husband, whom he is now married to after 17 years of partnership.
You can find more about Gregory Gerard at gregorygerard.net.
Jennifer Grotz
Jennifer Grotz, an award-winning poet and writer, moved to Rochester from Texas seven years ago to take a job as an Associate Professor at the University of Rochester. "I've written quite a few poems with snow in them since my arrival," she joked.
Poems from her many collections have been featured in The New Yorker as well as the Best American Poetry anthologies in 2000, 2009, and 2011. She also recently won a Rona Jaffe Foundation Writers' Award, a $25,000 fellowship that she said has allowed her to concentrate on her poems in a way she hadn't been able to previously.
Grotz says she thoroughly enjoys teaching at UR, where she has classes in poetry, literature, and literary translation courses. In addition to teaching, she is involved with Open Letter, the University's non-profit literary translation press. Translating is one of her passions. "It's a great way to keep up one's [language] skills," she said, "but more importantly, it's a great way to be continually expanding our access to literature in the United States."
Be on the lookout for two upcoming releases from Grotz, starting with her first translated novel this fall. The novel, called "Rochester Knockings," is by French-Tunisian writer Hubert Haddad. Set in 19th century Rochester, it tells the story of the birth of American spiritualism from a French perspective. In February 2016, Grotz's latest book of poems, "Window Left Open," is due out.
You can find more about Jennifer Grotz at rochester.edu/college/eng/people/faculty/grotz_jennifer.
Sonja Livingston
Sonja Livingston was born in Rochester, is a graduate of East High School and SUNY Brockport, and has spent much of her life here. As a result, "The city is the bedrock of my work," Livingston said via email. Her best-known work, an award-winning memoir called "Ghostbread" purposefully shines a light on the city. "It was written in part because I thought people didn't have a good understanding of our region, both in terms of the positives and the challenges," Livingston said. Most of her work draws on personal experience. "As a writer, I draw on the people and places from my own life," she said. "Most writers seek some sort of truth, and I find the most resonant truths are smack-dab in front of us, in our own busy broken beautiful lives."
Today, Livingston is based in Memphis and works as an Assistant Professor in the MFA program at the University of Memphis. However, she and her husband still have a small house in Rochester and they try to divide their time between the two cities.
Livingston says that visiting local schools and community groups has been one of the most rewarding parts of her career. "It's great to hear from kids in Rochester and Albion who are shocked and happy someone wrote about the places they know." She has also spoken at Foodlink's annual conference, Women Helping Girls, and is scheduled to speak at Rochester Area Interfaith Hospitality Network's (RAIHN's) annual Car City fundraiser in May.
Livingston's latest book, "Queen of the Fall," considers the lives of girls and women — Livingston drew from her interactions with local icons and local kids that she grew up with and counseled. Livingston is scheduled to do local readings in the spring. Another book, "Ladies Night at Dreamland," is due out next spring. Its title comes from an old dance hall at Lake Ontario that burned down in 1923. She said she is hoping to celebrate the book's launch locally: "I'm already trying to decide which local venue to recreate into Dreamland for the launch party."
Find out more about Sonja Livingston at sonjalivingston.com.
Joanna Scott
Scott grew up in Connecticut and has lived in Rochester since the late 1980's. She has published 11 books, a mix of novels and collections of stories, to critical acclaim. Her list of awards and honors is not short — she is the recipient of a MacArthur Fellowship, a Guggenheim Fellowship, and the Lannan Literary Award for Fiction, just to name a few. In addition to her impressive list of accolades, Scott told City, via email, "I once received a really nice letter from Jacqueline Onassis after she'd read a story of mine in The Paris Review. That was pretty cool!"
Several of Scott's books are set in and around the city of Rochester. Her novel, "The Manikin," draws on the legacy of Henry Ward's Natural Science Establishment. Another novel, "Make Believe," showcases the struggles of Rochester families in a contemporary setting. The geography of Rochester has even inspired her fictional landscapes — the novel "Follow Me" recounts the journey of a woman as she follows a fictional river that was modeled on the Genesee.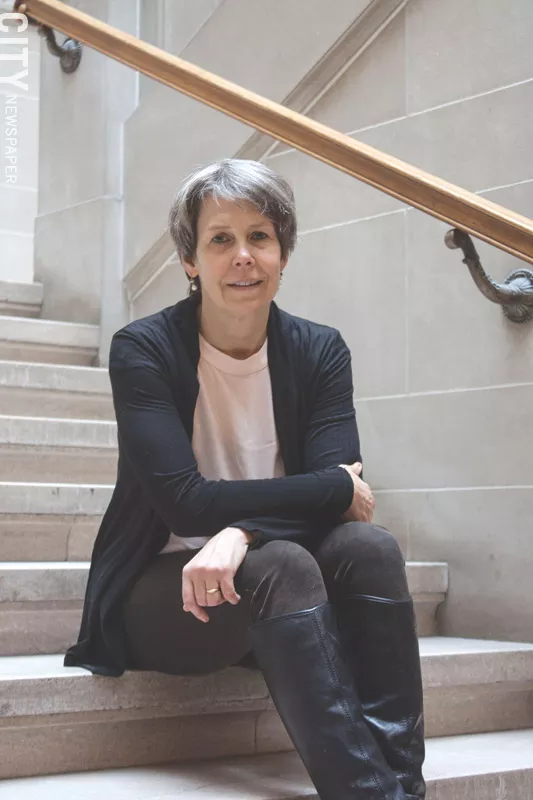 PHOTO BY ASHLEIGH DESKINS
Joanna Scott is the director of The Inspiration Project, a program that works with adults with special needs to provide opportunities for literary expression.
Scott has also been involved with local arts organizations, including Writers and Books and The Arts and Cultural Council. She is the director of The Inspiration Project, a program she runs in collaboration with CP Rochester. The program, which will celebrate its 5th anniversary this year, works to give adults with special needs opportunities for literary expression.
Scott is a professor of English at the University of Rochester and teaches courses in fiction writing, and modern and contemporary literature. Currently, the Department of Rare Books, Special Collections, and Preservation at Rush Rhees Library at the University of Rochester is hosting an ongoing exhibit called "To Travel Is To Live," which features many of the letters, diaries, and pictures that inspired Scott's most recent novel, "DePotter's Grand Tour." "The curators have done a terrific job arranging the materials," she said.
You can find more about Joanna Scott online at joannascottbooks.com.