Progressives undoubtedly hoped they'd have an ally in President Hillary Clinton — even if she wasn't far enough left for many of them. Instead, with Donald Trump, progressives will face a president who is apathetic at best and hostile at worst to their causes and concerns.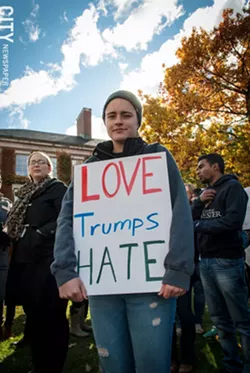 PHOTO BY RYAN WILLIAMSON
Tori Fox St. Jacques at the "Not My America" rally held in the University of Rochester's Eastman Quadrangle last week. Several hundred people turned out to protest Donald Trump's election.
The initial signs aren't good. President-elect Trump appointed Myron Ebell, an outspoken skeptic of climate change, to oversee the transition of the Environmental Protection Agency. And you can probably wave goodbye to the Affordable Care Act.
Locally, some activists say they are worried, but they're not giving up. They need reassurance that their state and local officials, as well as the community, will fight with them, they say. And you can still lobby state and local governments for progressive policies and causes.
Rochesterians can push City Council to pass its recently released Climate Action Plan, for example, and they can display a Gay Pride flag to show solidarity with the LGBTQ community. Stay vigilant and make sure that hate and abuse are challenged, says Scott Fearing, executive director of the Gay Alliance of the Genesee Valley.
"Everything he has been saying is negative — there's nothing positive about him," says Ayan Abdi, job/career placement assistant at Rochester Refugee Resettlement Services, about Trump. "That scares you, especially when that person is elected to be president."
The refugee community needs to hear that elected officials and the broader Rochester community have its back, she says.
Many opportunities exist locally for people to keep the work going to advance progressive causes. If your organization is missing from the following list, you can email your group's name, contact information, and a brief description to
themail@rochester-citynews.com
. We'll add it to the list, which will be kept up on this site.
Action for a Better Community,
www.abcinfo.org
AAUW Greater Rochester Area Branch,
rochester-ny.aauw.net/
BLACK,
www.facebook.com/BLACKlife585/
Black Lives Matter Upstate New York,
www.facebook.com/BLMUpstateNY/

Center for Disability Rights,
http://www.cdrnys.org/
Christians Witnessing for Palestine,
cw4p.org

Citizens' Climate Lobby, Rochester chapter,
http://citizensclimatelobby.org/chapters/NY_Rochester/
Enough is Enough (police brutality),
www.facebook.com/enoughisenoughROC/
Facing Race, Embracing Equity,
www.facebook.com/FacingRaceEmbracingEquity/
Flying Squirrel Community Space (activist space),
www.thesquirrel.org
Gay Alliance of the Genesee Valley,
www.gayalliance.org
Genesee River Watch,
www.geneseeriverwatch.org

Greater Rochester Coalition for Immigration Justice,
https://www.facebook.com/GRCIJ/
Green Party of Monroe County,
www.greenrochester.org
Ibero-American Action League (Latino-Hispanic advocacy),
www.iaal.org

Interfaith IMPACT of New York State,
http://www.interfaithimpactnys.org/
Islamic Center of Rochester,
www.theicr.org
Jewish Federation of Greater Rochester,
jewishrochester.org
Judicial Process Commission (criminal and social justice),
www.facebook.com/Judicial-Process-Commission-JPC-118090944937992/
La Cumbre (Latino-Hispanic advocacy),
www.roclacumbre.com
Metro Justice (social and economic justice),
www.metrojustice.org

Monroe County Young Democrats,
https://www.facebook.com/monroeyoungdems/
Mothers Out Front (environment),
www.mothersoutfront.org
M.K. Gandhi Institute for Nonviolence,
www.gandhiinstitute.org

National Coalition Building Institute,
http://ncbi.org/
Occupy Rochester,
www.facebook.com/groups/OccupyRochester/
Planned Parenthood,
www.plannedparenthood.org

Planned Parenthood of Central and Western New York,
www.ppcwny.org
ROCitizen,
www.rocitizen.org
Rochester Area QUeer Empowerment Together,
https://www.facebook.com/events/733733940108558
Rochester Free Radio,
http://www.rochesterfreeradio.com/
Rochester and Genesee Valley NYCLU,
www.nyclu.org/gv

Rochester Intersectional Anti-Fascist Network,
https://www.facebook.com/Rochester-Intersectional-Anti-Fascist-Network-190384684753280/
Rochester NOW,
www.rochesternow.org

Rochester Pachamama Alliance,
https://www.pachamama.org/
Rochester People's Climate Coalition,
www.rochesterclimateaction.org
Rochester Refugee Resettlement Services,
www.rochesterrefugeenetwork.org
Rochester Street Medic Collective,
https://www.facebook.com/RocStreetMedics/?ref=nf
Rochester Youth Means Change,
https://www.facebook.com/Rochesters-Youth-Means-Change-341589243490/
Sierra Club (environment),
www.sierraclub.org/atlantic/rochester

Showing Up for Racial Justice (SURJ) Rochester,
www.showingupforracialjustice.org
Sojourner House,
www.sojournerhouse.org
Susan B. Anthony Center at University of Rochester,
www.rochester.edu/sba/

Sweet Beez (advocacy for honeybees, climate change, renewables advocacy),
www.sweetbeez.org
Take Back the Land (housing for all),
www.facebook.com/TakeBackRoc/
Urban League of Rochester,
www.ulr.org

Volunteer Legal Services Project of Monroe County, Inc.,
vlsprochester.org
Wilson Commencement Park,
www.wilsoncommencementpark.com
Workers Justice Center of New York (advocacy for farmworkers),
www.wjcny.org
Working Families Party,
www.facebook.com/rochesterworkingfamilies/
YWCA (racial equity programs),
www.ywca.org