For some artists, winter makes the world come alive
If you think winter can be summed up by the words "cold" and "dreary," you're not looking close enough. Overcast skies scatter light, which shows off the vibrancy of normally subdued hues. And through the talents of some of the area's artists, we can re-learn how to appreciate the crueler months.
Rochester- and Western New York-based artists know how to depict the fun activity, the cozy themes, and the unexpected beauty of the season. A selection of historic and contemporary winter art follows — get inspired and go outside. Jessica Martin at Memorial Art Gallery and Jamie Allen at George Eastman Museum provided information and helped with research for some of the historic artworks that are talked about below.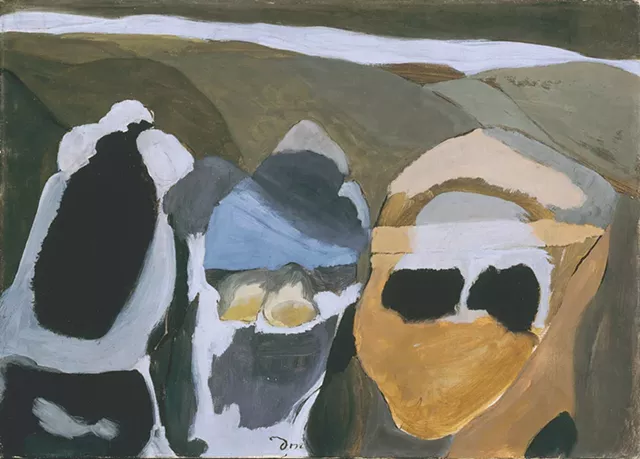 PHOTO PROVIDED
Arthur Dove, "Cars in a Sleet Storm," Memorial Art Gallery collection
Arthur Dove, "Cars in a Sleet Storm," Memorial Art Gallery collection
Painted in 1938 by Geneva, New York-native and artist Arthur Dove, this oil painting reveals a world imaginatively transformed by icy water streaming from the sky. The rolling, rural terrain is reminiscent of winter days a touch too warm for snow to stick, leaving the rich earth of the hibernating fields exposed and drenched under moody skies.
Of his abstract work, the artist commented, "... I no longer observed in the old way, and not only began to think subjectively but also to remember certain sensations purely through their form and color, that is, by certain shapes, planes of light, or character lines determined by the meeting of such planes."
PHOTO PROVIDED
W. Elmer Schofield, "Lower Falls,"Memorial Art Gallery collection
W. Elmer Schofield, "Lower Falls," Memorial Art Gallery collection
When Walter Elmer Schofield (a Pennsylvania native) came to Rochester in March 1915 to exhibit his work at the Memorial Art Gallery, he braved the cold weather to paint a few large canvases outside. His dedication caught the eye of a passing news photographer who took his picture for the paper as he stood by his easel on the Driving Park Bridge overlooking the Lower Falls.
This painting is from that trip to Rochester. Schofield captures the mighty, muddy Genesee River cascading over Lower Falls, and the sweep of the city beyond. Though the rushing waters look murky, Schofield's greens and yellows balance the icy blue snow and crimson buildings surrounding it. Schofield's use of richly saturated hues truly showcases the power of overcast skies to breathe new life into the colors that surround us.
PHOTO PROVIDED
Jeanette Bernard, "Group of peoplethrowing snowballs," George Eastman Museum collection
Jeanette Bernard, "Group of people throwing snowballs," George Eastman Museum collection
"Bernard is best described as an amateur photographer, but her work was published in many weekly illustrated newspapers in the early 20th century," says Jamie Allen, associate curator at Eastman Museum's Department of Photography. "She regularly entered photography competitions held by the papers and was often selected as a winner."
In this circa-1910 image, adults and children embrace the winter weather, stepping out into a snowy yard to have a snowball fight. The infectious smiles of the subjects encourage viewers to shirk hibernation, layer up, and enjoy some exercise and fresh air — bleak conditions be damned.
PHOTO PROVIDED
Bob Conge, "Let It Snow"
Bob Conge, "Let It Snow"
I'm so accustomed to Bob Conge's rad sculptural Plaseebo creatures that his peaceful, sweet "Let It Snow" illustration came as a surprise. Though the image has a distinctly 1980's design feel to it, the subject matter is timeless. Sweetly rendered bunnies are tucked into the landscape as though snow mounds themselves, or winter sprites spied only because of their pink eyes.
"One of the things I find uplifting about winter is the power of the snow to visually unify all that it touches as it paints the earth with a single brush of white," Conge says. "Differences fade as peace descends." He designed the poster as a holiday promotion gift for clients of Oser Press.
PHOTO PROVIDED
Jim Mott, "Ski Trail"
Jim Mott, "Ski Trail"
"Winter can be grueling, but it also throws unexpected beauty at you now and then, in ways that provoke a sense of wonder," Mott says.
For the landscape painter, a typical Rochester winter changes everything. "It makes the land brighter than the sky," Mott says. "It makes the ponds and lakes solid. It gives us the bare eloquent structure of trees to contemplate. On sunny days, shadows cast on the snow fill with blue light reflected from the sky, so the winter change-up stimulates work with a fresh feel."
Mott's "Ski Trails" painting was a spontaneous effort, done after a morning of cross-country skiing. He perfectly captures crisp color of the sky and the lovely solitude of setting out after the solitary tracks left by others, crisscrossed by the long, sinewy shadows of the trees.
"That's actually my favorite thing about winter," Mott says. "With cross country skiing you can glide across the snow in a way that lets you feel dynamically connected to everything. You can't escape gravity, but it still feels like flying."
PHOTO PROVIDED
Adam Francey's winter cabin tattoo on Renée Heininger
Adam Francey's winter cabin tattoo on Renée Heininger
"I approached Adam with the idea of tattooing a winter scene on my thigh and hip, where I needed a cover up done," Heininger says. "Because I admire his style and trust his vision, I didn't specify much more than wanting the piece to include a cabin in the winter woods and a wolf or other animal."
Heininger loves winter, and wanted the piece to be a celebration "of the quiet energy the season gives me, rather than a depressing scene. I asked that the tattoo be dark yet peaceful and convey the feeling of solitude in the dead of winter. The wolf spirit coming out of the chimney was Adam's idea and that really took the piece to the next level."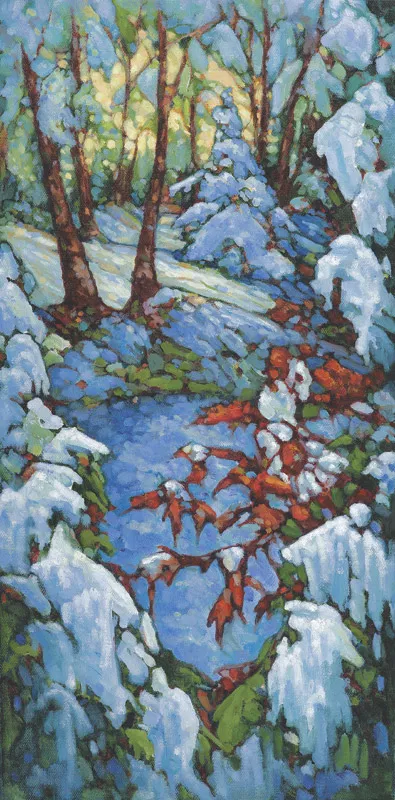 PHOTO PROVIDED
Renee Simone-Lee, "Highland Pines"
Renee Simone-Lee, "Highland Pines"
Simone-Lee's painting beautifully captures the continuous transition between seasons — some bright crimson foliage is still visible under a blanket-like layer of snow. Warm, golden light peeks through the distant trees, and is balanced by deep, cold shadows in the foreground. A nook of a painting.
Snowfall has a transformative power on form, color, and light, Simone-Lee says. "Snow laden pines become a beautifully draped figure with its heavy boughs dipping down and becoming one with the earth below," she says. "'Highland Pines' is that first fresh snow of the season. It is a trip to the park in early light before it is disturbed by playful footprints. Then a second visit the same day to catch the last of the light just before it recedes over the ridge on the Winter Solstice Eve."
PHOTO PROVIDED
Meghan Murphy, "Winter Guests"
Meghan Murphy, "Winter Guests"
Rochester-based illustrator and designer Meghan Murphy creates the cutest scenes that celebrate every season. When creating winter-inspired imagery, she says she thinks about what makes her the most excited when the cold weather blows in: sledding, making snow people, playing games, or just hanging out by a toasty fire. "There are special wonders that only the snow brings," she says.
"Winter Guests" takes Bob Ross's "happy little trees" to the next level, with a contented smile and toasty scarf around its trunk. The adorable songbirds (in ear-flapped toboggan hats) are a key little reminder to look for and appreciate the signs of life during Rochester's dreary winters (so be nice to the crows).