Winter brings with it a mixed bag of emotions. Annoyance is one, like when you have to read all the snow-related complaints on Facebook and Twitter. Seriously people, we live in Rochester. You should be used to this by now.
But winter also inspires joy, such as the joy we experience when indulging in a cup of hot chocolate. What better feeling is there in the winter than coming in from the freezing cold to a nice cup of the sweet, heavenly creamy drink? I'm not talking about the pouches you buy at the store with the mini-marshmallows. No, I'm talking about serious hot chocolate, the barista-made drinks.
I went to several coffee shops in the Greater Rochester to sample some of the best cocoa our city has to offer. Below find my take on the hot chocolates created by eight local venues. Obviously I couldn't make it to every spot. If I missed a place you thought should be included, please tell us about it in the comments section of this article at rochestercitynewspaper.com.



PHOTO BY MATT DETURCK
New Roots Coffeehouse
New Roots Coffeehouse
1273 Long Pond Road, Greece | 453-8228 | newrootscoffeehouse.com
New Roots is a fairly new coffee shop in Greece. If you decide to check it out, keep an eye out for the entrance as it is kind of tough to see. As for the hot chocolate, it's definitely the best value on the list, coming in at under $2 for a good-sized cup. I guess the simplest way to describe the taste would be a cup of Swiss Miss that's been injecting itself with taste steroids. Very basic, but very tasty.



PHOTO BY MARK CHAMBERLIN
Starry Nites Cafe
Starry Nites Café
696 University Ave. | 271-2630 | starrynitescafe.com
Starry Nites arguably has the best atmosphere of any place on this list. It's a cozy, relaxing shop with a giant mural of Van Gogh's "Starry Night" on the wall of the lounge. It's an ideal spot to sit and think things over. I got the chocolate chai, which is I'm considering a really fancy hot chocolate. Honestly, I had to resist the urge to stick my pinky out while drinking it. It has a ridiculously smooth milk chocolate finish to it, and there's this layer of froth on top that adds an extra dimension to the flavor. Bear in mind that chai has a spicy zip to it that can be divisive. But if you like your flavors a bit bold, give this drink a try. The chocolate chai is to hot chocolate what Godiva is to regular chocolates.



PHOTO BY MARK CHAMBERLIN
Dark House Coffee
Dark Horse Coffee
274 N. Goodman St. (in Village Gate) | 730-8035 | darkhorsecoffee.net
Yes, this coffee shop is literally next door to the City Newspaper offices, and as such it's a fairly obvious inclusion. But the hot chocolate here is an absolute treasure. Anyone who watches "Seinfeld" will surely remember the episode where Jerry talks up the "racially harmonious" black and white cookie. Well, the Dark Horse Hot Chocolate is that and more. A blend of white chocolate syrup and regular hot chocolate, you get the best of both worlds in this one. Instead of looking to the cookie, look to the Dark Horse Hot Chocolate.



PHOTO BY MARK CHAMBERLIN
Java's Cafe
Java's Café
16 Gibbs St. | 232-4820 | javascafe.com
I'd never been to this coffeehouse — a favorite of Eastman School of Music students, Jazz Fest patrons, and RPO concertgoers — and apparently this fact makes me a poor Rochestarian. But at least I'm making an effort now. I had the Aztec Mocha, which is a hot chocolate made with espresso, cinnamon, and chilies. The taste is unique, a hot chocolate with a good kick of spice to it. While it was tasty, it was difficult to reconcile with my OCD. A chili pepper floats atop this hot chocolate, and it just kind of bobs up and down like a buoy while you're drinking it. Mine even still had the leaves on it, and all I could picturin was Wilson from "Castaway." A delicious, yet melancholy experience.



Oriens Café
1100 Long Pond Road | 663-3291 | orienscafe.net
PHOTO BY MARK CHAMBERLIN
Oriens Cafe
I'd heard that Italian hot chocolate is out of this world, so I had to include an Italian café in this round-up. Kudos to you if you can walk out of this place without a box full of pastries. Seriously, there are bakery cases just filled with temptation. Luckily I have no will and left with some tiramisu bars. Here the hot chocolate is called ciccolaato, and even for the seasoned hot-chocolate consumer this is a truly different experience. It's pretty thick, and you quickly understand why it's referred to as "drinking chocolate." Like solid chocolate, the flavor is quite rich. If you prefer lighter fare this may not be for you, but man oh man, is it delicious. You may be put off when you see the seemingly sparing amount you're given, but trust me, you're not meant to drink a full mug of this chocolaty goodness.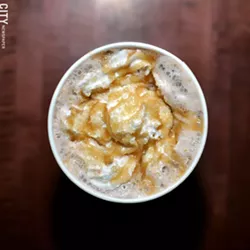 PHOTO BY MATT DETURCK
Leaf & Bean Coffee Co.
Leaf & Bean Coffee Co.
3240 Chili Ave. | 889-8270 | leafandbeancoffee.com
At Leaf & Bean I tried the salted caramel hot chocolate. Salted caramel is definitely the trendy hot chocolate variety of the moment. At this coffee shop you'll get whip cream and salt on top, but once you get to the hot chocolate itself it tastes pretty much like traditional cocoa — at least at first. It wasn't until I got halfway done when the true flavor kicked in. The last half of the drink had that salty-sweet mix you'd expect from an actual salted caramel, and this is a drink any purveyor of fine chocolates must try.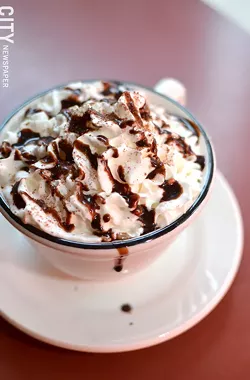 PHOTO BY MATT DETURCK
Java Junction
Java Junction
56 Main St., Brockport | 637-9330
Being a SUNY Brockport graduate, this was shockingly my first time stepping foot in the coffee shop everyone in school worships. The hot chocolate was definitely on the darker side of the spectrum — more bitter than sweet — but it was a welcome change of pace from the mostly lighter hot chocolates I'd had. Much like New Roots, it's cheap and it's good. What more do you need?



Café Macchiato
123 S. Union St., Spencerport | 617-491256 Main St., Brockport | 637-9330
I don't remember the last time I stepped foot in Spencerport before taking a trip to Café Macchiato, but this place made me wish I came more often. The hot chocolate was just the bare bones variety, but there was something special about it. It was by far the sweetest tasting one in the roundup. It kind of reminded me of when you have Cadbury chocolate and realize how much better it is than Hershey's.