While many make the most of the short and chilly days by engaging in winter recreation, frolicking in the freezing snow isn't everyone's cup of tea. But hibernating with Netflix can get a bit depressing.
Among the more creative things you can do while remaining cozy this winter is taking an art course. For less scratch (and time) than enrolling in art school, you can hone your artistic talents or learn new skills from local masters who teach one-on-one or small workshops.
Rochester native Sari Gaby creates romantic and mythic figurative and portrait paintings mainly in pastel, which she says she has been obsessed with since high school.
About 17 years ago, she opened up a tiny studio in The Hungerford, followed by a larger one six years after that. Gaby says that for years, she had "an incredibly successful teaching situation," with classes of 10 to 15 people. And at the same time she had regular commissions to create high-end corporate portraits.
PHOTO BY MARK CHAMBERLIN
Sari Gaby (right) offers one-on-one tutoring and small classes of up to three students in a variety of media.
In 2009, a combination of the economic crash and personal issues led to the decision to tutor one-on-one out of her house. Today, Gaby teaches one-on-one and small classes of up to three students in a cozy, bright room filled with art supplies and reference books.
Gaby teaches in all 2D media, mostly oil and pastel. Her students are all ages, including people who are coming back to art after many years, and a woman who had recently lost her husband and found a new life through art. Another is a professional who is one of Gaby's most prolific students, but works mainly independently and only has 20 minutes a week for critique sessions.
Gaby works many high school students, some of which are going through normal anxiety; others are challenged emotionally, including a young woman who was diagnosed with schizophrenia and was suffering from violent outbursts. Gaby says she has an easy time relating to these kids, as she herself suffered from debilitating anxiety and depression as a young person. Gaby says she enjoys her role of helping young artists build competitive portfolios for college — after years of work, her student with schizophrenia was accepted to the Pratt Institute.
Part of Gaby's role is discerning where each artist is, and what kind of instruction they need. "The people who come in brand new are not as scared, because they have nothing to lose," she says. But some students are reticent to start, fearing the sacred blank page, and need a little push. "I just say, get in there, spit on the paper; make it yours!" she says.
When working with Gaby, students pay only for lessons; she lets them use her own materials to start out. She says she is toying with the idea of renting a bigger space to support larger classes, and she's getting into fabric dying and creating custom clothing — she recently added thread painting to her roster of offered classes. Contact Gaby by emailing artheart54@hotmail.com.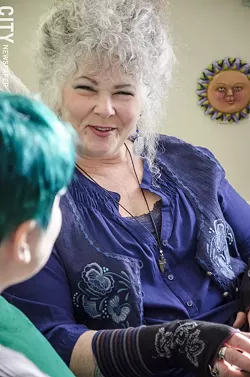 PHOTO BY MARK CHAMBERLIN
Sari Gaby.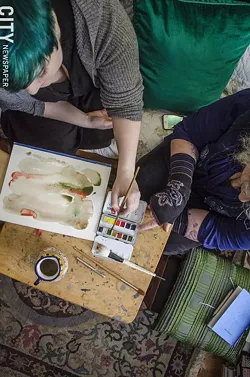 PHOTO BY MARK CHAMBERLIN
Painting instruction.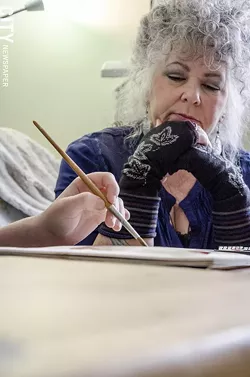 PHOTO BY MARK CHAMBERLIN
Sari Gaby.
Brian O'Neill is known for two seemingly divergent kinds of painting. His striking skill with realism — expressed in floral still lives with quivering petals and phenomenal portraits — is matched by his ability to create extremely moving abstract works, which he describes as "Big Bang" paintings. He says he's always done both, and that abstract work was an important way for him to convey thought, emotion, texture, and atmosphere.
O'Neill teaches private and small group courses in his studio and through the Rochester Art Club, both located in The Hungerford. He says he's organized and structured, and whether teaching a solo student or a workshop, students receive a syllabus. His students are all ages, and skill levels. He teaches in a variety of paint and drawing media, and workshops vary from realism, to core exercises, to portrait painting, to abstract.
For a recent abstract course, O'Neill asked students to find a source of inspiration for themselves, using a photographic reference. "What does the spirit or the energy of that image say to you, and how do you depict it with color and shape?" he says.
Different ways of drawing a line convey so much: "Circulinear are more gentle; harder lines are more aggressive," he says. O'Neill asked them to meditate for five minutes before beginning, and to not judge what emerged.
Each individual artist will move at their own rate, but O'Neill will put the brakes on those speeding through work. "You're not going to get left behind, but I'm not going to let you jump so far ahead that you're missing the experience," he says.
He asks students to keep a journal about what they're learning, what problems they are having. "I can't give someone their voice as an artist; that's something they have to discover for themselves," he says. "I can hand them a map and I can tell them how I found it. But it's such an individual process."
To artists who fear messing up, he tells them, "You're not going to break the world if you made a mistake. We're going to find a way around it."
You can find more on O'Neill at brianoneillstudio.com.
Olivia Kim says she always knew she wanted to be an artist, and since childhood focused on developing a background in all the materials that visual art can be made from. She also studied dance, theatre, musical theatre, and vocal music. "I tried to have a well-rounded artistic background so that I could understand what the meaning is behind every kind of human expression," she says. This pursuit led her to visit other cultures as well.
"My present concern is to understand what is universal, so that this global community that we're now living in will have something to reflect on," she says. She hopes that reflection will help bring people together, realizing that there are some things that really are common.
The focus on movement has brought Kim into the world of dance, and recently she has been sculpting a Garth Fagan dancer, Natalie Rogers-Cropper.
Kim began teaching — all ages from teens through elders — in 2002, while attending the Florence Academy of Art. She says teaching is an empathetic profession, because you need to understand how the other person best learns. "Any number of variables can affect the way you talk to the person, or your body language," she says. "It's all about making the person comfortable enough so their mind can be open to it."
Since then, Kim has taught kids as young as 6 years old. "At that age, it's more about opening the person's experience to the world," she says. "How to hold tools, developing manual skills, not being afraid to try something."
She began teaching at the Rochester Art Club about three years ago, and also teaches private lessons in her Hungerford studio space. In the future, Kim will offer classes at Studio 34 on Elton Street. Classes include portrait sculpture, figure sculpture, and figure drawing, and has plans to teach glass casting and écorché sculpture, which is like medical illustration in 3D. "This is good for artists of all kinds, even those who work in 2D, because you better understand the physicality of what you're trying to describe," she says.
Kim says that teaching has helped her realize what she herself has overlooked, and that what you practice is exactly what you learn. "You think you can just jump over somewhere else, but you have to create a bridge to create an appropriate translation for the brain," she says. "If you don't, you actually have a bunch of big holes in your head and you don't even realize it. The big thing with this is trying to find where are those holes, and what is the connecting experience."
She says some of this has to do with demystifying the creation process — getting someone to understand the you cannot skip over the grueling part.
Kim says that learning how to create is no different from training your body to do anything else. "Biologically it can take even up to six months for something new to form," she says. What you're doing is stimulating the body and brain to grow neural pathways as you develop motor skills, muscle memory, and ability. This happens through repetition.
"Your body will only do something out of necessity, so you have to practice it, in order to tell your body that you want it to grow," Kim says. "Advertising knows this, that's why they repeat the message."
She still takes workshops, usually through the Rochester Art Club. "It's an engaging life. You think you know something, and then you realize it takes so much to get anything done in this life," she says. "If there's anything I've learned — get to it. Get to it, 'cause you don't have much time."
Find more on Olivia Kim at oliviakimstudio.com.
PHOTO BY MARK CHAMBERLIN
Sari Gaby (right) offers one-on-one tutoring and small classes of up to three students in a variety of media.