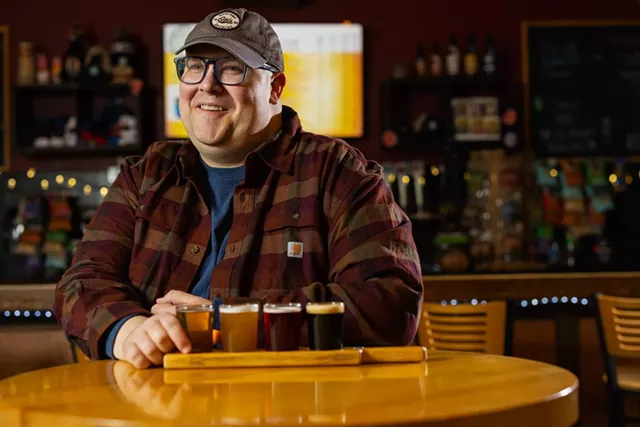 PHOTO BY LAUREN PETRACCA
Will Cleveland, a former Democrat and Chronicle beer writer who now produces the Cleveland Prost newsletter, will curate the lineup of this year's Rochester Real Beer Expo.
Since the Rochester Real Beer Expo's inception, former Tap and Mallet co-owner Joe McBane hand-selected the event's eclectic beer list.
But this year's expo will feature a big change. McBane has elected to step aside from the festival and tap some fresh blood to curate its lineup of brews.
That person will be Will Cleveland, who made his name in the beer world as a columnist at the Democrat & Chronicle before leaving to take a job at the Rochester Police Accountability Board. He currently runs
the Cleveland Prost
, a newsletter hyper-focused on local beer and its surrounding culture.
"I was initially thinking I didn't want to do it because I was thinking of the amount of work it's going to take, especially in a volunteer position," Cleveland said, in a phone interview. "But my wife, as she so often does, gave me a nice little kick in the ass and said, 'Why wouldn't you take this opportunity?'"
Cleveland announced the news in his newsletter on Wednesday.
The Real Beer Expo, which started in 2011 and takes place in June, doubles as Rochester's largest beer festival and the largest annual fundraiser for the Business Association of the South Wedge Area (BASWA). Whereas the Rohrbach Brewing Company's Flower City Brewers Fest in August typically showcases local breweries' most popular beers, the Real Beer Expo is where brewers let their freak flag fly.
"What the expo is really known for is the weird, the rare, the one-off, introducing the town to new breweries and also introducing some local breweries to the market in Rochester, some outlying breweries that don't really have a presence in Rochester," Cleveland said.
Cleveland hopes to bring more of those concoctions from local, national, and international breweries this year, with dreams of attracting some heralded Hudson Valley breweries like Suarez Family Brewery and Fidens.
This year, the expo will also have a greater focus on local breweries. They'll make up about 40 percent of the breweries on site, up from about 25-30 percent in the past, Cleveland said.
Cleveland being tapped as beer curator isn't the only major change. The festival will no longer be held on Gregory Street, in front of the former location of Tap and Mallet. He said BASWA is looking for a new venue, which will be in the city, but not necessarily the South Wedge. A new location has not been announced.
"We couldn't really keep it on Gregory Street not really knowing what the future of the Tap and Mallet property is," Cleveland said. "Six months from now it could be sold."
The Rochester Real Beer Expo is scheduled for June 10.
Gino Fanelli is a CITY staff writer. He can be reached at (585) 775-9692 or gino@rochester-citynews.com.