For most musicians the worlds of classical and pop music move in different orbits, if not galaxies. But when he sits down Tuesday at the Steinway piano in Kilbourn Hall, Christopher O'Riley will bring these spheres together.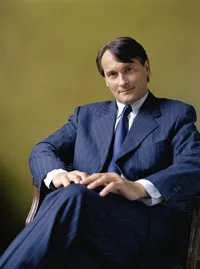 O'Riley is best known as the host of From theTop(5 p.m. Sundays, WXXI FM 91.5). The program, showcasing the best young musicians in the country, is the most popular classical music program on the air. But, over the last two decades, O'Riley has also released a steady stream of recordings featuring music by a variety of composers, from Beethoven to John Adams.
Lately he's specialized in breaking down barriers, recording True Love Waits and Hold Me to This, two highly regarded albums featuring interpretations of the music of Radiohead. And in April, when he releases Home to Oblivion, he'll pay tribute to arguably the greatest singer-songwriter of the last decade, Elliott Smith.
"It was an epiphany, just like when I first heard OK Computer," O'Riley says. "I just started collecting everything I could find of Radiohead. I was never disappointed. The same thing happened with Elliott. I listened to Either/Or and spread out from there. I have 100 of his concerts on my iPod. He was an emotionally available performer, so I find it inspiring to hear 20 different versions of 'Speed Trials' or 'Between the Bars.' You hear 20 different points of view on the same song."
O'Riley's gorgeous arrangements of rock tunes are in a class by themselves. Radiohead can sound like Debussy and Scriabin; Elliott Smith can be transformed into Chopin. O'Riley attributes this to his classical background.
"In the same way jazz pianists would have a particular physical relationship with the instrument and that would inform their spontaneous improvisations on whatever they were playing," he says. "I like to think my relationship with the instrument has been shaped by physical relations with the instrument on behalf of composers such as Shostakovich, Rachmaninoff, or Liszt. My solutions to playing certain things on the piano have to do with the tradition of people who made piano transcriptions or arrangements of other people's music or other types of music."
In terms of quality, O'Riley has no doubts about his new material. He believes Smith's songwriting rivals that of Cole Porter and George Gershwin.
"I really feel that his songs have a depth to them and a staying power. I think he was a great poet, a wonderful musician, and a fantastic songwriter. "
And, O'Riley adds, a disarmingly fine pianist. When he was first getting acquainted with Smith's music, friends recommended a documentary, Strange Parallel, in which Smith plays part of a Rachmaninoff prelude.
"It isn't even the slow part," says O'Riley. "All you see him play is this fiendishly difficult, zephyr-like middle section and he's really nailing it."
O'Riley says he's not as much of a tourist in the rock world as it might seem. He began playing piano at 4 and was in a rock band at the age of 12. He played jazz fusion in high school and, by the time he graduated, was playing jazz at a nightclub on weekends.
He admired pianists like McCoy Tyner, Keith Jarrett, and Chick Corea, but ultimately decided that "jazz playing wasn't helping my Mozart," he says. "I didn't want to keep both going, but I kept listening and had a respect for the spontaneity and trust."
Considering his open-mindedness, it is not surprising that O'Riley attended New England Conservatory of Music in Boston in the 1970s when third stream music champion GuntherSchuller was president.
"Gunther lives by the Duke Ellington adage that there are only two kinds of music in the world: good music and bad music," O'Riley says. "I agree. I present things that I believe in and expect the audience to judge not based on genre prejudice or market forces but on the evidence of their own ears. It's important to get inside of the style and relate it to one's experience and find a way that informs the music in sort of a prismatic way."
At his Kilbourn concert O'Riley will play a Shostakovich fugue, a host of Radiohead tunes, and "Not Half Right," a song Smith performed with his early band, Heatmiser.
"Shostakovich, Radiohead, and Elliott have a certain commonality in terms of their sense of irony," O'Riley says. "Shostakovich being the first composer in history to master the art of irony in music, trying to get a message across without treading on Stalinist toes; Radiohead having lyrics gleaned from conversations overheard on a bus. And both Radiohead and Elliott have pretty songs undermined by suicidal lyrics."
The forthcoming Smith tribute album features 18 tracks, including a haunting rendition of "Everything Means Nothing to Me." O'Riley is not sure what's next.
"The only other artist I can find at this point who I think can stand a whole album homage is Nick Drake."
Christopher O'Rileyplays in the Eastman School of Music's Grand Pianists series Tuesday, February 14, in Kilbourn Hall, 26 Gibbs Street, at 8 p.m. $15 to $30 (discounts to UR ID holders). Tickets are available at RPO Box Office (108 East Avenue), by phone (454-2100), on-line (www.esm.rochester.edu/concerts), and at Wegmans Video Departments.