A good concert photographer can document the sound and motion, that palpable energy of a performance, in a second. It's in the preparation leading up to that magic moment where sound and image merge that the photographer's stealth and intuition really makes the difference. It's where the talent lies. It's a dimensional exchange — a collaboration really — a mash-up of two seemingly disparate mediums which, when juxtaposed, complement one another. The adjectives and observations of one can easily be applied to the other. It's forever in an instant.
Plugging in all the variables, however — lighting, distance, collaborative cooperation, time restraints — that's the hard part. It's what sets a great photographer or a great photograph apart from the rest. Digital technology has opened plenty of doors to up and coming shutterbugs, but flash cards with 1000-shot capacity and Photoshop to fix pictures post-shoot don't negate the need for a good, well-composed, well-lit shot. Concert photographers are a study in stealth, a portrait of patience, instilled in intuition and prowess just waiting for lightning to strike.
City Newspaper sat down with five Rochester-based concert photographers to discuss collaboration, art interpreting art, and the ups and downs leading to that great shot when the rhythm and shutter beat as one.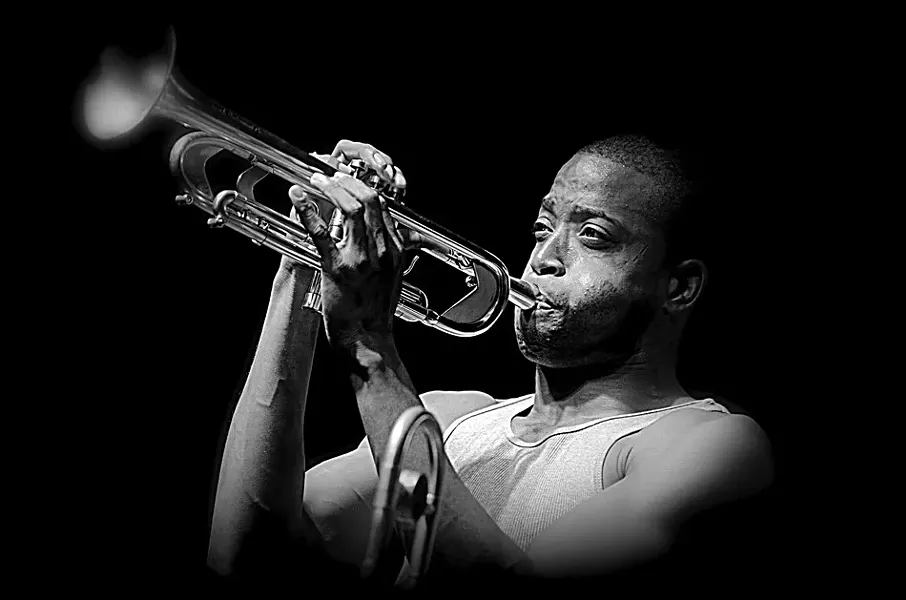 PHOTO BY SCOTT CODARO
Trombone Shorty.
Tom Flint
"Photography always fascinated me," Tom Flint says. "But it was just a hobby." Flint studied biology in school, but veered off for a career in photography in 2006.
"After a couple failed attempts at a more structured life, I realized I had to chase my heart," he says. It was the work of guys like Herb Ritts and the shooters for Rolling Stone that fired him up.
"I saw a portrait of Eddie Vedder in Rolling Stone and I said, 'That's what I want to do; I have to do this.'"
The first band Flint worked with was the Rochester's The Buddhahood. "I told them I was a photographer," Flint says. "I was totally making it up. I still am. I've got some credibility now, but I'm still winging it."
Flint was in awe and humbled by how the relationship between band and photographer worked.
"I was like, these guys are artists, too," he says. "And it became a collaboration; they're collaborating with our sight, with our instinct for light with their instinct for sound." He dove in further with a trip to the Blue Heron Music Festival.
"I just hung around the stage as much as I could," he says. "It was people blowing on horns and banging on drums. It was the most amazing environment to be around."
Flint enjoys the challenge of photography's see-saw between the technical and the ethereal.
"There's the technical element," he says. "Dealing with light, you get thrown into situations you can't counter. You're limited with time, and you have to wait for those moments to happen. You have to get the technical out of the way so when that moment comes you can emote."
Juli Cialone
"I've always had a photojournalistic spirit," Juli Cialone says. "I've always done traditional photography, though I don't do weddings anymore."
Though she majored in language, art history, and psychology at Cornell, Cialone was always drawn to photography — especially when it came to capturing live rock 'n' roll.
"Rock 'n' roll photography was something I always wanted to do," she says. And Cialone sets herself apart from the crowd in the pit.
"Most photographers shoot a little wider to get the action," she says. "But me, I want to see the emotional look on their face when they hit that note; when their face is in that zone and it gives you goose bumps. So I do a lot of close-ups. When you pull back you can't see that absolute glint. I think it's a really sexy moment."
It's a sexy moment with a ton of variables, mainly in lighting, and in the fact that the artists' primary concern isn't necessarily posing for the camera.
"You have to determine light sources first and pray to God the artist lands in one of those sources, because they're moving around."
Yet Cialone thrives on the spontaneity, the surprise.
"I prefer not knowing what to expect," she says. "Like a sporting event; there it is, that moment, and it's exhilarating. I hope my pictures are capturing for the artist what they are feeling at that moment."
And though she's a lady that sometimes finds herself in a pit of pushy-shovey shutterbugs clamoring to click a shot and the flailing limbs of stage diving audience members, Cialone has learned to survive. Her tip to other women looking to get in the photo pit?
"Don't wear heels," she says.
PHOTO BY JEFF GEREW
Richie Faulkner, guitarist for Judas Priest.
Jeff Gerew
Jeff Gerew took photography classes in high school and really loved it. He has been immersed in music all his life, working at the House of Guitars and playing bass in a "hundred bands." Then he got emulsified at Kodak.
"I wound up in their testing labs, spooling film, packaging paper, right up to working in the camera lab where I would test cameras," he says. "I worked with all the cameras Kodak made as well as top cameras from Canon and Nikon. I tested the first digital camera backs."
Then camera and music met when a friend who was shooting concerts dragged him along. That's all it took.
"I was hooked," Gerew says. "By 2006, I started going on my own, found my own magazines, found my own outlets." Gerew now shoots for the photo service Corbis.
Though a rock 'n' roller, Gerew is unencumbered by fandom, — except, he admits, when he first shot Aerosmith — and loves shooting anything where "the band's really active."
"I find myself shooting bands I would never listen to," Gerew says. "Just because they're so much fun to watch." And he's willing to share the pit with newbies and fans.
7 slides
"I'll never question anyone's reason to shoot," he says. "If you wanna shoot, shoot; have a blast."
Gerew doesn't necessarily see concert photography as using one medium to express or interpret another. To him, it's much more dependent, much more intertwined.
"A lot of their art is their image," he says. "A lot of their art is their show. It isn't just the sound, it's everything: their stage performance, their crowd interaction. I've seen some really cool shit in my day."
Gerew gets off on the obstacles too — except for song restrictions where the industry standard of only shooting the first three songs applies.
"That drives me f***ing crazy," he says. "History was rarely made in the first three songs." It usually takes a few more clicks of the shutter to nail that perfect sweating, bleeding, airborne, soul-searing shot.
"The perfect photo is a magic moment," he says. "A jump shot; a look. You can machine gun a hundred shots, but if you sit there and wait for that particular moment..."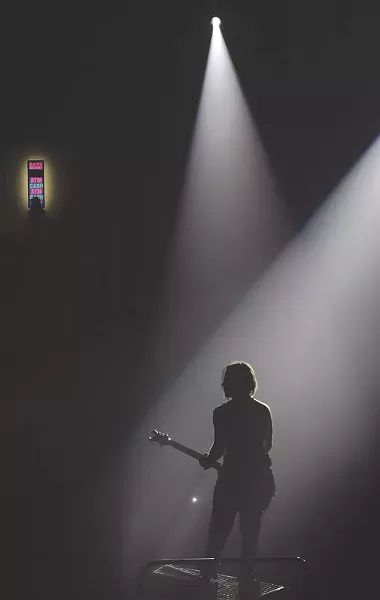 Juli Cialone
Shinedown
Scott Cordaro
"It was 1979," Scott Cordaro recalls. "I snuck my first camera in a binocular case into the War Memorial to shoot Tom Petty's 'Damn the Torpedoes Tour.'" He hasn't looked back since.
Professionally trained in wedding photography at The Hallmark Institute in Massachusetts, Cordaro eventually burned out on the lace, champagne, and "I do's."
"As a wedding guy, every weekend you were doing almost the same picture," he says. "So I said I'm gonna go back to what I love: sports and music."
"What turned me on," he says, "is you never knew what you were going to get — bad lighting, good lighting, how close the band would let you get, every performance was going to be different, some just sat there, others came out and put on a show."
Cordaro looks for his shots to be organic, natural... his vision is part of the show.
"The expression I'm looking for is when they are showing me passion. Don't pose, sing. And like a band connects with the music, I can connect with what's going on as well."
Fred SanFilipo
"I didn't really become passionate about photography until five or six years ago," Fred SanFilipo says.
SanFilipo is a graphic designer by trade. He used to take pictures in the 70's and 80's — the film days — back in school, but then lost interest. It was the lack of control with the medium that left him cold.
"You shot your pictures, you got slides or you got prints, and that was it. But I found Photoshop through my job as a graphic designer, and got my first digital point and shoot six years ago. It rekindled that love again for photography. It changed everything about the craft for me. It's not just about taking pictures. It's about being able to enhance them, to bring out details, to make them better."
The camera is his instrument.
"I've always been a frustrated musician," SanFilipo says. "Music is one of the most important parts of my life."
It's a love that's gone back a few decades. "Way back we had so many of the super groups coming through Rochester: Crosby, Stills and Nash; Yes; Joe Cocker; Bob Dylan; a lot of great musicians. I was shooting black & white film then."
Though SanFilipo likes to massage the shot in Photoshop, it still starts with a good picture of a good performance.
"When the musician really reaches back and gives themselves to the audience, whether it's through the intensity, through joy, pure fury, moments when they're giving their best — as photographers we have to be ready for that, to put our finger on the shutter at that moment and catch that magic. When you put all the variables together it makes it that much more challenging," SanFilipo says. "But all that more rewarding. It's forever."