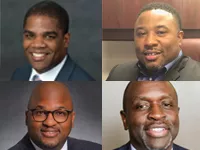 PHOTOS PROVIDED
The finalists (clockwise, from top left): Terry Dade, Devon Horton, Eric Thomas, and Sito Narcisse.
The Rochester school board will hold public forums on Saturday and Sunday featuring the four finalists for the school district's superintendent. The finalists are
Terry Dade
, assistant superintendent of the Fairfax County school system, Falls Church, Virginia, which has 180,000 students;
Devon Horton,
chief of schools, Jefferson County school district, Louisville, Kentucky, 101,000 students;
Sito Narcisse,
chief of schools, Metro Nashville Public Schools, 86,000 students; and
George Eric Thomas,
chief turnaround officer, Georgia State Board of Education.
Both forums will be held from 12:30 to 3:15 p.m., at the Freddie Thomas Learning Center, 625 Scio Street. Narcisse and Thomas will be at Saturday's forum, Dade and Horton at Sunday's. CITY will share the school district's live-stream of both the events here.
The school board selected the four finalists from more than 30 applicants following a three-month search. Not all board members are happy with the selection process or decisions about how this weekend's events will be managed, however. And that's an indication of the environment in which the district and the board are operating now.
At a press conference on Friday, board member Judith Davis called for a "reset" of the superintendent search process. "How can the community get a feeling for the candidates when the community wasn't involved?" Davis said.
Davis, who is campaigning to keep her seat on the board, was joined at the press conference with her running mates in the June Democratic primary, Howard Eagle, Andria Bryant, and Clifford Florence.
Davis and school board President Van White had proposed a selection process that involved a community advisory committee as well as board members. Each of the seven board members would have chosen two representatives from neighborhoods, parent groups, and faith communities, and they would have worked with the board from the beginning of the search process. Instead, the board chose a process that it controls and that won't allow a meaningful dialogue with the finalists, Davis said today.
Davis, who hadn't informed other board members about Friday's event, said she decided to hold the press conference because she felt she had "been sucked into the board's dysfunction." She was critical of the way the board conducts its business and said she is seeking an investigation into the board's use of closed-door executive sessions, which she charged aren't always necessary.
Clifford Florence said the public forums should not have been scheduled for Saturday and Sunday because many parents and community members are involved with faith activities on those days. Scheduling the events on those days showed disrespect for the community, he said.