County Executive Maggie Brooks is fond of saying that the only special interest that matters is the taxpayers; it's a somewhat condescending platitude that says as much about county voters and residents as it does Brooks' legacy.
In a few weeks, Brooks concludes her 12-year stint as county executive, fixating all that time on the tax rate. Brooks, a Republican, made flat taxes the central theme of her 2003 exec run and during her re-election bids in 2007 and 2011.
Voters ate it up each time, even when presented with credible challengers who had broader visions. Regionalism, stronger social services, transparency in government — voters just didn't respond to any of it.
Collectively, we need to own what that means: the administration's fiscal policies have undoubtedly benefited some homeowners and businesses, but they've hurt other members of the community, particularly some of the county's most vulnerable.
The Peterkin family provides a recent, and tragic, example.
Wanda Peterkin died in an October 4 fire and her mother, Vera Hooks, died less than a month later. Their grieving family members were left to figure out how to cover an estimated $10,000 in funeral and burial expenses.
Monroe County provides $1,250 toward burials for poor people, and the assistance only makes a dent in the overall burial costs; House of Mercy gave $3,500 to the family, which allowed relatives to bury Peterkin. When family members spoke to media outside of the County Office Building in early November, Vera Hooks' children and grandchildren were still trying to find the money to bury her.
"We're out here trying to get the county to support the poor people so they don't have to struggle to bury their loved ones," said Gregory Peterkin, Vera Hooks' son and Wanda Peterkin's brother.
Advocates for the poor say that the county used to provide enough funding for a decent burial, but that changed. Now, the county's assistance barely covers the cost of cremation, they say, which many families object to for either religious or personal reasons.
Peterkin says that the funeral director pushed for cremation for his sister, but that the family didn't want that. It was important to him to be able to visit his sister's grave and talk to her.
"Why should you be forced to do that when it's beyond your belief?" said Natasha Chatmon, who traveled from Georgia for her Aunt Wanda Peterkin's funeral.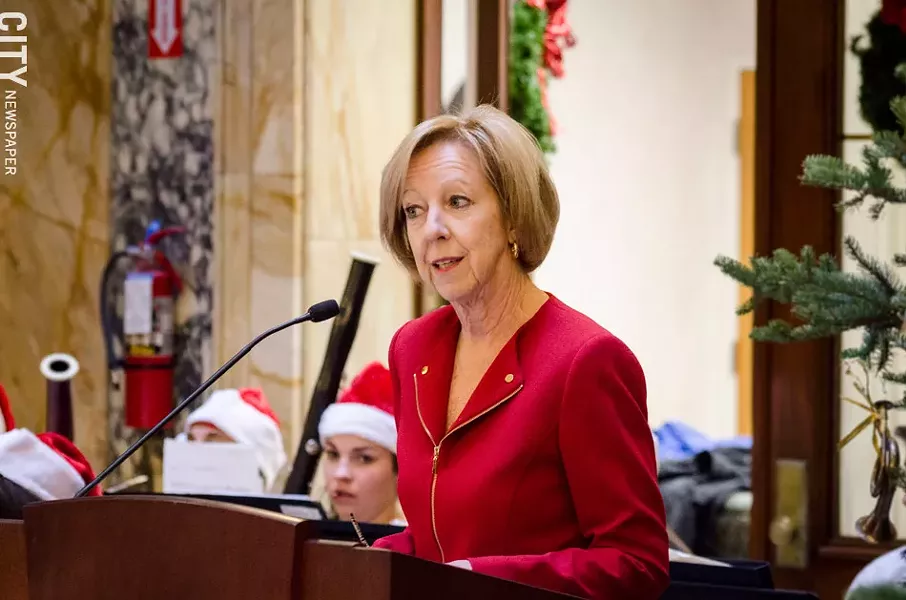 PHOTO BY MARK CHAMBERLIN
Brooks speaks during this year's Christmas tree-lighting ceremony.
Brooks came into office offering a sharp contrast from her predecessor, Republican Jack Doyle, who was constantly at war with city officials and occasionally ticked off members of his own party.
During her campaign, Brooks said that she wanted to be a partner in the community. She wanted to work with other governments, elected leaders, nonprofits, and businesses, she said, to make Monroe County a more vibrant, healthy community.
Shortly after voters handed her the exec seat, Brooks reached out to Rochester Mayor Bill Johnson, her Democratic opponent in the race and no fan of Doyle, and offered reconciliation. Johnson says that he appreciated that she wanted to find ways to govern and work together.
"She managed to end all of the drama that existed between the city and the county," he says.
Brooks also took a "bold and courageous step," Johnson says, by advancing Renaissance Square, a massive project that he says would have revitalized a struggling corridor on East Main Street. The project would have combined a bus station, a performing arts center, and Monroe Community College's Damon City Campus at the corner of Main and Clinton.
"Maggie Brooks was someone who tried within the confines of the political constraints that were placed on her to do what she could to work to improve at least the downtown section of the city," Johnson says. "As far as I'm concerned, that should never be forgotten."
After a few fits and starts as well as political and personality clashes, Renaissance Square fell apart. Brooks continued to work with city officials, though, to attract companies to downtown.
But Brooks also had some skirmishes with city officials. One of her budgets eliminated county funding for downtown policing, and another imposed new charges for the county's housing of the city's unarraigned prisoners. Former Rochester Mayor Tom Richards, City Council, and Democratic county legislators also resisted MCC's plan, backed by Brooks, to move the college's downtown campus to a Kodak building on State Street. Lej Democrats ultimately came around on the idea, however.
Brooks has found a partner, though, in Mayor Lovely Warren, whom Brooks endorsed in Warren's 2013 mayoral run. When Legislature Democrats held up a borrowing measure that would clear the way for Costco to be built at CityGate, Warren intervened and convinced them to relent. More recently, Brooks and Warren announced that the city and county would partner on an effort to open up their fiber networks, possibly for business and residential use.
Brooks presented her 2016 budget to the County Legislature last month, characterizing it the same way she's framed each of her spending plans over the past few years: as a statement of priorities.
And for Brooks, the priority always circles back to taxpayers and her initial 2003 pledge not to raise taxes. Her 2016 budget again keeps the tax rate at $8.99 per $1,000 assessed value, the same as it's been since her 2008 budget, when it decreased from $9.10 per $1,000 (Legislators were set to vote on the budget on Tuesday, and the Republican majority will make sure it passes.)
"Here we are, 12 years later, and I'm proud that the 2016 county budget honors that bold promise," Brooks told legislators when she introduced her proposal.
When Brooks took over as exec, she inherited a money problem. Doyle's vision of flat taxes meant holding county tax revenue flat for much of the time he was in office. When he eventually proposed sharp cuts to some key services, some GOP legislators broke from him and ushered through a small tax increase. Nobody was quite sure how the county was going to keep paying the bills without raising taxes.
Brooks' "bold promise" was a subtle departure from Doyle.
FILE PHOTO
County Executive Maggie Brooks during an interview.
Early in her administration, Brooks clarified that when she said she'd keep taxes flat, she was talking about the rate, not the levy, which is the total amount that the county collects in taxes. The approach allowed for some growth in tax revenue, she said, which provided stability for taxpayers while allowing the county to improve its finances.
In her final State of the County address, which she delivered earlier this year, Brooks outlined the county's progress. When she started in 2004, the county had no money in its reserve accounts, she said, and was looking for ways to quickly raise money to plug budget gaps. Now, she said, the county has $20 million in its reserves.
Still, Monroe County is the most financially stressed municipal government in New York, according to the State Comptroller's Office. Each year, county officials have to figure out how to close a budget gap that, while smaller than when Brooks took office, still totals tens of millions of dollars. And officials continue to use one-shot revenues, such as selling property and tax liens, to partially plug the hole.
"There's just an absolute denial that there are fiscal problems, because any facing up to that reality would require a tax increase," says Democratic Legislator Paul Haney, a vocal critic of the county's financial policies. "And of course that would be a total violation of the Holy Grail."
Brooks' budget policies have meant sacrifice. For example, the county hasn't increased its contribution to the Central Library in downtown Rochester in over a decade, which forced library officials to eliminate Sunday hours this year.
But it's the county's social service programs that have been hit particularly hard. The county cut funding for indigent burial services and hasn't filled empty social worker positions; the remaining public assistance and child services caseworkers have heavier caseloads. Public assistance recipients and their advocates often complain that it's next to impossible to get caseworkers on the phone.
"There are people in our community who are really hurting and who are not in any better position now than they were 12 years ago," says Carrie Andrews, leader of the County Legislature's Democratic minority. "The county is such an important player in social services and leading the conversation about community health and public policy. We could do so much and, unfortunately, I don't think we've made gains in those areas, and that to me is quite sad."
But Brooks' decision to reduce county funding for child day care subsidies received the most public blowback. For several years, children's advocates, clergy, and Legislature Democrats called on the Brooks administration to devote more resources to the subsidies. But between the 2014 and 2015 budgets, the county cut its contribution by $1.7 million.
The average number of children served each month by the subsidies has dropped from around 10,000 a decade ago to a projected 7,000 this year.
Brooks defends the decision. The county has always contributed far more to child care than it's required to, she says, and the state needs to step up with additional funding. And when she summarized her 2016 budget for legislators, she said that she's had to balance programs such as child care with other quality-of-life services, including parks and the sheriff's office road patrol. (The 2016 proposal does not decrease county spending on child care.)
"Good decisions are not always easy decisions," she told legislators.
But you could argue that Brooks may have, at times, made easy decisions over good ones. By insisting that the tax rate stays the same, she's shut down any conversation about whether a small tax increase, even a few cents, might help preserve important and effective social service programs, for example.
To keep the tax rate promise, the Brooks administration got increasingly creative with revenue, spending, and operations.
FILE PHOTO
A display board from a Brooks budget presentation.
Those efforts weren't always well-received. Her 2008 FAIR Plan, which included a reduction in the property tax rate, also cut the amount of sales tax to be distributed to suburban school districts. Residents were angry and the districts sued the county, which eventually settled and agreed to restore the funding.
The FAIR Plan also included a new scheme to cover the county's contribution to MCC; property owners now pay a charge based on how many people in their community attend the college. In subsequent years, the Brooks administration implemented similar chargebacks for traffic signal maintenance, snowplowing, and indigent burials. All of the maneuvers could be seen as stealth ways to raise money lost due to Brooks' stubborn attachment to her tax rate pledge.
One of the county's most troubling experiments has been the administration's use of quasi-governmental local development corporations. The entities and the way they work aren't easy to describe; a government forms them to handle specific projects and, on paper, they are supposed to operate independently.
Monroe County formed its first LDC during the Doyle administration, and the Brooks administration formed several others. One LDC assumed the ownership and operation of a parking garage; Upstate Telecommunications Corporation leases office and technology equipment to the county; and Monroe Safety and Security Systems took ownership of and upgraded the county's emergency communications systems, which it leases back to the county.
Brooks characterizes the LDC's as public-private partnerships that allow the county to perform essential duties more efficiently and at a lower cost. But the State Comptroller's Office disagrees. In a series of audits spanning a few years, the comptroller said that the county used the LDC's to generate short-term revenue and to move borrowing for large projects off its books.
Legislature Democrats have long argued that the LDC's not only obscure county business, but create an opening for backroom dealing. And it turns out that they may be right. In 2013, the Attorney General's Office charged four men in an alleged bid-rigging scandal tied to two of the county's LDC's. One defendant is the county's former chief information officer, Nelson Rivera, and another is Brooks' husband, Robert Wiesner.
Initially, all four defendants pleaded not guilty, and trials for three of them are pending. But one defendant, accountant John Maggio, recently signed a plea agreement with prosecutors that indicates that he might testify against Rivera and another defendant, Daniel Lynch. Maggio and Lynch worked as consultants for the LDC's.
Incoming County Executive Cheryl Dinolfo, a Republican, appears to want nothing to do with LDC's and during her campaign vowed to dissolve all of them and bring their operations back in house. She hasn't said how she'll dismantle the entities, though, only that her legal advisers tell her that it can be done.
The LDC scandal was never going to force Brooks from office, especially since she was at arm's length from the alleged activities. But it left a mark on her record, as did previous scandals involving two airport directors, and a separate scandal involving a now-defunct partnership between the county and building trades.
But Brooks has done plenty of good during her time in office, too, and even her harshest critics can point to things that they think she's gotten right. Legislator Haney, for instance, gives Brooks credit for refusing to privatize Monroe Community Hospital; many other counties have sold off their nursing homes and public hospitals.
When Irondequoit officials got fed up with Medley Centre owner Bersin Properties' failure to live up to its end of a tax incentive agreement, Brooks backed them up. The county industrial development agency terminated the incentive agreement and filed a lawsuit to try to get the developer to pay its back taxes.
In Henrietta, a Seneca Nation of Indians affiliate bought land with the intention of pursuing a casino, a proposal which drew vocal opposition from town residents and officials. Brooks, in turn, wrote to state and federal officials to spell out her objection to any tribal casino in Monroe County.
FILE PHOTO
At press conferences, Brooks is typically flanked by groups of "community partners" or local elected officials.
And her administration's record on the environment gets frequent praise. Monroe County was one of the first governments in the state to sponsor prescription drug takeback events to help keep pharmaceuticals from leaching into aquatic ecosystems.
The county helped General Motors test out hydrogen fuel cell vehicle technology, and it invested in ethanol, compressed natural gas, hybrid, and electric vehicles for its own fleet, as well as alternative fuel stations for them.
Under the Brooks administration, the county recycling facility began accepting a wider variety of plastics and converted to single-stream sorting, a shift that officials say will boost local recycling rates.
The county has also embraced solar power, installing rooftop systems on the County Office Building and the new crime lab. And most recently, the county put its resources behind a much larger solar effort by leasing land at a defunct county landfill and next to a west-side stormwater treatment plant to Solar Liberty, which will build solar farms at the sites.
The county has pledged to buy all of the electricity produced by the panels for $1.2 million a year, an estimated $400,000 a year less than the cost of buying it from the grid. The savings fit in with Brooks' cost-cutting mantra, but more importantly, the arrangement means that the county will buy clean energy and that Solar Liberty will recoup its investment in a renewables project.
During this year's county executive race, Green Party candidate Rajesh Barnabas, who agrees with little that the Brooks administration has done, said that the county is setting a good example with the solar project. He said that the county should push its environmental efforts even further and partner with the city on some projects.
"We could be the first carbon neutral city in the United States if there was political will between politicians and the business people, because it makes sense cost-wise and it makes sense business-wise," Barnabas said.
Whether Dinolfo will follow the Brooks' administration's lead on environmental projects is unclear.
Also unclear is where Brooks goes from here. The handful of scandals during Brooks' exec term dinged her up a bit, but to many county residents and bigwigs, she's still Maggie, the respected, influential leader with a knack for getting people to work together. Her image and name recognition will definitely open doors.
Brooks has said that she's looking at public- and private-sector opportunities, but she hasn't elaborated. It's logical to speculate that she could pursue higher office, especially since she's shown an interest in that path.
Brooks took on Democratic House Representative Louise Slaughter in 2012, the only race in her political career that she lost. Gates Supervisor Mark Assini is taking on Slaughter in 2016, but Brooks could run for a State Legislature seat, or even a US Senate seat; Democrat Chuck Schumer is seeking re-election in 2016 and Democrat Kirsten Gillibrand's term is up in 2018.
But Brooks is also rumored to be a possible replacement for Bill Carpenter, CEO of the Rochester Genesee Regional Transportation Authority. Word is that some members of the agency's board are unhappy with Carpenter's leadership and may try to usher him out.
Recently, however, RGRTA also posted an opening for a newly-created vice president position. The position's duties center around government and public outreach, and Brooks seems suited for that job.
Of course, the only person who really knows what's in Brooks' immediate future is Brooks herself. But after 20 years in government, first as county clerk and then as county exec, it's unlikely that Maggie Brooks will fade from the public eye anytime soon.