In March 2014, City ran a story about the groups vying for the new spaces the FCC opened up on the FM dial for low-power community radio stations. Some of these stations have since gone on air or are streaming online, including WXIR-FM (100.9), an alternative news station run by Rochester Community TV; a Spanish-English bilingual station, WEPL-FM (97.1); and a station run by a pastor in Fairport, WZNY-FM (98.3).
WAYO-FM is a volunteer-run, non-commercial radio station located in the Fedder Industrial Park on East Main Street and affiliated with the Multi-use Community Cultural Center. Its more than 100 music and talk-radio programs focus on Rochester's local arts and cultural community.
WAYO will go live on air at 104.3 FM on January 4, but until then, you can stream the programming at wayofm.org or through the TuneIn Radio app. And the public can support WAYO through a Kickstarter campaign to raise money towards the first year of operations.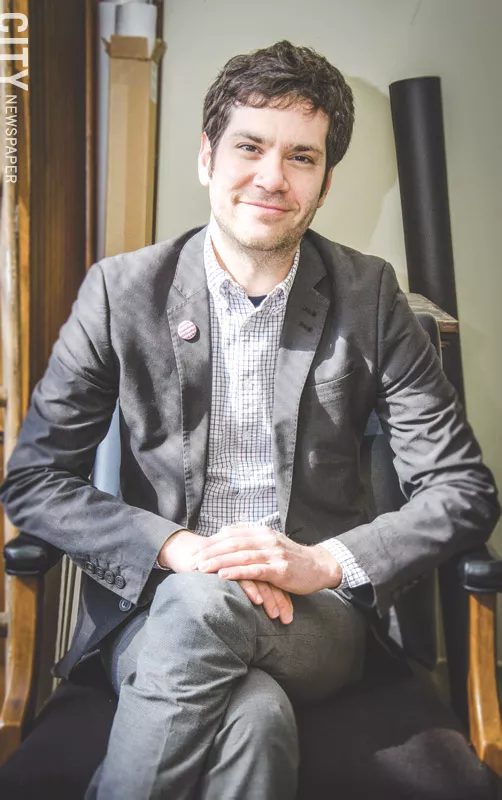 photo by Mark Chamberlin
WAYO operations leader Mike Yates.
City caught up with WAYO operations leader Mike Yates about their programming and process of creating a by-the-community, for-the-community radio station from scratch. An edited transcript follows.
Also, check below for a working list of programmers and DJs already with WAYO and the shows they are hosting. The list will be updated as more information is available.
City: What have you learned about running a radio station since we last spoke?
Mike Yates: The things we've learned have, I think, less to do specifically with running a radio station than with lessons learned developing and managing a large, complex organization. One of the things we've learned is to be patient and do something right rather than fast. When we last talked, our estimate was that the station would be operational by the fall of 2014 and as that date approached and it became very clear there was more work to be done.
Rather than try and broadcast in a limited capacity, we had an honest conversation with our programmers about the reasons for the delay and move the launch dates back. Since then we've proposed and pushed back other launch dates, but we've always been able to clearly demonstrate a thoughtful process as well as continued progress every step of the way.
We've always been constructive and enthusiastic about the station's current status and next steps, and I think that has helped to keep enthusiasm high among our volunteers —even those whose program applications were accepted in April 2014 and have been waiting 17 months to be on air.
During the startup time there wasn't, obviously, programming people could listen to, and we learned during this time different ways to communicate the identity and spirit of the station. The station has been positioned as a creative hub rooted in the Rochester arts and cultural community — from our Indiegogo campaign that featured contributions by nearly 50 musicians and artists, to unique events such as improvised collaborations between musicians recorded live in a record store and dramatic in-character readings of musicians memoirs by comedians, to flyers featuring illustrations by Rochester-based artists like Arthur Bond, Chuck Harrison, and Ray Ray Mitrano.
What have been some challenges, and some pleasant surprises?
The biggest ongoing challenge has been running this as a volunteer effort. There is an enormous amount of work to be done and dedicating time in the midst of paid work and daily life — let alone family upheaval, work changes, and other creative endeavors — can be a huge challenge to say the least. Thankfully, we have a wonderfully talented, committed team, and when we were in need, the right person has always come along.
Another challenge is that we are trying to build and operate the station at the same time. We are developing policies, procedures, and processes at the same time that we are making decisions and taking actions that should flow out of those things still under development. We've tried to put things in place to anticipate situations — such as having legal counsel and a conflict resolution expert on retainer — but many times we need to go through a situation before we understand the best way to handle it.
It would also be a gross understatement to say that it has been a pleasant surprise that the right person or opportunity or piece of equipment has come along when we needed it. There has been a very real magic about how the station has come together. One small example: WHEC was kind enough to sell us two racks they were not using at a drastically reduced price. The rack fits exactly the space between the end of a radiator and the edge of a step. Things like this happen all the time.
You've said WAYO would be eclectic in its programming — in what ways is it eclectic?
Our programming consists of all different types of music as well as all the things radio can do so well: comedy, drama, interviews, talk, and experimentation. The approach of the shows are also very eclectic; some people do painstaking preparations piecing the shows together and some people show up with a bag full of music and make the show up as they go along. Some people play each song individually allowing each work breath and presence while some mix back and forth between songs or play two things on top of each other to smash together textures and meanings (like a memorable pairing of an instrumental Cabaret Voltaire song and a recording of the Mercury Theatre's War of the Worlds broadcast). Some people talk after every one song, some people barely talk at all. There is no "house style."
As for demographics, our programmers are a vibrant mix of people. From people just out of school to recently retired people living out a dream to be on the radio, there is a wide range of ages among our programmers. Roughly 25 percent of our programs are hosted or co-hosted by women and roughly 20 percent are hosted or co-hosted by people of color. While that gives us representation of people of different genders and race and ethnicities, there is certainly room for improvement in those numbers.
We've also tried to ensure there is a mix of social classes. When reviewing programming applications, we've tried to keep in mind the class aspects that often underpin music connoisseurship such as money to purchase music and leisure time to listen. Rather than only selecting applications with the most obscure music known only connoisseurs, we've looked for thoughtfulness of the applicants' ideas and their enthusiasm for what they would be doing.
Other shows will reflect the diversity of Rochester through a focus on specific populations such as the Bhutanese and East African communities. Created by members of these communities, these shows will provide a means of internal communication and also a way to share information about their culture, history, and religion with the community at large.
How would you characterize the freedoms and restrictions that the programmers need to work with?
The main restrictions are legal. Some apply to all radio stations such as language restrictions. Some apply to non-commercial stations such as limits on how you can promote events and work with which you have a personal connection.
Our programmers have the freedom to develop and pursue ideas, book the guests they wish, and play the music they want. Right now, I can hear "Beefus" D'Aurelio of the "Hey Doggy Variety Hour" is conducting an interview with a mannequin head in the broadcast room. So needless to say, they have a lot of freedom.
What are your goals in the short and long term for the station?
Our short term goals are largely internal. We want a station that has a high-functioning leadership team; programmers who are comfortable and competent with the equipment; a programming schedule that we consistently execute; and fiscal stability through revenue streams that maintain our independence and integrity. We'd also, of course, like people to listen and enjoy our programming.
Long term, we want WAYO to be an organization that outlasts us as founders and becomes a pillar of the arts and cultural community. To me that means a couple of things. It means people look to the station as a place to hear new, old, rare, classic, crazy music of all types. It means the station functions as an amplifier for Rochester-based creativity — music, literature, art, and so on. It also means it is a platform for people to create new things that wouldn't have existed without the station.
The idea of "success" I have in my head is this: in 20 years we get a programming application from someone who writes that they grew up listening to WAYO and it shaped how they think about music, creativity, and their community and now they want to be a part of it. I think that would be the best.
How will WAYO gain a healthy audience?
The diversity of our programming will in turn connect with a diverse audience. If someone tunes in for one show, then maybe they stick around for another. We've built our programming assuming a curious audience, and hopefully the station forges a connection with them by offering what they knew they liked as well as what they didn't know they liked until they heard it.
Many among our leadership team and our programmers have deep connections with the arts and cultural community and will also be an asset toward building a healthy audience. Being able to provide new, exciting opportunities for individual creators and collaborations with other organizations — like we have done with Visual Studies Workshop and Writers & Books — will form mutually beneficial relationships that will hopefully mingle the audience for the station and these creators and collaborators.
We are also building an audience through, for lack of a better word, creative branding. We've worked with great artists to create striking designs such as the unmistakable pin design by Emily Ianacone — that features WAYO written in an electrical cord, a pizza slice, a hand making a peace sign, and a record — or the sticker design by Cara Livermore that now adorns many bumpers and guitar cases.
WAYO 104.3 FM Programmers
Some programming slots remain open: to learn how to contribute, call 203-9296 or visit wayofm.org.
Show: A Hollow Pillow Swank on the Swind – Tuesday, 11 pm to midnight
Mitchell Jones, 31, Irondequoit
Description: Sound collage featuring mashups, remixes, rare tracks from any genre, creepypasta, radio drama, comedy, television and movie clips, speeches, interviews, creepypastal all mixed up together and hosted on a computer.
Show: Up Close and Cultural – Tuesday, 11 am to noon
Rachel Y. DeGuzman, Pittsford
Description: An on air and online portal to unscripted, thought provoking conversations about the business, relevance, and sustainability of the arts in the 21st century. Guests will explore challenging issues as well as exciting opportunities for the arts and cultural sector to help address the civic agenda and, in collaboration with other sectors, build a more vibrant and inclusive community.
Show: Singing
Jed Metzger, 54, Brighton
Description: This show moves across as many genres as a person can think of (bluegrass, blues, R&B, rock, Reggae, Jazz singing, Americana, Folk, Brit Folk, etc.) to engage the ear in the power of voice and voices
Show: Music NOW – Thursday, 5 to 6 p.m.
Carlos Sanchez-Gutierrez, 51, Brighton
Description: Rotating hosts from the Eastman School of Music Composition Department share music emerging from ESM as well as work by national and international composers.
Show: The Soul Monologue – Friday, 7 to 9 am
Jermaine Oneil Jackson, 43, Rochester
Description: An introspective into various aspects of music designed to touch one's soul.
Show: currently unnamed, Thursday, 2 to 3 p.m.
Marc Maghran, 30, Rochester
Description: Independent rock 'n roll based featuring various sub-genres, ex: punk/post-punk/indie/post-rock/90's emo, etc. Possible weekly themes, will definitely play local/regional music
Show: The Sound of Tomorrow – Wednesday, 4 to 5 p.m.
Ross Johnson and Heather Zajkowski (co-hosts), 30's/40's, Rochester
Description: Sound of Tomorrow is the most fun you can have in orbit. Join Heather, Ross, and all of their radio friends for a fun-filled journey into the future of comedy, music, movies, comics, and other stuff we love. With our guests and skits, you'll want to join us on the Spacebridge for each new episode.
Show: Zug Island Wildlife
Daniel Gross, 38, Penfield
Description: Jackbeat, Electro, House; and Techno that explores the connections between Detroit and The Hague through over-saturated psychedelic lens
Show: N/A – Tuesday, 4 to 6 p.m.
Paul Gabbey, 52, Rochester
Description: the show is really a mixture of rock and punk and country that will be linked up every week with some theme.
Show: Art & Archive – Sunday, 10 to 11 am (monthly)
Tara Nelson, 40, Rochester
Description: Experimental: Electro-acoustic and digital sound compositions, documentation of sound and noise performances, magnetic tape loops and audio found in local archives.
Show: ROCSoup – Saturday, 10-10:30 am (bi-weekly)
Aprille Byam, 41, Rochester
Description: A storytelling show that blends folklore and fable, Rochester history, everyday stories from real Rochestarians, and longer stories told live by key figures in our community.
Show: Top 10 Smooth Jazz Countdown – Thursday, 8 to 10 am
Glenn "Jo Khool" Bunn, 62, Rochester
Description: We countdown the Top 10 National Smooth Jazz Artists for the week and Spotlight Smooth Jazz and Soul tracks by mainstream and Independent Artists. We take Smooth Jazz back to its roots of the early 70's when it was heavily influenced by Jazz Fusion, Soul, R&B, Funk, Rock, and Pop music. We also play Smooth Jazz and Soul tracks that are no longer on the charts but still have a huge following.
Show: The Justin Rielly Show – Sunday, 4 p.m.
Justin Rielly, 31, Rochester
Description: It's a freeform show with an anything-goes attitude on music and guests. "I want to create the most unique show on WAYO, where you never know what song you'll hear or who will show up. I want it to be freeform at its most free."
Show: Are Friends Electric? — Sunday, 8 to 10 am
Chris Young, 46, Brighton
Description: Catchy, dancy, and robotic electronic music through the ages. (Sitting at the intersection of pop music and electronic sounds from the 50s through today.)
Show: The Friday Night Dance Party – Friday, 7 to 9 p.m.
Jimmy Filingeri, 46, Brighton
Description: Playing Rock & Roll and Rhythm & Blues from the wild side to get you ready for the weekend.
Show: East of the Sun, West of the Moon – Tuesday, Noon to 12:20 p.m.
Guy Thorne, 35, Rochester
Description: Experience the rich, musical sounds of Africa, the Caribbean, andthe Americas in a lively blend of music, stories and excerpts from archived interviews. Each episode, host Guy Thorne brings you the music of the ancestors, elders and contemporaries in a worldwide celebration of music with African roots. Get down with what the future dance floors sound like. The funkiest, most leg-shakingly infectious music blasts from our speakers on a regular basis. It's our mission to share this wealth of musical excitement with you, our audience.
Show: Reggae Yard - Saturday, 9 to 11 p.m.
Collin Thomas – a k a Mr. Bill, 50's, Henrietta
Description: A weekly 2 hour program featuring music of the Caribbean in all its forms including soca, calypso, zouk, reggae, and more.
Show: WAYO Play – Sunday, 10 to 11 am (monthly)
Ray Ray Mitrano, 29, Rochester
Description: An all age's hour of creative activities involving storytelling, interviews and collaboratively themed projects.
Show: Obsolete Transmissions - Saturday, 6-7 p.m.
Name: Justin Schmidt, 29, Rochester
Description: A weekly look at early synth, industrial, & electronic music from the 1970s and 1980s.
Show: ROC The Spot – Day/Time TBD
Ben McDonald, Rochester
Description: A show that examines Rochester's early historic companies and people that helped build Rochester into a great city. Each show has guests who are passionately trying to help Rochester become a brighter blip on our nation's map with their work. Every show is recorded remotely while we discuss over lunch at some of our cities most interesting local restaurants and breweries.
Show: All Systems Open – Saturday, 7 to 9 p.m.
Chad Oliveiri, 40, Rochester
Description: A little of this, a little of that...
Show: The Rainbow ROC Show – Wednesday, 3 to 4 p.m.
Brian Hurlburt, 58, Greece
Description: A music/info program reaching out to the LGBT community in Rochester. The music will be from LGBT artists and artists who support the LGBT community. There will also be news, coverage of events, coming out stories and interviews.
Show: Hamburger and Texas – Monday, 10 to 11 am
J. J. Pelechaty, 28, Irondequoit
Description: My show is a meaty, weird experience. You'll hear everything from electronica, to Swedish metal but most importantly, not a lot of me talking. Radio is about music, right?
Show: The Dean's List -
Dependable Dean (Dean Frohm), Pittsford
Description: Each week we will explore lists and themes in Music. For instance, Songs by the best guitarists, Best vocals, best rock bands, most influential lyrics, Underrated songs, best harmonies, best new bands, Top ten singer-songwriters, etc. Suggestions by listeners are encouraged.
Show: Juxtaposed Soliloquies, elaborated... – Sunday, 11 am to noon
Matt Shackelford, 47, Rochester
Description: Spoken word and musical collage covering all genres; melding background ideas and thoughts to songs to create an abstract type of narrative...
Show: 10X2 (or 10 by 2) – Tuesday, 12:30 to 1 p.m.
Audrey Flynn (Rochester's Sexiest Housewife), 43, Chili
Description: 10X2 is a lively chat featuring myself and a guest. The twist is both of us have to bring 5 questions to ask the other person (hence the name of the show.) This makes for a lively discussion and reflection.
Show: Music Therapy – Tuesday, 6 to 8 p.m.
Jeff Marsh, 41, Irondequoit
Description: Modern music to fit a mood
Show: The Witching Hour – Friday, 11 p.m. to midnight
Tom Quinn, 27, Rochester
Description: Featuring a wide variety of music as well as featured segments, special guests, and discussion on occult philosophy. Music covers everything from punk, new wave, and Goth rock to country, rockabilly, surf, folk, and everything in between.
Show: You're So Post-Post-Rock Right Now – Monday, Noon to 1 p.m.
Daniel J. Kushner, 31, Rochester
Description: An hour-long show featuring an eclectic mix of contemporary classical, indie, and folk music — all with an avant-garde twist — as well interviews and live studio performances.
Show: Foreign Exchange –
Maria Guzenko, 28, Rochester
Description: A show highlighting international events and opportunities in the Greater Rochester area.
Show: Spokes and Folks – Monday, 6 to 6:30 p.m.
Dan Lill, Greece
Description: A discussion of all things bicycle especially in and around Rochester
Show: This Land Is Your Land – Tuesday, 5 to 6 p.m.
Shannon Kelly and Danielle Preiss, 30, Rochester
Description: Americana, folk, gospel, and other forms rooted in American history and culture.
Show: Their Early Stuff – Wednesday, 11 am to noon
Kameron Schwartz, 33, Rochester
Description: I'll look at what some bands from the 80s were up to before they made it big with their new wave hits. I'll also play Goth, glam, and post-punk.
Show: Junk Culture – Monday, 7 to 9 p.m.
Brad Lewis, 37, Rochester
Description: Two hour weekly music show featuring power-pop, new wave and early punk. Pure pop for now people.
Show: Rock vs. Rap – Sunday, 5 to 6 p.m.
Ethan Frost and Jason Poole, 17 and 41, Rochester
Description: A father and son discuss the various merits of their preferred genres of music.
Show: Rochester Beat Therapy – Sunday, 9 to 11 p.m.
Joe Jacobs, 32, Rochester
Description: House, Tech-House and Techno.
Show: The Last Word -Wednesday, 6:30 to 7 p.m.
Chris Fanning & Al Abonado, late-20's to mid-30's, Rochester
Description: All things literature. From the Rochester lit scene, to popular fiction to poetry, readings and more.
Show: The Stupid Late Show – Monday, 1 to 2 am
Krist Worthless (Worthing), Rochester
Description: Late night talk show playing Sunday nights/Monday morning in the vein of the classic tonight show/ late shows covering topics ranging from local artists, to pro wrestling, to feminism, to comic books to politics. Some music will be played, usually Avant garde
Show: The Wreesome Island Survivals – Monday, 11:30 am to noon
Chris Whitebell, 35, Rochester
Description: (fictional podcast / radio drama) Plot summary: The excavation of the Wreesome Island Survivals on the desolate island of Emptee Sla is without question the most important archeological discovery of our time, uncovering a 900­ year­ old island civilization known as Wreesome. Now, thanks to the work of the Imperma Research Institute at Lunda Yuni, the stories captured in the Survivals can be transmitted across Perma.
Show: Almost Tuesday – Monday, 9 to 11 am
Written and Produced by Jon Laurin, Kara Maillie and Woody Battaglia. Woody Battaglia is host.
Description: A ramshackle, larger-than-life comedy and music variety show barely getting on the air each week and featuring performers from Rochester and beyond! Almost Tuesday is a comedy and music variety show featuring interviews with artists of all sorts, written and improvised comedy performance, live musical performances, weird characters, experimental audio segments, and thematic threads that listeners can choose to pick up.