UPDATE, Jan. 30: City Council has dropped its request for an ethics investigation into the hiring of Reggie Hill, uncle to Mayor Lovely Warren. Hill's resignation ends the matter, says a press release from Council.
ORIGINAL STORY:
The press pack —a handful of reporters and photojournalists — decides it's time for the big move: the breach of the third floor at City Hall, where Mayor Lovely Warren resides, fortified behind a wall of staffers and one laid-back security guard.
The pack has been cooling its heels downstairs going on three hours, hoping Warren or her spokesperson will come out to address the latest development in the new mayor's speeding scandal. By this point, it had been confirmed that Warren's driver was stopped for speeding on the Thruway. A second stop — on the same day — was suspected. (Eventually, it was acknowledged that they'd been stopped twice.)
After some shouting and microphone-pointing, the press gets its way and lines up, firing-squad style, across from Warren's office. But it's a meager victory; Warren says she won't talk about the traffic stops or why she let everyone believe it had happened only once.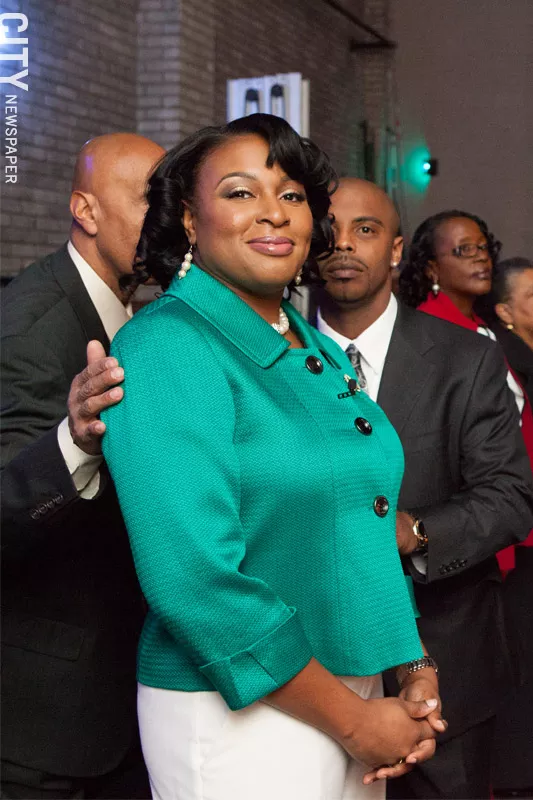 PHOTO BY JOHN SCHLIA
Lovely Warren at her public inauguration at the Auditorium Theatre.
Warren's only been in office a few weeks; this cannot be the honeymoon she hoped for. If rubbernecking is your thing, you've had a lot to look at. Along with the speeding scandal, Warren faced accusations of nepotism for hiring her uncle as her security chief, prompting an investigation by the city's ethics board. (Warren's uncle, Reggie Hill, resigned late last week.)
Warren husband's criminal record as a youthful offender was exposed. And it was revealed that Spencer Ash, Warren's pick to lead the city's Department of Neighborhood and Business Development, had been charged with driving while intoxicated last year. (Ash, a city attorney at the time, pleaded guilty to a lesser charge.)
Another knock: Warren's choice for city corporation counsel, T. Andrew Brown, plans to stay active in his private law practice. It's an unusual move that has many in the legal community concerned about the potential for conflicts of interest, especially since Brown's firm, Brown & Hutchinson, frequently represents people suing the City of Rochester. (City Council sought an opinion on the Brown appointment from the Harris Beach law firm. The firm says that the appointment is ethically sound and doesn't violate the City Charter.)
It's been a rapid and distressing succession of unflattering headlines for Warren, whose upset victory last fall made history and whose talk of restoring city neighborhoods and rescuing Rochester families from a dismal school district gave hope to the less fortunate half of the "two Rochesters" Warren so often speaks of.
The bad publicity also threatened to overshadow some of the good news to come out of City Hall, such as the coming of a grocery store to the East End. Warren also got credit for helping end a stalemate in the County Legislature, which salvaged a bunch of projects, including a city Costco store.
Warren says that people are missing the point. Her husband's record, for example, was sealed. So the real story, Warren says, is who leaked a sealed record and why.
"When it comes down to it, family, in politics, is generally off the table," she says. "But for me, it's something different."
And the incident with Spencer Ash occurred when Tom Richards was mayor. So why, Warren asks, does it become a problem only after she takes office?
It is true that the much of the venom coming Warren's way via social media is unsettling, racist, sexist, and disgusting. And Warren says she's gotten threats, including threats against her young daughter. Even the "lighter" stuff on social media is laden with schadenfreude.
"People say, 'If you were white, this wouldn't happen,'" Warren says. "And I don't like to think like that. I like to think better of our city, of our world. But it's just something that I'm faced with, something that I'll deal with. I'll go forward, because my goal is to do great things for our city."
Warren plans to go forward with her campaign promise to create an education office in City Hall. She's also set on adding police stations to combat crime and improve police-community relations. She is most passionate when she talks about getting people to see the city and its challenges from a different perspective — that of Rochester's most impoverished residents.
Warren talked about the challenges she faces and her plans for the city in a couple of recent interviews with City. The following is an edited version of those discussions.


CITY: Do you think you've gotten off to a rocky start?
Warren: I think there's something else going on here. All these things are not about me. They're not about my leadership.
Spencer [Ash], at the time, was a city attorney. So why wouldn't it come out, "City attorney charged with a DWI?" But it's attributed to me. In the paper, it's "Lovely Warren's appointee..."
[Regarding her husband] How many people in this city plead guilty to a particular crime as a youthful offender, and to have this come out... How does that affect his employment?
Even when it comes down to the security detail: you look at people wanting me to die. Wishing that I was poisoned. It has become such a racial barrier, and a distraction.
I have moved on. I've got other business to talk about.


But do you wish you had been upfront about the fact that there were actually two traffic stops?
I'm not talking about that anymore.


How is T. Andrew Brown keeping his stake in his law firm not a conflict of interest?
Christopher Thomas, who was part of the transition team, did extensive legal research based on the case law and everything, and there was no conflict as long as [Brown] and his firm put up a firewall.
Any clients that had anything against the city, [Brown] had to ask to be removed from those cases.
He would have to get rid of those [cases] and remove himself and his firm. The firm would have to disclose to the court that they had to be removed as counsel.
I've seen a memo that was prepared from Chris Thomas before we even extended the offer to Andrew that there would be no conflict and there was nothing wrong with this.


It's widely presumed that James Sheppard resigned as police chief last year because you wouldn't have kept him on. Why not? He was popular, did a ton of community outreach, and if there are cultural problems within the police department, he really wasn't given enough time to change that.
It was the chief's choice. I didn't ask him to stay, I didn't ask him to leave.
The chief came in to me and he said, "Look, I'm tired. I've been doing this job for 30 years. I think I've given everything that I can give at this point in time. I want to take a break, so I'm going to retire."
That was his decision. I didn't say "You have to go," or anything.
He also had indicated that early in the summer, before the primary, he was thinking about retiring. So that wasn't a decision I made for him.


But if he didn't want to retire, would you have kept him?
It doesn't matter.


Speaking of police, Richards put money in the current city budget to study adding police stations. But it sounds like you're skipping the study and going right ahead with a reorganization, from two stations to four.
We're going to utilize [that money] to figure out exactly how much it would cost, how we could actually implement this four-quadrant system.
The interim chief has done a lot of work and has lot of background on studying this. And it's something that not only our police department and members of our police union have called for, but it's also something that our residents have called for.
The $50,000 was for figuring out if we should do this. I don't think we need to study if we should do this. We know that we should. We need to figure out how much it's going to cost.
What we're doing now is not the best way of policing our city, and we've heard that from not only the people that are on the ground, but the people that receive the services. So we have to do this.


What are your thoughts about the city's red-light camera program? There's been controversy, including the fact that despite numerous stops, city employees aren't required to pay the fine.
I know that this is up for review [the contract between the city and Redflex expires on December 1, 2014], and I believe that the legislation in the state of New York sunsets this year.
I think it's something that we have to study to see, did it do what we said [it would], and that was to reduce accidents.
I'm going to talk to City Council about not extending the contract until we do a study on the feasibility, long term, and is it giving us what we expected as it pertains to safety.
There are concerns, and I know that some people on Council have concerns. Is the equipment working properly? I know there was an issue with [the timing of yellow lights] — have those been corrected? Are people actually paying?
So I think that before we make a decision, we need to have some more information.


You got credit for rescuing the Costco project, along with the rest of the projects in the county's capital program, from partisan gridlock. And people are talking about a new era of cooperation between the city and the county. How do you know this relationship won't be one-sided? After all, the county doesn't have the best record in terms of its treatment of the city.
Our city residents are fifth in the nation for childhood poverty. When we look at the Costco project, over 1,000 full-time jobs will be there. We [will] have over 1,500 construction jobs.
Look at MCC — the downtown campus — the potential to do startup businesses there; the potential to do innovative, educational ideas.
We know that we have a skill-set deficiency here with middle skills in our manufacturing companies. Expanding MCC's program to help city residents be able to go through training programs and get good paying jobs — the opportunity is there.
So when I look at [the county's capital program] and how that benefits the city, I look at, how does that benefit the person that lives on Avenue D? When we look at jobs, especially retails jobs like Costco — it's on a really good bus route where city residents can get there.
So you have to look at the bigger picture.
The city and the county are working on other things, like the county chargebacks to the city as it pertains to the traffic control devices and the housing of unarraigned inmates. Those issues are not off the table. Actually, one has been solved. We just haven't released that because we want to release it as a package deal.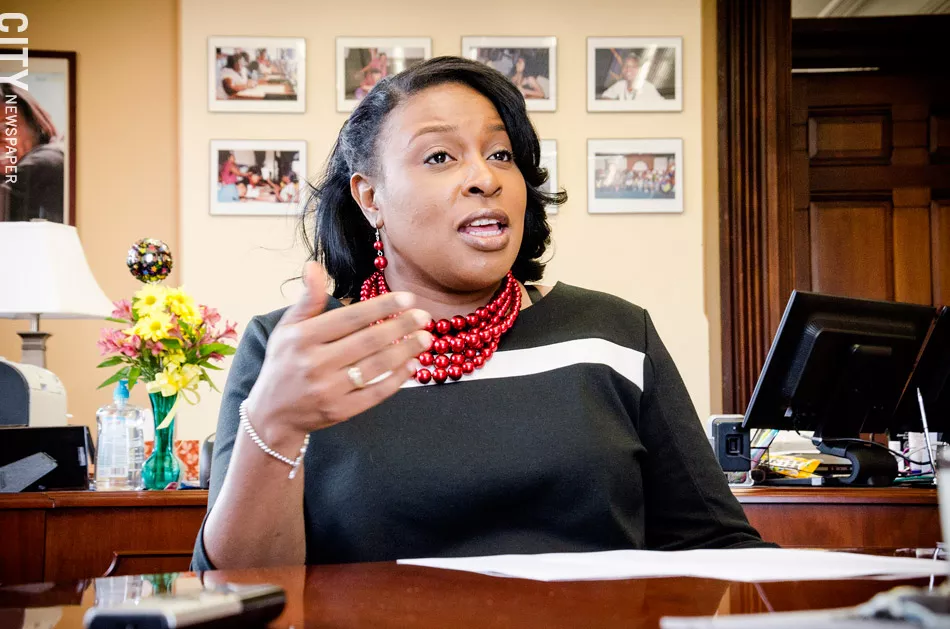 PHOTO BY MARK CHAMBERLIN
Mayor Lovely Warren.
Where else do you think the county can help the city?
When it comes to social services. When it comes to workforce development dollars. Those are dollars that the county controls. Are there ways in which we can partner, since a lot of people that are affected by those particular programs live in the city? I'm looking forward to sitting down with Kelly Reed [the county's human services commissioner] and her team to talk about ways in which we can look at social services, and how they provide services to city residents.
People have said to me, it's so degrading, how they're talked to [at social services]. One of the things I would talk to them about is to do sort of a "mystery shopper" — I got that from [the TV show] "Undercover Boss." Sometimes you really need to just be the other person and see how they're being treated. What's the process like? Are we truly providing the best service we can to the residents that are the most vulnerable?


Education was at the heart of your mayoral campaign. When do you expect to create your education office at City Hall? And would the head of that office have classroom teaching experience, or be more of a policy person?
It most likely will be something created in the budget. Part of that is, we need to have someone who is a full-time grants writer.
It's to really work at giving parents choices: working with city schools, charter schools, parochial schools to give city residents choices and information about our city.
[He or she will be] more of a policy person. Not that the person wouldn't have some experience in education. But more, how do we work with these different types of educational institutions? How to utilize what we have — our recreation centers — in a way that enhances our children's educational life.
In the summertime, we have 300, 400 kids who attend some of our recreation centers a day, so how do we bring programming in there that will help with that loss of math and reading skills over the summer? Who can we partner with? Who has money for this? That type of thing.


In addition to the full-time grants writer, you mentioned that there would be another person in this new department. What would he or she do?
The other person will look at, how do we work with charter schools, national charters to bring them here? How do we get information to parents about the schools that are coming here? For example, there will be four new charter schools in Rochester opening in the fall. How many parents know about that? How many parents really see those as an option?
So that's the type of stuff that we need to get to our parents so that they can make an informed decision.


How will you go about recruiting charters for Rochester?
We have people here that are doing it already. You work with people like Joe Klein [founder of E3-Rochester, an organization that plans to bring charters to Rochester], people like Carrie Remis [an advocate for parents and charter schools].
It won't necessarily be our job to go to these different cities, but to look at these different models and say, "Have you looked at what's happening in Philadelphia? Have you looked at what's happening in New Orleans?"
How do we look at those cities that have had issues around urban education and see if some of their people want to come here and help us? How do you be a liaison?
One of the major issues here with charter school is, where are they housed? People say, "You have a lot of vacant buildings. Why can't you use one of those?" Well, to bring those up to code, to now have a gymnasium, a cafeteria, all the amenities that you need for a school, it costs a lot of money. Is there a way you can work with your foundations to develop a revolving loan fund? Are there ways we can work with the city school district to see if they will allow some of these charters to utilize some of their facilities that are half empty?


What do you think of Superintendent Bolgen Vargas's plan to have area colleges take over city schools?
I think that we are in such a crisis here, we need all the help that we can get. It's interesting that he's saying, "Look, we can't do this by ourselves." And that's what I've been saying. We need help. And if help is with our colleges, if help is with our charter schools...
But we can't shoot in the dark with this stuff. We need to figure out how to implement those things that can help the 30,000 students that we have in the city school district and the other thousands of students that we have in our city.


It's no secret that your talk of focusing neighborhoods during the campaign set the business community a bit on edge. Some are worried about progress downtown stagnating. Do you intend to shift resources from downtown to the neighborhoods?
No, I don't think so.
The residents and neighbors I talk to want neighborhoods to be safe, to be clean, their streets to be paved. If you plant more trees in areas.... So there are little aesthetic improvements that you can do.
Maybe there are ways where you can do sort of a mayor's challenge for corridors. You can help with some matching dollars for exterior improvements with paint and other things. Making sure you're demolishing dilapidated housing. Really, those little things that can go a long way in making people feel better about the community that they live in.


You've said that you want the Rochester Broadway Theatre League to build its new performing arts center downtown. And you've floated the idea of pairing it with a downtown movie theater, putting a surcharge on the movie theater tickets to cover the arts center's operating shortfalls. What if the surcharge doesn't raise enough? And wouldn't a new downtown movie theater hurt the Little Theatres?
Look, if you're a City of Rochester resident and you want to go see a Number 1 blockbuster, there's nowhere you can go in the city to see it. Our residents should be able to experience the greater parts of life without having to be subjected to the fact that there's no place for them to go in the city and watch a blockbuster.
The Little Theatre, usually the films they get are Sundance films that are just being released. Smaller films. They wouldn't even show the same type of movies at all. [The Little does show first-run, popular films. The Little's offerings this month have included "Philomena," "Nebraska," "American Hustle," "August: Osage County," and "Inside Llewyn Davis."]
And the performing arts center? It belongs downtown. The RBTL, when you look at the amount of money they generate, from hotel stays to restaurants to people coming from all over the region to see our shows....
I think [the operating deficit] is something that we have to look at. Talk with RBTL and a developer: "How much money can we raise for this? What is expected from government, if anything? How can we make it work?"
We are the city of the arts. We need to highlight our assets and have a "We can do this" spirit. In the summertime, why don't we have people along Main Street, performing? Not necessarily panhandling, but performing. Liven up our atmosphere and don't leave it to mischief.
It's not about why it can't work; it's how can you make it work in the most fiscally responsible way?


Some people were taken aback when you threw that downtown waterpark idea out there.
What I was saying was, we have a lot of standalone gems like The Strong museum. And we don't market it and package it in such a way that really helps us maximize our visitors and our tourists.
So how do you look at that asset and build upon it? So I said, "What if we did a waterpark next to The Strong?" And from that it came, "Oh, we're getting a waterpark."
The point was not necessarily that we're building a waterpark, but we have to build on our assets. To be able to say that our community embraces families and within a five-day stretch families will be able to have a great time and do something different each day.


A recent report by the Community Foundation and ACT Rochester painted a grim picture of the situation in Rochester regarding concentrated poverty. It says that for an unfortunate combination of reasons and historical trends, Rochester's poverty is unique and profound. How do you even begin to address that?
If people aren't educated and they don't have access to good jobs, then they're stuck in a desolate situation. So you start to make people feel better about where they live, about their neighborhoods, about their services. You start to look at ways in which you can give parents choices about their child's educational outcomes. You start to look at attracting companies to Rochester, and you see how you can get your small companies to become mid-sized companies to become large companies.
You go back to basics. Don't look at it as, there's nothing we can do to help solve this issue. But how do we? What are the little things we can do to really move the mark?
The people that sit around the table are the people least affected by what's happening on the streets in everyday life. Not that those people don't care, but you see things from your frame of reference.
A perfect example: when the Greater Rochester [Health] Foundation first started to do neighborhood programs like Project HOPE, they said, "Oh, yeah, we're going to bring in doctors and we're going to do blood pressures and we're going to do all types of health screening." And one resident said, "Look, I have rats in my basement. I don't care about my blood pressure."
Many of the health disparities in neighborhoods are really connected to the environment in which [people] live, and so we have to look at it [through] a different lens. I think that's why the Health Foundation, many of their programs [ended up being] very successful. They haven't gone in and tried to say, "We know what's best for this neighborhood."
At the end of the day, if you get buy-in from the people that have to live there every day, the results will be that much greater.
Some of the things that our children have to face on a daily basis, they need to know that you can be born and raised in the city and you don't have to be a victim of your circumstance. Our children need to see that there's a way out. You're not alone.