WALL\THERAPY 2015 opened on Friday night, July 17, with a reception for "IMPACT!," an exhibition of work by each of this year's featured artists at 1975 Gallery (89 Charlotte Street). And though the heat has been pretty oppressive during the early portion of the nine-day festival, a few of the artists have banged out one mural and are onto the next.
Check out this slideshow for examples of the studio work by this set of painters as well as progress shots of some of the completed or in-progress outdoor work. Many more images -- as well as interviews, artist bios, and related event coverage -- can be found on our site by clicking on the WALL\THERAPY page. Don't forget to follow us on Twitter and Instagram (@roccitynews) throughout the week.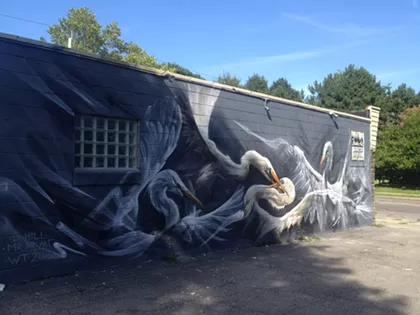 13 slides
Switzerland-based artists Onur and Wes21 are working on a collaborative piece that wraps the back walls of the artist studio building at the Artist Apartments at Corpus Christi (880 East Main Street). The artists typically create murals with an object as the subject, but for this piece they are experimenting with more emphasis on the environment, setting the place for a mythic scene of nature striking back against a dominant species.
Though the two have been working on walls together for about seven years, each maintains his own studio practice and solo projects. But when they create together, the styles meld so seamlessly that it seems like the work of a third artist entirely.
Switzerland-based duo NEVERCREW create dreamy, fantastical scenes with hyper-real and seemingly weightless whales, often calmly caught between natural and mechanical elements. The two artists, Christian Rebecchi and Pablo Togni, are painting one of their iconic whales at 14 Capron Street.
Brooklyn-based Canadian artist Li Hill collaborated on an early mural featuring egrets with Rochester-based artist Mr. Prvrt last week before the festival officially kicked off. Mr. Prvrt's skillfully painted birds blend with Li-Hill's kinetic fowl in a swooping battle of beak and wing.
Li-Hill went on to construct an easter-egg installation in an undisclosed location, in which two deer made of stretcher bars, cardboard, and paint face off in front of a Quonset hut, surrounded by urban overgrowth. The artist is currently working on a mural at 400 Atlantic Avenue.
New York City-based graffiti artist Daze (a returning artist from 2013) finished his first mural at 646 Joseph Avenue, which depicts a young woman that the artist says is based on a photograph, but modified through sketches.
He says that he wanted to represent people in the neighborhood, but not depict any one person specifically. Local artists Ephraim Gebre and Kokenas Singletary, who have helped Shawn Dunwoody in his uplifting street art projects around town, had the opportunity to assist Daze in laying down some of the color. Daze will begin a second mural with members of FUA Krew today.
Rochester-based artist Brittany Williams -- who exhibits incredible illustration and portraiture skills, but is working on her first mural ever -- is painting a large profile of a young woman whose head opens to reveal a blooming mind at 488 Joseph Avenue.