The most talented artists are often the most self-deprecating, and Virginia Monte is no exception. When she finds out she's being interviewed, Monte quickly replies, "Are you sure you emailed the right person?" She's quiet, meek, and bookish — not the flashy, extroverted personality often associated with theatrical professionals.
At just 30 years old, Monte's one of the youngest artistic directors in Rochester, and her two-year-old theatrical company, WallByrd Theatre, is shaking up the local performance circuit with experimental works each season. Monte cofounded WallByrd in 2014 with Kate Duprey, the company's production manager.
WallByrd garnered attention in October 2015 for "The Duchess of Malfi," a classic, 1612 John Webster text that Monte reimagined during the Civil War era with a biracial romantic relationship at its core. The show was performed with double-sided audience seating at MuCCC, a first for the venue, which challenged the actors to utilize all sides of the stage.
PHOTO BY ANNETTE DRAGON
Virginia Monte directed the Rochester Community Players' production of "The Winter's Tale" in 2014.
Last summer brought a partnership with Rochester Community Players to produce the company's annual Shakespeare in the Park at Highland Bowl. It was a Millennial-targeted, video game-inspired adaptation of "Romeo and Juliet." Heart-stopping fight choreography took place as a curated rock 'n' roll soundtrack blared, and colored hair and brightly textured costumes in shades of neon made the action pop from anywhere the audience was seated on the grass.
During the 2016 Rochester Fringe Festival, WallByrd produced two shows, including a staged reading of "Dracula" adapted by Syracuse resident Alec Barbour. Aided by Monte's deft direction and design work, the gripping tale held audiences captive in the opulent Lyric Theatre for three hours.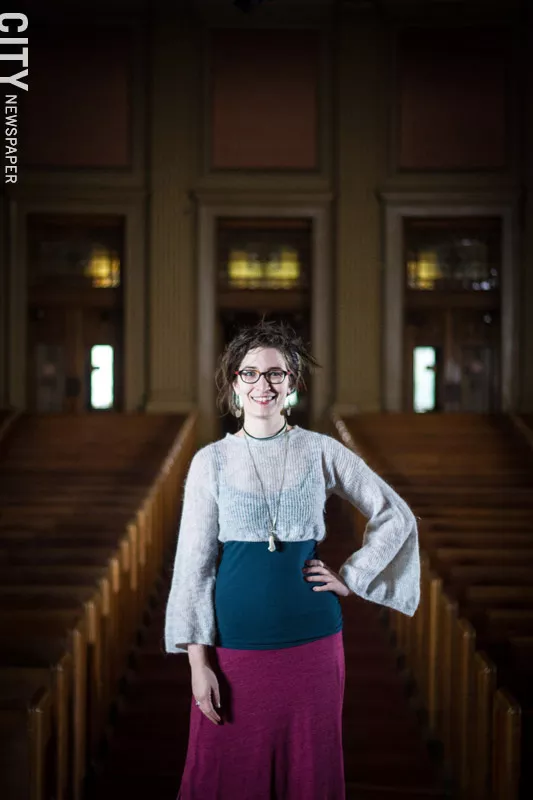 What Monte does with WallByrd, in essence, is take classics and transform them for the next generation of theatregoers — her generation.
Monte grew up in Pittsford, where she was the self-described "weird kid who was always drawing faces on things." She always had a love for storytelling, but didn't find theater right away.
"At 5 years old, I thought I was going to be Walt Disney, and was very upset to find out that's not a job title," she says with a laugh. "Then I wanted to be Sherlock Holmes, and I was disappointed to find out he wasn't a real person. I just wanted to tell stories."
In the midst of a busy holiday season, Monte sat down with CITY and a macchiato at Joe Bean Coffee to discuss her training, WallByrd's mission, and her hope for Rochester's burgeoning theater scene. An edited transcript of that conversation follows.
CITY: How did you discover theater?
Virginia Monte: When I was 10 years old, my mother got into costuming and I was lucky enough to meet Pam Ford. She and her husband used to do all the set painting and design for the Pittsford schools, and they were very professional. They let me, essentially, walk around with the water bucket and wash the paintbrushes. I fell in love with theater magic: the ability to take something and say to the audience, "For the next few hours, this is not what you think it is." And a group of people says, "Yes, we agree."
My biggest influence after that came around the age of 12, when I saw Julie Taymor's "The Lion King." I have a very distinct memory of sitting in the audience during the opening number and as great puppets were coming down the aisles, I remember looking around me and seeing children and adults, all with the same look on their faces. And I said, "Oh! That's what theater does. We're all in the same moment, on the same ride, with a sense of majesty and wonder." And I knew I wanted to do that, no matter what. It took me a long time to realize the word for "that" was "director."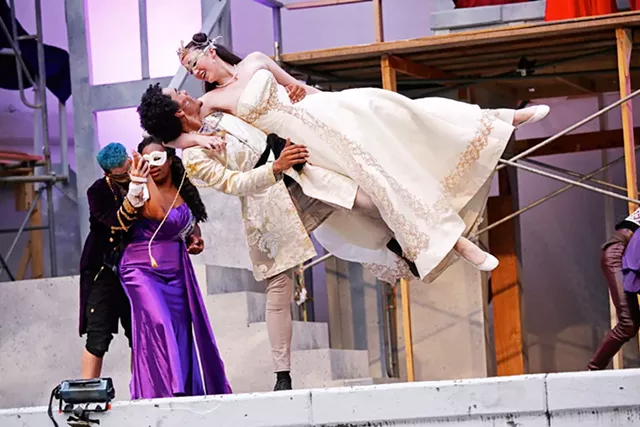 PHOTO BY ANNETTE DRAGON
Monte was inspired by video games and anime when she designed the costumes for "Romeo and Juliet," last year's RCP Shakespeare in the Park production.
You first trained as a designer, though?
I graduated with a degree in fine art from Stetson University; did props for the summer stock circuit in Florida; designed for shows in New York City; and, knowing I still wanted to direct, applied to a one-year intensive master's program in directing at The Royal Conservatoire of Scotland in 2013. I got sick at the end, and finished remotely a year later. Many people don't know this, but the first show I designed and directed for Rochester Community Players in 2014 — Shakespeare's "The Winter's Tale" — was also my master's thesis.
How was the transition from design to directing?
I think I came to [directing] backwards, because I saw Taymor, who also designs, and I thought directors did everything. No one told me they don't, so it's been an interesting journey. For a long time, that made it hard for me to find employment. No one wanted to believe that I could design the sets, costumes, and posters, execute development work — oh, and also direct. I don't know if my age or — I hate to say it — gender contributes, but I'm not what most people expect in a director, especially with a name like Virginia. When I walk in a room, people do a double take and say, "You're way too young to have this resume and do these things."
When did you notice that gender, specifically, began to play a role in your success?
When I was at Stetson, there was one professor, in particular, who told me, "Women don't direct." After coming from a supportive high school in Pittsford, that was the first time I'd heard that, so I said, "But what about Julie Taymor?" He said she wasn't a director, and I told him the Tony Award committee might disagree. That situation doesn't happen a lot anymore — there are so many wonderful female directors now — but every so often it does, and it's bizarre.
In 2014, you cofounded WallByrd Theatre Co. Can you talk about your vision for the company?
Rochester is a hungry community. I never wanted a company; the first year and a half back here, I was applying at companies and getting design offers, but my expertise — my degree — was in directing. So we did a [Rochester Fringe Festival] show, "Pool (No Water)," in 2013 to experiment with a European style of acting no one was doing here. That's what Fringe is for, right? But I still wanted to direct and I wasn't being hired. I met Kate Duprey, a stage manager, who was in much the same situation, and WallByrd began as us waiting for jobs and building our resumes doing what we love in the meantime.
FILE PHOTO
"Dracula" during the Rochester Fringe Festival.
So is Shakespeare the primary focus of WallByrd? Is this what you love?
I never liked Shakespeare. How pretentious; how annoying! And then in Scotland, we studied at The Globe and they taught us how to direct on that stage. Once I learned there's no "official Shakespeare standard" then I really began to love it. It became a detective game: what could I find?
At The Globe, I worked with one of the best professors I've ever had, Tom Cornford. He was the first one to look at my bullshit and say, "First of all, get over yourself." He saw what I was trying to be, and he pushed me in a way that was not demeaning. When I came back to Rochester, I really wanted to do "American Shakespeare" — meaning, we don't understand royalty. The fall of King Lear means nothing, because we change our government every four years.
That's where the artistic vision for Webster's "The Duchess of Malfi" came from. I worked on it in the UK, where the actors understood the script, but in America we don't have the mythos of class structure. Here, it's "shoot for the stars." So what would we understand? Race. There was a time in this country where it was dangerous to marry outside your race. I loved that show; it was such a big monster but it taught me so much about Rochester audiences and how they work.
PHOTO BY KEVIN FULLER
Virginia Monte in her studio space in Village Gate.
How is WallByrd different from other companies in Rochester?
I think there are two types of community theater. One is for a community of actors who have day jobs and want recognition — and there's nothing wrong with that. But when I hear community theater, what I see is something that services the community, the audience. Amazon CEO Jeff Bezos used to leave an empty chair at every meeting as a physical representation of the customer, and I love that idea. I always try to remember that it's for the audience.
The last few years, we've been figuring out what Rochester wants to talk about and where we want to push buttons. Rochester is used to a musical theater style: a clearstory arc, this almost TV-like staging, and knowing when to applaud. Then they walk into "The Winter's Tale," where there's a pre-show — action already happening — and they freak; they think they've missed something. Or something like "Duchess" or "The Kiss," where there's a multi-sided house and they don't know what to do or where to sit. The immersive environment is new, and it's one I like to use. These stories don't exist in isolation.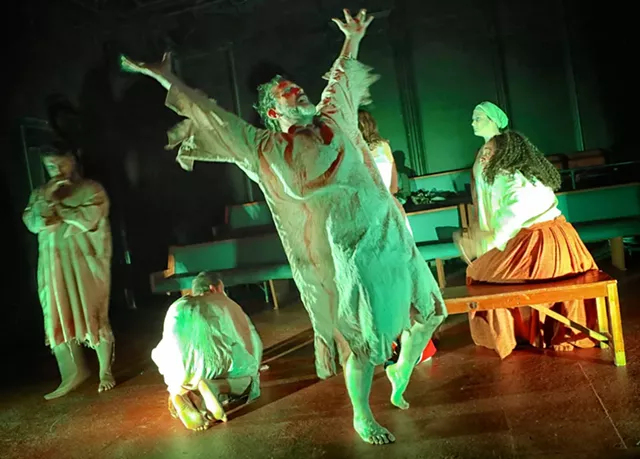 Photo by ANNETTE DRAGON
WallByrd Theatre Co. performed "The Duchess of Malfi" at MuCCC in October 2015.
Where did the name WallByrd come from?
I get that question a lot. During undergrad, I took a class I was really obsessed with called "Hidden Meanings in Iconography," and my thesis was about a series of paintings with hidden meanings. Because I wanted to carry the theme over, my artist statement was a poem and the first line was, "There are birds within these walls." It was a metaphor referencing what it's like to be an artist, to have that sensation in your chest of "I have something that needs to be said, but not the words." That's the kind of stories we tell. We call ourselves a classics company, but we could just as easily be called a mythological company. We like the big questions: why am I here; what am I doing?
What's in store for WallByrd in 2017?
We're doing "The Importance of Being Earnest" at the end of April. Then we're doing a "Mad Max"-inspired adaptation of Shakespeare's "Macbeth" this summer (but not as part of Shakespeare in the Park). Without giving too much away, let's just say I love puppetry, and it will be a huge part of a project we have coming up this fall.
You've done a lot of "dream" projects in the past few years, but what else would you like to do?
I'd love to collaborate with PUSH Physical Theatre eventually, and I want to keep giving college students opportunities to work on our shows behind-the-scenes. Right now, I feel like I'm a little girl playing with dolls. I used to be amazed that people take me seriously, but this year has taught me to accept it; that it's OK to stop apologizing (that's a female thing) and be good at what I do.