Another WALL\THERAPY mural festival down, another set of Rochester's walls freshly adorned with imagery that projects playful, positive messages.
"I very much enjoyed our return to a smaller group of artists," W\T Lead Curator Erich Lehman says of the scaled down selection (in previous years the number of invited artists was in the dozens). "It allowed for far more intimate interactions between the artists, between the artists and the community, and enabled a more supportive and enhanced experience for everyone involved," he says, adding that the smaller focus also fostered a much mellower, casual vibe throughout the week, enhancing the experience for everyone involved.

As in past years rainy weather provided a challenge, though the artists and team of volunteers were unflappable and pushed through with their efforts while engaging with the communities they were working within.
Queens-based artist Joe Blens created a cheerful letterform piece on the wall of Half and Half (475 Lyell Avenue) that reads "Magnificent Monday." Blens' mural is a great, positive start to bringing some WALL\THERAPY to an area of the city that the festival's organizers hadn't worked in until now, Lehman says.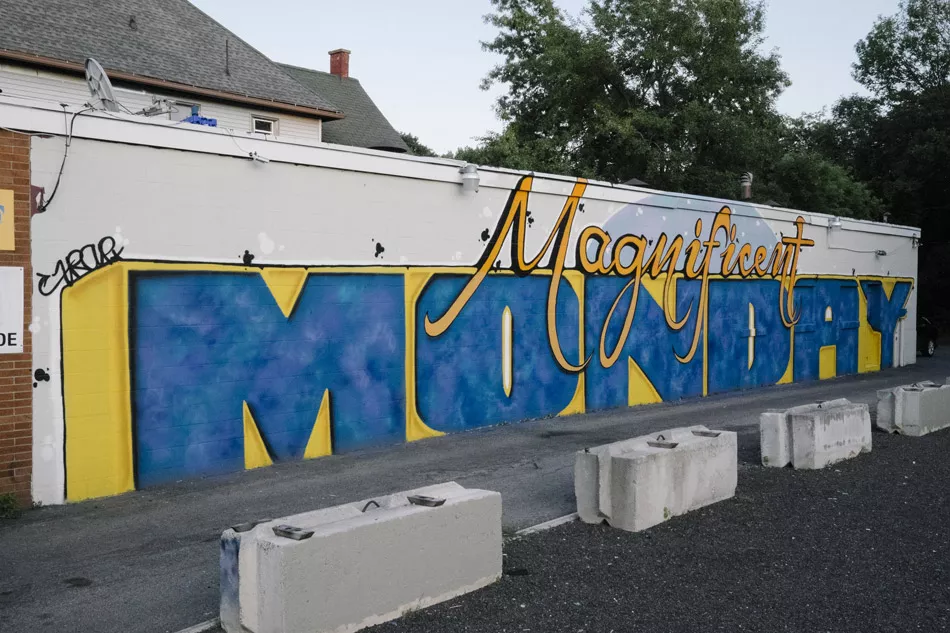 PHOTO BY JASON WILDER
Mural by Joe Blens on Lyell Avenue.
Rochester-based artist Salut's first-ever mural, on the same vacant building painted last summer by La Morena (1112 East Main Street), is a whimsical scene in pastels and primaries featuring almost abstract floating figures watering cacti.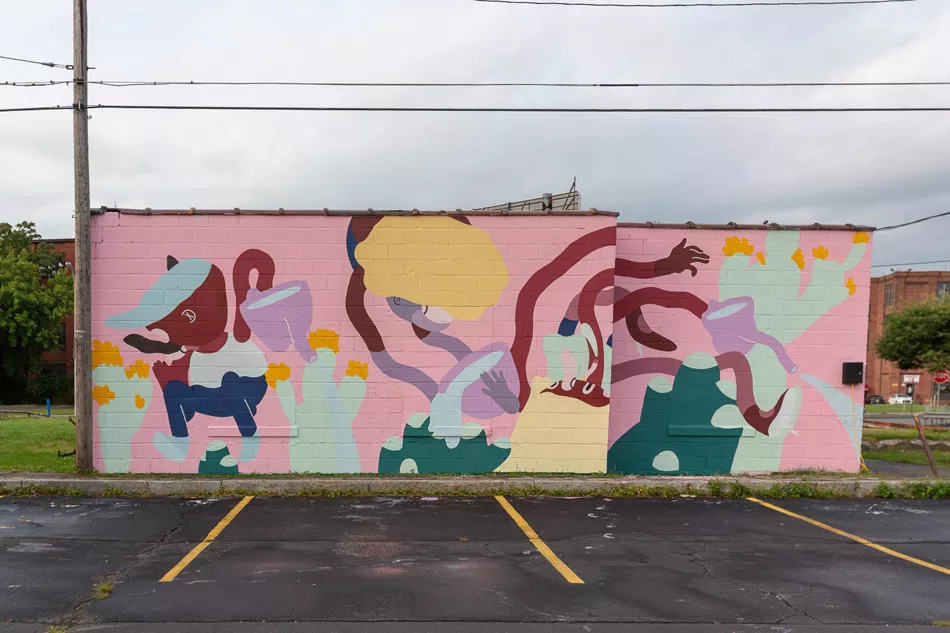 PHOTO BY TED WONG
Salut's mural on East Main Street.
New York City-based W\T alum Alice Mizrachi's wall, at Rochester Community TV (21 Gorham Street), features a woman whose flowing tresses become the sea upon which a couple of people float in a boat. The small craft weaves among skyscrapers that Mizrachi painted around the buildings tall, narrow windows. Along the top of the wall painted letters read: "We are all immigrants," a personal message about her own parents' immigration to the United States, Lehman says.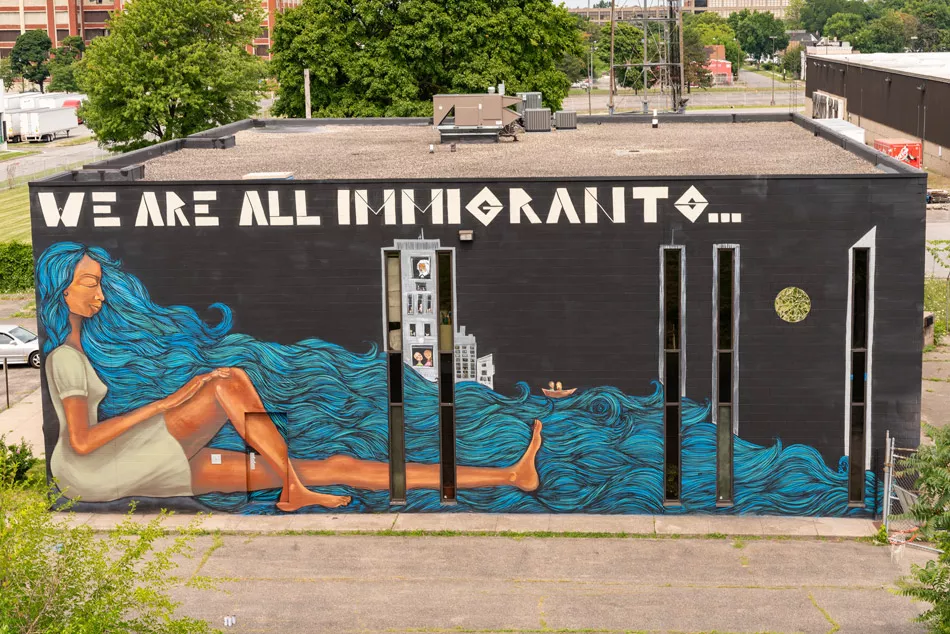 PHOTO BY MARK DEFF
Mural by Alice Mizrachi at RCTV.
Over in the Swillburg neighborhood, Albuquerque, New Mexico-based artist Nani Chacon's mural on Abode (839 S Clinton Avenue) is simultaneously a tribute to the indigenous tribes in the area as well as Frederick Douglass's legacy in Rochester through the symbolism of The North Star. A larger-than life little girl squats, contemplating a constellation of star-shaped patterns with a swarm of butterflies flowing from her back.
PHOTO BY TED WONG
Nani Chacon's mural in the Swillburg neighborhood.
New York City-based artist Vince Ballentine created two murals at the Fedder Industrial Building (1237 E Main Street). The first, on a wall near Dock C, depicts a man bearing a beam on one shoulder, casting a far-away look over his other shoulder as he himself towers over the Great Pyramids, The Capitol, and Wall Street. The image is meant to be a powerful tribute to black labor, asking us to reflect on black people's nation-building contributions, whether those contributions were by or against their will, Lehman says.
PHOTO BY TED WONG
Vincent Ballentine's mural at the Fedder Industrial Building complex.
Ballentine's other, smaller mural in the same complex is of a single-engine plane resting in a field of yellowed grass, its rusted and flaking metal matching the building it's painted on. "He was drawn to the aesthetic of the worn-down architecture and just wanted to create something he felt fit the space," Lehman says. "Contrary to his primary mural, this one was purely done as an aesthetic exercise, finding beauty in decay."
PHOTO BY TED WONG
Vincent Ballentine's bonus mural at the Fedder.
Nico Cathcart, who is based in Richmond, Virginia, created a tribute to female strength and empowerment at Buckpitt on the wall facing the Planned Parenthood parking lot (88 University Avenue). The imagery depicts a woman crowned and surrounded by flora and fauna in a glowing-light-bathed forest with the phases of the moon above her.
PHOTO BY JON GARY
Mural by Nico Cathcart facing Planned Parenthood.
More info at wall-therapy.com.