PHOTO BY ANGELA JOHNSON
PUSH Physical Theatre will open "Dracula" at Blackfriars Theatre on Halloween.
Despite threats to national arts funding and Rochester's own local performance drama in the shape of Parcel 5, local theater companies are attempting to up the ante with their offerings in 2017-18. Resurrected theatrical troupes, a continuance of female-dominated productions, and reimagined classics all make an appearance in the best bets for the upcoming season on stage.
It feels like it's been the year of Shakespeare — both nationally and locally — and that trend will continue with "Twelfth Night" at Blackfriars Theatre, which runs September 1 through September 23 and features a completely female cast. The bard's comedic tale of shipwreck and mistaken identity will be set in the Roaring Twenties and will feature live, original music and dancing. (blackfriars.org)
October brings several promising theatrical openings, beginning with "The Agitators" at Geva Theatre Center, a new work commissioned by Geva and the New York State Council on the Arts. Playwright Mat Smart, who also wrote "Tinkers to Evers to Chance" (which had its world premiere during Geva's 2013-14 season), recreates the tumultuous, 45-year friendship between Susan B. Anthony and Frederick Douglass. Logan Vaughn — an award-winning, young black female director — is at the helm of this world premiere, which plays October 10 through November 12. (gevatheatre.org)
Greece Performing Arts Society has resurrected Greece Theatre Company and will present the stage adaptation of Disney's "The Hunchback of Notre Dame" October 20 through October 29 at the Lyric Theatre Main Stage. This version will be a bit darker than the Disney movie, but will have the same score and will be performed by 19 recognizable names from the local theater circuit, with artistic direction by Janine Mercandetti. (greeceperformingarts.org)
On the last day of the month, Halloween, Blackfriars will fittingly debut PUSH Physical Theatre's "Dracula," a new adaptation of Bram Stoker's classic novel. Blackfriars' artistic director Danny Hoskins wrote the script, and PUSH will stage and choreograph their original concept. This production premiered at Geva in 2009, and Hoskins and PUSH collaborated again on "Jekyll and Hyde" during Blackfriars' 2015-16 season. Add to it all artistic direction by Wallbyrd Theatre Co.'s Virginia Monte (who staged a different production of "Dracula" during the 2016 Rochester Fringe Festival), and the show has potential for wickedly good collaboration. "Dracula" runs October 31 through November 12.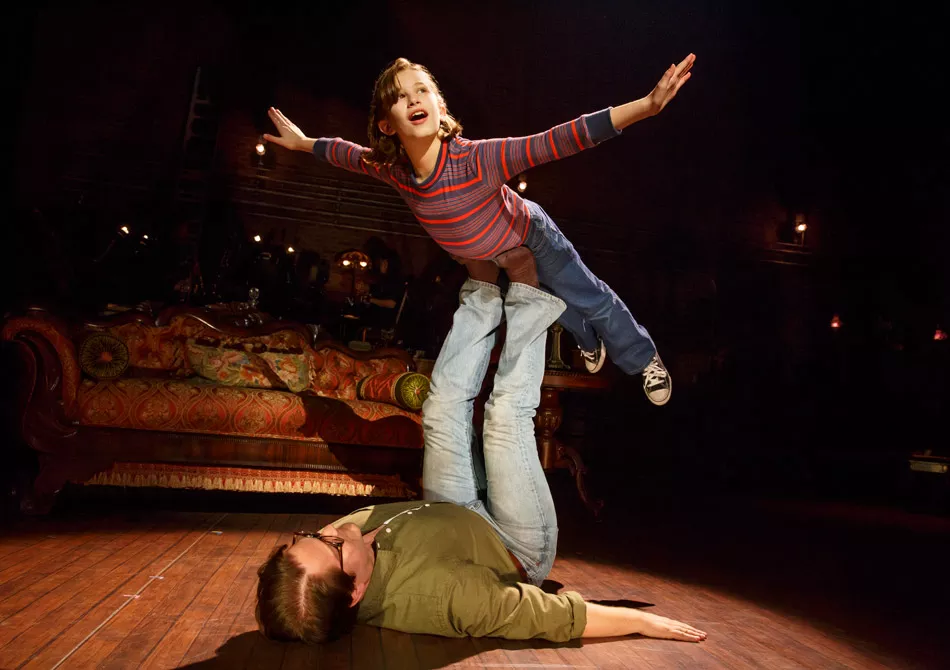 PHOTO BY JOAN MARCUS
Rochester Broadway Theatre League will host the Tony-winning "Fun Home" at the Auditorium November 14 through November 19.
The 2015 Tony Award winner for best musical, "Fun Home," will finally make its way to Rochester November 14 through November 19 as part of the Rochester Broadway Theatre League's upcoming season. The plot is based on Alison Bechdel's 2006 graphic memoir and is the first musical to feature a lesbian protagonist. Lisa Kron and Jeanine Tesori, who were the first female team to win the Tony Award for Best Original Score, adapted "Fun Home." (rbtl.org)
For those who prefer non-traditional holiday shows, JCC CenterStage will present "First Date: Broadway's Musical Comedy" from December 2 through December 17. The plot revolves around a single blind date in New York City between a Jewish guy and an atheist girl. Spoiler alert: they didn't meet on Tinder. (jccrochester.org)
March 2018, like October, brings a wave of interesting choices. The University of Rochester's International Theatre Program, which is open to students of all majors, has a politically charged season, but "Untitled Devised Work" will be the first-ever commissioned work developed onsite. Australian-South African interdisciplinary artist Talya Chalef will collaborate with students to build a topical piece around themes of sanctuary, social justice, and how the students envision the future. The premiere production runs March 1 through March 10. (sas.rochester.edu/theatre)
Geva's "Heartland," a world premiere about an unlikely relationship between a literature professor and an Afghan refugee, plays March 15 through April 1; and RBTL offers a freshened adaptation of the 1951 Gene Kelly hit with "An American in Paris: A New Musical" March 20 through March 25.
Out of Pocket Productions ends its season on a zany note with Steve Martin's "Picasso at the Lapin Agile," a play that imagines Einstein and Picasso meeting in a Parisian bar at the turn of the 20th century. It runs at MuCCC, May 11 through May 19. (outofpocketinc.com)