It's a little surreal to think that I'm only two years older than Kirby.
Given that fact, I was too young to have played the first few of the pink Nintendo superstar's games, but "Kirby 64: The Crystal Shards" won me over in 2000 and still holds a very special place in my heart, not only among Kirby games, but for gaming in general. There was something about the power ups and the cuteness combined with ass-kickery that spoke to me, and Kirby has been one of my favorite Nintendo characters since.
Needless to say, I was happy to see that Kirby was getting the respect that the franchise deserved with a proper 20th anniversary collection. What may end up as one of the Wii's swansong titles, the collection does a superb job of gathering together and walking players through the wild world of Dream Land.
The disc includes "Kirby's Dream Land, (1992, Game Boy)" "Kirby's Adventure, (1993, NES)" "Kirby's Dream Land 2, (1995, Game Boy)" "Kirby Super Star, (1996, SNES)" "Kirby's Dream Land 3, (1997, SNES)" and what I consider the pinnacle of the series: "Kirby 64: The Crystal Shards (2000, N64)."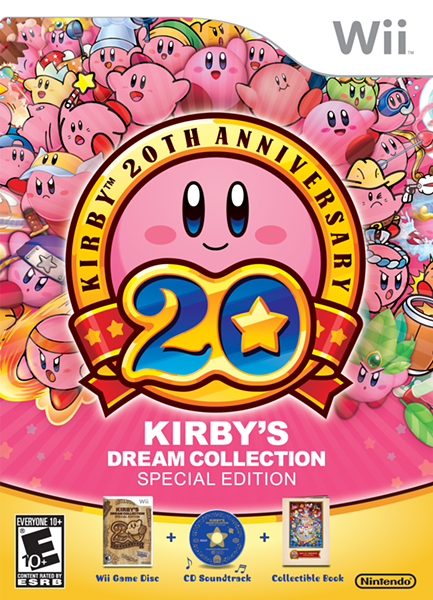 All of the games are presented in their original 4:3 format, meaning that you do have to deal with either cute-colored Kirby borders or black letter-boxing. Oddly enough, "Kirby 64" is also limited like this, where the previously available version on the Wii's Virtual Console was presented in 16:9. Not sure why the difference is here, but it's worth noting. The benefit to all these titles (minus "Kirby 64," which uses the game's in-save function) is that they can be saved via save points using the Wii's reset menu. It took me a minute (I actually had to *read* the manual) to figure this out, but being able to pause and then pick up older titles that didn't have good saving systems is always a plus.
The games included (some of which I did miss, including "Kirby's Dream Land 3") are a great start and cover the main points of the series, but several of them are just as easily found on the Wii's Virtual Console, and this collection seemed a perfect time to revisit some of the oddball games in the series. "Kirby Tilt 'n' Tumble," the 2001 Game Boy Color motion controller puzzle game seems ready made to be reinvented for the Wii, or the GameCube's "Kirby's Air Ride," which I recently saw at a game store for $100 and refused to pay that much for) are unfortunately omitted. Even the golf game, "Kirby's Dream Course" was left out, and it is Wii's VC. It's hard to complain when you're already getting six strong Kirby titles, among them his best offering, but I'm betting there was room in the disc to fit in a few of the more obscure titles.
The game also includes an interactive Kirby history timeline, which is filled with gaming and real-world relations you may never have made yourself. For instance, Kirby came out the same year that Bill Clinton was elected as president. And now you know.
Last on the disc is a Challenge Mode, very akin to the one seen in last year's "Kirby's Return to Dreamland," which tasks the player with completing specific Kirby power up based challenges. It's a nice feature, but lacks any kind of online or leader board support. I can only beat my own scores so many times, people.
But! That's not all. You also get a pretty, pretty art booklet, showing neat concept art chronicling the series, and an expansive soundtrack with a whopping 45 tracks. The Kirby series has always had great music, and it's a walloping addition to an already teeming package.
For less than your typical retail game ($39.99) it's hard to find a reason not to pick up such a good collection, unless you already own all these games. While I wish there were a few of the more obscure Kirby games included, this marks a great celebration of all things the pink boy wonder has to offer. Not that I needed another reason to replay "Kirby 64," mind you.
Willie loves Kirby, and is impatiently waiting for his Club Nintendo Kirby anniversary pin to show up. It will look good on his wall next to his imported Kirby Club Nintendo Frisbee or mounted Kirby 64 magazine ad. He doesn't have a problem, he swears, but if you disagree let him know on Twitter or Facebook.