In a preview of his proposed budget for the 2014-2015 school year, Rochester schools Superintendent Bolgen Vargas told board members last night that the district faces a $33.2 million budget gap. But that figure doesn't include fully funding some of what Vargas called academic priorities, such as increasing reading support to meet third grade proficiency levels, expanded learning in two dozen city schools, and increasing extracurricular activities such as music, arts, and sports.
Doing so could add another $12 million to the gap, increasing it to roughly $46 million, Vargas said, unless cuts are made somewhere else in the budget.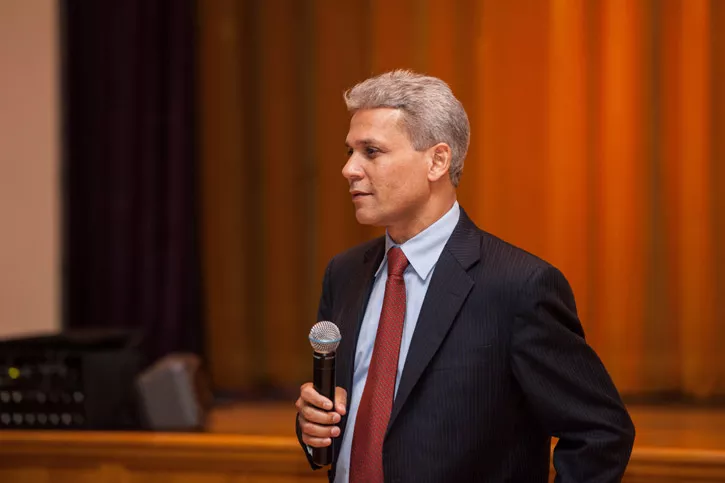 File photo.
Rochester Superintendent Bolgen Vargas
Vargas used the current fiscal year's budget, which was initially approved at $732 million, as a template. The budget was eventually amended to a total of $762 million. The district received the bulk of its funding – nearly $479 million from the state and anticipates about a 3.2 percent increase over last year.
Vargas described a mix of financial problems that could hit the district particularly hard in the coming school year unless dramatic steps are taken. All of the district's major expenses are going up, he said, as enrollment is going down. Health insurance, salaries, and retirement have increased. And Vargas cited the increase in charter schools as another significant cost to the district.
[jump]
"There is an aggressive strategy to bring more charter schools to Rochester," he said. District students who are enrolled in charters could top 4,100 next year, he said, and the trend shows no sign of slowing.
Vargas said he wants to focus the district's funds on improving special education services, expanding summer school for pre-K to third-grade students, providing full-day pre-K to all city students, and expanding extracurricular activities. The latter help keep students engaged and in school, Vargas said. He said he wants at least one full-time music teacher in every elementary school.
But funding his agenda will require numerous cuts in the district's expenses, including about $9 million in central office and administrative staff and about $9 million in reductions to teaching and support staff that may be achieved through attrition. But Vargas said he is considering a hiring freeze. Other cost savings could be achieved through reducing employee travel and reducing absenteeism, Vargas said, which would mean fewer substitute teachers on the payroll.
Vargas repeatedly referred to expenses that are self-created problems. For example, instruction that relies too much on retention and intervention basically means the instruction costs for those students is paid multiple times. Prevention is a better investment of resources, he said.
And Vargas repeatedly revisited the threat posed by charter schools, which he said costs the district in multiple ways. Proponents of charters say that the cost to host districts is neutral. But Vargas said a steady loss of students means the district has to plan for less building space, fewer employees, and the elimination of some programs. Some of these adjustments can't be made quickly, he said.
But in an unusually sharp criticism of city schools and their management, said board member Melisza Campos said the district's loss of students isn't a surprise to her. Campos described a stark contrast between contacting three city schools and two charter schools and a Catholic school when she began researching where to enroll her son.
Campos said the three city schools put her off — two of them telling her to call back after the first of the year because they were too busy to help her. The charter schools and the Catholic school gave her dates and times and were extremely welcoming, Campos said.
"Are you kidding me?" Campos said. "That bad practice [in city schools] is disgusting. I am just appalled."
Campos said the message that district parents receive when trying to enroll their children in city schools is "The district just doesn't care."