The Rochester school board elected Van White to serve another term as board president in a 5-to-1 vote yesterday. Board member Liz Hallmark cast the dissenting vote. Long time boa rd member Willa Powell was elected board vice president in a 4-to-2 vote, replacing Cynthia Elliott.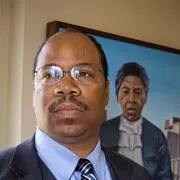 FILE PHOTO
Van White was re-elected as Rochester school board president.
Improving communication between board members and Superintendent Barbara Deane-Williams and her cabinet is a priority for the board, Powell said in a phone interview earlier today.
"My goal is to make sure every board member has input into our conversations because the better we understand one another, the better team we'll make," Powell said.
The board is close to filling the vacancy left by Malik Evans, who was elected to City Council last November. The board is meeting to conduct a second round of interviews later this week. Along with Natalie Sheppard, who was elected to the board in November, the board will have two new members.
Powell said she expects the board will reach an agreement on who will fill the seat before the January business meeting on Thursday, January 25.