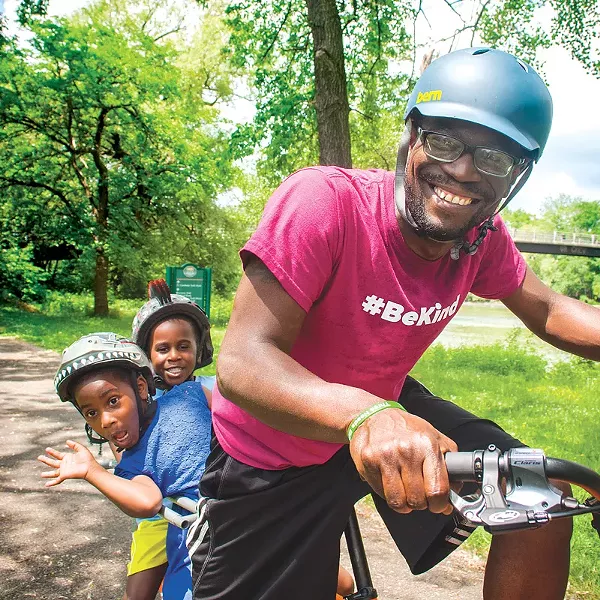 PHOTO BY RYAN WILLIAMSON
James W. Johnson with his kids Avri Mae, 6, and James Jr., 4.
The Erie Canal is a New York State treasure. Originally completed in 1825, the man-made watercourse is credited with kickstarting the state's economy by giving smaller, inland towns access to larger ports. The canal put Western and Central New York on the map by promoting trade and tourism throughout the region, traditionally via boat.
Today, the canal brings tourists of a different sort: As bicycling increases in popularity, cyclists of every skill level are exploring the 363 miles of Erie Canal Historic Trailway. Flowing through our region's idyllic countrysides and historic villages, the canal offers riders unique experiences, from affordable one-hour rides to complete on-canal vacations.
Bike rental options are available along the canal for those that don't own their own equipment. Towpath Bike Shop in Pittsford's Schoen Place rents bikes at $14 per hour. In Fairport, RV&E Bike and Skate at 40 North Main Street provides mountain and road bikes at $10 per hour and is located steps from the canal path.
Fairport village is also a great place to see part of the canal's rich history. Traveling on the Heritage Trail, cyclists can take a quick ride to the village's Main Street and over one of the last remaining lift bridges in the country. The lift bridge is scheduled to be temporarily decommissioned in summer 2019 and will be out of service for about 13 to 15 months according to the NYS Department of Transportation.
As you watch the Colonial Belle tour boat and other leisure vessels go under the bridge, you can take the time to stop at Moonlight Creamery, co-owned and operated by Heidi Grenek. The Fairport native and her neighbor opened the artisanal ice cream shop in July 2007, seeing the potential to offer a special gathering place in their hometown.
"I grew up in Fairport and with all of the opportunities the canal has to offer," Grenek says. Located directly across from the lift bridge in Key Park, Grenek's shop gets its share of cyclists taking a detour. "It's a really nice place for people to take a little break, get their ice cream, watch the boats," she says.
With many businesses located on or close to the canal path, riders can stop by stores like Fairport's Main Street Mercantile for Erie Canal memorabilia. On hot summer days, bike to the Lock 32 Brewing Company in Pittsford for a cold beer.
PHOTO BY RYAN WILLIAMSON
Cema and her sister, Irene, along the canal.
Not just for scenic towns, the canal also connects to other trails, making it possible to turn an hour's ride into an all-day event. From the heart of Rochester's city center, cyclists can easily follow the Genesee River to Genesee Valley Park and connect to the canal path. From there, you can travel to any part of the Erie Canal by bike.
"I use it to get to the Genesee Valley Greenway, which in turn links up to the Lehigh Valley Trail, which links to Auburn," says cyclist Sara Hoffee. "You can really see so many different aspects of our area using the canal as a jumping-off point."
Hoffee not only rides longer distances for fun, but also uses the canal path to commute to Nazareth College, where she works as a staff pianist. Connecting to other trails and towns makes the canal a highway of sorts. Its easy, mostly paved paths make it a good option for those who want to avoid biking on the road. Riders also get a tour of the region's wildlife while taking connecting trails and parks.
"Usually starting in May I see a bald eagle near Lock 32 on a regular basis, and in the winter, several foxes come out to play on the ice with their babies," Hoffee says. "You do have to be careful of the deer." But her favorite sight is the people she connects with during her regular rides. Even solo cyclists like Hoffee find comradery along the canal, and for some that's part of the fun.
Cyclists looking to take extended group trips can reach out to businesses like Erie Canal Bike Tours, operated by Diane Kolifrath. Kolifrath organizes long-distance trail rides that range from Cycling 101 — a six-day, five-night tour which provides training, on-trail support and overnight accommodations at $1,089 per person — to an 11-day trip for $1,389 that takes riders from the start of the canal in Buffalo to its end in Albany. These biking vacations come complete with overnight stays, shuttle service from your final destination, and activity recommendations. More information can be found at gobikeerie.com/cycle-stay.
"People who book our group tour, they don't wanna have this as a solo experience," Kolifrath says. "They tend to be very open and friendly. You're probably going to quickly buddy up and have that really great social interaction."
ECB's 11-day, end-to-end tour has already sold out, with other five- to eight-day tours not far behind. The organized rides have groups cycle 40 miles a day at a pace that allows for frequent stops to take in the beauty of the trail. The low impact and slower pace of cycling also makes it ideal for people who may not be able to participate in traditional physical activities but still want to get out and enjoy the waterway.
Due to partnerships between Rochester Accessible Adventures and companies like Erie Canal Boat Company, options ranging from hand-operated bikes to three-wheeled recumbents are available for any cyclist with disabilities.
At no additional cost, RAA also offers a "Canal Pal" with each bike rental reservation. This RAA trained volunteer accompanies the rider on the trail, giving support and additional independence for users. Owners and staff are trained to assess a user's need and pair them with the appropriate accessible equipment. Additional support is offered through the RAA year round. More information can be found at rochesteraccessibleadventures.org.