Under the direction of Karen Dieruf, the formerly Boston, Massachusetts-based Open Road Theatre has relocated to Rochester, and this week is presenting its first local production: Jon Lipsky's "Living in Exile." Billed as "a war story about compassion not revenge" and inspired by Homer's epic poem, "The Iliad," the play certainly emphasizes the instances of human kindness — even among enemies — that can occur amid the horrors of a decade of entrenched battle.
This aspect isn't at odds with Homer's work. A chunk of the ancient tale focuses on the rage of Achilles (directed at Agamemnon's arrogance and theft of his woman-prize, Briseis, but especially at Hector after the Trojan prince kills Patroklos, having mistaken him for Achilles) and the revenge Achilles takes on Hector. But Achilles also earns a bit of redemption when he takes pity on Hector's father, King Priam, by allowing him to recover his son's mutilated body and by declaring a ceasefire while funeral rituals and games are held.
While "The Iliad" only covers the final throes of the decade-long Trojan War, that part of the story doesn't enter the "Living in Exile" until its second act. Before that, the first part of the play provides a fascinating set up for Homer's tale, spinning a complicated yard about the first nine years of the war. Only four characters — Achilles, Briseis, Patroklos, and Agamemnon — provide an imagined behind-the-scenes look at individual experiences of the many hardships and momentary joys of living encamped in a long-term war. Though it's a script-in-hand stage reading with few props and simple, black clothing, the gravitas of the actors' storytelling is as immersive as a full production.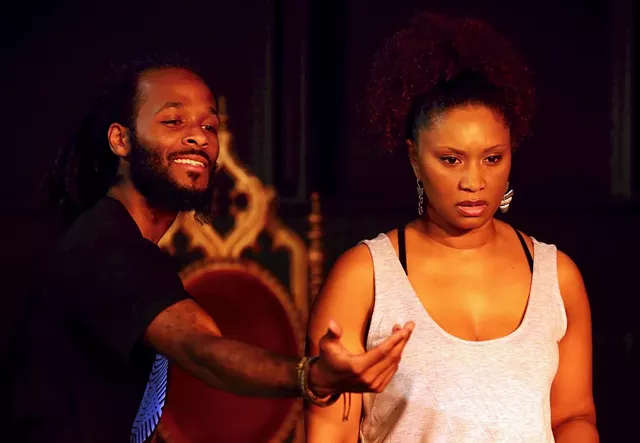 PHOTO BY ANNETTE DRAGON
Anderson Allen and Adryanna Elmendorf in "Living in Exile."
Each of the characters describes, year-by-year, their contrasting experiences. Achilles (played by Anderson Allen) and Patroklos (Roger Gans) are nearly parallel in their recounting of the soldiers' initial state of overzealous youth, thirsting for their destiny and approaching pillage and plunder with glee. As the years wear on, the Greeks experience restlessness, madness, and hopelessness.
The first act was reminiscent of Tim O'Brien's war storytelling in its fluctuating nuance, capturing moments of friendship within greater obscenity, and glimmers of genuine heroics and humanity amid a mad grasp at glory. Buffered from battle, Agamemnon tells a slightly different version of the Greeks' experience.
The women's story is told entirely by the Queen of Lyrnessus, Briseis (Adryanna Elmendorf), who through jarringly visceral words and pantomime, describes her city's sacking and their attempts to escape capture by murdering one another.
Breseis describes how the women resisted their captors. They eventually choose to "bed down with the not-yet-crazed" soldiers and they bear children. They imagine a future for themselves in this new reality as things begin to fall apart for the men, and they have their own descent into lunacy and despair before planning an uprising.
No matter what hardships are thrown her way, Briseis won't be cowed. With the other captive women she schemes and manipulates: first dreaming of escape and revenge, then later - in the interest of creating a semblance of salvation for Achilles - by arranging the meeting between him and Priam. At early points in the narrative, Achilles and Briseis gained a reluctant mutual respect for one another's hardened ruthlessness; after unexpected moments of confronting one another's vulnerabilities they fall in love. Allen and Elmendorf project these shifting versions of chemistry as believably as they each project their respective characters' nearly elemental power.
PHOTO BY ANNETTE DRAGON
Adryanna Elmendorf and Anderson Allen in "Living in Exile."
"Living in Exile" also shows oscillating moments of disgust and compassion between Achilles and Patroklos, Patroklos and Briseis, and even Briseis and Agamemnon.
The Greek King Agamemnon is also played by Gans, which at times creates some slight confusion as he moves between the characters. It's unclear what the reasoning is for the two to be played by one actor, and it might have been better to have separate actors. But it's easiest to tell that Gans is Patroklos when he emphasizes the clownish personality of the soldier — which provides a bunch of comic relief — and when he sits in the throne that is associated only with the king character.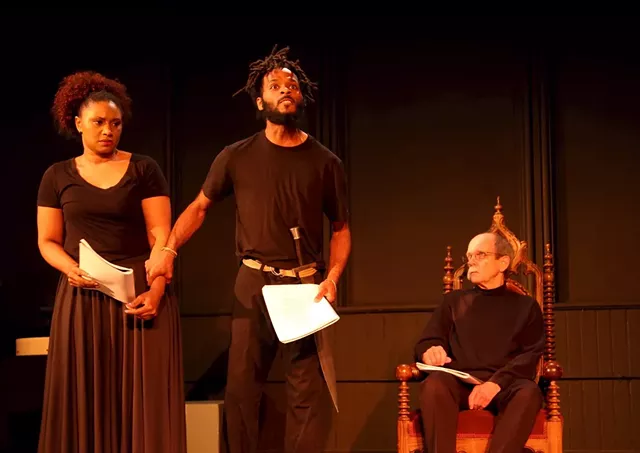 PHOTO BY ANNETTE DRAGON
Adryanna Elmendorf, Anderson Allen, and Roger Gans in "Living in Exile."
Some truly excellent, sparse musical accompaniment accents the stark performance. Throughout the production Susan Dantoni plays Stephen Cummings' dramatic score on the keyboard while Becca Pfohl's haunting vocals accent the storytelling through verse and resounding notes. Pfohl also plays a simple skin drum and in one particularly brilliant moment, slams metal bars together in synch with Achilles's pantomime of swinging a hammer at the forge.
Allen's performance in particular is engaging; despite the play being a reading he acts in full in expression and gesture. He easily brings to life the complexity of Achilles' character, moving between his wild-eyed wondering about his destiny, affectionate asides, deadly-focused rage, and helplessness in his grief. And Elmendorf by far provides the most exciting, inspiring depiction of Briseis I've ever seen, exuding expertly controlled power whether she's calling the fury of the heavens down upon her enemies' heads, or cradling those same heads as the tale twists and alliances turn.
Fiona Criddle will play Briseis for the Saturday and Sunday performances, and Susan Dantoni will provide the vocals for the Friday and Sunday shows.