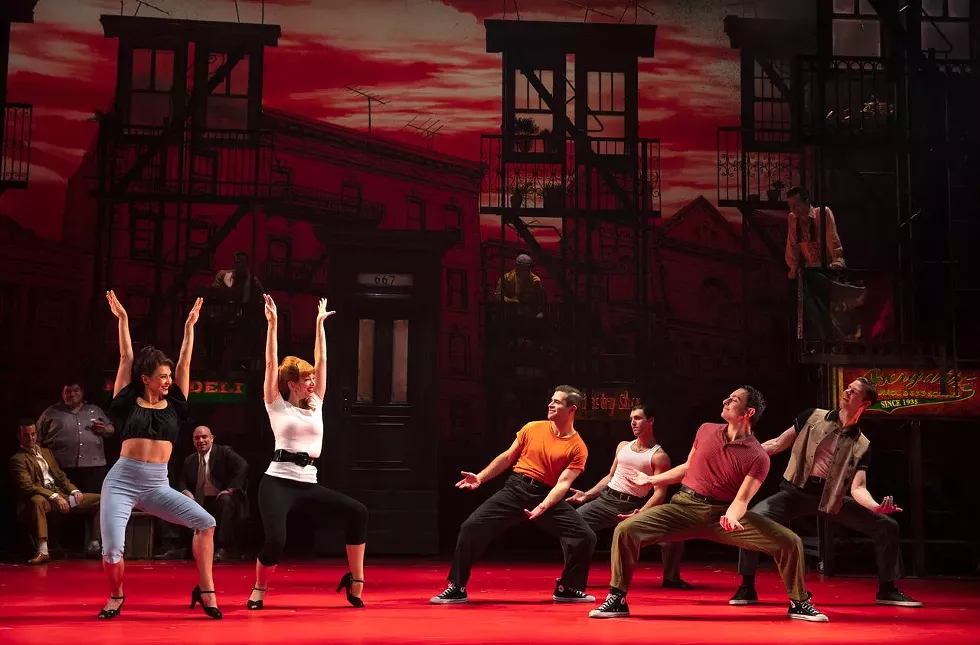 PHOTO COURTESY JOAN MARCUS
Cast members of "A Bronx Tale," staged at Rochester Auditorium Theatre through October 21.
Toward the end of "A Bronx Tale" at the Auditorium Theatre on Wednesday evening, a man sitting near the front turned to his companion with tears in his eyes. "In 38 years, I've never been to a play," he said. "We're going to the theatre all the time after this."
It's a sentiment that may be shared by other audience members who have the chance to catch the musical. The semi-autobiographical "A Bronx Tale" is having a revival of sorts — the musical has only recently been adapted from the 1989 one-man play of the same name by Chazz Palminteri (who current TV watchers may know as Shorty from "Modern Family"). In 1993, it was developed for film, directed by and starring Robert De Niro and Palminteri. The musical underwent a 10-year adaptation process, finally opening on Broadway in 2016 with De Niro as co-director (it only just closed in August 2018).
The plot follows a young Italian-American, Calogero, who lives in the Belmont Avenue neighborhood in the Bronx. After he meets mafia boss Sonny at age nine, Calogero spends the next decade toeing the line between the worlds of organized crime and blue-collar work — which is his father's world.
As with 2017's "School of Rock," Rochester is the first stop on the national tour, but this doesn't feel like a cast that's just started touring together. "A Bronx Tale," from leads to ensemble, is one of the highest caliber shows from the last few seasons at the Auditorium. From vocals and dancing to acting and character chemistry, this is a show that truly feels like Broadway on tour.
The music by Alan Menken and lyrics by Glenn Slater (the duo wrote scores for "The Little Mermaid" and "Sister Act," along with many independent projects) capture the energy of youth, which feels a little bit '"Newsies"-meets-"In the Heights,"' only it's 1960s New York City and sometimes people get hurt in "A Bronx Tale."
Joey Barreiro plays both narrator and 19-year-old Calogero (quickly dubbed "C" by mafia boss Sonny), and young Frankie Leoni plays the 9-year-old version of C for almost the entire first act. Both actors are incredibly strong leads, with stylized vocals and stunning focus amid the more than 18 musical numbers of the two-hour production. Opposite both is Joe Barbara (Sonny), who deftly portrays a ruthless mafia boss with a soft spot for Calogero. Other standouts include Richard H. Blake (as Calogero's father, Lorenzo), who joined the tour directly from the Broadway run and is flawless as the earnest, honest bus driver. As Calogero's love interest Jane, Brianna-Marie Bell has the most powerful vocals in the production, and dances through her choreography with admirable control and finesse.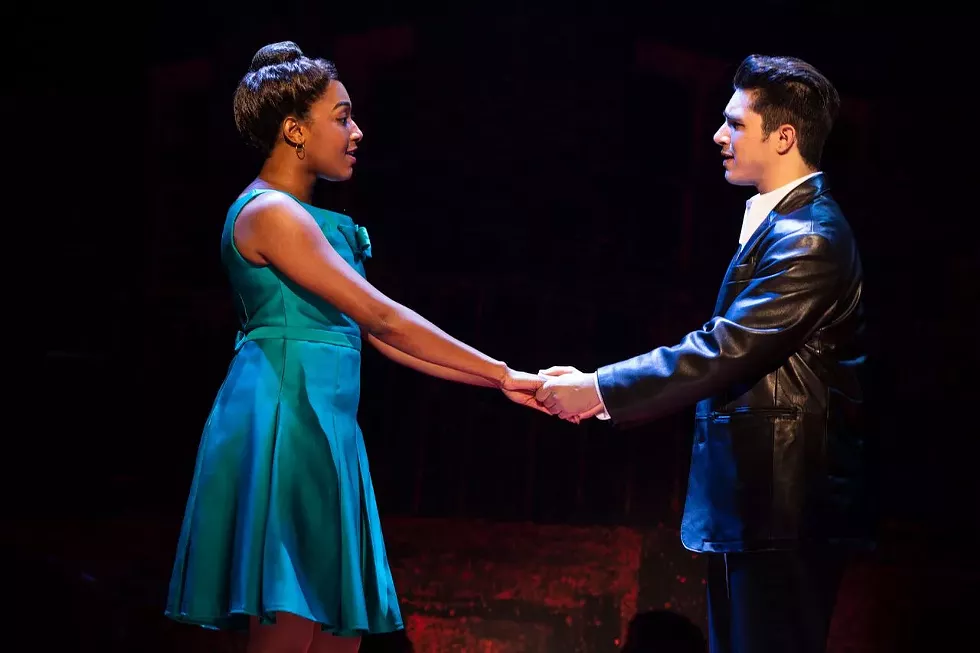 PHOTO COURTESY JOAN MARCUS
Brianna-Marie Bell (Jane) and Joey Barreiro (Calogero) in "A Bronx Tale."
Of course, leads are nothing without a solid ensemble, and the many in "A Bronx Tale" make the show truly special. Sonny's mafia ensemble, in particular, manages to be both likeable and cringe-y. Of the many finger-snapping, heartbreaking numbers to choose from, "Roll 'Em" and "Out of Your Head" — which feature ensemble members — were the showstoppers.
With its relevant themes of family, loyalty, love, and race, "A Bronx Tale" is a show that will undoubtedly continue to be produced regionally, long after the national tour ends. In the meantime, catch it here.