To some people, networking is a dirty word. It brings to mind a bunch of rich men in suits getting together to drink scotch and hire each others' nephews. The word is intimidating. There is an idea that networking is for people who are already successful, who know the big wigs, or who were born with family connections.
But that is so old school. Networking and young-professional groups have changed drastically in recent years. These days, networking is about meeting other people who have the same goals that you do. New young-professional groups involve strengthening your community, your career, and your social life.
Rochester is home to many networking groups. These organizations can connect you with other career-minded 20- or 30-somethings through meetings, events, or volunteer work. In some cases it's as easy as getting together for drinks and food. This is definitely not your granddad's networking.
With all of the different groups to choose from, there's bound to be one that fits your own personal goals. Whether you want to give back to a local organization, advance in your industry, or just meet new people, these young professional groups can help.
Check out our sidebar for a full list of options at the bottom of this article, and if we forgot one, please add it in the comments.
Career-minded groups
Some of Rochester's young-professional groups focus on a specific career. You can find local groups centered around communications, architecture, and other fields. The Young Lawyers Section of the Monroe County Bar Association offers unique opportunities for lawyers who have passed the bar in the last 10 years. The group's chairperson, Timothy Lyster, says the Young Lawyers Section is currently the biggest it has ever been, with more than 160 members.
"We are dedicated to community service, especially within the legal community, and to providing social and networking opportunities to our members," says Lyster.
The Young Lawyers Section partners with other legal and young-professional groups with fun events like boat cruises, happy hours, and sport events. The group recently teamed up with the Rochester Black Bar Association and the Greater Rochester Association of Women Attorneys for a trivia night. Young Lawyers Section also works with the Rochester Teen Court, an alternative-sentencing program for non-violent youth offenders. Members work as mediators and help fundraise for the organization. To get involved with YLS, you must first be a member of the Monroe County Bar Association. Check out the YLS Facebook group or the MCBA website (mcba.org) for more information.
The Young Certified Public Accountants of Rochester is another career-based group that focuses on both job development and giving back to the community. This committee is part of the New York State Society of Accountants. Matt Taylor, who is the chairman of the Young CPAs, says the goal is to give young accountants skills that will help them throughout their careers. Members have the opportunity to meet industry representatives from local public accounting firms. The group also hosts educational and training events.
"We try to come up with topics that are relevant to young professionals, like networking and etiquette training," says Taylor. Everyone is invited to Young CPA events, but the group is geared toward people in the first 10 years of their careers.
The Young CPAs also spearheads different fundraising events with groups like Habitat for Humanity. The best way to get involved is by emailing Taylor (matt@rochesterap.com) or by checking out the group's Facebook page.
Organization-based groups
PHOTO PROVIDED
Flower City Habitat Young Professionals activities include on-site construction.
Other young professional groups center around a community organization. They focus on fundraising or volunteer work, but also involve great networking opportunities. The Flower City Habitat Young Professionals group supports Habitat for Humanity. Both groups have a common goal, explains Deanna Varble, who acts as a liaison between Habitat for Humanity and its young-professional group.
"Our mission is to eliminate poverty housing in Rochester," says Varble. "This is an opportunity for young people to give back to the community by building houses, advocating for the organization, or supporting our fundraising events."
The biggest HYP event is the annual "Raise a Glass to Raise a Roof" fundraiser. Local bars let HYP members guest bartend for a night and offer live music and drink specials. All of the bartenders' tips go to Habitat for Humanity's house-building fund. Last year the event raised more than $7,000.
PHOTO PROVIDED
Flower City Habitat Young Professionals activities include fundraisers like the "Raise a Glass" guest-bartender events.
"Now is the best time to get involved," says Varble. "It's not about giving money, it's about giving your time, passion, and talents to help build good, affordable homes in the community." For more information on HYP or Habitat for Humanity, visit rochesterhabitat.org.
Another young-professional group geared toward helping the community works with the Bivona Child Advocacy Center. Like Habitat for Humanity's group, the Bivona Young Professionals act as an extension of the larger organization. Members advocate for the group at local festivals, fundraise, and attend events. It's also a great networking opportunity, says Paula Zimmer, Bivona's marketing and communications specialist.
"Members are invited to do everything our board does," says Zimmer. "Board members are accountants, lawyers — it can be great for career advancement."
These organization-based groups let you give back to the community while building important professional relationships. You can also get involved with the George Eastman House, the Rochester City Ballet, Lollypop Farm, and many other are organizations through their respective YP groups.
Social groups
Some of Rochester's biggest networking groups focus on education and career development, as well as simply getting together, rather than a specific profession. They can help you improve your interview skills or even transition into a new field. The Rochester Women's Network offers its members classes, professional seminars, and events that can boost a career at any stage. It's all about women helping women, says the group's Vice President of Marketing, Vicki James.
"We support professional-minded women in their personal and professional lives," says James. Among the most important benefits are the relationships members build with each other, she says. "You can build trust with someone who could later refer you to a job."
Rather than focusing on one career path, the Rochester Women's Network offers different special-interest groups and subcommittees. These groups focus on areas like sales and marketing, finance, and even restaurants. There are also events and programs that help members network, meet new people, or gain skills in a new area. The best way to get involved is by attending one of the RWN orientation events, which are held every six weeks. Dates and times for the events are posted on the group's Facebook page.
Some of the larger networking groups like the Rochester Women's Network require annual dues to help support the programs and events. If you're a little light on cash, there are other groups you can try. Free networking groups are springing up in Rochester and online. With these groups, all you need to pay for is a meal out or two (and maybe an internet connection).
PHOTO BY MARK CHAMBERLIN
Rochester Young Professionals member Pamela Smith reads to kids as part of a volunteer activity.
Groups like the Rochester Young Professionals offer professionals under 40 networking and career-building opportunities in fun, relaxed settings. One of the RYP's main goals is to make sure everyone feels comfortable and welcome at events, says Mandy Friend, who works as the co-chair of the Professional Development Committee.
"We create a diverse set of events so hopefully any young professional in the area will find one of them appealing," she says.
RYP has six different committees and events are held roughly once per week. They range from the social committee, which brings members together for food and drinks, to the professional development committee, which offers guest speakers and speed networking. Other committees focus on volunteering, community development, and outdoor recreation. All RYP events are designed to be welcoming. The idea is to make networking feel less intimidating.
"At our events we almost always have greeters," says Friend, "so if someone is new to RYP they can go up those greeters and they introduce them to someone to get them started."
Members even get a discount card that offers sales and specials at local businesses. To get involved, sign up for the RYP mailing list on the group's website, r-y-p.org.
---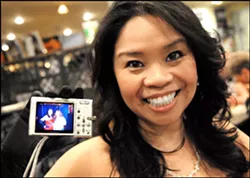 PHOTO PROVIDED
The Eastman Young Professionals assist the George Eastman House in many activities.
Rochester Networking Groups
Bivona Young Professionals | Goal: Work to protect and counsel children who have been victims of sexual or physical abuse | | Benefits: Networking events, social events, volunteer work | Membership requirements: Annual donation of $50, must volunteer at a minimum of two events, must attend at least half of all monthly meetings | Contact: yp@Bivonacac.org; bivonacac.org |
Black Young Professionals of Rochester | Goal: Part of the Urban League of Rochester. Works toward professional development and empowerment of members to help improve the community. | Benefits: Seminars, networking events, social events and forums | Membership requirements: Must be ages 21-30 | Contact: byp@ulr.org; facebook.com/RochesterBYP; ulr.org
Book Thieves | Goal: Part of Writers & Books, brings together young professionals who like to read and eat good food | Benefits: Members read a book every three months and meet to discuss and eat food | Membership requirements: None | Contact: facebook.com/book.thieves
Christian Young Professionals | Goal: To bring together career-minded Christians in their 20s and 30s | Benefits: Social events, networking, community service | Membership requirements: None | Contact: meetup.com/Christian-Young-Professionals/
Eastman Young Professionals | Goal: To support the George Eastman House by raising awareness and advocating for the organization | Benefits: Networking with local businesses, leadership development, invitations to cultural events | Membership requirements: Must be ages 23-45 | Contact: eyp@geh.org; eastmanhouse.org/get-involved/eyp
Emerging Rochester Architects | Goal: To be a place where architects and designers can socialize and grow professionally. | Benefits: Social events, networking | Membership requirements: None | Contact: facebook.com/EmergingRochesterArchitects/info
Femfessionals | Goal: To connect business women all over the world. | Benefits: Each city branch offers networking events and access to events nationwide. Your business is also listed online. | Membership requirements: $50-$100/year | Contact: femfessionals.com/FemCities/Rochester
Flower City Habitat Young Professionals | Goal: A group within Habitat for Humanity, young professionals help build houses, raise awareness, and educate the community about Habitat for Humanity | Benefits: Meetings, fundraising events, volunteering | Membership requirements: Must be ages 20-39 | Contact: flowercityhyp@gmail.com; facebook.com/flowercityhabitatyps
Good Pointe Society | Goal: To support and advocate for the Rochester City Ballet | Benefits: Network with local professionals who appreciate the arts, support the ballet, attend events | Membership requirements: None | Contact: GPS@rochestercityballet.com; rochestercityballet.com/good-pointe-society
Junior League of Rochester | Goal: Bringing women together to volunteer and help the Rochester community | Benefits: Fundraising, volunteering, | Membership requirements: Must be older than 21, must attend an informational meeting before joining | Contact: jlrmembership@yahoo.com; 385-8590; jlroch.org
Lollypop Farm Young Professionals | Goal: Promote awareness of animal welfare issues and support Lollypop Farm | Benefits: Volunteering events, social events, monthly meetings, | Membership requirements: Must be under 40 | Contact: youngprofessionals@lollypop.org; lollypop.org
Monroe County Bar Association Young Lawyers Section | Goal: Bringing together and educating Rochester's young lawyers and giving back to the community. | Benefits: Networking, community outreach activities, social events, educational programs | Membership requirements: Must have been admitted to the bar less than 10 years ago and must be a member of the Monroe County Bar Association. | Contact: facebook.com/YoungLawyersMCBA/info; mcba.org
NextGen Rochester | Goal: To connect young professionals in Rochester to community philanthropy | Benefits: Each member contributes to a fund that is used for grants to nonprofits selected by the members. Benefits include social events, meeting with community leaders, educational events on social issues and networking with other members | Membership requirements: Annual fee of $100-$249; group is for ages 21-45 | Contact: 271-4100; NextGenRoc@racf.org; nextgenroc.org
Rising Educators, Advocators and Leaders (REAL) Young Professionals | Goal: Getting more people involved in the Planned Parenthood mission | Benefits: Film screenings, social events, meetings, volunteering, panel discussions | Membership requirements: Should be under 40 | Contact: real@pprsr.org, pprsr.org
Rochester Chapter Young CPAs | Goal: To be a resource for young local accounting professionals | Benefits: Networking, social events, training, community service | Membership requirements: Open to accounting professionals with one to 10 years of experience | Contact: matt@rochesterap.com; nysscpa.org
Rochester Unemployed Networking Group | Goal: To assist currently unemployed, underemployed, and recently re-employed professionals in the Rochester area. | Benefits: Networking, help with job searching | Membership requirements: None, but must be registered with Rochester Works | Contact: RUNG-owner@yahoogroups.com
Rochester Women's Network | Goal: To help professional women in their careers, social lives, and business relationships | Benefits: Interest group meetings for specific careers, online networking directory, an annual business conference with keynote speakers and workshops, free networking events, educational programs | Membership requirements: $75-$115/year | Contact: 271-4182, rwn.org
Rochester Young Entrepreneur Group | Goal: Helping young entrepreneurs meet up and learn from more experienced members | Benefits: Meet-ups for members, networking | Membership requirements: None | Contact: meetup.com/Rochester-Young-Entrepreneur-Group/
Rochester Young Professionals | Goal: To help young professionals build professional relationships and meet new people | Benefits: Discounts at local businesses, social events, recreational events, networking events, community service | Membership requirements: None | Contact: rypprodevelopment@gmail.com; http://r-y-p.org/about-us
RocHOPE: Young Professionals for the American Cancer Society | Goal: To organize events that raise funds and awareness of the American Cancer Society while providing social and networking opportunities | Benefits: Members volunteer to support the Hope Lodge Hospitality House and attend events. | Membership requirements: Members must attend monthly meetings and participate in at least three events. | Contact: RocHOPE@gmail.com; facebook.com/pages/RocHope-young-professionals
Young PR Professionals | Goal: Part of Public Relations Society of America's Rochester chapter. For young professionals in the communications career field. | Benefits: Networking with professionals, social activities, education | Membership requirements: Must be age 21-30 or have less than seven years of working experience in the field. | Contact: YPRP@prsarochester.org; prsarochester.org
Young Professionals @ Xerox | Goal: Creating connections among young professionals at Xerox | Benefits: Networking with Xerox executives, professional development, mentoring program, social events, forums | Membership requirements: Must be a Xerox employee | Contact: xyponline.com
Young Professionals in their 20s | Goal: Bringing together young, career-minded people to talk about their goals | Benefits: Social events, networking | Membership requirements: None | Contact: meetup.com/Young-Professionals-Looking-to-Enjoy-Life-and-Get-Ahead