City went in search for the simple delights of dessert drinks
We're living in a time of great innovation on the craft cocktail front, but this article is not about that. I'm here to talk about the simpler joys of dessert drinks; the sweet stuff, the candy drinks. Some call them "girl drinks" — although most of the women I know drink more vodka soda and shots of whiskey than pineapple juice with tiny umbrellas sticking out.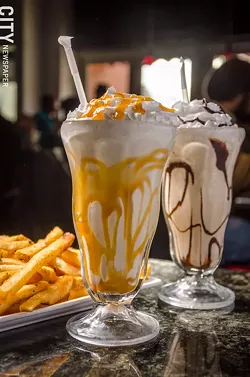 PHOTO BY MARK CHAMBERLIN
(Left) The White Russian and Jesse James boozy milkshakes at Bunga Burger Bar.
Bring on the blenders, the Blue Curacao, and the chocolate syrup, and maybe even set it all on fire; this is a safe space. City sought out what Rochester has to offer on the dessert drink front. Do you have a favorite sweet drink in town? Leave a comment below this article online at rochestercitynewspaper.com.
When I think of dessert drinks, the first ingredient that pops into my head is milk or cream. The Revelry (1290 University Avenue) has a classic Brandy Alexander ($10) on its after-dinner menu. The drink is made from a mixture of brandy, cream, crème de Cacao, and grated nutmeg. It's creamy, frothy, and delicious. The Brandy Alexander has been around for a long time — the printed recipe first showed up in the early 20th century — and is a play on the traditional Alexander cocktail, which is made with gin rather than cognac.
You can't talk about creamy drinks without talking about the White Russian, the Czar of them all. Bunga Burger Bar (1370 Mount Hope Avenue) is serving a frozen version of the White Russian ($9) on its Adult Shakes menu. Vodka, Kahlua, and vanilla ice cream are blended together, and topped with whipped cream for a milkshake that you will not be sharing with the younger members of your party. The White Russian came to be in the 1960's when someone — obviously a genius — decided to add cream to the already established Black Russian cocktail. Also on the Bunga Bar menu is The Jesse James ($9), which is made with bourbon, caramel, and vanilla ice cream.
PHOTO BY MARK CHAMBERLIN
(Above) Chen Garden's Mai Tai, made with light and dark rums, crème de almond, lime juice, and mixed fruit juice.
It's hard not to imagine Garth from the movie "Wayne's World," and his giant, blue cocktail with what looks like several plants floating around in a comically sized glass bowl, whenever tiki drinks are mentioned. The US culture of tiki drinks started at Don the Beachcomber, a restaurant in Hollywood in the 1930's. The owner, Ernest Raymond Beaumont Gantt, spent time in the Caribbean and South Pacific, and made drinks inspired by his travels, using rum, flavored syrups, and fruit juices.
Chen Garden's (1750 Monroe Avenue) exotic drinks menu include tiki classics like the Mai Tai, made with light and dark rums, crème de almond, lime juice, and mixed fruit juice. The restaurant's Pineapple Passion contains Bacardi Limon rum, Malibu rum, and pineapple juice, and is served in a glass pineapple with a removable lid.
The Revelry is now hosting a Tiki Monday once a month, and its Scorpion Bowl ($30) is something to behold. The giant bowl of white rum, orange juice, brandy, orgeat, pineapple, and lemon serves 3 to 4 people, each with their own colorful straw. The piéce de résistance is a floater of alcohol in a volcano-shaped structure in the middle of the bowl that is set ablaze right before your eyes.