Joe Morelle has represented the 136th Assembly District since 1991, but come January, another Democrat will hold the seat. Republicans
Morelle's running for the seat in Congress that was held for 16 terms by the late Louise Slaughter. As a result, Morelle's Assembly seat is wide open, and three Democrats are vying for it. They'll go head to head in the September 13 Democratic primary (open only to enrolled Democrats). Seeking Morelle's seat, which covers Irondequoit and Brighton, as well as part of the City of Rochester:
• Jamie Romeo, chair of the Monroe County Democratic Committee;
• Jaclyn Richard, president of the National Organization for Women's Rochester chapter;
• Todd Grady, a real estate professional.
A fourth candidate, Brighton Town Board member Robin Wilt, dropped out of the race in late July.
During his 27 years in the Assembly, Morelle became an influential lawmaker and leader. He currently serves as the Assembly's majority leader –second in command, essentially. He has helped steer funding for important projects to the Rochester area, and he's had a key role getting high-profile legislative packages, including the gun-restricting SAFE Act, through the State Legislature.
His successor won't have nearly the amount of clout and influence that Morelle wielded. None of the three Democrats running for his seat have held office before, so the winner of the primary will enter the Assembly as a freshman. But all three candidates say they have experience that will be an asset to the residents of the district and that will help them be an effective representative.
Romeo is drawing on her 14 years working behind the scenes in government and politics. For the past three years, she's served as chair of the Monroe County Democratic Committee, but before that she was chief of staff for former Senator Ted O'Brien and chief of staff for the County Legislature's Democratic Caucus. She's researched issues in depth, drafted legislation, developed talking points, and built relationships with staff members and elected officials across local and state government.
Romeo is the county party's designated candidate in the race, and she has Morelle's endorsement, too. She also has the backing of Rochester Mayor Lovely Warren, County Clerk Adam Bello, Irondequoit Supervisor David Seeley, Brighton Supervisor Bill Moehle, and Assembly member Harry Bronson.
Richard plays down Romeo's background and positions herself as a candidate from outside the party establishment. The primary is a chance for voters to "take back the seat from the party insiders" and send a fresh face to Albany, she says. She's served as president of Rochester's NOW chapter for four years and says that her activist background would be useful in the Assembly. In her NOW role, she's worked to form coalitions; she's spoken at rallies, high schools, and seminars; she's lobbied lawmakers; and she's spoken at state pay-equity hearings.
Grady says he wanted to make sure voters had a choice for the seat, since Republicans aren't running a candidate. And he says that after having a "front-row seat" to state government – first as a reporter at the D&C, then through a stint at the Rochester Business Alliance (now called the Greater Rochester Chamber of Commerce), and working in real estate after that – he has a valuable perspective on Albany. And like many in Rochester, he's frustrated with the lack of progress he's seen on some issues that affect businesses and Rochester's economy, he says.
The candidates are all Democrats, so it shouldn't be a surprise to anyone that they have similar, if not identical, positions on several issues.
All three support GENDA, the Gender Expression Non-discrimination Act, which as the name implies would prohibit discrimination based on gender and the way a person identifies with or expresses it. The Assembly has passed the bill each year for the past decade and will most likely do so again in 2019. The Republican-led Senate has never voted on the legislation, though if the chamber flips to Democratic control, the bill will probably make it to the governor's desk early in next year's session.
Each candidate also supports the Reproductive Health Act, which would move the state's abortion laws out of the penal code and into public health law. The legislation would also modernize the state's abortion laws and bring them in line with the rights established in Roe v. Wade.
Each of the candidates also sees a need for stronger limits on campaign contributions and spending. Richard and Romeo also say they want the legislature to enact reforms that would modernize the state's voting and voter registration systems, allow for early voting or establish weekend voting, and allow people to vote by mail (a concept frequently called no-fault absentee ballots). Romeo says she's passionate about election law reform and modernization – which is often a very wonky topic – and that she'd champion it in the Assembly.
Grady and Richard also support term limits for state elected officials.
The three candidates agree that the state needs better oversight over its economic development programs and that companies need to be held accountable when they don't live up to job creation or investment promises.
Romeo supports legislation that would let the state take back benefits from companies that don't meet job performance requirements. She says the Assembly and Senate should also consider returning some oversight of economic development programs to the Comptroller's Office.
Grady says it's important to hold agencies responsible, too – particularly Empire State Development. The agency administers a large portion of the state's economic development loan, incentive, and grant programs.
He and Richard also say the state should have a publicly accessible database to provide transparency about who's getting economic development incentives and how they're performing.
Despite their agreement on those issues, Romeo, Richard, and Grady have different positions on some high-profile issues, and they have different approaches to others. In fact, each has a different approach to the job as a whole.


PHOTO BY JACOB WALSH
Todd Grady
Todd Grady
As a business reporter at the Democrat and Chronicle, Todd Grady covered the closing of Kodak's Elmgrove plant and the rise of small companies in Rochester started by former workers at the Big Three.
But he also reported on New York businesses' concerns over state regulations that, they say, get in the way of doing business here. He heard those same concerns time and again as communications director for the Rochester Business Alliance (now called the Greater Rochester Chamber of Commerce).
"We talk about the same things it seems like every year," Grady says, "and how much do we really get changed?"
Of the issues that remain unaddressed, Rochester's municipal aid disparity tops Grady's list. For years, local officials and state representatives from the region have talked about how Rochester gets less state aid per capita than neighboring cities. When he was at the Business Alliance, the organization launched the Fair Share Coalition to pressure the state. But the disparity persists. Grady says he'll keep pushing for Rochester's fair share.
He believes the state needs to invest in education, but says it also has to make sure that money is being spent wisely. He also sees collaborations such as the Urban-Suburban program and the Rochester school district's partnership with University of Rochester as a way to provide city students with opportunities.
He says that charter schools should receive state funding but that they need to be held to firm guidelines related to student performance and success.
The state needs to address rising health insurance and health care costs, which hurt the state's business climate, he says. He supports the single-payer New York Health Act.
New York is moving in the direction of legalizing marijuana, Grady says. And if the state does legalize it, it needs to make sure its laws are sensible and take patients using medical marijuana into consideration.
Climate change is coming, Grady says, and needs to be addressed. He supports continued state investment in renewable energy, as long as the money is working in the public's favor.
He pledges to hold town halls regularly in the district to keep people up to date with what's happening in Albany and to help them understand the sometimes complex issues the Assembly is working on.
Grady supports legislation that would provide a tax credit for home care-givers. He saw the benefits of at-home care during his father-in-law's final days. But he also saw the expense his mother-in-law incurred through things such as trips to the doctor and securing a hospital bed for the couple's living room. A tax credit will alleviate some of that burden, he says.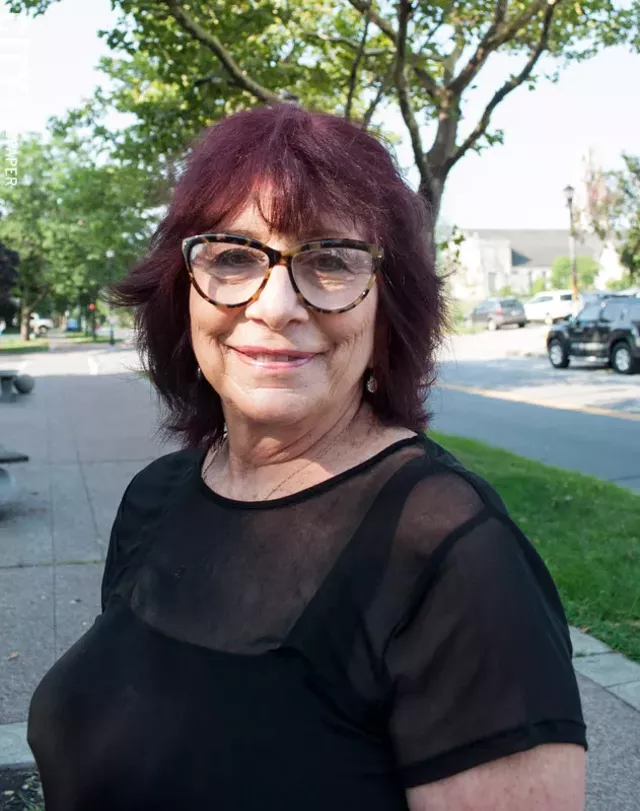 PHOTO BY JACOB WALSH
Jaclyn Richard
Jaclyn Richard
Jaclyn Richard says it was President Donald Trump's attacks on health care and reproductive rights that galvanized her to run for the Assembly.
"I couldn't just sit back and do nothing," Richard says.
And one of her major priorities is getting the New York Health Act passed. The statewide single-payer health care program would impose a new payroll tax, but New Yorkers would still save on things such as out-of-pocket costs, since because the public health plan wouldn't have copays or deductibles like many insurance plans, Richard says.
She also identifies education funding as one of her priorities. The state's funding formulas may need tweaks, she says, but the state needs to live up to its current Foundation Aid obligations, too. The state is supposed to be following a formula established by a court in response to a 2006 lawsuit, but it doesn't, many education activists argue.
On charter schools, Richard says she agrees with New York State United Teachers' position. NYSUT argues that local school districts shouldn't have to fund charters out of their budgets and that the funding for those schools should instead come from the state.
On climate change, Richard says the state should generate all of its electricity from renewables by 2050, a move that would create jobs and protect the environment.
"New York is known as progressive on so many things," she says. "I think we need to take the lead on that."
She also says that in addition to its long-term economic development efforts, the state should be investing in infrastructure projects – roads, bridges, broadband internet – to create jobs now.
And she supports legalizing marijuana.
Richard is campaigning as an outsider candidate, someone who's not part of the Democratic Party establishment. She says voters see a lot of corruption in Albany right now, and she's not tied to any big money donors or special interests, which means she won't have troubling conflicts.
And she sees her background in activism through NOW as a benefit. She's used to meeting with and lobbying elected officials, she says. And she says she wouldn't hesitate to cross the aisle or talk to lawmakers in the Senate to advocate for important legislation and try to change opponents into "yes" votes.
"This is a unique opportunity for the voters to make a decision in this office instead of it just staying where it was – where it is, from one insider to another insider," Richard says, making a reference to opponent Jamie Romeo's longtime involvement in local Democratic politics and government. "I think we need some fresh water. We need some fresh ideas. We need to shake up Albany a little bit."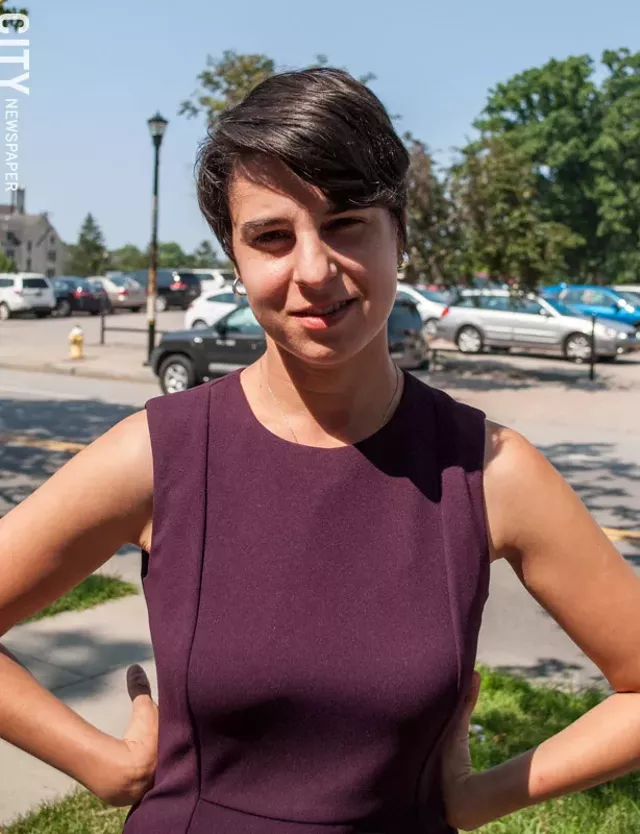 PHOTO BY JACOB WALSH
Jamie Romeo
Jamie Romeo
When Jamie Romeo was a staff member in the County Legislature, child care funding was a major issue. The county administration had tightened the eligibility threshold for child care subsidies and cut its contribution to the program, which is funded in large part with money from the state.
Romeo says campaigning for the Assembly seat "reignited" the issue for her. Some eligible families still can't get child care subsidies, and there are still parents having to choose between keeping their subsidies or accepting raises, promotions, or better paying jobs; their earnings would make them ineligible for subsidies, but wouldn't be enough to afford child care.
A single mother herself, Romeo says the state needs to step in and find new ways to approach child care assistance. Officials should be looking for ways to work with school districts or other service agencies to better help families who need the subsidies so they can go to work and support their families.
"It's going to be an issue of resources," but the state also has to find new approaches to providing the services, she says.
This is how Romeo approaches issues. She stresses that, as an Assembly member, "it's not just the votes we're taking, it's how do you get the policy to work?"
Take the New York Health Act, a single-payer health care bill that's passed in the Assembly for the last few sessions. Romeo supports it and says she'll vote for it, but she says the state should also put provisions of the federal Affordable Care Act into state law as a backstop, in case officials can't get the federal waivers they need to run a single-payer system.
Instead of diverting education funding to charter schools, she says, the state should focus on correcting systemic problems in its public districts. The state should examine increased funding of community schools and wrap-around services in Rochester and districts like it, she says.
Romeo believes New York will legalize marijuana in the near future, and when it does, she says, the state's laws need to recognize the reality that the federal government still considers it illegal, and that people could lose jobs or benefits for using it. She supports Governor Andrew Cuomo's task force on marijuana legalization and says the state needs to simultaneously improve its medical cannabis system.
Instead of treating renewable energy as an environmental program, state officials should consider it as part of broad decision-making in areas such as economic development, Romeo says. The state should be more aggressive about informing people about climate change and renewables development, she says. And she would like to see the state encourage wider collaboration through community choice aggregation, perhaps at a county-wide level rather than just a few communities. Local governments can use the aggregation programs to help large numbers of residential customers secure renewable energy.