A four-day festival celebrates the life and legacy of blues legend Eddie "Son" House
The story of bluesman Eddie "Son" House — who once called Rochester home — is that of a 20th-century Moses. House spent years wandering the desert of obscurity, leading others into a promised land of recognition and cultural popularity that he would never experience for himself. But just one listen to songs like "My Black Mama" and his take on "John the Revelator" reveals House's influence on groundbreaking figures Robert Johnson, Muddy Waters, and Howlin' Wolf. These seminal bluesmen would go on to inspire such indispensable rock 'n' roll artists as The Rolling Stones, The Animals, The Yardbirds, and Led Zeppelin.
But it was in Rochester that a group led by photographer, promoter, and Blues Hall of Fame member Dick Waterman — a champion of blues artists like Mississippi John Hurt, Sam "Lightnin'" Hopkins, Skip James, and "Bukka" White — rediscovered House in 1964 and subsequently became his manager.
And so it is fitting that from Wednesday, August 26, through Saturday, August 29, Son House will get some long overdue attention when Geva Theatre Center presents the multi-disciplinary festival "Journey to the Son: A Celebration of Son House." The four-day tribute will feature multiple concerts, films, workshops, lectures, and discussions, as well as a free public reading of the new play "Revival: The Resurrection of Son House" by playwright Keith Glover on Wednesday, August 26, at 8 p.m.
The story of Son House is not just some isolated, interesting story, but rather one that is inextricably linked to the city of Rochester and the people who live here. "People in Rochester have a real sense of ownership over Son House's story and his life and their relationships with Son," says Jenni Werner, Geva's literary director and resident dramaturg. "Their relationship with him still feels alive to them. Because of that, it does give us a level of resonance with the community. It allows us to have conversations with our community and to really build relationships that we haven't built before."
PHOTO BY DICK WATERMAN
The Corn Hill home Son House was living in during his time in Rochester. It was here that Dick Waterman, a photographer and promoter, "rediscovered" House.
It seems that people in Rochester fall into two disparate camps: those who recall Son House fondly, and those are completely unaware of his significance.
"If you walked around in the town and you said, 'Do you know who Son House is?' people who knew Son would light up, and people who don't would go, 'What are you talking about? Who is this guy? He lived here?'" says Skip Greer, Geva's director of education and artist-in-residence. "So we hope that this will help to bring a spotlight to his legacy."
Dan Beaumont, a University of Rochester professor, is perhaps the person most qualified to speak about Son House's story. Beaumont wrote the definitive biography "Preachin' the Blues: The Life and Music of Son House," published by Oxford University Press in 2011, and will be giving a lecture and participating in a panel discussion as part of Geva's festivities.
"This guy's life was amazing, apart from his importance musically, in that from the standpoint of a story, a narrative, he had so many dramatic reversals in it," Beaumont says. "Most of us do not have lives like this — where you're a preacher, and then the next thing you know, you're a bluesman. And then you shoot someone, kill him, and you're on Parchman Farm [Mississippi State Penitentiary]. You get off, you get released, and the next thing you know you got a record contract within a couple of months."
Born in 1902 and raised in the Mississippi Delta region, House had just started his career as a blues musician before it was temporarily interrupted by a two-year stay in prison, served after purportedly killing a man in self-defense. After his release, House resumed playing the blues, recording songs for Paramount Records and the Library of Congress.
In 1943, House moved to Rochester for work and subsequently stopped playing the blues, disillusioned by the deaths of his old friends. It wasn't until Waterman and company found the man behind those old recordings that House restarted his blues career, beginning with the 1964 Newport Folk Festival. House moved to Detroit in 1976; he passed away there in 1988.
Beaumont recalls that in the process of researching his book, he realized that seven of Son House's friends and colleagues are subjects of their own biographies. Son House was clearly a man at the heart of the vibrant American musical legacy of the blues, and Beaumont is unequivocal about House's relevance to that conversation.
"Of all the musicians in the 60's who were revived and rediscovered and all this, he was the most important — not only for his own music, but because he was a friend and peer of some of the most important musicians in pre-war Mississippi: Charlie Patton, Willie Brown, Robert Johnson," Beaumont says.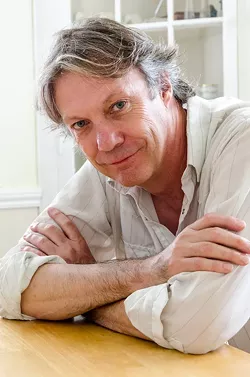 PHOTO BY MARK CHAMBERLIN
Dan Beaumont.
Beaumont is quick to maintain that the role of the blues is not to tell a narrative, per se. "The preacher, he doesn't tell you the story of Moses crossing the Red Sea," Beaumont says, "he assumes everybody in the church knows it. What he says is, 'Here is the significance of this story for your lives today.'"
Beaumont refers to the blues as secular scripture. "But it's just everyday life, and that's why the audience can relate to it — about being broke, being bored, breaking up, moving on," he says.
The Son House festival was made possible by a 2013 Cultural Creative Collision grant from the Max and Marian Farash Charitable Foundation. Through the development of this distinctive arts celebration, Geva further developed its relationships with local institutions like the George Eastman House and House of Guitars, while also working with national organizations such as The Rock and Roll Hall of Fame and the Mississippi Blues Foundation, which approved the August 28 dedication of a Mississippi Blues Trail Marker at the sight of Son House's former home in Corn Hill.
At its core, this commemorative exploration of Son House is a fulfillment of Geva's primary goal in the community. "We're a company of storytellers," Werner says. "And Son House's story is amazing and dramatic and conflicted and passionate. That's the exact kind of story that you want to tell."
Son House's pivotal role in shaping the blues will be elucidated not just in formal talks, but also in ticketed concerts given by notable musicians: Billy Thompson, the musical director of Glover's play "Revival"; John Hammond; local blues favorite Joe Beard; Chris Thomas King; and John Mooney, who learned directly from Son House himself.
And yet at the heart of the Son House celebration is Geva's commission of the Keith Glover play, "Revival: The Resurrection of Son House." The work connects House's origins in Mississippi to his extended stay in Rochester — which lasted more than 20 years — and the relaunch of his music career.
"We're committed to telling stories about Rochester and stories that impact Rochester," Werner says. "And because Son House was one of Rochester's adopted sons, his story feels like something that we need to celebrate and raise his legacy locally."
In deciding who would be best equipped to tell the story of Son House, the Geva staff considered more than 20 different playwrights. Glover was always at the forefront of the list. "It was the music of my uncles and my aunts and my grandmother and my grandfather," Glover, who was born in Alabama and raised in New York City, says of the blues. "It connected you to something bigger."
A musician himself and the author of the music-driven dramas "Thunder Knocking on the Door" and "Jazzland," Glover has always found music to be an important tool to utilize as a storyteller and engage the audience on an emotional level. "English was not my first language," Glover says. "Music was my first language. When I go back to music, it's an easier language for me to speak."
In addressing the character of Son House, who will be portrayed by Tony-winning actor Cleavant Derricks, Glover notes an important dichotomy at work. "There's so much about duality in this — the spiritual with the profane; the sacred and the profane. That was so much a part of Son, so that guides us here, musically."
Glover sees his plays as the sheet music, and his actors as the band. "Son House is not gonna walk through the door," he says. "The essence of Son, the transcendence of Son, the sound of Son is gonna come through, but it's gonna be transformed through the actor ... I did my first opera years ago, and a guy was telling me, 'Let me tell you what Mozart thought.' And I was like, 'Don't tell me, man. Play the shit.' You know? But the moment you play it, now you know what he's thinking."
It is clear that Glover actively tries to eschew an agenda for asserting his own particular views, opting instead to let his muse speak for himself.
"That's what kills it, you know, when you got a writer who's sittin' up there and tells you, 'Let me tell you about how these black people are living in Clybourne Park. Let me tell you who they are,'" Glover says. "That's when it gets f***ed up, you know, because you're trying to speak for them. I'm not trying to speak for Son ... my job is, we talk about a question about the human experience, but also to lead you toward the f***in' music."
PHOTO BY DICK WATERMAN
Bluesman Eddie "Son" House once called Rochester home.
Son House's Delta blues slide guitar technique and world-weary vocal style comprise a blues masterclass unto themselves — magnetic, emotive, and grounded in the harsh realities of life.
"When people sat and saw Son House, they saw something that was not polite," Glover says. "They were shaken to the core by Son House. Now I'm writing a play about it; I gotta take the vibe of that."