When Laura Zena walked across the stage at her high school graduation last year, she wore traditional Navajo clothing as a show of pride in her ancestry. But Zena, who asked CITY not to use her real name, says that the joyous occasion soon turned tense.
"I had some people bullying me, telling me I shouldn't have dressed that way because this is America," she says. "I couldn't believe it at first, like maybe they didn't understand what they were saying. I am an American. I'm full-blooded Native American."
It wasn't the first time that Zena was bullied because of her heritage. Sometimes students would call her "Pocahontas," which didn't make a lot of sense, she says.
"They didn't even seem to care enough about Native-American history to know who she was," Zena says. "She had nothing to do with the Navajos. She lived in a completely different place. She's a Disney character to them."
Much attention is devoted to improving educational outcomes for African American and Latino students across the country, but Native-American students' struggles are arguably just as great. And unfortunately, the US Department of Education's efforts to create programs to meet their needs haven't netted great results.
Native-American students have some of the highest dropout rates in the country. They also have low early-childhood literacy rates and high placement rates in special education classes. Their discipline rates, typically in-school and out-of-school suspensions, are second only to black students, says a 2015 article in The Atlantic.
Academic achievement is not the only issue. Research shows that many Native-American students also experience discrimination, social isolation, and cultural acceptance.
Native American students are sometimes referred to as the smallest minority; in 2014, they made up just 1.1 percent of all students in the nation's public schools. And the number is expected to decrease,
Locally, the Rochester City School District's website shows that American Indian and Alaska Native students make up a mere .2 percent of the district's 28,000 K-12 student population. It's hard to miss the irony in that number considering that the Genesee Valley is home to the Seneca, one of the original six nations that make up the Iroquois Confederacy. Archeological evidence shows that they've lived here for thousands of years.
But some people say that demographic data concerning Native-American students shouldn't always be taken at face value. Students and parents of all races don't always complete demographic surveys correctly. In the case of some Native Americans, it might be because they're worried about being associated with a perception of low achievement, they say.
And younger generations of Native Americans, like millions of students enrolled in US schools, are frequently multiracial and identify as people of color.
Greece Arcadia graduate Zena says that people rarely recognize her as a Native American.
"People always assume that I'm Asian," she says. "When I tell them I'm native, they'll actually even try to push it back on me and speak Chinese."
PHOTO BY KEVIN FULLER
Felicia Johnson, an 8th grader and Mohawk, collects traditional Native-American arts, jewelry, and crafts.
Felicia Johnson, an eighth grader at School of the Arts, is Mohawk on her mother's side of her family. Her mother lived on the St. Regis reservation near the Canadian border for a time. Her father is black.
Her mother has taken her to powwows and festivals. The last one had a traditional smoke circle where people danced and ate a lot of food, she says. Johnson says that she wishes there were more activities like that nearby so that she could see other Native-American people.
Johnson likes reading books about Native Americans, collecting traditional arts and crafts for her room, and learning about Mohawk headdresses and folklore, she says.
"Our tribe wears three feathers and the spirit animal is the wolf," she says.
Elysyia Hinds is a 10th grader attending a city school and she's also Mohawk. Her classmates don't usually know that she's Native American, and they seem a little surprised when she tells them, she says.
"My mother is Native American and father is Jamaican," Hinds says. "I see myself as native, but because I'm Jamaican, I see myself as a person of color, too."
And she, too, wishes that there were more events in and out of school that showcased Native-American music, art, and food.
"A lot of Native-American food is kind of plain and doesn't have a lot of flavor, but I love the traditional corn soup and fry bread," Hinds says. "I love Indian tacos, too."
Angelina Carman is a freshman at Monroe High School and Abigail Fast Horse is a senior. African American and Latino students see and interact with their peers every day, they say. But it's not the same for Native-American students.
Socializing with other native students almost requires visiting a reservation or another region of the country where there are larger concentrations of Native Americans, they say.
The Rochester school district had a program where a small group of Native-American students met informally with Native-American elders and cultural instructors, but it was discontinued last year. And Carman and Fast Horse laugh at the possibility of someday dating a Native-American boy.
"You'd have to find one first," Carman says.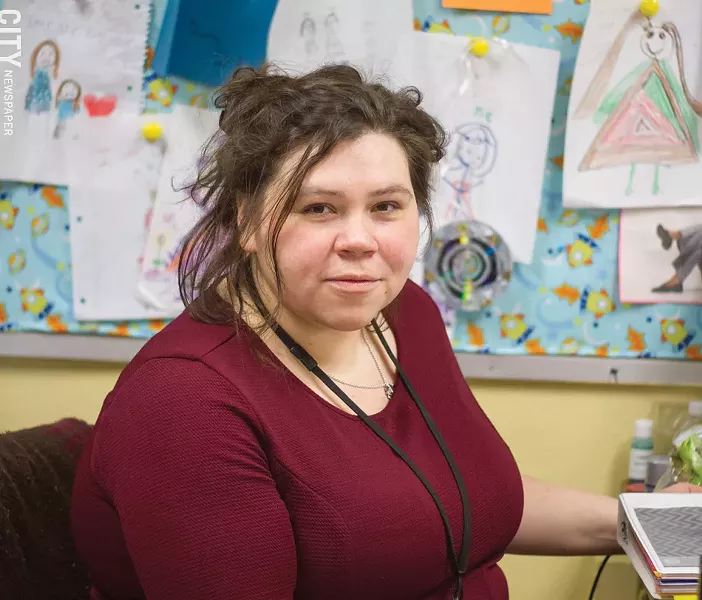 PHOTO BY KEVIN FULLER
Erin Skye-Moore, a teacher at School 23, says she doesn't think she's ever had a Native-American student in her class.
Erin Skye-Moore is Tuscarora and a teacher at School 23. She doesn't believe she's ever had a Native-American student in her class, she says — and she's been teaching for 16 years. The thought makes her a little sad, she says.
What Native-American students learn about themselves and their place in American history is important, she says. When she taught fifth-grade history, she made a point of bringing in a lot of documents, artifacts, and images to create as realistic of a picture of Native-American culture as she could for that grade level.
Some of that history is controversial, "but I think we should be honest with history," Skye-Moore says.
The Native-American students CITY talked to say that schools don't teach enough of their history and culture. They are not portrayed authentically, and their "true story" isn't always told in their history books and lessons, they say. It makes it easier for non-Native Americans to dismiss their relevance, they say.
Greece Arcadia's Zena says that she remembers telling some of her friends about the Navajo code talkers who served in the Marine Corps during World War II. Their language was used to transmit code that the Japanese were unable to break.
"They didn't know about the code talkers and how they helped the US win World War II, which is kind of sad," Zena says.
And while some of the Native-American students say that they celebrate Thanksgiving the way that most Americans do, with a family gathering and turkey feast, others say that they have family members who don't.
Some Native-Americans view Thanksgiving as a bitter reminder of conflicts between tribes and white European settlers who systematically took their land and tried to extinguish their culture.
There is an underlying problem with the story of how the US was formed, says Michael Galban, curator and historian at the Seneca Arts and Culture Center at Ganondagan. And young Native American students are sometimes caught between conflicting messages, he says.
"The horrifying dispossession of our land — that narrative is not always a pretty one," he says. "Maybe because that is not something many Americans are prepared to hear: how Native Americans were treated and continue to be treated."
People have visited the center and broken down in tears when they learn about the brutality inflicted on Native Americans.
"And they always ask, 'How is it that all of this is left out of the history we are taught?'" he says.
Galban recalls a trip that he made to Germany.
"There was absolutely no escaping the atrocities of the Holocaust," he says. "The German people understand that. I feel the US has never done that, never really shown remorse. Just take a look at what's happening today in Native-American country [with the pipelines]. Treaties are ignored."
The historical legacy of the treatment of Native Americans and the inaccuracies continue to influence young Native-American students and how they see themselves today, he says.
"When people think of us, they think of us in the past as if we're extinct, so where do we fit in?" one student says.
Proving Native-American heritage is another indignity, Galban says. Many Native Americans carry an identification card or "Certificate of Degree of Indian Blood" of a federally recognized Indian tribe, nation, or community.
The Bureau of Indian Affairs requires a controversial minimum blood degree that can range from 1/16th to 1/4 for eligibility for benefits such as health care and higher education grants.
"Much like an animal's pedigree is how we are treated, and sadly, how we sometimes evaluate ourselves," Galban says.
And he says that being Native American can be genetic, cultural, or both. He uses the Genesee Valley historical figure, Mary Jemison, as an example.
"Mary Jemison was culturally Seneca, raised as a Seneca, married a Seneca, and lived her life as a Seneca, but she was genetically Scotch-Irish," he says. "But in my view Mary Jemison was Seneca."
Many young Native-American students struggle with issues involving identity, culture, and history, Galban says. And he's not terribly confident that many traditional public schools have the capacity to give students the support that they need.
"We're working from such a deficit," Galban says.
"You hear people say things all the time like, 'You're so well spoken,' or 'What's wrong with the Redskins mascots?'" he says. "That eats away at you a little bit at a time."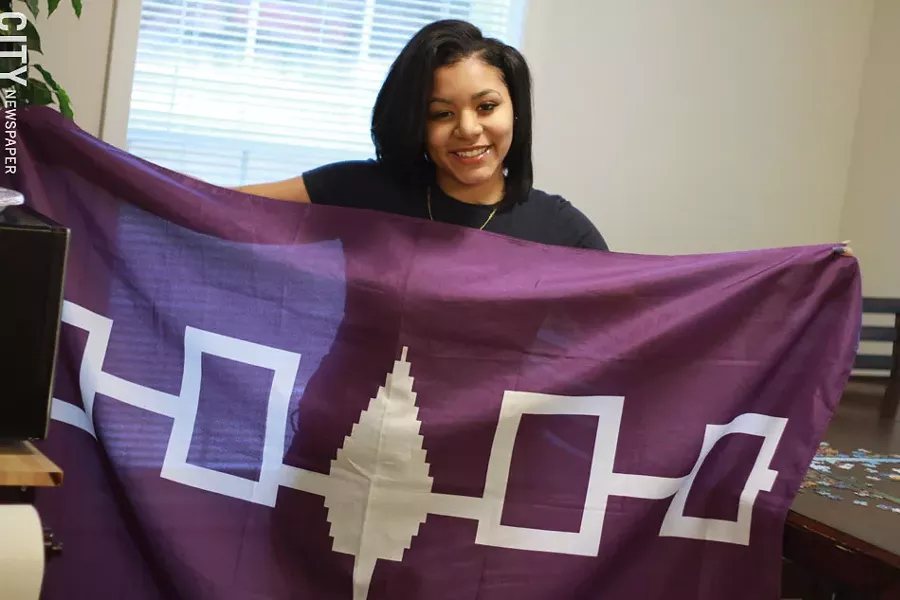 PHOTO BY KEVIN FULLER
Tenth grader Elysyia Hinds says she wishes there were more Native-American events in and out of school.
Native-American students often continue to experience some of the same struggles when they move into college. In some ways, the hurdles get even higher. Many Native-American college students are the first members of their families to pursue a college degree.
Some of the social challenges are just as significant and come at a time when students need to focus on a much more challenging academic workload.
One of the big issues is that some of the students feel deeply conflicted about leaving their families and reservations.
Roger Dube is the director of research initiatives for Rochester Institute of Technology's Native American Future Stewards Program. Dube is Mohawk and was one of only two Native-American students at Cornell University when he was in college.
Future Stewards was founded in 2008 and is an academic and cultural program specifically designed for Native-American students at RIT. The students are given academic support and encouraged to remain in close contact with their communities.
"It's a very complex issue," Dube says. "Stay on the reservation or move away and on to a career? The native communities are small and there are traditionalists. Some students and their families have a big fear that if the students leave their community, they'll never go back. In a tight and closely knit community, it's a tough choice for them to make."
But the Future Steward Program teaches them to think differently. It's not an either-or choice, Dube says.
"Becoming a doctor, lawyer, or dentist could be a big benefit to your community," he says. He calls it a recruit, retain, and return type of program.
Dube is especially big on encouraging the students to explore the STEM fields. But when students have heard a lot of disparaging remarks over a long period of time, they often become less confident and they can't imagine succeeding in math, science, or engineering — fields that they associate with white professionals.
"If you've been told you're backwards and can't pursue something like engineering, that self-perception is hard to change," Dube says. "We help them through a difficult transition. We tell them, 'Yes, you can do this. Yes, you can succeed.'"
An earlier version of this story stated that the Navajo code talkers helped defeat the Germans when it should have said the Japanese.