Updated on 2/7/13 to correct the end date of the play; it runs through March 2.
Rochester has no shortage of live theater. The city is home to professional organizations like Geva; semi-professional theaters like Downstairs Cabaret, Blackfriars, and the JCC Centerstage; nearly two dozen community theater troupes; several children's theaters and improv-comedy groups; and national Broadway tours courtesy of the Rochester Broadway Theatre League. But in a scene so crowded, some elements sometimes get lost.
Consider our local college theater programs, as well as local playwrights, which rarely get significant community exposure. This month, a production by the University of Rochester's International Theatre Program will bring those two elements of the local theater scene together, as the UR stages a full production of a local playwright's work for the first time in anyone's memory.
Opening on Thursday, February 14, and continuing through March 2, the International Theatre Program will present "The Rochester Plays," a two-part work by local writer Spencer Christiano. Although the plays are not necessarily set in Rochester, they allow the UR to tap into the pool of talent in its back yard. It also gives an up-and-coming young playwright a larger and arguably higher-profile venue for his work.
Spencer Christiano, an alum of Aquinas Institute and SUNY Brockport, is the author of "The Rochester Plays," as well as an artist-in-residence at MuCCC.
The process that brought "The Rochester Plays" to UR started several years ago. John Borek, who has worked with Christiano at the Multi-Use Community Cultural Center on Atlantic Avenue since 2010, got some of Christiano's plays to Nigel Maister, artistic director of the University of Rochester International Theatre Program. The plays sat on Maister's desk for several months, but when he got around to picking them up, "I read them and thought they were quite interesting, and this guy has some real talent," Maister says.
The plays tackle complicated issues, telling the story of a young single mother and her relationships with two men: one an ex-con trying to turn his life around, the other a suspected sex-offender with a host of prejudices and tensions.
"The play is very much about stereotypes and preconceptions and how we deal with them and how they evolve," Christiano says. We're conditioned by the media and society to identify with the struggling ex-con and root for his success, Christiano says, but also to despise and fear a known sex offender. "So what does that say about our preconceptions for one criminal? Why does the ex-con get our support while the sex offender gets demonized?"
In April 2012, Maister invited Christiano to a meeting to discuss the International Theatre Program staging his works as part of its New Voices Initiative. New Voices is something Maister started as head of the International Theatre Program in 2002. Every four years the department commissions a new work which is developed, written, and staged over the course of an academic year.
"The idea is to use the advantages of being in an academic-university setting to develop new work for the American theater," Maister says. Previous productions in the New Voices Initiative include "The Hairy Dutchman" by Andy Bragen and "The Puzzle Locker" by two-time Obie Award-winner W. David Hancock.
But a local playwright has never been part of the New Voices Initiative. In fact, as far as Maister or Christiano know, a Rochester-based playwright has not had a work fully produced by the University of Rochester's theater program.
Working with a local playwright became a big attraction for Maister with this project. "I thought it was great to do something that was community based, that was tied to the Rochester community since he's a local guy," Maister says. "I thought it was great as he's a young guy, just out of undergraduate. I thought the plays were edgy and dark and provocative and worth exploring."
Nigel Maister is the artistic director of the University of Rochester International Theatre Program.
Typically plays involved in the New Voices Initiative are created from scratch and developed at the college. But "The Rochester Plays" already existed, albeit by another name. Christiano first wrote and presented the first part of what was initially called "The Sidewalk That Could Not Be Plowed" as a staged, script-in-hand reading at MuCCC in late 2010, and did a tandem reading of both parts in late 2011. After that he shelved the plays and went to work on other projects, including the supernatural play "To My Friends: The Life and Death of George Eastman" and "Midnight on the Front Lawn of Good an Evil: A Hypothesis," which was inspired by the Emily Good-Rochester Police Department controversy.
"A lot of my plays are about how we think and why we think it," Christiano says. "I have a particular interest in the way that we take in information, in the way that we're conditioned to take in information. There's a lot of things that can be blamed for that, but I'm more interested in addressing the problem rather than pointing the finger."
Christiano — a 2005 graduate of the Aquinas Institute who studied at both Monroe Community College and in the theater department at SUNY Brockport — says that after those initial readings, he put the "Sidewalk" plays on the shelf. "Then I got a call from Nigel," he says.
While the plays previously existed, both Maister and Christiano say that in going through the creative process at University of Rochester, they have been significantly changed. Maister paired Christiano with Samuel Marks, a playwriting teacher at Rochester Institute of Technology, to work on the works last summer, and additional tweaks have been made since rehearsals started in October 2012.
"Whenever you produce a new play there's inevitable cuts, changes, and additions," Christiano says. "And when there's a good chemistry in the rehearsal room, good chemistry between director, playwright, actors, stage managers, it becomes a symbiotic relationship. The production changes to support the play, at the same time the play changes to support the production.... So we would change lines, cut lines, really just try to streamline the play and make it go from my head into a produceable work."
To explain those kinds of changes, Maister references the character Matthew, an ex-con trying to get his life on track, but who gets derailed by the events of the play.
"When we first got the text, it didn't define his journey as clearly as — I hope — it's defined now," Maister says. "He was kind of stand-offish and aggressive at the start. I think he's become more conflicted and slightly more layered as a character. And thematically I think that's also impacted things."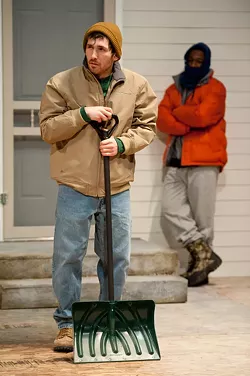 PHOTO BY J. ADAM FENSTER / UNIVERSITY OF ROCHESTER
Walter (senior W. Spencer Klubben,), left and Matthew (junior Shaquill McCullers,) meet for the first time while shoveling snow outside their apartments in the University of Rochester Todd Theatre's production of "The Rochester Plays." PHOTO BY J. ADAM FENSTER / UNIVERSITY OF ROCHESTER
Almost all of the significant changes came as a part of the rehearsal process with the student actors, which Maister says is one of the benefits of theater in an academic setting. Christiano says developing the plays under the auspices of UR has been a unique experience.
"I'm not used to working with a budget," Christiano says. "I mean, MuCCC's great. It's a black-box theater — a very large black-box theater — but there's very little pressure at MuCCC to spend a lot of money on your production. The focus is on the work, the performances, and the community. The UR is basically an Ivy League school, so it has a budget, and they spend it well. They support the work that they do. I mean, we've got designers from New York, from London — these are people who have shows on Broadway right now."
Christiano has also found working with the student actors illuminating.
"There's a certain kind of fearlessness that comes with being a student artist. And these students are just jumping into this play," he says. "It's a tough work. There are a lot of lines. These characters are really difficult, and sometimes they can be hard to empathize with. That's part of being an actor — learning to love your character."
"We're all learning together, we're all developing together. It's a really beautiful process," Christiano says.
The learning process is part of what makes academic theater programs special. And yet, despite the fact that almost all of the major universities in and around Rochester have theater programs — some of them quite well regarded — they're often ignored by the community at large.
"When I get asked what I do for a living, and I say that I run the theater program at UR, people say, 'There's a theater program there?' Nobody knows we exist," Maister says. "Actually we do really good work, and really interesting work, and work that is different from what's on stage at Geva or JCC or Blackfriars. We work at a very high level, even if the work is done by students."
"We do get people from the community to come see the shows, but I would love to see more — especially people who are interested in theater," Maister says. "There's a high level of artists, the plays are edgy and fun. We do musicals, we do comedies — we do everything. I'd like to think we're a bit of a hidden gem, waiting to be discovered, waiting for our moment. Whether this will be our moment remains to be seen."
Following "The Rochester Plays" the UR's International Theatre Program will present a Festival of One-Act Plays in March and then stage Tennessee Williams' "The Glass Menagerie" in April.
"There's a lot going on in college theater here that's a real alternative, or an adjunct to what other theatrical life is happening in the city," Maister says.
Margaret (freshman Halle Burns) and Matthew (junior Shaquill McCullers) in the University of Rochester Todd Theatre's production of "The Rochester Plays." PHOTO BY J. ADAM FENSTER / UNIVERSITY OF ROCHESTER
Aside from his work with "The Rochester Plays," Christiano is an artist-in-residence at MuCCC, as well as the venue's new play facilitator. Just as the UR is helping to give his work a broader audience, he is doing the same for other local playwrights.
"MuCCC is this fantastic place for artists," Christiano says. "There's such a community there that will help you do whatever you want to do. There's no fear — you can do new work and not worry about failure. You can do something edgy and not have to worry about offending people or getting blacklisted somehow. And everyone there just wants to help you succeed and help your play succeed, or whatever work you're doing. MuCCC has been absolutely fundamental in my evolution as a playwright."
As for his own future as a playwright, Christiano continues to have an interest in writing plays about Rochester. He doesn't just want to be a local playwright; he wants his plays to deal with local issues. His upcoming projects include "Rails," a trio of plays about Rochester's railroads (specifically the Underground Railroad, the abandoned subway, and the Midtown Plaza monorail) and "Theater, Inc.," which he describes as "an exploration of economic hardship and commercial compromise in theater, which is going to be a little more universal, but very local."
"I think that Rochester is a community that's just rife with inspiration," Christiano says. "If I was in another town I'd probably be writing about that town. But I think theater has a responsibility to speak to its community. It's different from other media in that theater is always local. Theater is done because it's here."
"Since I'm in Rochester and since I love Rochester, I'm interested in writing plays that will speak to a community," Christiano says. "You can do the 7000th revival of 'Guys & Dolls' and the audience can love that, but where's the lasting relationship? I can do a play for a Rochester audience and they can come see that, and after the show they can talk to me and tell me what they thought, and say what they like and didn't like."
"I write about Rochester because I love Rochester, I love the people here," he says. "I want Rochester audiences to feel this fantastic connection that I feel. It speaks to the audience that I want to speak to."