Page 9 of 11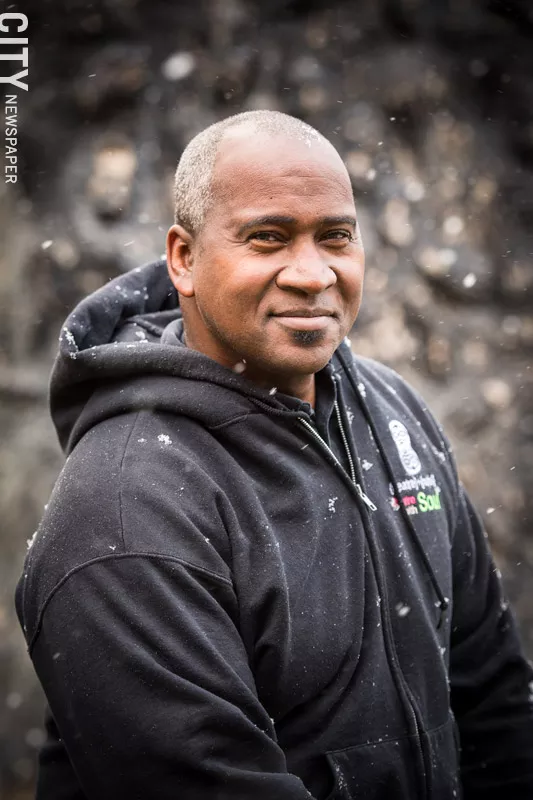 PHOTO BY JOSH SAUNDERS
Reuben J. Tapp and his wife have lived in the Maplewood Neighborhood for almost 10 years. It doesn't have a physical location, but Tapp bases his theater company, the Maplewood Performing Arts Centre, there.
REUBEN J. TAPP | THEATER

BY LEAH STACY
Reuben J. Tapp is a certain kind of Renaissance man. Not quite a polymath, like Michelangelo and Leonardo da Vinci, but the kind that does a little bit of everything — not surprisingly, many creatives fall into that category.
On a cold November morning, he's sitting at Spot Coffee on East Avenue, clicking away on his cellphone, a steaming cup on the table in front of him. For Tapp, this midmorning meeting feels more like midafternoon; his daily schedule usually kicks off around 4 a.m. or 5 a.m. and lasts until about 11 p.m.
Tapp's primary training is in "Theatre of the Oppressed," a form of theatrical performance that is used to promote social change. Much of his current work is rooted in the Rochester Bronze Collective, a group he co-founded four years ago.
"I liked the connotation of social justice in the idea of a 'collective,'" he says, adding that it meant funding and other resources would be equally earned and shared. "That sort of model benefits all members and creates more opportunity."
RBC focuses specifically on the African diaspora within the Rochester community, and the group often collaborates with the Sankofa Festival, which was founded by husband and wife Curtis and Marie Rivers as a platform for black playwrights and just celebrated 10 years. Tapp works side-by-side with the festival to produce video marketing pieces, write, direct, act, and serve as dramaturg as needed.
Tapp also founded his own company in 2009, the Maplewood Performing Arts Centre, and he's a teaching artist in the city school district specializing in African folk tales. Future plans include bringing the same sort of programming to local correctional facilities. To hear him list the creative positions he's held recently is staggering — but to him, it's normal.
"Most artists around here do a lot of different things, since they're not usually making their money off art," Tapp says. At that moment, his cell phone goes off and he pauses to read the text message.
"I'm so sorry," he says, explaining that a resident is having electrical issues that morning. "I just want to make sure nothing goes really wrong before the repair guy gets there."
It's then he adds a few more roles to his growing list: Tapp is also a property manager and a family man. A job offer for his wife, Ronke (who is a psychiatrist), at the University of Rochester brought the Tapps to Rochester a decade ago. Though he had degrees in agribusiness, Tapp was then touring the country and working with children's theater companies. When they arrived in Rochester, he decided to stay local to be near his wife and kids. That's when he pivoted, forgoing his pursuit of an equity card for more performance opportunities in Rochester.
"What's that saying?" he says with a laugh. "Learn to fly, and grow wings on the way down? That's what I did."
Aside from a brief stint in the South Wedge when they first moved to Rochester, Tapp and his wife have lived in Maplewood for almost 10 years; hence the name of his theater company, which doesn't yet have a physical location but will likely be based there.
Other ongoing projects include shooting and editing several YouTube channels, where he creates original series like "Sistah Doctor," "Princess Reh," and "Mocha Girls." Everything is shot in front of a green screen at his home, and most of the videos feature one of his family members.
"Making these videos with my children, especially, is really about the importance of presentation — black female role models and black media representation," he says.
Tapp is now gearing up for the annual Bronze Collective Theater Festival, taking place in February at MuCCC.