Page 8 of 11
DAN SCHNEIDERMAN | TECH

BY KURT INDOVINA
Back in November, there was a giant, fire-breathing, mechanical dragon just chilling in downtown Rochester. You can thank Dan Schneiderman for that.
The dragon, known as "Heva Meta," was displayed to turn heads toward the annual Rochester Mini Maker Faire, an event that showcases invention, creativity, and resourcefulness. That's what Schneiderman is all about: bringing attention to the emerging world of makers — anyone who, literally, just makes anything.
"I would even consider cooking to be a form of making," Schneiderman says.
The native Rochesterian has a bachelor's degree in Information Science Technology from RIT and is first-and-foremost a maker.
"I love to bring art and tech together in crazy and unusual ways," he says. Schneiderman has recently been working heavily with cardboard and recycled materials to create things from a working pinball cabinet to a miniature (but by no means small) replica of the Rochester skyline. The mini Rochester is made entirely out of Amazon's cardboard boxes and is meant to be a ploy to get Amazon's attention during its search for the location of its second North American headquarters.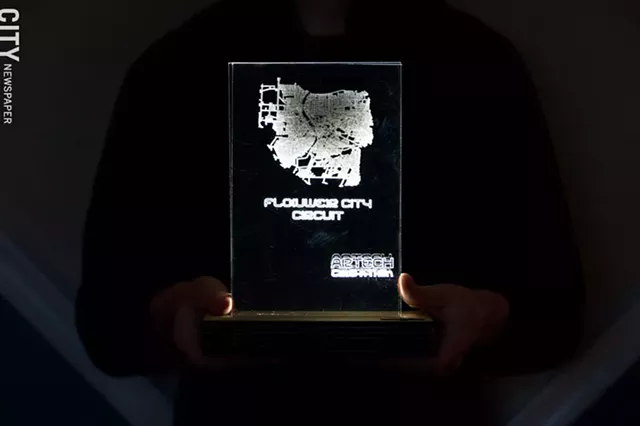 PHOTO BY JOSH SAUNDERS
Dan Schneiderman also organized the MAGIC center's first ArTech Cre8-a-th0n.
Schneiderman's craft goes beyond any physical medium: His most prominent skill may be his ability to organize and bring attention to a community. He's been the co-chair organizer of the Rochester Mini Maker Faire for the last four years — 2017 was the event's best attended.
He sees the Maker Faire as a way to point out that anyone can start making. "Rochester is a city of makers," he says. "We've had this long history, I'd say even going back to the Erie Canal. I see the Erie Canal as the largest maker project New York State has ever accomplished, and it's impacted Rochester's culture."
Rochester's maker roots, Schneiderman says, may just as well have paved the path for Xerox, Kodak, and Bausch & Lomb. But Schneiderman sees tech in Rochester shifting from the big institutions to the smaller outfits; the DIY, startup sort of folk. He points to new companies, like Datto and CloudCheckr — both of which have already expanded into bigger spaces — pop up over the last couple years. Not to mention there has been growth in the game industry as well.
"This next generation is finally starting to step up," Schneiderman says. "We're starting to share and communicate."
When he's not crafting with cardboard, making wearable tech, or organizing the next maker project to be featured at either the Rochester Fringe or the Mini Maker Faire, he works at RIT as the research associate and community liaison for FOSS@MAGIC (Freedom of Open Source Software at the Media, Arts, Games, Interaction, Creativity Center). And he works directly with students on open source code and projects. This year, Schneiderman earned the Emerging Leaders Award from the Digital Rochester Great Award.
He's confident the tech industry is here to stay, but more importantly, it's here to grow. When asked why he thinks things are starting to take shape here in tech, Schneiderman answers simply: "We've just got the right people, at the right time, doing the right things."