Page 7 of 11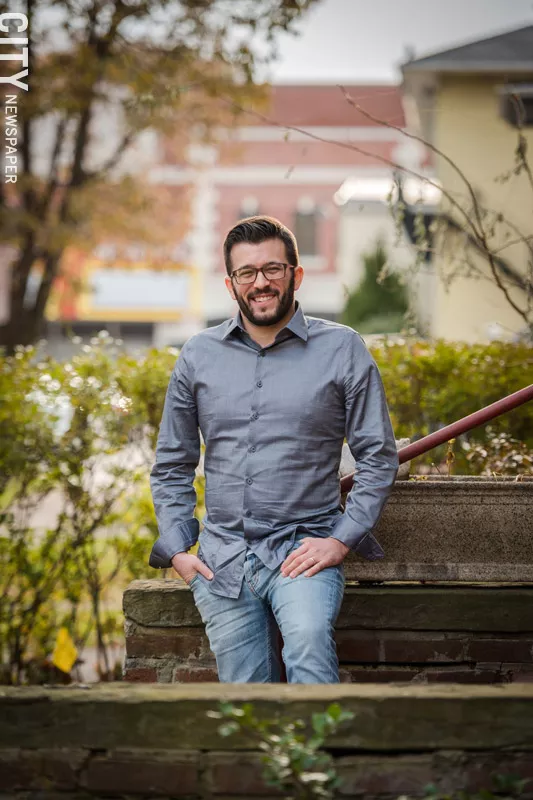 PHOTO BY JOSH SAUNDERS
Davin Searls is part of a fourth-generation deaf family from Rochester. He is now the Executive Director of Discovering Deaf Worlds, which works with deaf community leaders around the globe.
DAVIN SEARLS | DEAF LEADERSHIP

BY NERIAH SANTIAGO
Davin Searls, Executive Director of Discovering Deaf Worlds, is based here in Rochester, but his work stretches well beyond the city.
Discovering Deaf Worlds provides capacity building training to deaf community leaders in developing countries. According to a 2009 study by the World Federation of the Deaf, around 90 percent of deaf people in developing countries receive no formal education. And far too often, decisions are made about those populations without their involvement. DDW works with leaders in those countries to identify what areas they need training in, and then brings in experts to provide said training.
Searls joined DDW in 2008, and in the years since has conducted presentations on human rights, advocacy, and diversity within the global deaf community. He has also led development trainings with community leaders in the Philippines, India, and more recently, the Dominican Republic.
"In so many other countries we work in, deaf people are told what they can't do, but here in Rochester, deaf people are recognized for what they can do," Searls says during a phone interview coordinated with a sign language interpreter. "With our world growing ever-more interconnected, we have a responsibility as global citizens to advance the rights of others. Rochester is well known for its accessibility and as one of the top cities for deaf people; it's a model for what other communities can do."
Recently, DDW collaborated with the National Technical Institute for the Deaf for the Global Readiness Leadership Program, which focused on international deaf students attending the college. As part of their RIT/NTID education, students were given an opportunity to develop leadership skills, in hopes they'll return home to advocate for underrepresented communities. The 2016-17 pilot program included eight students — representing Myanmar, Nepal, India, the Philippines, Ghana, Zanzibar, South Korea, and Malaysia.
"All of them really grew and became better leaders on campus," Searls says. "We just applied for a grant in Zanzibar thanks to one of the students we worked with — this grant will be focused on building the capacity of deaf women and girls there."
Searls formerly chaired the International Experts Group sub-committee of the National Association of the Deaf, and is currently a member of the Human Rights Experts Group of the World Federation of the Deaf. Still, in 2013 he gave a compelling TEDxRochester presentation about deaf culture in the city.
"While most of my work is abroad, Rochester has given me a foundation to branch out," Searls says.
Searls is deaf, and is part of a fourth-generation deaf family from Rochester. Before he joined DDW, Searls lived in China for a year, teaching at a college in Changchun. While there, he witnessed neglect and physical and verbal abuse of deaf children.
That ultimately pushed Searls to take on his current work. Rochester, he says, has deaf lawyers, deaf doctors, deaf dentists, and we see an abundance of individuals with long-term careers and success. Searls wants to bring that spirit to other countries.
"We're fortunate to have so many deaf professionals from Rochester, some of them provided training to our group in the Philippines," he says. "It's really inspiring for our partners to see deaf people who have 'made it' and are giving back. It makes them realize that they can do the same thing in their communities."