Page 5 of 11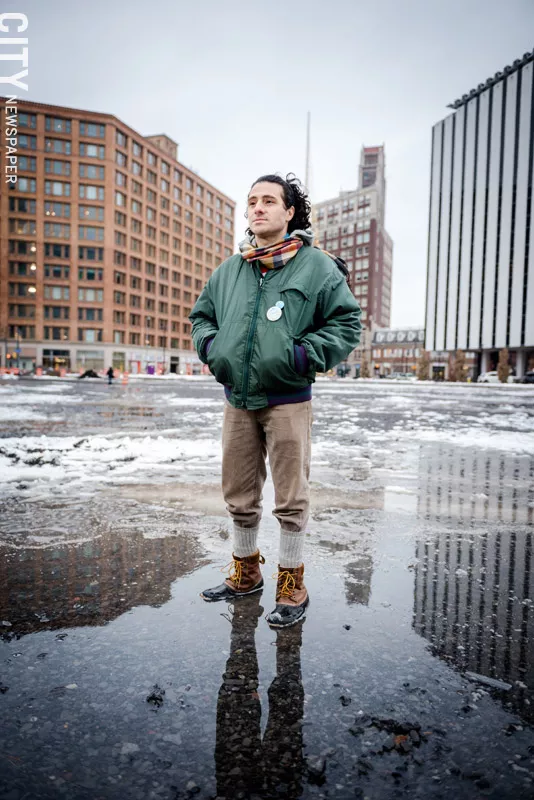 PHOTO BY JOSH SAUNDERS
Ray Ray Mitrano at Parcel 5, which has been the focus of his most recent civic engagement art actions. On the day of his interview, the parcel was lively despite the cold, with groups of skaters reveling in the lot and many people lingering to chat or passing through.
RAY RAY MITRANO | CIVIC ARTS

BY REBECCA RAFFERTY
Ray Ray Mitrano is an illustrator, but he's primarily interested in drawing people together. Through an ongoing series of playful artistic actions that are rooted in performance art and social engagement, he aims to cultivate civil discourse and action between ordinary people.
He describes his efforts as the juxtaposition of different people, some who might not usually consider themselves artists, coming together in places that aren't traditional art spaces like a gallery or a museum.
Mitrano has been bringing together groups around Rochester, "trying to get activists to create more like artists and artists to strategize more like activists," he says. "Artists can do more than design posters and websites and do graphic design; they need to be in the meetings physically strategizing the tactics and the way these campaigns move, and envisioning the unexpected ways of how to persuade people to engage issues."
In the past, these ideas have manifested in a series of events — part of his thesis project at Visual Studies Workshop — that explored the trajectory of the 2016 presidential election. Troubled by the way the two-party system has closed the high percentage of unaffiliated voters out of taxpayer-funded primaries, and the way that claims of voter fraud have disenfranchised even more people (and how that's all contributed to low voter turnout), Mitrano held a series of events to try to reverse apathy and quicken our atrophied sense of involvement in the system.
He held weekly civic discussions at Small World Books and gonzo fake elections and "fake news" protest-demonstrations — long before that term became what it's become — at Visual Studies Workshop and at polling sites.
Most recently, his focus is on facilitating more public discussion about Parcel 5 and what should happen with that land in the center of the city. He doesn't claim to have the right answer regarding if or how the space should be developed; he's pushing for more citizens to claim their stake in the discussion.
"It's a hub for downtown," Mitrano says. "Groups that I've been intersecting — like Showing Up for Racial Justice, or the Police Accountability Board, or Metro Justice, or ROCitizen — they know I've been deeply invested in bringing about awareness on the lack of public process for Parcel 5 and Midtown's future, and so they sort of pile in with ideas on what they could do to intersect with that idea of the 'public space for all' type of movement."
Mitrano says he feels successful when audience-participants see the existing intersection of systemic racism and public space. Rochester is the fourth poorest city in the country, with a high child poverty rate, and we're hugely segregated, he says. "A lot of the ways to fight back and to 'resist' I think would be to do what communities and especially middle class, white, privileged males like myself haven't been doing the past few decades — building strong neighborhoods. Engaging your block; engaging your neighbors. Doing things to tie people together on a local level. I think that naturally cultivates our elected representation to more reflect us, and engage civic action and discourse."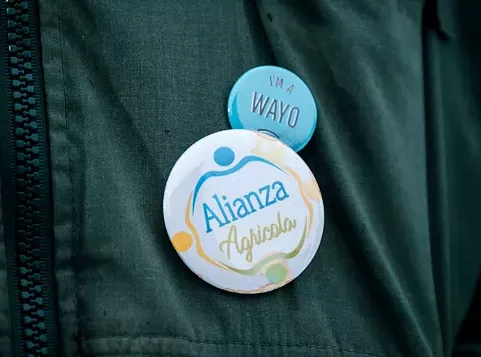 We're in a position, Mitrano says, to potentially prevent Rochester from being gentrified negatively in the way that so many other American cities have.
"The artists and the people and community can really put their foot down and not make it that place which it might become in a decade," he says. "I see Parcel 5 not just as something where it gets 'figured out' top-down. If it's creatively done through a diverse coalition of people, figuring things together, making this space — whatever it becomes — would be a revolution for Rochester. Just the act of engaging, envisioning something here will better Rochester. And right now we don't get that public process from our city government so we have to make it ourselves."