Page 4 of 11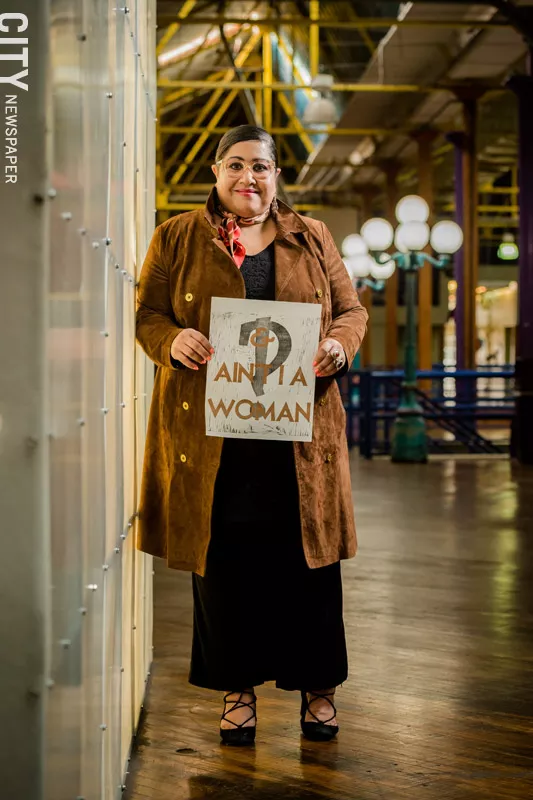 PHOTO BY JOSH SAUNDERS
Rachel Y. DeGuzman holds a work by Rochester artist Amanda Chestnut, who created the piece for the recent 21st Century Arts event "And, Ain't I a Woman: A Long Table Conversation and Installation."
RACHEL Y. DEGUZMAN | ARTS

BY JAKE CLAPP
Rachel Y. DeGuzman talks about her work, and the mission of her business, 21st Century Arts, with such warmth and passion that it's hard to end our interview. We've been talking for more than an hour and I'm doing mental math to figure out how late I could leave Spot Coffee and still make my next meeting.
There are two tracks DeGuzman's work as 21st Century Arts follows: She provides consulting to artists and cultural organizations, and presents community-focused programs, often using art to help people work through difficult conversations and issues. The connective tissue, she says, is promoting sustainability and relevance in the arts.
That sustainability and relevance — and a needed accountability — comes from addressing systemic racism and creating a culture of equity within Rochester arts.
"I'm trying to disrupt how we perceive things," DeGuzman says. "That's my goal: to disrupt. You can't fix anything you haven't identified. I'm saying out loud what a lot of people think — that there's racism in the arts in Rochester, and that's a problem."
In a city where people of color make up the majority of the population, the leadership of Rochester's major cultural institutions does not reflect the diversity of the city's inhabitants. Further, support is needed for smaller organizations run by people of color.
"This conversation — about how do we get more black and brown bodies in institutions that are putting on the same work that they've done for 50 years — doesn't talk about the organizations that have struggled in communities of color," DeGuzman says.
DeGuzman — who moved to Rochester from Michigan when her husband took a new job here — "found her home in the arts," she says, in 2001 when she became Director of Development at Garth Fagan Dance. In the years since, DeGuzman worked with The Commission Project, was Nazareth College Arts Center's marketing and publicity manager, and in 2011, became Rochester City Ballet's director of advancement and external relations. She left RCB in 2013 to start 21st Century Arts.
Among a head-spinning list of accomplishments and other projects, DeGuzman also hosts a radio show on WAYO; produced A Street Light Festival at the Village Gate in 2015; received Geva Theatre's 2016 Essie Calhoun Diversity in the Arts Award; and just completed a two-year Field Leadership Fund fellowship, which partnered her to work with Kyoung's Pacific Beat, a New York City-based theater company.
Alongside its consultancy work, 21st Century Arts produces events focused on addressing large community issue. In 2014, 21st Century Arts, RIT, and PeaceArt International hosted "Diversity in the Arts: A Call to Action in ROC," a symposium that featured Aaron Dworkin, president of the Sphinx Organization and an Obama appointee to the National Council of the Arts.
This year, 21st Century Arts organized "At the Crossroads: Activating the Intersection of Art and Justice," a series of creative workshops and discussions that started with the "Art Power" symposium in October. Earlier this month, "And, Ain't I a Woman: A Long Table Conversation and Installation" gathered together a significant list of Rochester women of color from arts and social justice fields to discuss intersectionality in light of New York State's celebration of 100 years of women's suffrage.
"To have a conversation like that without art would be good, but why not use art as a vehicle to start a conversation like that?" DeGuzman says. "Art feeds the soul, but it also has a role to play in creating greater understanding."
DeGuzman says 21st Century Arts is a laboratory, a space for experimentation. She hopes that can add to the conversations that need to happen in Rochester's arts community.
"I want to put a ding in the arts and racism in the arts here," she says. "I want to put a ding in the way we regard community's relationship to the arts beyond race. I want to put a ding in innovating in the arts. I don't have the hubris to think that my ding is transforming the whole thing, but maybe I'll inspire other people to put in some of their own dings, or maybe they already are and I can help support them. But there will be enough dings, and that's how transformation happens."