Page 2 of 11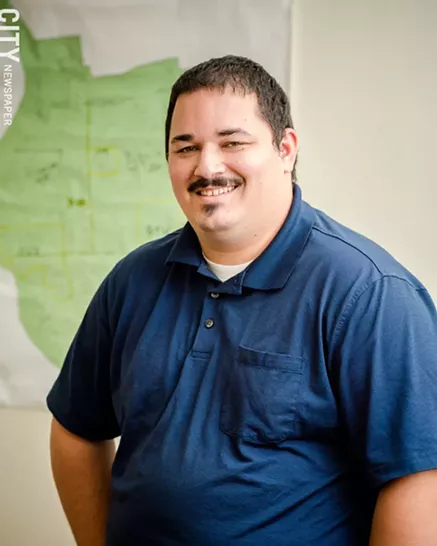 MIGUEL MELÉNDEZ | COMMUNITY DEVELOPMENT

BY TIM LOUIS MACALUSO
Many people who live in the North Clinton area know Miguel Meléndez. The 31-year-old was hired in 2012 as special projects director for Ibero-American Development Corporation, and he's a can-do, rising star in Rochester's Latinx community. One reason: his commitment to helping create a vibrant, flavorful northeast neighborhood that is known for its rich culture rather than its history of poverty and drug activity.

Meléndez interned at IADC in 2008 while he was still attending St. John Fisher College. His work began to lay the groundwork for the program called Project HOPE, whose letters stand for "Healthy Outcomes through Participation, Education, and Empowerment."
"What we are trying to do is improve quality of life by promoting the physical, social, and emotional health of the neighborhood," he says.
For instance: diabetes is prevalent in Rochester's Puerto Rican community, partly due to poor dietary habits and a lack of access to fresh fruits and vegetables, Meléndez says. It took some time, but the neighborhood's stores now offer more healthy options. Stores owners learned that fresh produce will sell.
"People want it and will buy it if it's available to them," he says.
Meléndez has been involved with numerous efforts to improve the area through Project Hope, such as creating a community park and neighborhood gardens and coordinating outdoor events and activities for children. And beyond that, he's helped with efforts to demolish vacant homes and build new housing.
He's also involved with law enforcement in an aggressive effort to rid the area of its drug activity.
Meléndez has worked hard to help improve the image of the area, which has meant encouraging residents to be more engaged and reminding them that the area has many of the same valuable assets as other neighborhoods, he says.
"I tell people it's not as bad as you think it is," he says. "It's only as bad as you want to believe it is."
PHOTO BY JOSH SAUNDERS
Miguel Melendez is helping create a vibrant, healthy northeast city neighborhood.
He attributes the success he's had at such a young age to understanding the challenges that many people living in the North Clinton area face every day.
"I know what it's like to have to overcome," he says. "I also know that the Clinton Avenue Latino is hardworking, someone who is waking up and going to work like everyone else. I see the Latino community as very resilient."
And clearly, Meléndez himself is resilient. His mother died when he was 9 years old after a fall from the family's front porch. His father died six years later from chronic health problems. Losing both parents at a young age was a major struggle for him, he says.
But he credits a supportive older sister, a counselor's mentoring at East High School, and participation in the Junior Reserve Officer Training Corps for helping him through those years and inspiring him to pursue college and a career.
"It grounded me," he says. "I was a unit commander in my senior year. It helped me to develop leadership skills."
Though he's been fortunate to find his passion, Meléndez says he's a little troubled when he hears people say that they are depending on him. He doesn't see himself as a service provider at IADC; he says he's an educator.
"It's not Miguel planting gardens on every corner," he says. "There are a lot people committed to improving this area. I'm not doing this for them. I try to teach people how to do something themselves, because the people who live here need to know they have the power to change this community. They just need to know how."