Page 10 of 11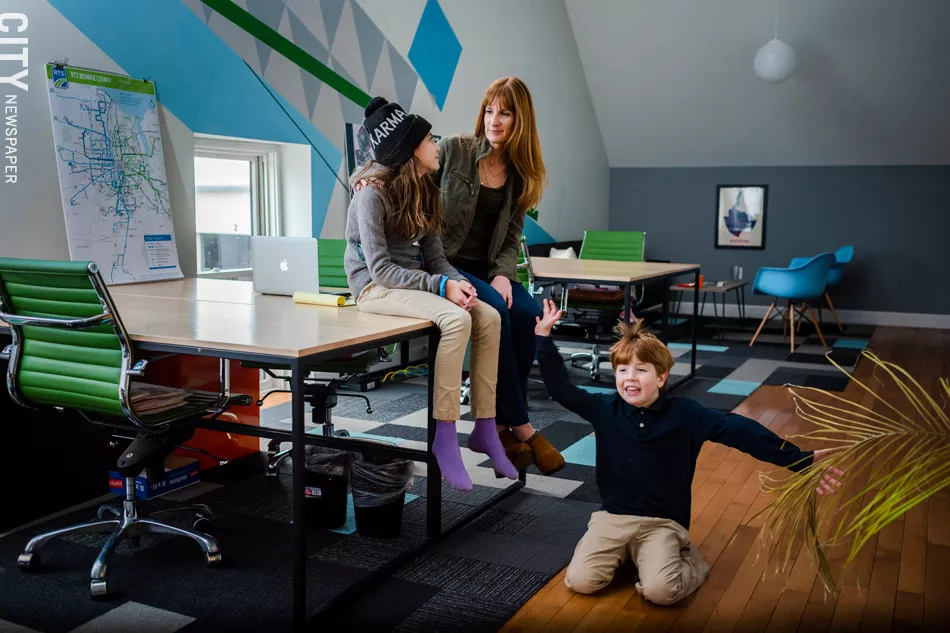 PHOTO BY JOSH SAUNDERS
Tanya Mooza Zwahlen founded a planning firm that's built a reputation for community engagement.
TANYA MOOZA ZWAHLEN | PLANNING

BY JEREMY MOULE
For community planning to really work, it needs to emphasize the "community" part as much as it does "planning." That's as true for a neighborhood street redesign as it is a big housing project or a city master plan.
As Tanya Mooza Zwahlen pursued her graduate degree in community planning from Cornell University, her instructors drilled that approach into her and the other students. And she carried that mindset into her post-degree job with one of the region's big architecture, engineering, and consulting firms.
The more projects she worked on, the more she realized she had something important and unique to offer her team members. Often, the engineers she worked with weren't terribly comfortable speaking to rooms full of people, but she was. In fact, she delighted in it.
"I really wanted to hear what they had to say, even if it was negative," Zwahlen says. "In my opinion, more input creates a better end product."
Fast forward a decade-plus and Zwahlen has her own firm that specializes in getting and processing that input. She started Highland Planning in 2007, and over the years, it's become a go-to for governments, organizations, and developers who want to truly engage and listen to the people who have stakes in their projects.
Highland Planning has guided Headwater Foods and other nonprofits in developing strategic plans; worked with the city on several neighborhood initiatives, such as organizing merchants in the Dewey Avenue - Driving Park corridor into an active community group; and helped Monroe Avenue merchants organize and put on the Show on Monroe. Recently, it helped Greentopia wrap up a plan for the nascent High Falls EcoDistrict.
Those projects all relied heavily on community outreach and input in some way or form, and they're just a sampling of the work Zwahlen and her staff do.
Currently, Highland Planning is in the thick of another big job: leading public outreach and engagement for Reimagine RTS. The Rochester-Genesee Regional Transportation Authority started the process with the goal of evaluating and overhauling Greater Rochester's transit system. But it wants the effort to be driven by the wants and needs of its current users, as well as potential new users.
Zwahlen and her crew have also developed a kit of agendas, prompts, and worksheets that neighborhood and advocacy groups can use to hold meetings and prepare their own recommendations and input for the transit agency. And the firm's charge has also meant going to public events and places and encouraging people to take a nuanced online survey.
"RTS is like a dream client," Zwahlen says. "They are not afraid to be really creative, and they really do want to hear what people have to say."
And Zwahlen is also starting to venture beyond planning into developing. Her firm's office is in the back of a former church at the corner of Meigs Street and South Clinton Avenue, recognizable to many as the location of Playhouse/Swillburger. John Trickey bought the building after it was seriously damaged in a fire, and Zwahlen along with Playhouse/Swillburger co-owner Jeff Ching partnered with Trickey to rehab and renovate the place.
The collaboration grew out of Zwahlen's work with the city and some neighborhood business organizations. Zwahlen and Ching are currently in the process of buying the building from Trickey.
"I had this burning desire to do something significant," Zwahlen says. "The metaphor I like to use is, city planning is standing on the sidelines yelling into the game, like, yelling 'This is what you should do.' I think real estate development is getting on the field and doing it."