T
here are a lot of talented, dedicated people working to make the Greater Rochester Region a better place to work, live, and play. But many times, the same names appear in the headlines, while other, equally deserving people go unnoticed. The Rochester 10 — an annual feature by CITY Newspaper — turns the spotlight on some of the area's hard-working background players.
Every person on the following pages stands out as someone who contributes to their field (and to Rochester) in interesting, varied ways. We believe you should know about them. From arts and spirituality to tech, urban planning, and work with refugees, the 10 people featured here are working to improve our community. And it's often difficult to pin them down to one area of interest; you'll find that many passions intersect.
Is there someone you know who deserves to be profiled? Leave a comment for future consideration below this article.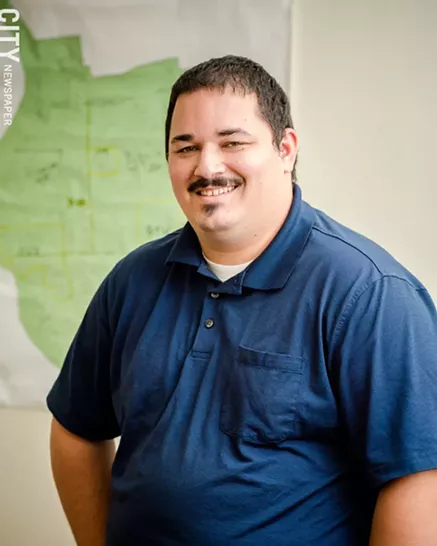 MIGUEL MELÉNDEZ | COMMUNITY DEVELOPMENT

BY TIM LOUIS MACALUSO
Many people who live in the North Clinton area know Miguel Meléndez. The 31-year-old was hired in 2012 as special projects director for Ibero-American Development Corporation, and he's a can-do, rising star in Rochester's Latinx community. One reason: his commitment to helping create a vibrant, flavorful northeast neighborhood that is known for its rich culture rather than its history of poverty and drug activity.

Meléndez interned at IADC in 2008 while he was still attending St. John Fisher College. His work began to lay the groundwork for the program called Project HOPE, whose letters stand for "Healthy Outcomes through Participation, Education, and Empowerment."
"What we are trying to do is improve quality of life by promoting the physical, social, and emotional health of the neighborhood," he says.
For instance: diabetes is prevalent in Rochester's Puerto Rican community, partly due to poor dietary habits and a lack of access to fresh fruits and vegetables, Meléndez says. It took some time, but the neighborhood's stores now offer more healthy options. Stores owners learned that fresh produce will sell.
"People want it and will buy it if it's available to them," he says.
Meléndez has been involved with numerous efforts to improve the area through Project Hope, such as creating a community park and neighborhood gardens and coordinating outdoor events and activities for children. And beyond that, he's helped with efforts to demolish vacant homes and build new housing.
He's also involved with law enforcement in an aggressive effort to rid the area of its drug activity.
Meléndez has worked hard to help improve the image of the area, which has meant encouraging residents to be more engaged and reminding them that the area has many of the same valuable assets as other neighborhoods, he says.
"I tell people it's not as bad as you think it is," he says. "It's only as bad as you want to believe it is."
PHOTO BY JOSH SAUNDERS
Miguel Melendez is helping create a vibrant, healthy northeast city neighborhood.
He attributes the success he's had at such a young age to understanding the challenges that many people living in the North Clinton area face every day.
"I know what it's like to have to overcome," he says. "I also know that the Clinton Avenue Latino is hardworking, someone who is waking up and going to work like everyone else. I see the Latino community as very resilient."
And clearly, Meléndez himself is resilient. His mother died when he was 9 years old after a fall from the family's front porch. His father died six years later from chronic health problems. Losing both parents at a young age was a major struggle for him, he says.
But he credits a supportive older sister, a counselor's mentoring at East High School, and participation in the Junior Reserve Officer Training Corps for helping him through those years and inspiring him to pursue college and a career.
"It grounded me," he says. "I was a unit commander in my senior year. It helped me to develop leadership skills."
Though he's been fortunate to find his passion, Meléndez says he's a little troubled when he hears people say that they are depending on him. He doesn't see himself as a service provider at IADC; he says he's an educator.
"It's not Miguel planting gardens on every corner," he says. "There are a lot people committed to improving this area. I'm not doing this for them. I try to teach people how to do something themselves, because the people who live here need to know they have the power to change this community. They just need to know how."
PHOTO BY JOSH SAUNDERS
With her ministry and yoga center, Imani Olear is helping people heal their human spirit.
IMANI OLEAR | BODY AND SPIRIT

BY TIM LOUIS MACALUSO
Imani Olear has a tattoo on her body of a bird flying free from its cage. It's in memory of her mother, who suffered from schizophrenia through much of her life, she says. One of her favorite memories of her mother was of the time she gave Olear and her siblings snack-size packages of crackers as gifts. Each child received a package, and Olear's mother kept one. It was unusual, but endearing, Olear says.
"It's a wonderful metaphor: Give from your heart, but it's okay to keep something for you," Olear says. "I still see her in beautiful glimpses of light."
Though Olear remembers her mother mostly as a person living with mental illness, she taught her everything she knows about compassion and kindness, she says.
Olear, who is 48, moved from Columbus, Ohio, to Rochester 12 years ago, and since then she's been busy spreading her own brand of compassion and hope. She's a pastor at Evangelical Lutheran Church of the Reformation and founder of Yoga 4 a Good Hood – a non-profit that offers the physical and mental health benefits of yoga to people who often can't afford it.
Through her ministry and yoga, much of Olear's work is focused on healing the human spirit, she says. Many of the people she meets are suffering from addiction, abuse, and severe stress.
"Yoga is not about touching your toes," she says, "it's about ending the constant chatter in your brain."
She strives to help people shed their fears and insecurities and embrace who they are instead of trying to conform, which she calls wearing a mask.
At one point in her life, "I chose to wear masks, too," she says. For a while, she says, she turned to stripping and sex to pay her bills. There was also the boyfriend who sold drugs.
And she lost her first congregation in Rochester trying to model what she thought others expected of a pastor, she says.
"I made all of these mistakes," Olear says. "But after all of that anxiety and tension, I realized I fit just fine as I am. I'm good even with all of the shit I've done in my life."
It's a message she hopes resonates through her work, particularly with the women she meets who are often living in poverty, are incarcerated, or are in an abusive relationship.
"Many women in poverty are not just sexualized," says Olear. "Too often they are told what to do and how to be. You're a commodity; that's your worth."
Frequently, the women Olear meets who have spent time in prison will say it was because they did something illegal on behalf of the men in their life. One woman told Olear that she had never in her life been touched by someone who wasn't expecting something in return.
"Our deepest fear is that we are inferior," Olear says. "Most people living in poverty are also dealing with sexism, racism, classism, and all those other isms, and they never hear that they are powerful. When that happens to you and you believe it, you never get the opportunity to be you."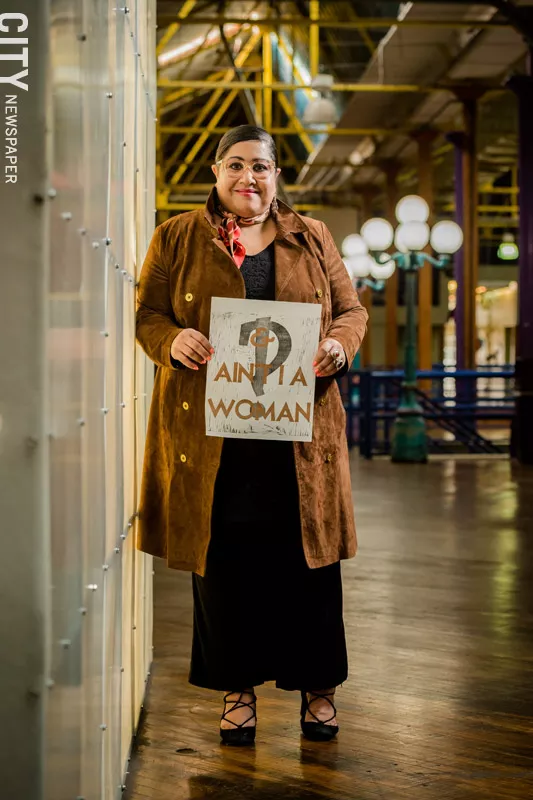 PHOTO BY JOSH SAUNDERS
Rachel Y. DeGuzman holds a work by Rochester artist Amanda Chestnut, who created the piece for the recent 21st Century Arts event "And, Ain't I a Woman: A Long Table Conversation and Installation."
RACHEL Y. DEGUZMAN | ARTS

BY JAKE CLAPP
Rachel Y. DeGuzman talks about her work, and the mission of her business, 21st Century Arts, with such warmth and passion that it's hard to end our interview. We've been talking for more than an hour and I'm doing mental math to figure out how late I could leave Spot Coffee and still make my next meeting.
There are two tracks DeGuzman's work as 21st Century Arts follows: She provides consulting to artists and cultural organizations, and presents community-focused programs, often using art to help people work through difficult conversations and issues. The connective tissue, she says, is promoting sustainability and relevance in the arts.
That sustainability and relevance — and a needed accountability — comes from addressing systemic racism and creating a culture of equity within Rochester arts.
"I'm trying to disrupt how we perceive things," DeGuzman says. "That's my goal: to disrupt. You can't fix anything you haven't identified. I'm saying out loud what a lot of people think — that there's racism in the arts in Rochester, and that's a problem."
In a city where people of color make up the majority of the population, the leadership of Rochester's major cultural institutions does not reflect the diversity of the city's inhabitants. Further, support is needed for smaller organizations run by people of color.
"This conversation — about how do we get more black and brown bodies in institutions that are putting on the same work that they've done for 50 years — doesn't talk about the organizations that have struggled in communities of color," DeGuzman says.
DeGuzman — who moved to Rochester from Michigan when her husband took a new job here — "found her home in the arts," she says, in 2001 when she became Director of Development at Garth Fagan Dance. In the years since, DeGuzman worked with The Commission Project, was Nazareth College Arts Center's marketing and publicity manager, and in 2011, became Rochester City Ballet's director of advancement and external relations. She left RCB in 2013 to start 21st Century Arts.
Among a head-spinning list of accomplishments and other projects, DeGuzman also hosts a radio show on WAYO; produced A Street Light Festival at the Village Gate in 2015; received Geva Theatre's 2016 Essie Calhoun Diversity in the Arts Award; and just completed a two-year Field Leadership Fund fellowship, which partnered her to work with Kyoung's Pacific Beat, a New York City-based theater company.
Alongside its consultancy work, 21st Century Arts produces events focused on addressing large community issue. In 2014, 21st Century Arts, RIT, and PeaceArt International hosted "Diversity in the Arts: A Call to Action in ROC," a symposium that featured Aaron Dworkin, president of the Sphinx Organization and an Obama appointee to the National Council of the Arts.
This year, 21st Century Arts organized "At the Crossroads: Activating the Intersection of Art and Justice," a series of creative workshops and discussions that started with the "Art Power" symposium in October. Earlier this month, "And, Ain't I a Woman: A Long Table Conversation and Installation" gathered together a significant list of Rochester women of color from arts and social justice fields to discuss intersectionality in light of New York State's celebration of 100 years of women's suffrage.
"To have a conversation like that without art would be good, but why not use art as a vehicle to start a conversation like that?" DeGuzman says. "Art feeds the soul, but it also has a role to play in creating greater understanding."
DeGuzman says 21st Century Arts is a laboratory, a space for experimentation. She hopes that can add to the conversations that need to happen in Rochester's arts community.
"I want to put a ding in the arts and racism in the arts here," she says. "I want to put a ding in the way we regard community's relationship to the arts beyond race. I want to put a ding in innovating in the arts. I don't have the hubris to think that my ding is transforming the whole thing, but maybe I'll inspire other people to put in some of their own dings, or maybe they already are and I can help support them. But there will be enough dings, and that's how transformation happens."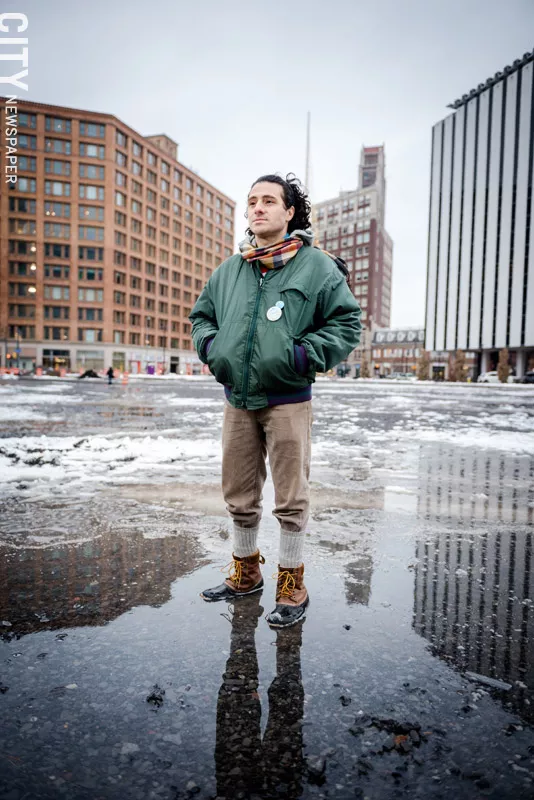 PHOTO BY JOSH SAUNDERS
Ray Ray Mitrano at Parcel 5, which has been the focus of his most recent civic engagement art actions. On the day of his interview, the parcel was lively despite the cold, with groups of skaters reveling in the lot and many people lingering to chat or passing through.
RAY RAY MITRANO | CIVIC ARTS

BY REBECCA RAFFERTY
Ray Ray Mitrano is an illustrator, but he's primarily interested in drawing people together. Through an ongoing series of playful artistic actions that are rooted in performance art and social engagement, he aims to cultivate civil discourse and action between ordinary people.
He describes his efforts as the juxtaposition of different people, some who might not usually consider themselves artists, coming together in places that aren't traditional art spaces like a gallery or a museum.
Mitrano has been bringing together groups around Rochester, "trying to get activists to create more like artists and artists to strategize more like activists," he says. "Artists can do more than design posters and websites and do graphic design; they need to be in the meetings physically strategizing the tactics and the way these campaigns move, and envisioning the unexpected ways of how to persuade people to engage issues."
In the past, these ideas have manifested in a series of events — part of his thesis project at Visual Studies Workshop — that explored the trajectory of the 2016 presidential election. Troubled by the way the two-party system has closed the high percentage of unaffiliated voters out of taxpayer-funded primaries, and the way that claims of voter fraud have disenfranchised even more people (and how that's all contributed to low voter turnout), Mitrano held a series of events to try to reverse apathy and quicken our atrophied sense of involvement in the system.
He held weekly civic discussions at Small World Books and gonzo fake elections and "fake news" protest-demonstrations — long before that term became what it's become — at Visual Studies Workshop and at polling sites.
Most recently, his focus is on facilitating more public discussion about Parcel 5 and what should happen with that land in the center of the city. He doesn't claim to have the right answer regarding if or how the space should be developed; he's pushing for more citizens to claim their stake in the discussion.
"It's a hub for downtown," Mitrano says. "Groups that I've been intersecting — like Showing Up for Racial Justice, or the Police Accountability Board, or Metro Justice, or ROCitizen — they know I've been deeply invested in bringing about awareness on the lack of public process for Parcel 5 and Midtown's future, and so they sort of pile in with ideas on what they could do to intersect with that idea of the 'public space for all' type of movement."
Mitrano says he feels successful when audience-participants see the existing intersection of systemic racism and public space. Rochester is the fourth poorest city in the country, with a high child poverty rate, and we're hugely segregated, he says. "A lot of the ways to fight back and to 'resist' I think would be to do what communities and especially middle class, white, privileged males like myself haven't been doing the past few decades — building strong neighborhoods. Engaging your block; engaging your neighbors. Doing things to tie people together on a local level. I think that naturally cultivates our elected representation to more reflect us, and engage civic action and discourse."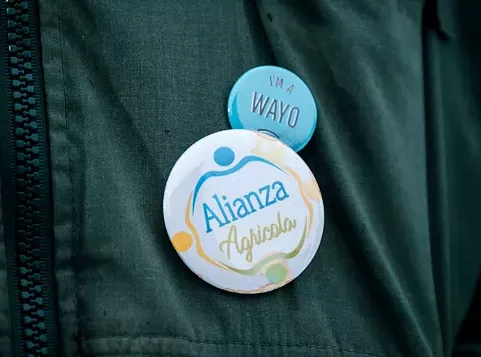 We're in a position, Mitrano says, to potentially prevent Rochester from being gentrified negatively in the way that so many other American cities have.
"The artists and the people and community can really put their foot down and not make it that place which it might become in a decade," he says. "I see Parcel 5 not just as something where it gets 'figured out' top-down. If it's creatively done through a diverse coalition of people, figuring things together, making this space — whatever it becomes — would be a revolution for Rochester. Just the act of engaging, envisioning something here will better Rochester. And right now we don't get that public process from our city government so we have to make it ourselves."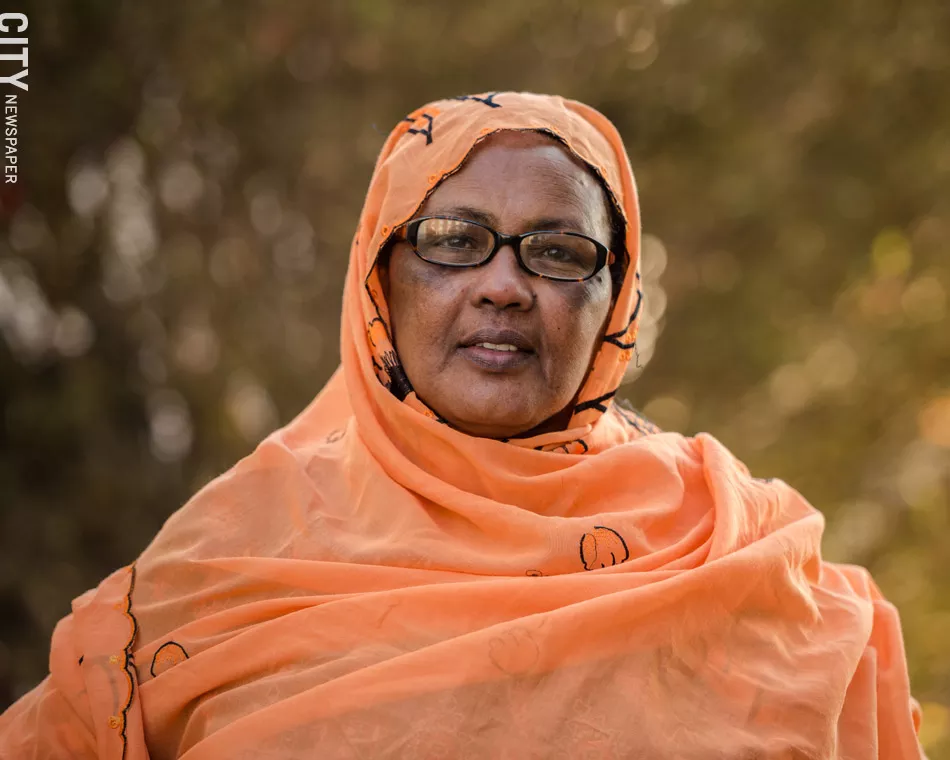 PHOTO BY JOSH SAUNDERS
Safi Osman gives new refugees her cell number and tells them to call her at any time if they need help.
SAFI OSMAN | HELPING REFUGEES

BY JEREMY MOULE
When refugees come to the United States, they aren't coming as delegates or visitors. They've often lost family, friends, homes, and the lives they once lived.
They come to new places where they don't know anybody and where they may not know the language. They also don't know where to find grocery stores and hospitals, or how to get their children into school.
These are people who have endured incredible hardship, and they need help.
Sadiya Omar, herself a former Somali refugee, saw those needs when she arrived in Rochester. In 2002, she founded the Somali Community of Western New York to provide services and education to Somali refugees. The organization has since evolved into Refugees Helping Refugees, and it now serves people from any country, with the goal of helping them become self-sufficient and rebuild their lives. (Omar received a Jefferson Award for public service in 2016.)
As the organization's name implies, much of its core, all-volunteer staff comes from refugee backgrounds. Among them is Safi Osman, a former Somali refugee who gives out her cell phone number to refugees and tells them to call at any time if they need help, even if it's the middle of the night.
Recently, Osman translated for a newly arrived Somali refugee who had to go to a local emergency room. Osman stayed with the woman through the evening and into the early morning, while other volunteers cared for the woman's children.
Another day, Osman went with two people to Monroe County's social services offices so they could regain the Medicaid coverage they had just lost.
Osman often helps with transportation and translation, though when she first began with Refugees Helping Refugees she taught sewing (that work-skills program is led by other volunteers now). The organization teaches English, computer skills, and cooking skills; helps with case management and job searches; and holds weekly activities for seniors.
Osman came here in 1996 from a refugee camp in Kenya, where she shared a tent with her five children and their father. They didn't get mats or clothing, everything was dirty, and there was no privacy. Her sister, who was already in the United States, helped arrange for the family to come to the US, and Osman says that like many refugees, she felt safe when she arrived.
But she also had to adjust to a new place, though she was able to start working and building a new life soon after she arrived. She feels that it's important to help other refugees, who have needs similar to the ones she had, in whatever ways she can.
"We can't ignore it, because we came to the United States as refugees," Osman says, "and we know how difficult a life refugees have."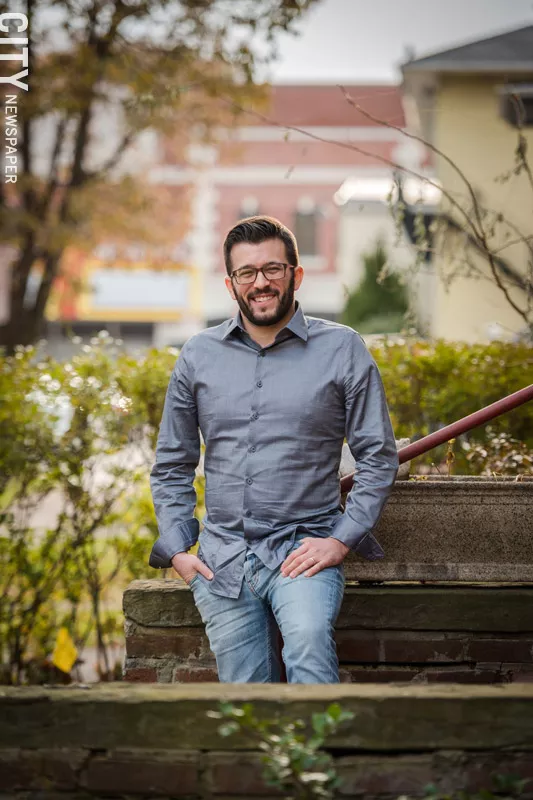 PHOTO BY JOSH SAUNDERS
Davin Searls is part of a fourth-generation deaf family from Rochester. He is now the Executive Director of Discovering Deaf Worlds, which works with deaf community leaders around the globe.
DAVIN SEARLS | DEAF LEADERSHIP

BY NERIAH SANTIAGO
Davin Searls, Executive Director of Discovering Deaf Worlds, is based here in Rochester, but his work stretches well beyond the city.
Discovering Deaf Worlds provides capacity building training to deaf community leaders in developing countries. According to a 2009 study by the World Federation of the Deaf, around 90 percent of deaf people in developing countries receive no formal education. And far too often, decisions are made about those populations without their involvement. DDW works with leaders in those countries to identify what areas they need training in, and then brings in experts to provide said training.
Searls joined DDW in 2008, and in the years since has conducted presentations on human rights, advocacy, and diversity within the global deaf community. He has also led development trainings with community leaders in the Philippines, India, and more recently, the Dominican Republic.
"In so many other countries we work in, deaf people are told what they can't do, but here in Rochester, deaf people are recognized for what they can do," Searls says during a phone interview coordinated with a sign language interpreter. "With our world growing ever-more interconnected, we have a responsibility as global citizens to advance the rights of others. Rochester is well known for its accessibility and as one of the top cities for deaf people; it's a model for what other communities can do."
Recently, DDW collaborated with the National Technical Institute for the Deaf for the Global Readiness Leadership Program, which focused on international deaf students attending the college. As part of their RIT/NTID education, students were given an opportunity to develop leadership skills, in hopes they'll return home to advocate for underrepresented communities. The 2016-17 pilot program included eight students — representing Myanmar, Nepal, India, the Philippines, Ghana, Zanzibar, South Korea, and Malaysia.
"All of them really grew and became better leaders on campus," Searls says. "We just applied for a grant in Zanzibar thanks to one of the students we worked with — this grant will be focused on building the capacity of deaf women and girls there."
Searls formerly chaired the International Experts Group sub-committee of the National Association of the Deaf, and is currently a member of the Human Rights Experts Group of the World Federation of the Deaf. Still, in 2013 he gave a compelling TEDxRochester presentation about deaf culture in the city.
"While most of my work is abroad, Rochester has given me a foundation to branch out," Searls says.
Searls is deaf, and is part of a fourth-generation deaf family from Rochester. Before he joined DDW, Searls lived in China for a year, teaching at a college in Changchun. While there, he witnessed neglect and physical and verbal abuse of deaf children.
That ultimately pushed Searls to take on his current work. Rochester, he says, has deaf lawyers, deaf doctors, deaf dentists, and we see an abundance of individuals with long-term careers and success. Searls wants to bring that spirit to other countries.
"We're fortunate to have so many deaf professionals from Rochester, some of them provided training to our group in the Philippines," he says. "It's really inspiring for our partners to see deaf people who have 'made it' and are giving back. It makes them realize that they can do the same thing in their communities."
DAN SCHNEIDERMAN | TECH

BY KURT INDOVINA
Back in November, there was a giant, fire-breathing, mechanical dragon just chilling in downtown Rochester. You can thank Dan Schneiderman for that.
The dragon, known as "Heva Meta," was displayed to turn heads toward the annual Rochester Mini Maker Faire, an event that showcases invention, creativity, and resourcefulness. That's what Schneiderman is all about: bringing attention to the emerging world of makers — anyone who, literally, just makes anything.
"I would even consider cooking to be a form of making," Schneiderman says.
The native Rochesterian has a bachelor's degree in Information Science Technology from RIT and is first-and-foremost a maker.
"I love to bring art and tech together in crazy and unusual ways," he says. Schneiderman has recently been working heavily with cardboard and recycled materials to create things from a working pinball cabinet to a miniature (but by no means small) replica of the Rochester skyline. The mini Rochester is made entirely out of Amazon's cardboard boxes and is meant to be a ploy to get Amazon's attention during its search for the location of its second North American headquarters.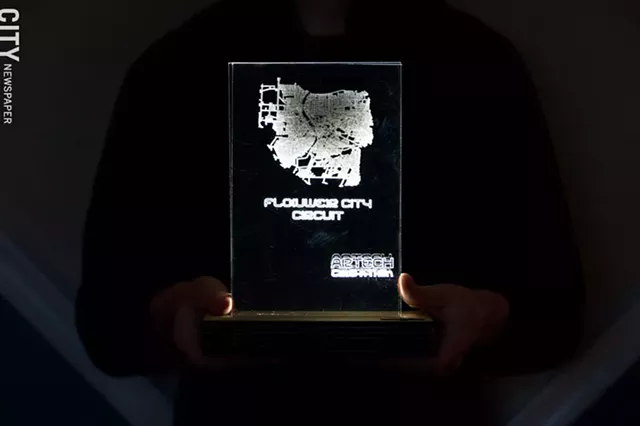 PHOTO BY JOSH SAUNDERS
Dan Schneiderman also organized the MAGIC center's first ArTech Cre8-a-th0n.
Schneiderman's craft goes beyond any physical medium: His most prominent skill may be his ability to organize and bring attention to a community. He's been the co-chair organizer of the Rochester Mini Maker Faire for the last four years — 2017 was the event's best attended.
He sees the Maker Faire as a way to point out that anyone can start making. "Rochester is a city of makers," he says. "We've had this long history, I'd say even going back to the Erie Canal. I see the Erie Canal as the largest maker project New York State has ever accomplished, and it's impacted Rochester's culture."
Rochester's maker roots, Schneiderman says, may just as well have paved the path for Xerox, Kodak, and Bausch & Lomb. But Schneiderman sees tech in Rochester shifting from the big institutions to the smaller outfits; the DIY, startup sort of folk. He points to new companies, like Datto and CloudCheckr — both of which have already expanded into bigger spaces — pop up over the last couple years. Not to mention there has been growth in the game industry as well.
"This next generation is finally starting to step up," Schneiderman says. "We're starting to share and communicate."
When he's not crafting with cardboard, making wearable tech, or organizing the next maker project to be featured at either the Rochester Fringe or the Mini Maker Faire, he works at RIT as the research associate and community liaison for FOSS@MAGIC (Freedom of Open Source Software at the Media, Arts, Games, Interaction, Creativity Center). And he works directly with students on open source code and projects. This year, Schneiderman earned the Emerging Leaders Award from the Digital Rochester Great Award.
He's confident the tech industry is here to stay, but more importantly, it's here to grow. When asked why he thinks things are starting to take shape here in tech, Schneiderman answers simply: "We've just got the right people, at the right time, doing the right things."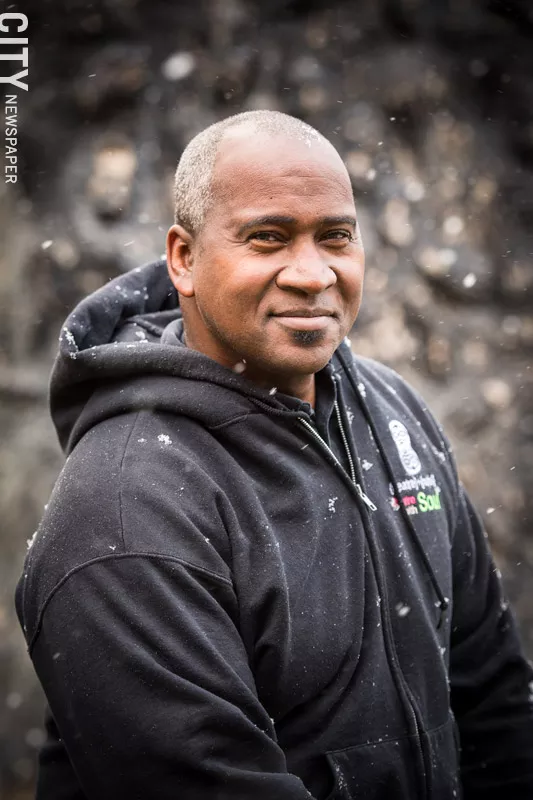 PHOTO BY JOSH SAUNDERS
Reuben J. Tapp and his wife have lived in the Maplewood Neighborhood for almost 10 years. It doesn't have a physical location, but Tapp bases his theater company, the Maplewood Performing Arts Centre, there.
REUBEN J. TAPP | THEATER

BY LEAH STACY
Reuben J. Tapp is a certain kind of Renaissance man. Not quite a polymath, like Michelangelo and Leonardo da Vinci, but the kind that does a little bit of everything — not surprisingly, many creatives fall into that category.
On a cold November morning, he's sitting at Spot Coffee on East Avenue, clicking away on his cellphone, a steaming cup on the table in front of him. For Tapp, this midmorning meeting feels more like midafternoon; his daily schedule usually kicks off around 4 a.m. or 5 a.m. and lasts until about 11 p.m.
Tapp's primary training is in "Theatre of the Oppressed," a form of theatrical performance that is used to promote social change. Much of his current work is rooted in the Rochester Bronze Collective, a group he co-founded four years ago.
"I liked the connotation of social justice in the idea of a 'collective,'" he says, adding that it meant funding and other resources would be equally earned and shared. "That sort of model benefits all members and creates more opportunity."
RBC focuses specifically on the African diaspora within the Rochester community, and the group often collaborates with the Sankofa Festival, which was founded by husband and wife Curtis and Marie Rivers as a platform for black playwrights and just celebrated 10 years. Tapp works side-by-side with the festival to produce video marketing pieces, write, direct, act, and serve as dramaturg as needed.
Tapp also founded his own company in 2009, the Maplewood Performing Arts Centre, and he's a teaching artist in the city school district specializing in African folk tales. Future plans include bringing the same sort of programming to local correctional facilities. To hear him list the creative positions he's held recently is staggering — but to him, it's normal.
"Most artists around here do a lot of different things, since they're not usually making their money off art," Tapp says. At that moment, his cell phone goes off and he pauses to read the text message.
"I'm so sorry," he says, explaining that a resident is having electrical issues that morning. "I just want to make sure nothing goes really wrong before the repair guy gets there."
It's then he adds a few more roles to his growing list: Tapp is also a property manager and a family man. A job offer for his wife, Ronke (who is a psychiatrist), at the University of Rochester brought the Tapps to Rochester a decade ago. Though he had degrees in agribusiness, Tapp was then touring the country and working with children's theater companies. When they arrived in Rochester, he decided to stay local to be near his wife and kids. That's when he pivoted, forgoing his pursuit of an equity card for more performance opportunities in Rochester.
"What's that saying?" he says with a laugh. "Learn to fly, and grow wings on the way down? That's what I did."
Aside from a brief stint in the South Wedge when they first moved to Rochester, Tapp and his wife have lived in Maplewood for almost 10 years; hence the name of his theater company, which doesn't yet have a physical location but will likely be based there.
Other ongoing projects include shooting and editing several YouTube channels, where he creates original series like "Sistah Doctor," "Princess Reh," and "Mocha Girls." Everything is shot in front of a green screen at his home, and most of the videos feature one of his family members.
"Making these videos with my children, especially, is really about the importance of presentation — black female role models and black media representation," he says.
Tapp is now gearing up for the annual Bronze Collective Theater Festival, taking place in February at MuCCC.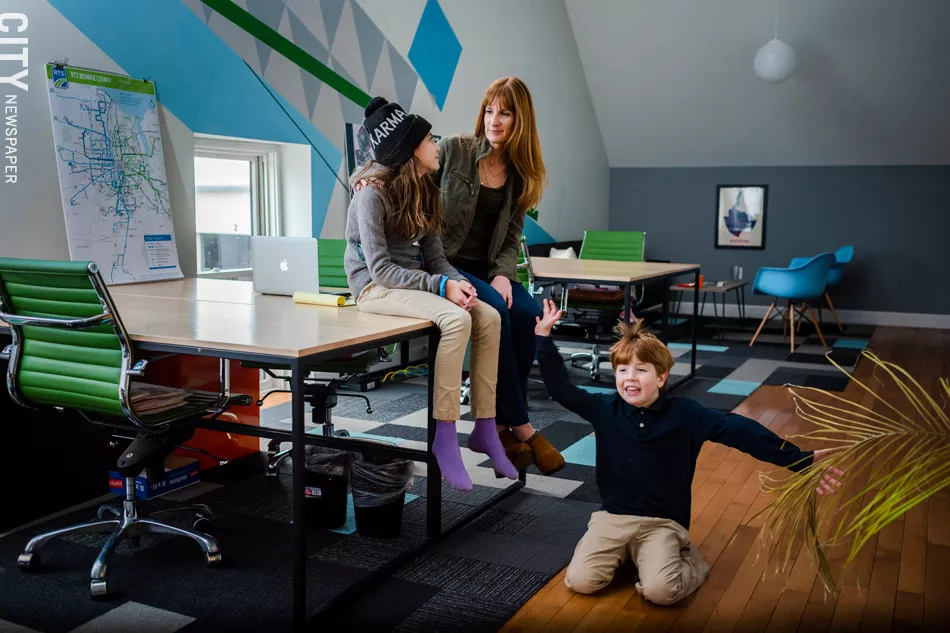 PHOTO BY JOSH SAUNDERS
Tanya Mooza Zwahlen founded a planning firm that's built a reputation for community engagement.
TANYA MOOZA ZWAHLEN | PLANNING

BY JEREMY MOULE
For community planning to really work, it needs to emphasize the "community" part as much as it does "planning." That's as true for a neighborhood street redesign as it is a big housing project or a city master plan.
As Tanya Mooza Zwahlen pursued her graduate degree in community planning from Cornell University, her instructors drilled that approach into her and the other students. And she carried that mindset into her post-degree job with one of the region's big architecture, engineering, and consulting firms.
The more projects she worked on, the more she realized she had something important and unique to offer her team members. Often, the engineers she worked with weren't terribly comfortable speaking to rooms full of people, but she was. In fact, she delighted in it.
"I really wanted to hear what they had to say, even if it was negative," Zwahlen says. "In my opinion, more input creates a better end product."
Fast forward a decade-plus and Zwahlen has her own firm that specializes in getting and processing that input. She started Highland Planning in 2007, and over the years, it's become a go-to for governments, organizations, and developers who want to truly engage and listen to the people who have stakes in their projects.
Highland Planning has guided Headwater Foods and other nonprofits in developing strategic plans; worked with the city on several neighborhood initiatives, such as organizing merchants in the Dewey Avenue - Driving Park corridor into an active community group; and helped Monroe Avenue merchants organize and put on the Show on Monroe. Recently, it helped Greentopia wrap up a plan for the nascent High Falls EcoDistrict.
Those projects all relied heavily on community outreach and input in some way or form, and they're just a sampling of the work Zwahlen and her staff do.
Currently, Highland Planning is in the thick of another big job: leading public outreach and engagement for Reimagine RTS. The Rochester-Genesee Regional Transportation Authority started the process with the goal of evaluating and overhauling Greater Rochester's transit system. But it wants the effort to be driven by the wants and needs of its current users, as well as potential new users.
Zwahlen and her crew have also developed a kit of agendas, prompts, and worksheets that neighborhood and advocacy groups can use to hold meetings and prepare their own recommendations and input for the transit agency. And the firm's charge has also meant going to public events and places and encouraging people to take a nuanced online survey.
"RTS is like a dream client," Zwahlen says. "They are not afraid to be really creative, and they really do want to hear what people have to say."
And Zwahlen is also starting to venture beyond planning into developing. Her firm's office is in the back of a former church at the corner of Meigs Street and South Clinton Avenue, recognizable to many as the location of Playhouse/Swillburger. John Trickey bought the building after it was seriously damaged in a fire, and Zwahlen along with Playhouse/Swillburger co-owner Jeff Ching partnered with Trickey to rehab and renovate the place.
The collaboration grew out of Zwahlen's work with the city and some neighborhood business organizations. Zwahlen and Ching are currently in the process of buying the building from Trickey.
"I had this burning desire to do something significant," Zwahlen says. "The metaphor I like to use is, city planning is standing on the sidelines yelling into the game, like, yelling 'This is what you should do.' I think real estate development is getting on the field and doing it."
PHOTO BY JOSH SAUNDERS
Dr. Ian Wilson is known in the arts crowd as the founder of Rochester's annual muralism festival, WALL\THERAPY. His newest endeavor is Rochester Endovascular, an outpatient medical office that treats underserved patients with circulation ailments.
IAN WILSON | MEDICINE

BY REBECCA RAFFERTY
Dr. Ian Wilson is best known in the local arts community as the founder of WALL\THERAPY, the annual muralism festival that has hired local, national, and international artists to paint more than 120 murals on Rochester's walls since 2011. But his main work is in vascular medicine. Wilson in 2016 left his job as a radiologist at Highland Hospital to begin Rochester Endovascular, a startup that treats people whose circulatory systems are in such dire states of illness that they are candidates for limb amputation.
"The reference that kind of got me started along this path was a paper put out by Dartmouth about vascular disease in the United States," Wilson says. "And several times they made mention of the Rochester region as an example of how bad things are, especially in New York State."
At the time, Wilson says, we had some of the highest amputation rates in the state, and "among certain populations, our amputations were eight per 1,000, which approximated some counties in rural Mississippi. But you think, 'this is Rochester, New York.' We have so much intellectual talent here, and so many resources, there's no reason why our statistics should be as bad as they are."
Endovascular medicine is the treatment of problems affecting blood vessels. Procedurally, it involves a low-invasive surgery where a small incision is made near each hip to access the vessels. Wilson describes it as a compliment for vascular treatment that's already being offered, but may not be viable for everyone.
"There are people for whom a surgical bypass would be very risky," he says. "We perform procedures under minimal, moderate sedation, so the risks are lower, the recovery is two hours plus procedure, typically, and then people go home."
Wilson and his team have treated more than 30 people to date. Because the medical office is out-patient, treatment is more affordable and accessible to more people than it would be with the overhead from a hospital stay. And it saves the system money, too — Wilson says that out-patient surgical services offered at practices like Rochester Endovascular save, on average, $1 billion per Medicare region across the country.
Situated just off the 590 expressway in Brighton, the 4,000-square-foot facility is a soothing environment and feels decidedly un-clinical, with a warm palette, bathed in natural light, and with views of the woods. The business currently employs eight people, and it doesn't just serve patients in the city of Rochester; patients are referred to them from the surrounding region as well.
Rochester Endovascular recently treated a man from the Dansville area who has toe ulcers and has been living with constant, excruciating pain from ischemia — an inadequate blood supply — to his foot. "Meaning, the next stop in the natural history of his vascular disease would be an amputation," Wilson says.
There are a lot of people in the rural environments around the city who are also underserved, in terms of certain conditions, Wilson says. "They're often written off as folks for whom certain options just aren't viable. It's logistics; it's a matter of insurance coverage. A lot of the folks we are trying to serve in both urban and rural locations are on Medicaid. But by virtue of the size of our practice and the technology in our portfolio, we can still take care of people who have Medicaid and not do so at a loss.
"Finances don't really drive what we're doing," he adds. "We take care of people who we're not even enrolled with their insurance plans yet. That doesn't stop us from providing care — we can figure that stuff out. Risks are worth assuming because of the potential impact you can make."