If you have never heard of Seth Hebert-Faergolzia, don't blame him. The Rochester-based musician claims to have played more than 150 concerts — solo or as part of a band — in town since moving here from Ithaca seven years ago. And his output of more than 20 albums since 1995 is steady, if not outright prolific.
The leader of freak-folk act, 23 Psaegz (pronounced Sages), Faergolzia hands over a "Keep Rochester Weird" bumper sticker and a copy of his latest CD, "Doubting Won't Do," when he and his bandmate, Laura Lee Jones, meet me in Boulder Coffee. It's a warm early-autumn day, and Faergolzia is lightly dressed. His blue T-shirt has the word "coach" imprinted across the back and it seems to reinforce his persona.
Besides being front man of 23 Psaegz, Seth Faergolzia is an artist and father, and was a member of the New York City anti-folk scene during the late 1990's and early 2000's.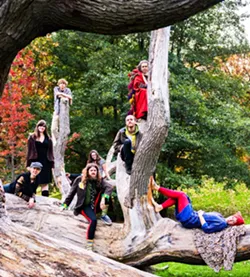 You could say 23 Psaegz is not a typical band. The group was established in 2010 to perform a rock opera that involves animation and 8-foot-tall puppets. "I'm slowly recording it," Faergolzia says. "I'm making paintings of what the puppets will be; once I begin the animation, I'll start building the puppets. I'm hoping we can get some funding somehow."
Up to 22 individuals performed on and offstage at one time during a 23 Psaegz New Year's Eve show at the Bug Jar. The group recently "slimmed down" to a 10-piece patchwork orchestra consisting of Faergolzia (vocals, acoustic guitar, bass drum); Laura Lee Jones (cello, washboard); Brett Gobe (tuba); Payton Marovich (drums, banjo); Shaun Jones (electric guitar); Colleen Sedita (keyboards, glockenspiel); Reilly Taylor-Cook (bass); Jessica Breen (flute); Joyce Britton (saxophone); and Joseph Schmidlin (tabla).
"Being one of the 23 Psaegz has always felt like being a little kid in a huge colorful playground," Laura Lee Jones says. "It feels really good to be consciously engaging in creativity. The music is the anchor; Seth is the instigating captain; and we're all rocking this crazy raft."
A 23 Psaegz concert usually begins with only Faergolzia. He records his voice into a loop station several times before each song is performed to bolster his solo performance. The a cappella loop effect is open-ended, multilayered, and dense: It fills the space like a symphony but sometimes oscillates in unpredictable directions.
As the evening goes on, additional band members are called up onstage until everyone joins in. Songs vary in style, but imagine a local freak-folk equivalent of Talking Heads' "Stop Making Sense" tour.
Occasionally, Faergolzia's performances — no matter the band he's performing with — become interactive with the audience members themselves. "There was a show in a church; we were rocking the house and then the police came, and said they would confiscate our instruments," he says, recalling a Berlin gig with his former band, Dufus, where the group and the crowd switched roles. "We taught this audience all the parts to a song. We performed the full song and as the audience was doing the final chorus, we continued to play but backed our way out of the church and let the doors swing shut behind us."
Seth Hebert was born in Utica, and adopted the name Quankmeyer Faergolzia in 1999. "I had been in meditation with a work of art as my focus," he says. "In the midst of this meditation the words 'Quankmeyer Faergolzia' came to me. I realized that was the name of my soul. I decided to adopt it as my public name as well." After about a year, Seth gave up the first part of the name but kept Faergolzia as his last name.
His parents, Ronald and Irene, encouraged Seth and his brother to develop their musical abilities. Seth's first paid gig was at age 6 when he sang in a choir at Grace Episcopal Church. "My mother told me that I was matching pitches at age 1 — I'm not sure if that's true or not," he says.
Ronald Hebert taught at a music camp near the shores of Canandaigua Lake where his son climbed the ladder from camper to instructor. Seth's 2007 album, "Bristol Hills Camp Experimental Orchestra" — released on Seattle-based Whprwhil Records — was based on his experiences there.
One of the album's tunes, "Cuh-Nuh-Ew," is pleasant but sounds like band camp on Mars. It uses a composition technique called "add-ons," which strings together unrelated melodies like a necklace made out of different shaped beads.
Faergolzia went on to study music composition at SUNY Purchase, and formed the band Dufus in 1997. The band picked up momentum a year later when he relocated to Brooklyn.
The "Weirdo Beardcore" collective — as described in the Village Voice — was known for its revolving door membership and included performers like Jeffrey Lewis, Kimya Dawson and Jack Dishel (of The Moldy Peaches), Imani Coppola, and Regina Spektor among its ranks.
"It was a random coming together of cool musicians with disparate styles," Faergolzia says.
Dufus became part of the anti-folk scene that initially centered around a club called Sidewalk Café in the East Village.
The band's music was placed in a couple of anti-folk compilations, and as a result of The Moldy Peaches touring in Europe with The Strokes, a door was opened for Faergolzia and Dufus to tour overseas.
The first foreign tour Faergolzia did was with singer and guitarist Jeffrey Lewis and drummer Anders Griffen — the trio opened for Cornershop in the U.K.
"We had a tendency not to do the same thing," Lewis says in a phone interview with City. "Each night we tried to figure out what to do, what songs we should try. Within that experimentation there were a couple of nights that were great — Leeds was a killer set and Sheffield also. The audience practically rioted when our set was over."
Dufus would also tour the U.K. a few months later, and the band hooked up with actor and musician Herbert Russell. Dufus and Russell were invited by French duo, Herman Düne, to perform with them on John Peel's iconic BBC radio program.
"Between songs, Peel was doing an interview with Herman Düne and my friend Herbert was cracking jokes," Faergolzia says. "Peel got silently pissed off at us. I tried to contact him months later and his secretary wrote me back saying that 'Mr. Peel would like to have nothing to do with you. Your session with Herman Düne was unacceptable.'"
Other international tours followed; Dufus performed in places including Bulgaria, Liechtenstein, and Macedonia.
Faergolzia went to Japan by himself in the summer of 2001 — he met musicians there that learned his material and accompanied him on a month-long tour — and returned to New York City right before September 11. He was living in a squat on Avenue C in lower Manhattan when the planes hit.
"I went upstairs and saw one of the buildings was burning. I was pretty surprised," he says. "I went downstairs and when I came back up the second one was burning. At night the winds would shift and smoke would come straight into our neighborhood. You couldn't see across the street, that's how thick it was.
"It was scary and crazy. Everybody was acting so weird. I had a backpack packed with all my stuff and a sleeping bag. I was ready to run to the hills."
Faergolzia noticed that the tragedy had triggered a sense of paranoia among some of the residents of the abandoned property.
"They barred the door, there was no in or out. They had, all around the top rim of the building, buckets full of piss — ready if police came to oust us," he says.
The strains of living in a squat were apparent. But there were good times, too.
"I was at that time extremely prolific, not only with music but with painting and junk sculpture," he says.
It was during Faergolzia's residency in New York City that his fiber art project, "Celibacy Pants," was displayed between two works by Jean-Michel Basquiat at a Soho gallery. It received a positive mention in The New York Times.
The singer-songwriter relocated to Ithaca in 2004 and eventually to Rochester in 2007.
It was here that Faergolzia closed the chapter on Dufus, after the group's final album, "Eth," was released in 2010. If nothing else, Dufus' albums blazed a colorful trail of positive reviews in publications like the The Onion, Vice, and NME (U.K.). SPEX (Germany) called the group "kind and scary."
"I've always dreamed of having a huge band," Faergolzia says, recalling the final Dufus show in New York City, which featured performances by Spektor and Dishel, among others. "The band was 30 people or more."
That evening, Faergolzia played a solo acoustic song when the building's fire alarm went off during his performance. The musicians and audience filed outside and the fire department came. Dufus finished its song "Fire" on the street as the FDNY was leaving — but the audience applauded the firemen, instead of the band.
Mean spirits, bad luck, or the lack of a radio-hit probably conspired against Dufus and kept it away from a wider audience.
Faergolzia says his current band, 23 Psaegz, plans to focus more on local and regional shows in the foreseeable future.
"I'm trying to take a year off from touring," Faergolzia says with a hint of sadness. "I have a 7 year-old daughter and it's hard for me to go away. Physically I've been getting sick almost every time I tour. I'm a struggling artist. I don't want to do any other job; I hope I won't have to."
Faergolzia's home studio is called Whenland. It reinforces his free-spirited approach — a comfy couch, Tibetan prayer flags hang among the microphones and instruments. A framed photo of Faergolzia and two other musicians from the New York Times' Arts & Entertainment section sits stuck way in back as if not to brag.
Faergolzia is planning on producing other artists here. For now, he is plenty busy with songwriting — he is working on a project that will bring to life 100 tunes by the end of the year. He has also created a subscription service for his fans that can be accessed on his soon-to-launch website, faergolzia.com.
"Seth's music always takes me by surprise," says local alt-folk performer Hieronymus Bogs. "His songs force me to reconsider what music is and can do, and always leave me inspired."
Recently, Faergolzia was working at Whenland when a song by Regina Spektor came up on his computer. He was listening on his studio monitors and heard something in the production that he liked, but had not heard before. He texted Spektor and told her that there was a beautiful delay in her voice that "made her sound angelic."
"The last time we had a conversation face to face was when I met her son," Faergolzia says. "It was right before my tour in May. I was flying through New York. The next day I went to see her and Jack (Dishel) and their new baby boy. He was asleep when I got there. I almost missed my flight because he woke up as I was about to leave. I thought, awww, I gotta hang out with him a little bit."
Like many performers Faergolzia connects with people on an emotional level. While his music can expand boundaries, he is basically down to earth. And the lyrics are generally positive as if he is writing songs for his own kid.
"It's not just a band, it's a community," says Mary Lupien, a 23 Psaegz fan, during a recent concert at Skylark Lounge. "There are shows at Seth's house or at Meddlesome Lab (a local house concert venue). The sounds that Seth makes with his voice are impressive; all of the instruments coming together make a beautiful creation."
---
23 Psaegz
With Hinkley, Stoney Lonesome & The House Lights, and With SnackFriday, November 14Bug Jar, 219 Monroe Avenue9 p.m. | $7-$9 |
bugjar.com
;
23psaegz.com
This will be the band's 100th show. To learn more about Seth Faergolzia, check out
faergolzia.com
.