The best American public buildings are open and accessible. Even in a nation worried about security, we enter them largely without fear or even concern. They meet the tests of function and beauty, not only for the rulers and the rich, but for all of us. Frank Lloyd Wright wrote, "The mother art is architecture. Without architecture of our own we have no soul of our own civilization." The best public buildings in America — including, for instance, courthouses, train stations, schools, churches, even office towers — have a populist soul.
Wright also wrote, "Give me the luxuries of life and I will willingly do without the necessities." I don't think he meant frills and folderols, but maybe the kind of organic ornamentation that makes an already fine building richer and more satisfying to live with. We have insignificant buildings that looked tired the day they went up, but also some that stop you in your tracks. Many of them have changed their functions and owners over the years. It doesn't matter. They remain our buildings.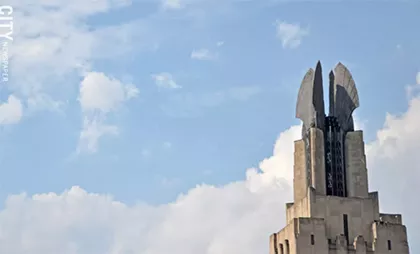 9 slides
To get the point, plop yourself down at the corner of South Avenue and Court Street and look west to rediscover two of Rochester's iconic public buildings. You're far enough away to see, across the Genesee River, the four giant wings atop the Times Square Building, opened at 45 Exchange Blvd. in 1930 and designed by Ralph Thomas Walker. Jutting 42 feet from the office tower's 14th story, each wing weighs six tons. But from the street, they look graceful and light, giving amplitude and lift to the solid but streamlined Art Deco building beneath.
Just to your left, across South Avenue, the Rundel Memorial Library is an insistent massing of simplified Beaux-Arts forms made modern, vintage 1932, by details like Ulysses Ricci's Art Deco bas-reliefs along the front. It's as if the 19th century is stepping into the 20th. Inside, you find a three-story-high reading room with sleek wooden columns and a decorative glass ceiling, devoted to the expansion of knowledge, all for free.
Originally designed in the 1880's as the city's Federal Building, Rochester City Hall (renamed in 1978, located at 30 Church St., built by architect Harvey Ellis) projects the authority characteristic of Richardson Romanesque architecture. Its appeal comes from the heavy sandstone walls (14.5" thick) broken by rows of small arched windows on short stocky columns. The style doesn't soar, but it makes its presence felt. As much as you may want to walk around it to see its ever-changing shapes and angles, the eye-filling interior atrium will make you want to dance. It is a feast of shapes, textures, and materials as four rows of arches rise to a glass ceiling whose light turns the room into a kaleidoscope of shifting shadows. It is Rochester's most lavish space.
If anything comes close to the City Hall atrium's glorious excess, it is the former Rochester Savings Bank (built by the famous New York firm of McKim, Mead & White and opened at 40 Franklin St. in 1927), currently being transformed by the Rochester Institute of Technology into its new Center for Urban Entrepreneurship. Exotic Eastern styles were popular in the 1920's, especially after the unearthing of King Tut's tomb in 1922. The building's Byzantine Revival exterior is understated, except for the large arched windows along both sides and especially the dramatic entrance arch. Inside, though, you enter an irresistibly ornate space defined by pink marble columns topped by a mural by the American artist Ezra Winter. His murals also adorn the walls of Kodak Hall in the Eastman Theatre and Radio City Music Hall in Manhattan.
Most of the area's Modernist towers feel earthbound — among them, the Xerox Tower (100 S. Clinton Ave., opened in 1967), whose gloomy gray shaft never did lighten over the years despite promises from architect Welton Becket, and the conventional Marine Midland Plaza (opened in 1970), now called One HSBC Plaza (100 Chestnut St.), made distinctive, if not especially interesting, by an irregular front for the first four stories. The best of these skyscrapers is the former Lincoln First Bank Tower, now called Chase Tower (219 E. Main St., opened in 1973). Designed by John Graham & Company, the building has a lift to it, thanks largely to 24 steel columns, covered in white aluminum tiles. They rise gracefully to the top in a single thrust from the building's flared base. Its dominance of an otherwise undistinguished skyline comes from the graceful vertical lines.
Another fine design of recent vintage offers surprising variety without turning back to pre-Modernist ornamentation. Architect Carl F.W. Kaelber's abstract design for the Rochester Museum & Science Center's Strasenburgh Planetarium (663 East Ave., opened in 1968) suggests natural forms. What looks like a minimalist arrangement of rectangle, cylinder, and sphere, softened by shape-shifting curves, soon strikes the eye as a snail shell or — more to the point — a spiral nebula. The different forms make the building feel as if it is in motion, not as an optical illusion, but as architectural play.
A lot of Rochester's churches are, as you'd expect, traditional in style, ranging from Georgian Revival to Gothic Revival. But two houses of worship reflect the individuality of their architects: Claude Bragdon's First Universalist Church (1907) on Clinton Avenue at Court Street, and James Johnson's Temple Sinai (1967) set down a long driveway from Penfield Road about a half mile from East Avenue. Borrowing from the Italian Romanesque, Bragdon's church eases the style's weight with an oversized arched window in front, a row of smaller arched windows, and decorative ceramics and brickwork just below the rooflines.
Temple Sinai, on the other hand, is unmistakably a 20th century building. Its sanctuary is the most striking part of the design. The growth of the congregation has led the Temple to enlarge the other parts of the building, throwing off Johnson's scale and emphasis. But the sanctuary remains a space that seems to float between the rough-hewn sloping concrete walls that rise, tent-like, to a narrow glass ceiling, and faces a glass wall beyond which stand two towering concrete pillars.
When I saw the "fascist" architecture on the then-new RIT campus in 1968 — overbearing and impersonal, with little sense of human scale — I thought, "What a missed opportunity," especially compared to the modest but very satisfying building where the school began. Bragdon's Bevier Memorial Building (opened in 1910) on Washington Street is four square, solid, and straightforward. Similar to the First Universalist Church but simpler in design and detail, it also uses brickwork and ceramic tile, but has a strong entrance up a flight of steps that breaks the symmetry.
Like most river cities, Rochester has bridges in many different styles: openwork iron railroad trestles; the Court and Broad Street bridges, with their strong arches supporting the roadways; and the Veterans Memorial Bridge along Route 104 that seems to glide across the Genesee a single long arch. But the newest bridge is the most dramatic. Designed to be a "Signature" or "Gateway," the Frederick Douglass-Susan B. Anthony Bridge (previously called the Troup-Howell Bridge and opened in 2007) carries Route 490 across the Genesee through the heart of downtown. Its open white arch is well on its way to becoming a new local icon — graceful, airy, and unmistakable.
When I was putting together this list of public buildings to write about, I asked some local architects about their favorites. Although most of their choices were predictable, some were not, including Eastman Place across from the Eastman School of Music, the old downtown factories that have become residential lofts, the Little Theatre, the Public Market, the Main Street Armory, and the ornate — and often overlooked — Monroe Community Hospital. Its architect was Thomas Bode, Jr., the first African-American to graduate with a Syracuse University architecture degree. The 10 best buildings? Who knows. But the 10 I've written about are among those I have not tired of looking at.
What are some of your favorite examples of architecture in Rochester? Tell us about them by posting a comment below.