Democrats voting in their party's primary for governor on September 13 will have an interesting choice. While challenger Cynthia Nixon is campaigning as the more strongly progressive candidate, it's hard to find many issues on which she and Governor Andrew Cuomo disagree.
The big difference between the two is experience. Nixon is an actor and activist who has never served in government and has never run for elected office. Cuomo, who is running for a third term as New York's governor, is the son of the late Governor Mario Cuomo and has spent much of his adult life in politics.
For many political newcomers, challenging someone with as high a public profile as Cuomo could seem a lost cause. And Cuomo's campaign funds dwarf Nixon's. But Nixon has had plenty of public exposure as well, in her Emmy Award-winning role as Miranda Hobbes in "Sex and the City," and she's been campaigning hard, particularly in New York City, where she has to do well if she has any chance at all.
Nixon has been criticized for not paying enough attention to Upstate and its concerns, but Siena polls have shown her ahead of Cuomo among Upstate Democrats. And the New York Times noted last week that Zephyr Teachout won a number of Upstate counties when she ran against Cuomo four years ago.
In addition, the Times said, "in the 2016 Democratic presidential primary, Bernie Sanders beat Hillary Clinton in almost every county outside of New York City." Either Upstate Democrats are responding well to strongly liberal appeals or they are tired of establishment Democratic politicians, at least for statewide offices. The "experience" argument could cut both ways, then.
On Cynthia Nixon
Until this year, Nixon has been best known as an actor, not only for her role in "Sex and the City" but also on stage, including a performance in Lillian Hellman's "The Little Foxes," for which she won a Tony Award last year.
While she has no experience in government, she's also been a citizen activist, particularly on issues related to education and LGBTQ rights. She decided to challenge Cuomo for governor, she told New York magazine in April, because of Donald Trump's election.
"New York is the single most unequal state in the entire country," she said, "and it's become more and more unequal under Andrew Cuomo."
The odds are firmly against Nixon. The latest Real Clear Politics poll average (July 26) had Cuomo getting 59.5 percent of the vote in the September 13 primary and Nixon 26 percent.
That's better for Nixon than some earlier polls, which had Cuomo leading by 47 percent. Besides, polls aren't perfect. And anything can happen between now and the primary.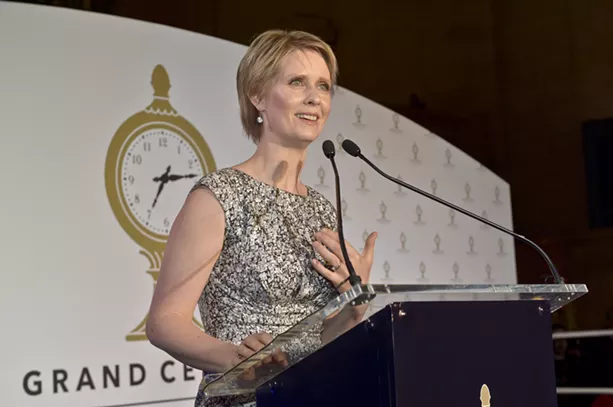 Metropolitan Transportation Authority of the State of New York
Actor and activist Cynthia Nixon
From the start, Nixon was running with a major handicap. Cuomo has the power of incumbency (not to mention the power of a strong personality) and a predominantly progressive record. He also has a well-funded campaign account.
But whether or not Nixon wins, she's serving an important role. She is hammering away at Cuomo for his numerous shortcomings. And she's helping focus attention on progressive issues.
Nixon has strong, vocal support among many progressives. Among the people and organizations endorsing her are the Working Families Party, New York City Democratic Socialists, the grassroots group Indivisible, the Bernie Sanders' spin-off organization Our Revolution, Daily Kos, The Nation magazine, and Democratic Congressional candidate Alexandria Ocasio-Cortez.
Nixon and her supporters say that Cuomo has tacked left in response to her candidacy and that she has forced him to act in other areas: supporting a major funding plan to fix New York's subways, for instance, and finally getting the members of the breakaway state Senate Democrats – the Independent Democratic Conference – to return to the fold. Cuomo, of course, denies that anything he has done is in response to anything Nixon has done.
Nixon's a native of New York City, and her campaign has frequently focused on issues of particular interest to New York City residents, including the problems of the Metropolitan Transportation Authority's problem-plagued subway system. But in her speeches and interviews and on her campaign website, she has taken strongly progressive views on broader issues, clearly in line with the Bernie Sanders - Elizabeth Warren wing of the Democratic Party.
She has pushed for higher funding for public schools, has been active with the statewide advocacy group Alliance for Quality Education, and has criticized state funding of charter schools.
Nixon calls the US Immigration and Customs Enforcement agency a "terrorist organization" and is in favor of abolishing it. And she supports letting undocumented immigrants have drivers licenses.
She supports legalizing recreational marijuana. She wants to end cash bail and solitary confinement, wants police misconduct records to be public, and wants to end arrests for low-level crimes.
She's in favor of the single-payer New York Health Act. She wants abortion rights moved out of the state's criminal code, and wants the state to require insurers to cover all forms of FDA-approved birth control.
In election-law reform: She wants early voting, automatic voter registration, and same-day voter registration, and she wants New Yorkers to be able to change their political-party enrollment closer to Election Day. She wants to give voting rights to people on parole, have state primaries the same day as federal primaries, and make voting more accessible to people with disabilities.
On the environment: She wants 100 percent of the state's energy to come from renewable sources by 2050 and wants the state to stop investing in fossil-fuel infrastructure. She wants the state to fight President Trump's plan to permit oil and gas drilling in the Atlantic Ocean, invest more in mass transit, divest from oil and gas stocks, and let aging nuclear power plants close.
She wants rent-stabilization laws to apply statewide for all apartment buildings with six or more units, and she wants a "just cause" law to protect apartment tenants from unreasonable eviction and extreme rent increases.
Endorsing her for governor in June, The Nation acknowledged that Nixon has no experience in government. But, said The Nation: "The celebrity that Nixon earned from her career as an actor is the capital that makes her run not only possible, but viable."
"That she has long chosen to use her fame to lift up the movements for public education, LGBTQ rights, renewable energy, and housing justice speaks to her character," said The Nation. "She may not have as much executive experience as her opponent, but as someone who grew up in a one-bedroom, five-story walk-up as the daughter of a single mother, was educated in New York City's public schools, has worked continuously since the age of 12, and has paid dues to four different unions, Nixon has the life experience to be a governor of and for the people. If elected, she won't be beholden to the entrenched interests and political machines that dominate state government."
Andrew Cuomo
If most New Yorkers don't know their governor, that's not due to a lack of effort on his part. Cuomo's first two terms have seemed like one long campaign. He has issued press release after press release (complete with photos and video feeds), and he has popped into municipalities across the state, often to announce that he is handing out millions of dollars for one project or another.
And lately, he's broadened his scope, taunting President Trump with press releases and touting the state's aid to Puerto Rico as it continues struggling to recover from Hurricane Maria.
All that is second nature to Cuomo. He's been in politics since he was 25, when he managed his father Mario's first campaign for governor. He's been an assistant New York District Attorney, headed the federal Housing and Urban Development Agency, and was New York's attorney general.
Cuomo is vocal, forceful, and confident. And he has his enemies, including people in government. He has repeatedly fought and undermined New York Mayor Bill de Blasio, a fellow Democrat.
"Talk off the record about Cuomo with other leading New York Democrats," Harold Meyerson wrote in the Washington Post in 2014, "and what you hear is fear and loathing."
Cuomo has remained just outside of the scandals that have rocked state government over the past several years. Not only have his "Three Amigos" compatriots – former State Assembly speaker Sheldon Silver and State Senate majority leader Dean Skelos – been convicted of felonies but so have people much closer to Cuomo.
Cuomo favorite Alain Kaloyeros, former SUNY Polytechnic Institute president and key player in the state's Upstate economic development efforts, was convicted last month of wire fraud and conspiracy.
Todd Howe, a lobbyist with close ties to the Cuomo administration, pleaded guilty to felony charges related to the same Cuomo-inspired development projects. Former Cuomo aide and campaign manager Joe Percoco has been convicted of bribery charges related to companies doing business with New York.
Cuomo had seemed concerned about ethics problems in state government in 2013 when he formed the Moreland Commission to investigate corruption. But when the commission's efforts started to get too close to big Cuomo donors, he first tried to get it to back off and then shut it down – in characteristic Cuomo style.
"The Moreland Commission was my commission," Cuomo told Crain's business journal. "It's my commission. My subpoena power, my Moreland Commission."
"I can't 'interfere' with it," he said, "because it is mine. It is controlled by me."


FILE PHOTO
Governor Andrew Cuomo
Despite his mostly progressive record as governor, he has had an on-again, off-again relationship with many liberals. One complaint: that he hasn't pushed hard enough to get a Democratic majority in the state Senate. Working Families Party leaders, in particular, say he betrayed them after promising to work for a Democratic Senate majority in order to get the party's endorsement in 2014.
Instead, his critics say, he encouraged the formation of a coalition between Republicans and the Independent Democratic Conference, a group of eight Senate Democrats, to help ensure that Republicans kept control of the Senate. The IDC has been blamed for joining Republicans in blocking, among other things, an abortion rights bill.
In April of this year, though (shortly after Cynthia Nixon announced she was running for governor), Cuomo managed to lure the breakaway Democrats back.
Cuomo doesn't have the eloquence of his father. But in his two terms, he has built a solid, some on his own, some by helping get progressive bills passed in the legislature.
Despite the Senate being controlled by the more conservative Republican caucus, during Cuomo's tenure the State Legislature passed marriage equality legislation, which he quickly signed.
He pushed the legislature to pass the SAFE Act, one of the nation's strongest gun-control laws, as well as a law prohibiting people convicted of domestic abuse from owning a gun.
He created the state's health exchange and has required insurers to cover over-the-counter emergency contraception.
His budgets have increased funding for affordable housing and housing for the homeless, raised the age of criminal responsibility to 18, and increased investment in renewable energy.
Cuomo banned fracking in New York State, directed the Department of Public Service to establish renewable energy standards, and has vowed to fight President Trump in court over off-shore drilling in the Atlantic.
He has spoken out in support of the federal Dream Act and created a $10 million legal-defense fund for immigrants. He established the Excelsior Scholarship program, which provides tuition-free college at CUNY and SUNY for qualified students.
And he directed the state Labor Department to study the issue of "on-call scheduling," in which employers can change employees' work schedules at the last minute. The result is new regulations that require 14-day advance notice of scheduling and extra pay for last-minute assignments.
Less popular with many progressives have been his support for charter schools, his tax cuts, and his property-tax cap. And he has often taken a pragmatic, centrist approach on economic development and corporate taxes. New York has to compete with other states in attracting and keeping businesses, he has said, and raising taxes in this high-tax state won't help.
In endorsements, Cuomo has the big names: Hillary Clinton, Joe Biden, Nancy Pelosi, Kirsten Gillibrand, Kathy Hochul, numerous labor unions, the state Democratic Committee, the National Organization for Women-New York, Planned Parenthood Empire State Votes PAC, the Brady Campaign to Prevent Gun Violence, the Human Rights Campaign, and several LBTQ organizations, including the Stonewall Democratic Club.
"I have not agreed with the governor on everything he has done, both from a policy and politics perspective," Stonewall board member Jeffrey LeFrancois told the New York Times last month. "But at the end of the day, in the state of the country, state of the world right now, to take a gamble on somebody who has had zero experience in a political or governing environment is not a risk that I think is appropriate."
Next week: A look at the Democratic primaries for lieutenant governor, attorney general, and Rochester school board, and our endorsements.