[ UPDATED] In press conferences and interviews this afternoon, Rochester school district and city officials announced stunning new details about the events leading up to the death of 14-year-old Trevyan Rowe. And both Mayor Lovely Warren and school board President Van White said that adults in both entities failed Trevyan.
The School 12 seventh grader, who was known to have autism, rode the bus to school as usual last Thursday, but he didn't enter the school. Instead, he walked up South Avenue and, apparently, onto the Douglass Anthony bridge and either fell or jumped into Genesee River. His body was recovered on Sunday.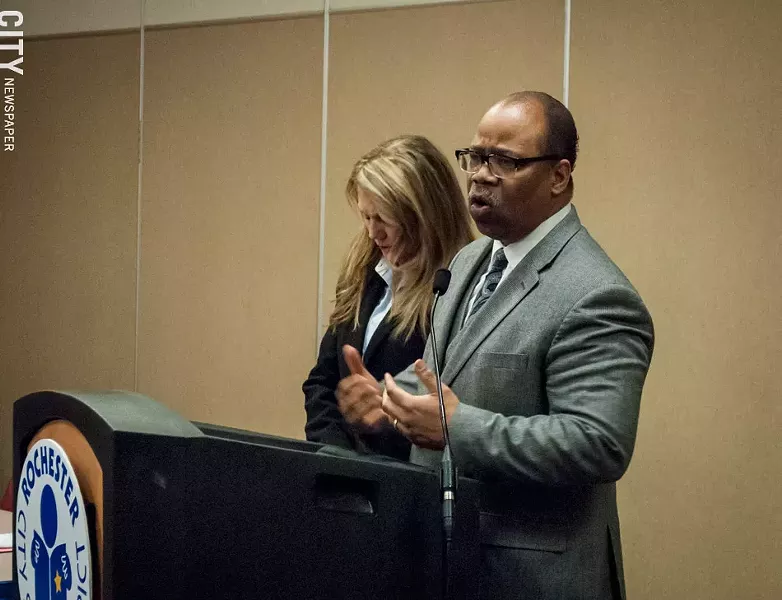 PHOTO BY JACOB WALSH
City school board President Van White and Superintendent Barbara Deane-Williams spoke at a press conference Tuesday afternoon.
School district officials said earlier today that three teachers at School 12 had incorrectly marked him as being present in their classes when they completed the computerized attendance report that morning. If they had marked him as being absent, that would have triggered a robocall alerting his family that he wasn't in school. Instead, the family learned only when Trevyan didn't return home at the normal time.
And School Board President Van White said in an interview that at least one — and possibly two — school staff members tried to alter the absence reports.
One of the three teachers at School 12 have been placed on administrative leave, and two teachers who were substitutes will not be called back to the district. Superintendent Barbara Deane-Williams has ordered an independent investigation into whether RCSD policies and procedures were followed. At the district's press conference, White said that a request was made to the State Education Department to use its staff to conduct an investigation.
It was also revealed that Trevyan was not formally classified as having autism, which is why he was not accompanied on the bus by a monitor and he was not accompanied by an adult into the school.
When questioned about attendance-taking procedures, Deane-Williams said that she is not satisfied with robocall systems. The district doesn't send out automated calls until 11 a.m., which would have been too late to help Trevyan, based on what the district knows at this point, she said. The district did not place a robocall to the family, she said. One of Trevyan's teachers correctly marked him as absent, but elementary schools only send out one robocall in the morning.
Several motorists called 911 Thursday morning reporting that they had seen a pedestrian on the Douglass Anthony bridge, which has no pedestrian walkway. During a press conference late this afternoon, City officials said that some 911 Center staff failed to follow proper procedure when they took those calls. Six 911 employees have been placed on administrative leave while the city continues its investigation.
According to city protocol, the Rochester Fire Department should have been dispatched because of the possibility that someone was in danger, and that didn't happen, said acting 911 director Stephen Cusenz. The Rochester Police Department and the water rescue team should also have been called because of the proximity to the river and were not, city officials said.
"Last night I promised Trevyan's family and this community that I would do all in my power to get them answers into what transpired on that fateful morning when Trevyan drowned in the Genesee River," said Mayor Lovely Warren. "That promise and that investigation began within City government and we are extremely disappointed that established protocols were not followed at our 911 Center. This failure is unacceptable and we have already begun the process to correct these shortcomings to ensure a similar breach of protocol never occurs again as well as to initiate disciplinary action against those at fault."
Also earlier today, sources in the school district said that Trevyan did not wander away from school, as some have speculated. While some people with autism do sometimes wander, videos from cameras at the school indicate that Trevyan was more deliberate, the sources said. There was an adult outside the school, greeting students as they arrived, and videos show Trevyan trying to avoid detection.
However, officials at School 12 initially resisted giving a Rochester police officer video recordings of Trevyan leaving the school and a confrontation ensued, city officials said during the Tuesday press conference.
Rochester Teachers Association President Adam Urbanski, calling Trevyan's death "an unspeakable tragedy," said he supports Deane-Williams' decision to pursue an independent investigation.
This is a developing story and the post has been updated throughout the day.