When Serena Young competed last year in the seventh season of Black Entertainment Television's popular gospel show "Sunday Best," the judges used words like "conviction" and "grace" to describe her performances. Young says it was heady praise coming from the gospel greats, including Yolanda Adams and Donnie McClurkin.
"Out of maybe 20,000 contestants, I made it to the top five," she says.
Young's voice, a raspy explosion of emotion, can shift from roaring riffs to sailing falsettos in seconds and still have power to spare. She says she doesn't remember a time when she wasn't singing.
"My father said I began singing when I was around 3," she says. "He would put a radio near me and I would start humming along."
Young started singing professionally in 1990 as a member of Uneek, an all-female gospel group. Uneek landed a deal with Tyscot Records, a company known for its impressive roster of Christian music artists, and recorded two albums.
Though Uneek had modest success, Young says that it wasn't until she went solo that her career began taking off.
"I did my first independent project in 2006, 'I Surrender All,'" she says. "The second one, 'It's Over,' was recorded in 2014, but that one I will be releasing in the fall."
The latter documents some of the problems that Young's had to overcome recently in her personal life, including a separation from her husband of many years.
Young, who has toured extensively throughout the US, just returned from a European tour with the Harlem Gospel Choir — one of the most prominent gospel choirs in the country.
"I believe it was over 30 cities," she says. "It was an amazing experience."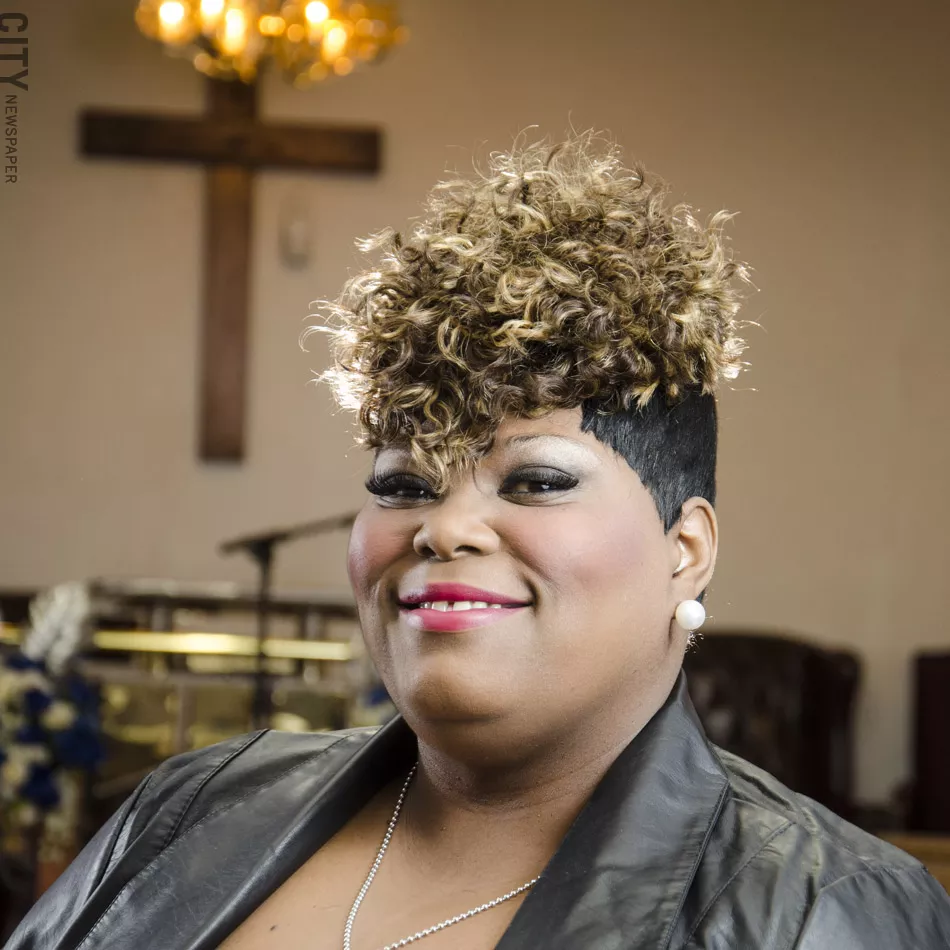 PHOTO BY MARK CHAMBERLIN
Singer Serena Young was a finalist last year on BET's "Sunday Best" gospel performances.
Young likes to say that she was "born and raised in the church." Her father, who began singing R&B and later sang gospel music, was her first and most important fan, she says.
"He was always my motivator," Young says. "He was always pushing me to do more and be more, and believing I could do it. But really I come from a family of singers, so it was just second nature."
Though Young is interested in all types of music, she says that gospel speaks to her most. And she's intently followed the careers of certain gospel singers as she pursued her own path.
"I am a music lover, but I studied the Clark Sisters, the Pace Sisters, Vanessa Bell [Armstrong], Whitney Houston, and Chaka Khan," she says. "Those are some of the women I listened to and patterned myself after. But as I got older, it was Kim Burrell for me. I love Kim Burrell. Anybody who knows me knows that Kim Burrell is my favorite singer of all time."
Though Young has dabbled in secular music and she certainly has the vocal pipes for it, she always comes back to gospel.
"It really heals the soul," she says. "It brings peace and calmness — not that other types of music don't bring that same thing." But gospel music is different, she says.
"I truly believe that gospel music brings hope," she says. "It lets people know that there is a brighter day, and no matter what you're going through, you're not alone. Change is coming."
Almost every great singer will tell you that you have to connect with the song you're singing. But gospel singers must go a step more, Young says.
"It's what you believe in, walk in, and live in," she says. "It's your faith that you're sharing. So if you don't believe it, nobody else is going to believe it. It has to hit home for you and it has to be heartfelt for you in order for it to flow to other people."
Great gospel singers aren't just selling music, says Paul Boutte, program director and radio personality for WDKX's Sunday Morning Gospel program
"You have to not only be able to sing, but you have to be able to minister, too," he says. Boutte been the musical director for numerous choirs throughout the Rochester area and teaches gospel music at SUNY Brockport.
"You've got to start from the beginning," he says. "Gospel music originated in the fields with the slaves; they would sing about life and hoping to be free."
Boutte says that the conversation with God that began in the fields remains at the heart of the gospel experience today.
Boutte has known Young for many years and says that she's authentic because her voice convinces you of her faith.
"She's probably the best female gospel singer I've ever known," Boutte says. "When Serena sings, oh my God, she can make the hair on your arms stand up."
But Young admits that she does have moments of doubt about her music career. While she hasn't in several years had to get a second job to support herself and her two youngest children — she's the mother of four — she says that she worries about her future.
"You do it [sing] because you love it," she says. "I will always sing. It's part of who I am." But being a professional requires learning how to survive the difficult and sometimes erratic nature of the business. And she says that she's worried about whether she'll ever make enough to retire when the time comes.
"I have a lot of people who give me business advice, the what-to-do's and what-not-to-do's in the industry," she says. But Christian/gospel music, though certainly a viable segment of the market, is relatively small in sales compared to other genres.
A 2012 report by the Nielsen Company and industry trade magazine Billboard showed that sales of country, R&B, rock, and alternative music clearly dominate the market.
And being an independent artist, Young says, is tough.
"The music industry has changed so much because of the Internet," she says. "It's hard being an independent artist because it can be a real grind. You're on your own and you have to do everything yourself."
Young says that the hardest part of the music business is the unpredictability, which has caused her to think seriously about going back to school to get a nursing degree. It's the other career path that has always been in the back of her mind, she says.
"I'm a caregiver," Young says. "It's really not that different from gospel."