Page 5 of 5
The theater's promoter

Arnie Rothschild and the Rochester Broadway Theatre League, which he heads, have been trying to get a new theater for RBTL's performances for decades. RBTL's current home, the Auditorium Theatre on East Main Street, is too small, he says, and its age and physical constraints – limited parking, for instance, and no air conditioning – limit the shows RBTL can get and the length of the runs.
A new theater, he says, is essential for their future success. And they want that theater to be in downtown Rochester.
Rothschild, who himself lives downtown, has been adamant about the theater's location. As fundraising for previous proposals stalled and critics – including city officials – questioned his financial projections for the theater, Rothschild has looked at other sites, in Henrietta and in Irondequoit. But his preference has always been downtown. It's an ideal location, Rothschild says, and it will help boost downtown development.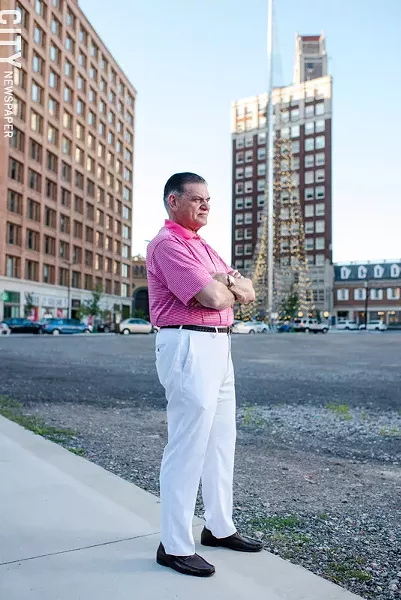 PHOTO BY JOSH SAUNDERS
Arnie Rothschild is the longtime CEO of the Rochester Broadway Theatre League, which stages touring productions of Broadway shows and other performances at the Auditorium Theatre on East Main Street. Rothschild is president of Normal Communications advertising company; his clients include numerous Republican political candidates.
RBTL and city officials have talked about building it on the Midtown Plaza site for years; an RBTL theater was envisioned there even before Midtown Plaza was demolished in 2010.
The addition of an apartment building by the Morgan development company helped convince city officials to choose RBTL for Parcel 5. Now, Morgan's part of the theater-residential package seems in doubt. That doesn't preclude another developer picking up that part, though. And so to the Warren administration – and to RBTL – the project is still very much alive.
The RBTL part of the proposal that the city accepted in April 2017 calls for a 3,000-seat theater. The building would also contain retail space, a restaurant, and an area for corporate entertaining.
The theater would be "a state-of-the-art-theater," Rothschild says, "including facilities for people with special needs."
"You would enter at street level," Rothschild says, "and walk downgrade into the theater, which allows the loading dock to be aligned with the tunnel system at Midtown."
The theater would be air-conditioned, permitting RBTL to increase its summer bookings. There would be green space on top of the building for community events, and a stage on the east side of the building for outdoor events. And RBTL envisions blocking adjacent streets at nights and on weekends for sidewalk dining, food trucks, and entertainment.
Parking would be underground, in the former Midtown Plaza garage.
Initially, the theater was referred to as a performing arts center, which drew fire from opponents of the RBTL plan. "It is a fair criticism to say that a performing arts center has multiple theaters," Rothschild says. This building will have only one theater. (Rothschild says that it's currently called the Golisano Arts and Entertainment Center).
And he adds: Years ago, the city and county conducted an inventory of arts organizations' facility needs. The recommendation was that the community needed a large venue for events like touring Broadway shows and a mid-size venue with about 1,500 seats.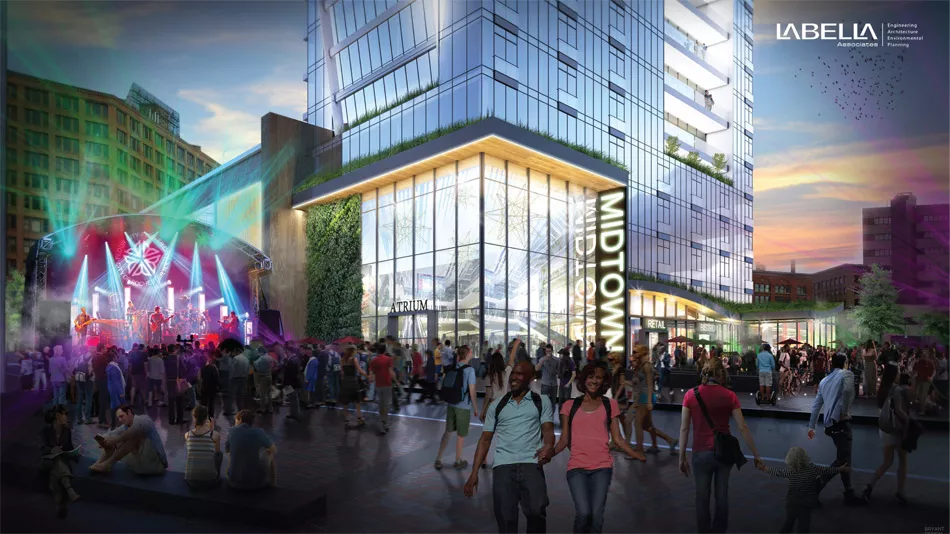 The proposed new theater on Parcel 5 would fulfill the first need. And Rothschild says RBTL plans to renovate the Auditorium Theater – which now has 2,464 seats – into a 1,500-seat theater, meeting the second need.
Rothschild says the needs of dance groups – for special stage flooring for instance – will be met in both theaters.
While RBTL would take its big shows to the new downtown theater, it would keep its educational programming at the Auditorium facility and would heavily market its downsized theater there. Rothschild insists that RBTL will find plenty of uses to keep the Auditorium in operation.
A long-standing concern about a new theater for RBTL has been that if its revenue didn't cover operating costs, taxpayers would have to bail it out. Rothschild insists that there's no risk. RBTL has generated an operating surplus for the past 14 years, he says: "We're not asking for an operating subsidy."
And while the new theater would be larger than the Auditorium, Rothschild says, so would its revenue. Revenue from ticket sales has grown for organizations like RBTL that host live performances, Rothschild says. "The vast majority of tickets are sold online, and the venue gets part of that fee."
In addition to ticket sales, contributions, and revenue from concessions, RBTL is counting on revenue from parking at the Midtown garage. Morgan Management, Buckingham Properties, and Pike Development company are partners in an LLC that owns and operates the garage, and parking revenue was part of the RBTL-Morgan proposal for Parcel 5. Rothschild says he assumes that plan could continue, regardless, since RBTL would be bringing additional business to the garage.
RBTL would also earn money from "a significant amount of catering from corporate events," Rothschild says.
Another concern raised by critics of the RBTL theater proposal is the number of days and nights the theater would be in use. It doesn't add vitality to downtown if a large building on a prominent Main Street site is dark for about half the nights of the year and closed many of the days. Currently, RBTL hosts 137 performances in the Auditorium each year. RBTL estimates that in the new theater, RBTL would have 180 to 200 performances. The additional seats will enable RBTL to get bigger shows, earlier, and keep them longer, Rothschild says.
"Hamilton" is coming to the Auditorium Theatre, but not until next April. "If we had had a 3,000-seat venue, 'Hamilton' would have already been here," Rothschild says. "They made a list of markets by seating capacity, and we were on the second page, half-way down."
The building would also be available for other uses, Rothschild says, everything from conventions and concerts in the theater itself to weddings and parties in the auxiliary spaces. A few months ago, Mayor Lovely Warren suggested that perhaps the new theater could screen Imax movies. Rothschild doesn't suggest that, but, he says, there have been discussions about having a screen in the theater, which could be an attractive amenity for corporate meetings.
Could RBTL build a theater somewhere else downtown – for instance, on the property known as Parcel 10, the large vacant parcel on the west side of the river just south of the Blue Cross Arena?
"Parcel 10 has a number of issues," says Rothschild. "We looked at it." But there are big drainage pipes underneath it, there's an easement for RG&E, access for tractor trailers for touring shows would be difficult – and it's a contaminated site, Rothschild says.
"We did an engineering study," he says, and RBTL would face $4 million in clean-up costs "minimum."
And RBTL would have to build a parking garage.
All told, a theater on Parcel 10 would be prohibitively expensive, Rothschild says.
Why not simply renovate the Auditorium and air-condition it? Too expensive, Rothschild says, and RBTL would still be left with a 2,400-seat auditorium, waiting in line for some of the big shows, missing out on longer runs, and missing some shows entirely.
"We have an unusual situation," Rothschild says, in that Albert Nocciolino is a partner. A Binghamton native, Nocciolino is a major investor in Broadway shows; he's been a co-producer of "Driving Miss Daisy," "The Piano Lesson," "Rent," "Kinky Boots," and numerous others. And he has helped steer top shows to Rochester.
At some point, Nocciolino will retire, though, and when he's no longer a partner with RBTL, says Rothschild, the touring shows' bookings into Rochester will be based solely on capacity. And that, Rothschild insists, will be a handicap.
In March, Warren announced the formation of a new team to aid RBTL's effort, led by former Chamber of Commerce CEO Sandy Parker, "to seek to engage the public, funders, the arts community and important community stakeholders in the process." Leading fundraising efforts are Rochester Red Wings CEO Naomi Silver; Elaine DelMonte, who has been involved in fundraising and management with area non-profit organizations; Tom Bonadio, CEO of the Bonadio CPA firm; and David Flaum, CEO of Flaum Management.
Currently, the fundraising is "in kind of a holding pattern," Parker said in a recent interview. The Morgan apartments are "a critical component of that project," Parker said, and with the uncertainty about the Morgan company, "we're really at kind of a standstill," she said.
Parker's aware of public concerns about the RBTL proposal. "One of the things we've wanted to do when we get moving again," she said, "is to have an open conversation, have the auditors from RBTL give a presentation on the financing, have the folks from LeChase [the contractor for the theater] talk about building the facility."
Parker is enthusiastic about the RBTL theater. "What impressed me was the mayor's passion for this," she said. "I think she sees this as a critical component to bringing back downtown. We've got 10,000 people who live downtown now, with all of the various housing that has gone up. But one of the things we need to do is keep them downtown. We need to get them out on the streets after 5 p.m."
The theater, she said, will help do that.