A key piece of the former Midtown Plaza property, Parcel 5 is one of the most important development sites in the city. It's in the heart of downtown, and it fronts on Main Street, and whatever goes there could have a major impact on the city's center for generations.
It's also at the center of a major controversy involving City Hall, developers, leaders of performing arts organizations, and public-space activists.
City Council had been expected to vote relatively soon on a proposal for a new theater for the Rochester Broadway Theatre League and an apartment tower built by Morgan Communities. But the Morgan part of the project is very much in doubt. The FBI is investigating the Morgan company, and while the firm and its officers may not be found guilty of anything, the investigation may take several years. That could cause delays in Morgan developments that are still in the planning stage.
And that includes the apartment building at Parcel 5.
The Morgan company and its founder, Bob Morgan, have been respected developers in Rochester, and since the news about the FBI investigation broke last fall, city officials and business leaders have withheld judgment, pointing to the company's track record of successful developments.
But it's likely that at some point soon, RBTL or the city will decide whether Morgan is staying in the project. If Morgan is out, one of several things could happen. The city could start over, asking for new proposals for the site. It could reassess the idea of RBTL doing its theater on its own. It could leave the parcel vacant for a while. Or RBTL could come in with another development partner, to take Morgan's place.
A bit of pressure was taken off of officials earlier this month when a consulting firm asked for more time for its study of how the RBTL theater might impact other local arts organizations. Originally, the consultants' report was to be completed by July 31, and Mayor Lovely Warren was withholding her final decision on Parcel 5 at least until then. The due date has been extended to September 30, and that gives everybody involved some breathing room. And it gives the Rochester community more time to discuss one of the most important city planning questions in several decades:
What should Parcel 5 be?

| THE PUBLIC SPACE ACTIVISTS | THE ARTS LEADERS |
| --- | --- |
| THE DEVELOPER | THE THEATER PROMOTER |
City officials have been trying to figure out what to do with the Midtown Plaza site literally for decades. The Plaza, which occupied 8.6 acres, was once a bustling retail center paired with an office tower. As suburban development and consumers' shopping habits changed, Midtown Plaza slowly emptied out. And city officials looked for new uses.
Developers and investors came up with a variety of reuse ideas. At one point, city officials became enthusiastic about a proposal from the government of Parma, Italy, for a retail center selling Italian merchandise. That proposal evaporated.
As it became obvious that nothing could save Midtown, in September 2010 the complex was demolished to make way for a 225,000-square-foot building housing the world headquarters of Paetec and was to bring 900 new employees downtown. But as if Midtown Plaza were jinxed, Paetec was bought by Windstream, which scaled back the plan substantially, moving 335 employees into the three-story former Seneca Building on the Midtown site.
Despite the early setbacks, though, there's been a good bit of progress on the Midtown site since then. The former Midtown office building is now Tower280 apartments. The Democrat and Chronicle has moved its facilities into a new building adjacent to Windstream. That progress has spurred development in the surrounding area. And at the same time, Parcel 5 has begun to take on a life of its own. It's become a popular warm-weather venue for festivals and other events.
Meantime, the city has continued to look for a developer for Parcel 5.
When the city issued a Request for Proposals for Parcel 5 development in 2016, it received three. They called for:
• A 3,000-seat theater, proposed by RBTL;
• A 14-story residential condominium building with commercial uses on the lower floors, proposed by developer Andy Gallina;
• Visionary Square, "a vibrant, multi-use, flexible marketplace, arts and recreational public green space with active programming throughout the year," according to the proposal. The project – proposed by a group led by activist Ken Sato – would be "funded, built, and operated by volunteers, comprising a non-profit organization, Rochester Visionary Square Corporation."
Morgan's apartment building wasn't in the mix.
Early in her first year of office, Mayor Lovely Warren had expressed interest in a new performing-arts theater somewhere downtown. She's convinced that it will not only create jobs (both during its construction and afterwards, for employees who would work in it). Currently 166,000 people attend RBTL's shows at the Auditorium Theatre each year, and another 20,000 use the hall for graduations and similar events. RBTL predicts that with a new, larger theater, that number will grow to 300,000. And that, RBTL says, will spur more businesses in the area.
When the mayor and some of her staff – a team led by then-Deputy Mayor Carlos Carballada – assessed the three proposals, they initially settled on Gallina's residential-commercial project. RBTL's was "a close second," city spokesperson James Smith says, but Warren's team "thought Andy's was better."
The Carballada team was apparently concerned about the economic feasibility of the RBTL theater as a stand-alone project. Carballada, in fact, had some history with RBTL's decades-long quest for a new theater. A respected former banker, he was the city's economic development commissioner when RBTL's theater, MCC's downtown campus, and the RTS bus station were to form the Renaissance Square complex.
He also headed the city's neighborhood and business development efforts under former mayor Tom Richards, as RBTL continued to press for a downtown location. While RBTL insists that it has a history of operating surpluses, Richards was publicly skeptical about RBTL's estimates.
Visionary Square was last on the team's list. Like previous administrations, Warren and her staff have always viewed development on the Midtown site as a way to boost Rochester's tax base – either through a project that would pay taxes itself or one that would spur other taxable development. Downsizing by businesses like Kodak, along with the flight of retail, has had a major impact on Rochester, reducing the value of property in the city from $11.10 billion in 1987-88 to $6.45 billion in 2017-18.
With both Visionary Square and the RBTL theater, Parcel 5 would remain tax-exempt. And Warren's team wasn't convinced that Visionary Square would spur significant development nearby.
In addition, they have questioned whether downtown needs another park, which would cost money to maintain. Downtown, they note, already has several parks, including two large ones: Martin Luther King Jr., just north of the Strong museum, and Charles Carroll Park, on the west side of the river. Charles Carroll is seldom used and has been deteriorating, but the city plans major improvements to increase its use.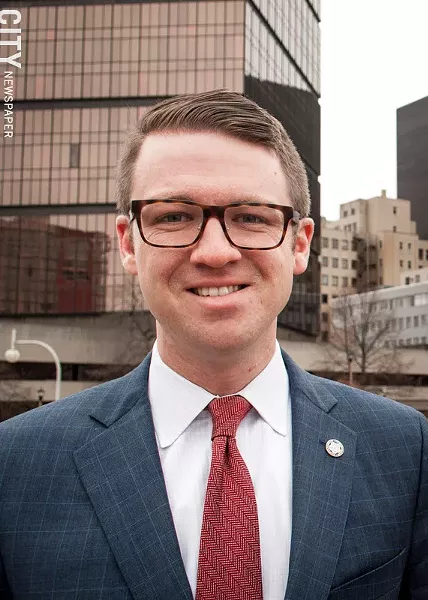 FILE PHOTO
Alex Yudelson, Mayor Lovely Warren's chiefof staff.
And, says Warren's chief of staff, Alex Yudelson, "the ability to program a site like Parcel 5 relies not only on the weather but on sustainable funding, and there were no indications that there was sufficient funding" in the months suitable for outdoor events.
And so after reviewing the three proposals, the Warren administration told Gallina that he was their choice. The city's communications office wrote a press release, and Warren prepared to announce his selection.
But Gallina, who had learned that state funding would be less than he had requested, asked for a few more weeks to rework his plan. City officials say that he had requested delays before, and that they became skittish about the project. And RBTL CEO Arnie Rothschild strengthened his bid: billionaire Tom Golisano pledged $25 million for the theater, and Morgan Communities was prepared to build an apartment tower at the rear of the project. That would let the two projects share some infrastructure costs, and Morgan – one of the biggest developers in the region – brought enormous credibility to the proposal.
In the end, Warren announced that she had chosen RBTL-Morgan for Parcel 5.
Warren's decision has been controversial from that moment on. Its numerous critics include people in the arts community, who worry that a shiny new theater hosting big-name Broadway shows and performers will hurt them, in ticket sales, in membership, and in donations. Like the city, the arts community took a hit with the dramatic downsizing of Kodak, Xerox, and Bausch and Lomb, all of whom had been major supporters. And like federal funding, state funding for arts organizations in Rochester has shrunk – by 44 percent from 2001 to 2016, according to research by ACT Rochester.
Criticism has also come from people who liked the Visionary Square plan and think Parcel 5 should be kept as undeveloped or loosely developed, available for festivals, pop-up temporary retail, and other uses. Their case has been bolstered by the enormous crowds on Parcel 5 for Jazz and Fringe Festivals. And they also charge that the RBTL proposal caters to an "elite" audience; Parcel 5, they say, should be for everyone.
A third group of critics are people who worry that downtown may be experiencing more development – particularly residential development – than is sustainable. A total of 822 new units have been created downtown since 2010, and 22 new projects – containing 1,893 units – are planned.
These critics include former City Council member Carolee Conklin who, shortly before retiring from Council last December, said that the city should hold off on development at Parcel 5 until some of the projects under way are completed and filled.
Conklin was also worried RBTL's funding, and about adding development that would be tax-exempt. "The long-term viability of the city," she said, "depends on revenue," and that means taxable development.
"Why not just let it sit there for a couple of years?" she said. "We really don't need a rush to judge ment."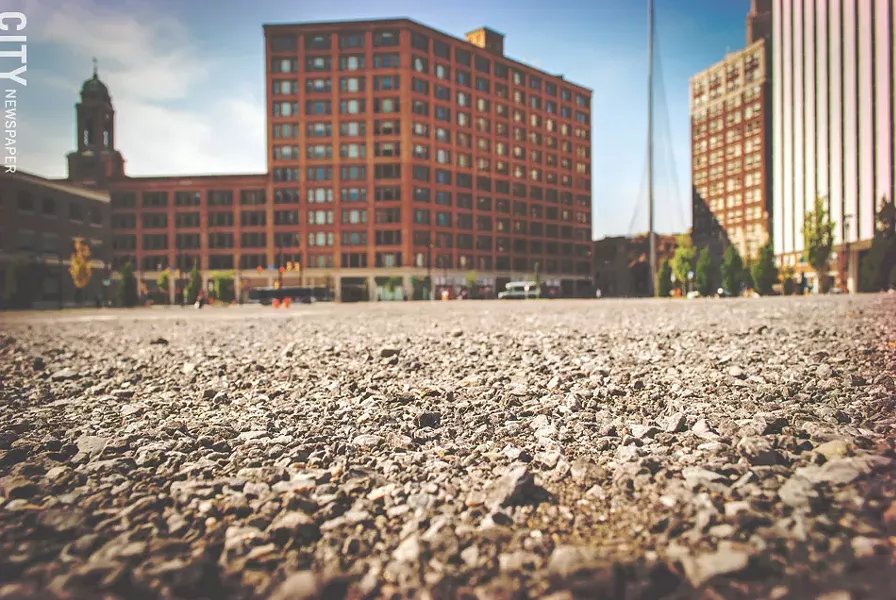 Leaving Parcel 5 alone would also let the city make sure that downtown's existing residential development is successful, that developers are not overbuilding. Population growth in the Rochester region has been relatively flat for years. If that doesn't change, new residential development is likely to simply rob residents from other neighborhoods.
The new housing is boosting downtown's population, though, and what happens on Parcel 5 will affect those residents. Tower280 resident John Bernunzio, whose Bernunzio Uptown Music has anchored the corner of East Avenue and Swan Street for 14 years, has been a strong supporter of keeping Parcel 5 relatively undeveloped, handing out "Free Parcel 5" T-shirts and bumper stickers at his store.
When Midtown Plaza was torn down, he says, city officials said downtown needed people out on the street. It needed outdoor activities, and the Plaza kept everybody inside. "Now," he says, "they're proposing building something where people will be inside."
"Rochester is about music, images and light, and water," Bernunzio says. "If something goes there, it should be designed to include sound, light, and water, because that's who we are."
Suzanne Mayer, former president of the Grove Place Neighborhood Association and one of the organizers of a new downtown coalition called C4, says Grove Place hasn't taken a position on Parcel 5 and residents' opinions seem divided.
Her own opinion, she says, is that "whatever goes there should be more for common use. It should be something that everybody has access to. I wouldn't like to see something in that location going dark for any serious length of time."
But, she adds: "I really think that what needs to happen is to look at this as an opportunity to talk about it. We need to be able to talk to each other about this and what's best for this community."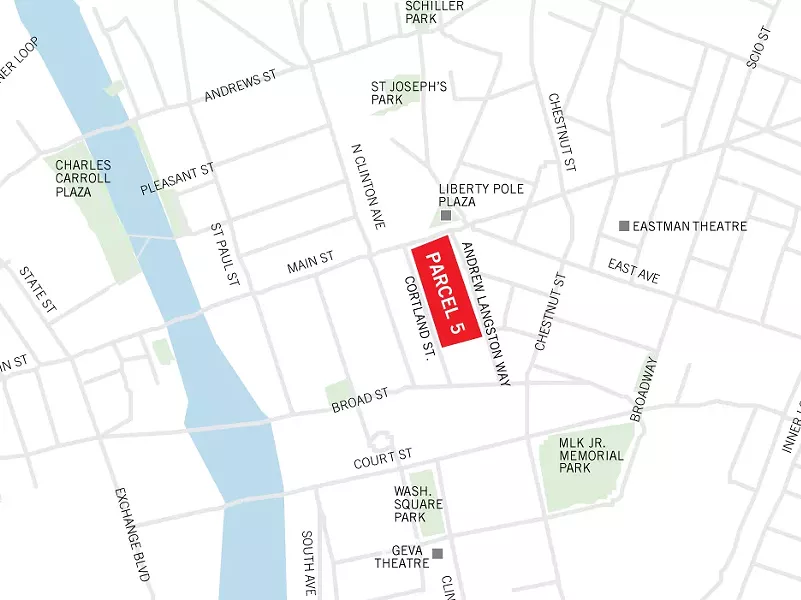 While the mayor has been a strong supporter of the RBTL-Morgan project, what happens to Parcel 5 will ultimately be in the hands of the nine people on City Council. It's likely that Warren has support from the majority of those nine, but she could have trouble getting votes from at least three: Northwest District representative Molly Clifford, at-large member Jackie Ortiz, and East District representative Elaine Spaull, who is developer Andy Gallina's sister. Clifford, Ortiz, and Spaull have been at odds with Warren on some issues in the past, and Clifford ran the campaign for former mayor Tom Richards, whom Warren defeated in 2013.
On the other hand, if RBTL found a new partner to take Morgan's place in the project, or if it refashioned its project to answer some of its critics' concerns, Warren could get the votes she needs.
Several Councilmembers declined to comment on Parcel 5, citing the fact that a final, detailed proposal hasn't yet been presented to Council. And Council President Loretta Scott said she wants to wait for the report from the consultants studying the RBTL theater's impact before she discusses specifics about Parcel 5.
But, she said: "I don't see it left blank. I do want to see it developed, and it needs to be. I don't support more greenspace, especially seeing that we have so many parks now."
The public space activists
Two leaders in the movement to preserve Parcel 5 primarily as open space – at least for a few years – are artist Ray Ray Mitrano and social-media specialist Steve Carter.
Downtown, they say, should serve and attract people of all backgrounds, but much of the new development taking place is for wealthier people.
"Ideally," says Carter, Parcel 5 should be "a space that's a true public space, a true public square in a way." That, he says, "is something that we've kind of lost here in the city. We don't have a true central gathering point."
PHOTO BY JOSH SAUNDERS
Steve Carter is a social media specialist at Eastman Kodak who has been involved in social media campaigns about Parcel 5. He's a Roberts Wesleyan College grad who also started the Explore Rochester account on Instagram.
Even as a gravel-filled expanse, Parcel 5 is already democratizing downtown, says Carter. Right now, downtown lacks an inclusive, welcoming element. If Parcel 5 is developed as a public square or commons, it could fill that void.
"This is a commons," says Mitrano. "This is something like the Boston Commons."
Mitrano says he and other activists have been trying to "steer the energy" of people who don't want what he calls "this big entertainment complex with residential-retail-luxury" and direct it toward a mixed-use public space, with events programmed for diverse audiences. That kind of use, Mitrano says, would be "more inclusive, more sustainable," and would provide better social and economic benefits. They also think it would provide more jobs and more private investment, Mitrano says.
There's little argument that Parcel 5 is a unique development site. It's big, and it's in a prominent position in the heart of downtown Rochester. But Carter, Mitrano, and other activists also point out that it gives the city a rare opportunity.
"You don't get a prime piece of real estate like this often that the city gets to control," says Carter.
And that provides a chance to "take some time and think about what can be added to the center of our downtown that can help shape the future of the city," Carter says.
The heart of downtown, Carter says, should be where different people from many different backgrounds come together, and the RBTL theater and its adjacent apartment complex "gears the space toward wealthier, whiter demographics."
"When we say we want a diverse and inclusive downtown for everyone, to rush to build things that force other people out is worrisome," Carter says.
Carter says he and Parcel 5 activists have studied what other cities have done with similar parcels, including Columbus, Ohio; Cincinnati, Ohio; Chattanooga, Tennessee; Greenville, South Carolina; and Durham, North Carolina.
And Carter points to New York City's Bryant Park. "It's just grass with moveable chairs and tables," he says, "but it's very popular."
Cleveland's new Public Square, a 9 1/2-acre center-city park hosts year-round events, includes a water fountain feature (and wading is encouraged) and, in the winter, an ice rink.
Columbus, Ohio, has replaced a former 1950's mall downtown with the 6-acre Columbus Commons, which hosts year-round events for children, food vendors, community group performances, and yoga on its bandshell stage.
PHOTO BY JOSH SAUNDERS
Ray Ray Mitrano is a multi-discipline artist who uses social engagement as one of those artistic disciplines. He's a Visual Studies Workshop graduate who's currently leading the Parcel 5 Community Programmers series, a collective effort to fund a series of monthly events at the site by collecting $5 donations from community members.
Mitrano envisions Parcel 5 as a place where people with ideas can experiment – entrepreneurs who may not be able to afford their own brick and mortar space. All it would take is some sort of "lightweight architecture" similar to the skate rental counter at the Dr. Martin Luther King, Jr. Memorial Park ice rink, "something that could be outfitted for food and whatnot," Mitrano says.
If their ideas fail, says Mitrano, "it's just an empty space again."
A commons at Parcel 5 would also provide a place where organizations like the Taproot Collective and the Urban Agriculture Working Group could collaborate on urban farming and community gardening workshops, or Geva Theater and the Multi-use Community Cultural Center [MuCC] could collaborate "on things they would never be able to do inside their venues," Mitrano says.
And Parcel 5's best uses could emerge over time, with incremental steps to support them, Mitrano suggests. The city could begin the process by simply planting grass the first year and letting people walk on it, have picnics on it, or perform. The second year, walkways based on the paths people take through the site could be added, and so could trees, he says.
If demand for performances grew, in the second or third year money could be raised for a bandshell stage, Mitrano says. And with a stage could come other opportunities: the Little and Dryden theaters could partner on movie screenings. Community groups could organize medium- or large-scale festivals.
One concern raised by Mitrano, Carter, and many others is their sense that an RBTL theater would be dark for 160-plus days a year.
Should Rochester dedicate a key Main Street site to a large building that would be closed that much of the year? "That's not a real good way to activate your dense urban core," Carter says. "Right now, Midtown is becoming a place where there is activity. There's a lot of activity. More businesses are moving in there, more housing is popping up in there. That's what you want, and I think, with that, that draws more amenities – more restaurants and whatnot."
Carter also refers to the theater concept as an attempt at "manufactured vibrancy," and he has the same concern about the city's ROC the Riverway plans for its riverside Charles Carroll Park. City officials hope to renovate Charles Carroll and Martin Luther King Jr. Park and boost their use.
That idea, says Carter, is City Hall declaring: "This is where you're going to have all these events. This is where you're going to gather. You gather here on the river. We're going to put you here."
But people aren't gathering there right now, Carter says. They are, however, using Parcel 5 all the time: they're walking through it, playing Wiffle Ball on it, and having pop-up concerts or other events there, he says.
"Yes, I think we should make the river something that draws people," says Carter, "but they're not naturally drawn to that place to spend a lot of time there."
On Parcel 5, on the other hand, Jazz Festival and Fringe Festival events have drawn enormous crowds. The Roc the Taste food and music festival will be held there July 27-29. And Mitrano has been programming monthly events on the site.
And Carter thinks more groups would use the site if they knew how to get permission from the city. (The website for Cleveland's Public Square contains an application form for people and groups who want to hold events on the site.)
Martin Luther King Jr. Park, Charles Carroll Park, and Washington Square Park are not ideal public spaces, says Mitrano. People don't organically use them, he says. They're pinned in by buildings and, in the case of Washington Square, a roadway with heavy traffic. Parcel 5, by contrast, has a steady flow of people crossing it, a fact that becomes obvious during the winter as people walk across the lot and beat tracks into the snow.
Carter thinks there are better places for RBTL's theater and similar uses: sites on the rim of downtown, rather than at its core.
"It's something that's not used 24 hours a day," Carter says, "so why does it need to be in a very dense area that needs multi-uses and activity most of the day?"
RBTL's current location, in the Auditorium Theatre a few blocks east of the central business district, is that kind of site. Carter and other critics worry about what will happen to the Auditorium Theatre, an architecturally and historically valuable building, if RBTL moves its Broadway shows to a new theater.
And that's a historic theater that would not be used if they got a new space, Carter says. "That's a worry on our part," he says, "and that would take something away from that area of the city."
Carter adds: "It's not that I don't like the idea of a theater, a new theater – like a performing arts center. I think if there were to be something like that, it needs be more than one facet. This one is very much just able to do RBTL and things that RBTL programs, and couldn't accommodate smaller places."
The theater proposed for Parcel 5, Carter says, "wouldn't ever be a true performing arts center."
And, Carter asks: Who are we building the new theater for? RBTL's core audience is older white women.
"That's building for older generations instead of the future," says Carter. While younger people may go to specific shows occasionally, "I don't see that being a place that actively draws and attracts the next generation."
Carter and Mitrano urge city officials to slow down. Do something temporarily, make it easier for more people to use Parcel 5, and test the possibilities. Get the community behind it.
And over time if it's clear that there's too much public space at Parcel 5, "maybe you can still put a building on the front end of it on Main Street and leave the back part empty," Carter says.
If we build a theater and it's not as successful as RBTL predicts, taxpayers would surely be called on to prop it up, Carter argues, because it'd be "one of those things that are too big to let fail." That's happened over and over with local projects including the soccer stadium, Frontier Field, and Blue Cross Arena, he says.
"Let the city, the downtown area around it grow up a little," Carter says. "And then you find out what that area needs. Because right now they're trying to force something in there that's like 'We need this, this will change everything,' when, in fact, do we actually know that?"
The arts leaders

A variety of performing arts groups have been raising concerns about the RBTL theater proposal for more than a year. In July 2017, Geva's artistic director Mark Cuddy and its executive director Christopher Mannelli sent City Council a memorandum with a detailed list of concerns.
While Cuddy and Mannelli signed the memorandum, they said it was the result of discussions the previous month by more than a dozen leaders of Rochester's arts, cultural, and design institutions. Other leaders "have chosen to remain publicly silent," they said in the memorandum, "because of their ongoing relationship" with City Hall, an obvious reference to city funding for the arts.
The arts leaders said they were not taking a position for or against the proposed RBTL theater. But, they said in the memorandum, "in our view, due diligence has not been undertaken and the arts community has not had an opportunity to comment."
Among the points the memorandum raised:
• Is a single theater the best use of Parcel 5? Will a theater open only a few hours a day, fewer than 365 days and nights a year, boost downtown's vitality and support Rochester's arts and cultural sector?
• In a region with relatively flat population growth, is there enough audience to support a 3,000-seat theater? (RBTL's Auditorium Theatre has 2,400 seats.)
• How will the new theater affect existing venues and non-profit organizations?
• What will happen to the historic Auditorium Theatre if RBTL has a new theater?
• What can the city do to support the wider arts and cultural community?
The memorandum also raised a concern that many critics of the RBTL proposal have raised: While RBTL staff and support personnel are local people, the performers and producers of the touring Broadway shows are not, so their payroll doesn't do much for Rochester. And much of the proceeds go out of town.
"According to RBTL's 2014 Form 990," the memorandum said, "at least 64% of expenses went to 'artist fees' – paid to the for-profit producers who toured their shows to the Auditorium. With touring residencies in Rochester mostly limited to one week or less, these payments overwhelmingly go out of our community, engendering very little local economic impact."
"What is the public value of dedicating land, construction dollars, and possible annual subsidies to a project that creates more revenue to send out of Rochester to for-profit promoters and producers?" the memorandum said.
The memorandum also challenged RBTL's insistence that it will not have an operating deficit in the new theater. A consultant's study of a previous iteration of a new RBTL theater – as part of the Renaissance Square project planned more than a decade ago – suggested that the theater would have a deficit of nearly $1 million. If RBTL runs a deficit in a theater on Parcel 5, the arts leaders asked, wouldn't city and county taxpayers have to make up the difference to keep the prominently placed theater from shutting down?
Concerns about the theater continued to grow last summer, and in August, officials of the Rochester Philharmonic Orchestra, the Eastman Theatre, Geva, and other institutions wrote Mayor Lovely Warren and City Council urging them to conduct a study of how the new theater would impact existing arts venues.
The city commissioned that study, and it was due to be completed at the end of this month. However, this month city officials agreed to give the consultants an extension. The due date is now September 30.
In interviews earlier this month, arts leaders said their concerns from last year are still valid. "There are still lots of unanswered questions," Geva's Mannelli said – including specifics about the project itself.
Several arts organizations are in the midst of large fundraising campaigns, Mannelli said, and they're concerned about how the RBTL project might affect them.
"Our biggest concern in this," said Mannelli, "is that we want what's best for the city as well." And, he said, some of Rochester's numerous small arts organizations need assistance, he said, "so we hope their voices are being heard."
Geva's leaders have been particularly outspoken about the RBTL proposal, and Mannelli cautioned that Geva's concern isn't "pushback against RBTL, because we believe that what they do has a place in the full spectrum of arts and entertainment in the city."
"It's not that we think they shouldn't be doing the work," he said. "It's important work and should be there. It's the question of the impact of this particular project and that idea of the transparency behind it, what the plan is, if it's a feasible plan or not, and the lack of detail around it."
Arts and Cultural Council chair Dawn Lipson also raises question about the theater's feasibility and the lack of detail.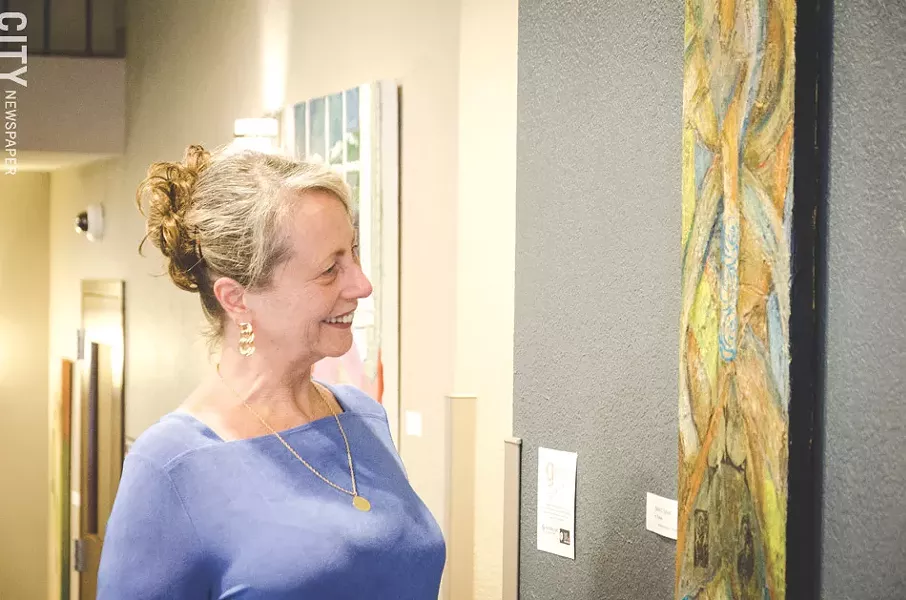 FILE PHOTO
Dawn Lipson (above) is president of the Rochester Arts and Cultural Council. With her late husband, Jacques Lipson, she has been a longtime benefactor of local arts organizations.Also speaking out on behalf of arts groups concerned about the impact of a new RBTL theater have been Geva Theatre's executive director, Christopher Mannelli, and its artistic director, Mark Cuddy.
A major concern is "the budget that was presented by Broadway Theatre League," she said in a recent interview. "It shows an increase in patronage, and we don't know what that's based on. We don't know where they're getting that data from."
"You'd have to be 80 or 85 percent full to make those budget numbers," Lipson said. "And they haven't been doing that the past couple of years for a smaller house. And I know they say, 'Well, part of it will be the new venue,' but I don't know what they're really basing that on. And so, that has the arts community concerned."
"I think it really comes down to: If this is a viable plan, there should be documentation going forward about where the budget numbers are coming from, how they can be verified," Lipson said.
"When we have a stable population in our community," she said, "where are these additional patrons going to be coming from?"
The consultants' feasibility study hasn't been completed, so it's hard to know what they looked at, but arts leaders felt that the previous study – conducted in 2016 – was too limited. And both Lipson and Mannelli say that based on what they've heard from people who have been interviewed, the scope of the current study is also too limited.
"It was done by a company that's not familiar with the local landscape," Lipson said, "and it didn't go into the kind of detail that would really raise the comfort level of those that are concerned in our community."
The arts community, she said, wants to see a plan. "There've been so many revisions and changes," Lipson said. "They'd like to see a plan as it exists now, this day and time. They'd like to see a real budget and citations about what that budget is based on. And they'd like to have a more transparent process with the city."
The developer

Developer Andy Gallina's proposal for a 14-story mixed-use building – commercial on the lower floors, condominiums above – was, in his words, "selected and then unselected."
PHOTO BY JOSH SAUNDERS
Andy Gallina is president of the family-owned Gallina Development Corporation, which specializes in commercial and real estate development and management in Monroe County. Among its developments: the Metropolitan, the former Chase bank building, which it has converted into commercial and residential use, and the Midcentury Modern office building 1 East Avenue adjacent to Parcel 5.
His was one of three proposals submitted for development of Parcel 5, and both he and city officials agree that he was initially told he was the city's choice. But when state funding fell short of his request and he wanted time to redo his numbers, the city awarded the development to RBTL and Morgan.
Gallina is clearly proud of his proposal. Architectural engineers at SWBR worked with him to develop it, he says, and it was based on their collective knowledge of downtown Rochester, its challenges and its potential. Together they defined four key things they felt downtown needed: parking, retail, home ownership, and green space, and they designed a building to address all four.
"Parking continues to be a problem downtown," says Gallina, whose other downtown properties include 1 East Avenue, adjacent to Parcel 5, and the Metropolitan, the former Chase bank building. "I struggle with it almost daily. With bringing people downtown, the thing is tenants need parking, and we don't have good parking or good easy parking solutions. It's always a little here or a little there. But we don't have a good parking conversation in our community."
For his building, Gallina says, "I was going to excavate the whole parcel and go down two levels and create 155 spots underground. That would go right underneath the whole parcel."
Gallina and his team believed that downtown needs retail, so the building included retail space on Main Street. It also included space for a restaurant or bar to have entertainment – jazz, maybe – and outdoor dining. Offices would have decks or patios so people could go outside, all of that designed to help invigorate Main Street and downtown.
Gallina is convinced – and outside advisers to the city agree – that downtown needs more owner-occupied housing units. "People want to come downtown," he says "but people want to buy."
Right now, home ownership within the Inner Loop is only about 4 percent, says Gallina, "We want people to invest and people do want to invest. But what we got now is all rental. That's a big concern."
"People want to come downtown," he says, "but people want to buy. They want something that's theirs, and we found that to be a big hole."
"It was always about what this community needs," Gallina says. "It's been well-documented that we need retail. We need people on the street. Lovely has talked about how we need people on the street. So we recognize that and we agree."
Gallina already has condominiums in the works, on the top five floors of the Metropolitan, which also houses commercial space and apartments. And he's convinced that "they'll fly off the shelves."
"We've had a lot of interest," he says.
"The last component," Gallina says, "which I personally feel is just as important as any of them, is greenspace."
Gallina's proposal included open space behind his building, facing Tower 280, to be used as an urban park. Although Gallina would have paid the city $1 million, he would have given the green back for community use.
PHOTO BY PETER PARTS, COURTESY OF THE XEROX ROCHESTER INTERNATIONAL JAZZ FESTIVAL
Both the Fringe Festival and the Xerox International Jazz Festival have staged events on Parcel 5, drawing massive crowds.
While the mayor never announced that she had chosen Gallina's project, she had made that decision.
What happened?
To make the numbers work, Gallina needed some help both from the city and the state. "The biggest thing was we asked the state for some financial support for the parking garage," Gallina says.
"The state came back with some money," he says, but not enough – "substantially less than what we asked for. So we had to rethink this and reprice this, because we didn't get the support that we thought we'd get either from the city or the state."
And that, he says, is "the time period where the mayor changed her mind about this whole thing."
Both Gallina and city officials say that that city officials had a press release ready to announce the mayor's choice of Gallina. And Gallina wouldn't permit its release.
"Why? Because it was inaccurate," he says, "and it announced the project, but I wasn't ready to commit to it because of a whole host of things."
Gallina says that once the state didn't offer as much support as he requested, he asked his team to rework the project enough to make it financially feasible. He was simply doing what any intelligent, successful developer would do at that stage, he says: conduct the "value engineering" that was needed, getting specific costs as the plans and designs were developed.
City officials say this was only one of several times Gallina had requested delays. Gallina agrees but says that back-and-forth discussions between government and developers aren't unusual as development plans continue to be fleshed out.
And while Gallina and his team were reworking their design, Arnie Rothschild went back to the mayor with a revised proposal of his own – plus a $25 million commitment from Tom Golisano and an apartment tower addition by Bob Morgan.
On April 7, 2017, the mayor announced that she had chosen the RBTL-Morgan proposal.
And, says Gallina: "When we were unselected, our statement said, 'Hey, fine. Whatever is best for the community.' And that's where we left it."
"But the community does have to get behind this," Gallina adds, "and that's where we are now." Public officials and the community are still trying to understand what's best for the community, he said: "That's why you're going to find a whole host of folks that are pushing just for greenspace."
"I'm not a strong supporter of the performing arts center," says Gallina. "It's not the right location, and it's not serving enough of the cultural institutions. For all of the public money going into it, it's serving RBTL and that's all."
"And I would like to see some more space for some of the other cultural institutions like Garth Fagan and some of the others that wanted to use this space," says Gallina. "If we're going to do this and use public money, why do it just for RBTL? I think there's an opportunity here to make it much more of a community performing arts center."
The theater's promoter

Arnie Rothschild and the Rochester Broadway Theatre League, which he heads, have been trying to get a new theater for RBTL's performances for decades. RBTL's current home, the Auditorium Theatre on East Main Street, is too small, he says, and its age and physical constraints – limited parking, for instance, and no air conditioning – limit the shows RBTL can get and the length of the runs.
A new theater, he says, is essential for their future success. And they want that theater to be in downtown Rochester.
Rothschild, who himself lives downtown, has been adamant about the theater's location. As fundraising for previous proposals stalled and critics – including city officials – questioned his financial projections for the theater, Rothschild has looked at other sites, in Henrietta and in Irondequoit. But his preference has always been downtown. It's an ideal location, Rothschild says, and it will help boost downtown development.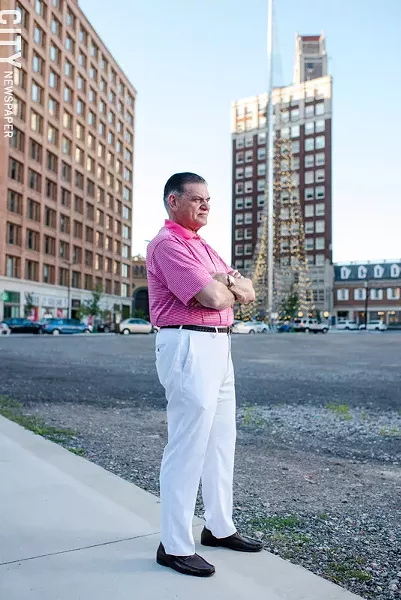 PHOTO BY JOSH SAUNDERS
Arnie Rothschild is the longtime CEO of the Rochester Broadway Theatre League, which stages touring productions of Broadway shows and other performances at the Auditorium Theatre on East Main Street. Rothschild is president of Normal Communications advertising company; his clients include numerous Republican political candidates.
RBTL and city officials have talked about building it on the Midtown Plaza site for years; an RBTL theater was envisioned there even before Midtown Plaza was demolished in 2010.
The addition of an apartment building by the Morgan development company helped convince city officials to choose RBTL for Parcel 5. Now, Morgan's part of the theater-residential package seems in doubt. That doesn't preclude another developer picking up that part, though. And so to the Warren administration – and to RBTL – the project is still very much alive.
The RBTL part of the proposal that the city accepted in April 2017 calls for a 3,000-seat theater. The building would also contain retail space, a restaurant, and an area for corporate entertaining.
The theater would be "a state-of-the-art-theater," Rothschild says, "including facilities for people with special needs."
"You would enter at street level," Rothschild says, "and walk downgrade into the theater, which allows the loading dock to be aligned with the tunnel system at Midtown."
The theater would be air-conditioned, permitting RBTL to increase its summer bookings. There would be green space on top of the building for community events, and a stage on the east side of the building for outdoor events. And RBTL envisions blocking adjacent streets at nights and on weekends for sidewalk dining, food trucks, and entertainment.
Parking would be underground, in the former Midtown Plaza garage.
Initially, the theater was referred to as a performing arts center, which drew fire from opponents of the RBTL plan. "It is a fair criticism to say that a performing arts center has multiple theaters," Rothschild says. This building will have only one theater. (Rothschild says that it's currently called the Golisano Arts and Entertainment Center).
And he adds: Years ago, the city and county conducted an inventory of arts organizations' facility needs. The recommendation was that the community needed a large venue for events like touring Broadway shows and a mid-size venue with about 1,500 seats.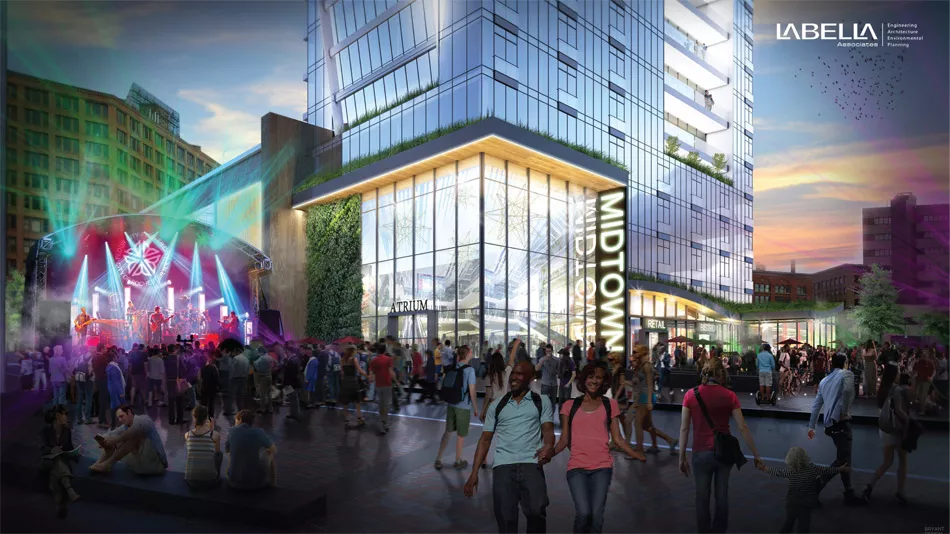 The proposed new theater on Parcel 5 would fulfill the first need. And Rothschild says RBTL plans to renovate the Auditorium Theater – which now has 2,464 seats – into a 1,500-seat theater, meeting the second need.
Rothschild says the needs of dance groups – for special stage flooring for instance – will be met in both theaters.
While RBTL would take its big shows to the new downtown theater, it would keep its educational programming at the Auditorium facility and would heavily market its downsized theater there. Rothschild insists that RBTL will find plenty of uses to keep the Auditorium in operation.
A long-standing concern about a new theater for RBTL has been that if its revenue didn't cover operating costs, taxpayers would have to bail it out. Rothschild insists that there's no risk. RBTL has generated an operating surplus for the past 14 years, he says: "We're not asking for an operating subsidy."
And while the new theater would be larger than the Auditorium, Rothschild says, so would its revenue. Revenue from ticket sales has grown for organizations like RBTL that host live performances, Rothschild says. "The vast majority of tickets are sold online, and the venue gets part of that fee."
In addition to ticket sales, contributions, and revenue from concessions, RBTL is counting on revenue from parking at the Midtown garage. Morgan Management, Buckingham Properties, and Pike Development company are partners in an LLC that owns and operates the garage, and parking revenue was part of the RBTL-Morgan proposal for Parcel 5. Rothschild says he assumes that plan could continue, regardless, since RBTL would be bringing additional business to the garage.
RBTL would also earn money from "a significant amount of catering from corporate events," Rothschild says.
Another concern raised by critics of the RBTL theater proposal is the number of days and nights the theater would be in use. It doesn't add vitality to downtown if a large building on a prominent Main Street site is dark for about half the nights of the year and closed many of the days. Currently, RBTL hosts 137 performances in the Auditorium each year. RBTL estimates that in the new theater, RBTL would have 180 to 200 performances. The additional seats will enable RBTL to get bigger shows, earlier, and keep them longer, Rothschild says.
"Hamilton" is coming to the Auditorium Theatre, but not until next April. "If we had had a 3,000-seat venue, 'Hamilton' would have already been here," Rothschild says. "They made a list of markets by seating capacity, and we were on the second page, half-way down."
The building would also be available for other uses, Rothschild says, everything from conventions and concerts in the theater itself to weddings and parties in the auxiliary spaces. A few months ago, Mayor Lovely Warren suggested that perhaps the new theater could screen Imax movies. Rothschild doesn't suggest that, but, he says, there have been discussions about having a screen in the theater, which could be an attractive amenity for corporate meetings.
Could RBTL build a theater somewhere else downtown – for instance, on the property known as Parcel 10, the large vacant parcel on the west side of the river just south of the Blue Cross Arena?
"Parcel 10 has a number of issues," says Rothschild. "We looked at it." But there are big drainage pipes underneath it, there's an easement for RG&E, access for tractor trailers for touring shows would be difficult – and it's a contaminated site, Rothschild says.
"We did an engineering study," he says, and RBTL would face $4 million in clean-up costs "minimum."
And RBTL would have to build a parking garage.
All told, a theater on Parcel 10 would be prohibitively expensive, Rothschild says.
Why not simply renovate the Auditorium and air-condition it? Too expensive, Rothschild says, and RBTL would still be left with a 2,400-seat auditorium, waiting in line for some of the big shows, missing out on longer runs, and missing some shows entirely.
"We have an unusual situation," Rothschild says, in that Albert Nocciolino is a partner. A Binghamton native, Nocciolino is a major investor in Broadway shows; he's been a co-producer of "Driving Miss Daisy," "The Piano Lesson," "Rent," "Kinky Boots," and numerous others. And he has helped steer top shows to Rochester.
At some point, Nocciolino will retire, though, and when he's no longer a partner with RBTL, says Rothschild, the touring shows' bookings into Rochester will be based solely on capacity. And that, Rothschild insists, will be a handicap.
In March, Warren announced the formation of a new team to aid RBTL's effort, led by former Chamber of Commerce CEO Sandy Parker, "to seek to engage the public, funders, the arts community and important community stakeholders in the process." Leading fundraising efforts are Rochester Red Wings CEO Naomi Silver; Elaine DelMonte, who has been involved in fundraising and management with area non-profit organizations; Tom Bonadio, CEO of the Bonadio CPA firm; and David Flaum, CEO of Flaum Management.
Currently, the fundraising is "in kind of a holding pattern," Parker said in a recent interview. The Morgan apartments are "a critical component of that project," Parker said, and with the uncertainty about the Morgan company, "we're really at kind of a standstill," she said.
Parker's aware of public concerns about the RBTL proposal. "One of the things we've wanted to do when we get moving again," she said, "is to have an open conversation, have the auditors from RBTL give a presentation on the financing, have the folks from LeChase [the contractor for the theater] talk about building the facility."
Parker is enthusiastic about the RBTL theater. "What impressed me was the mayor's passion for this," she said. "I think she sees this as a critical component to bringing back downtown. We've got 10,000 people who live downtown now, with all of the various housing that has gone up. But one of the things we need to do is keep them downtown. We need to get them out on the streets after 5 p.m."
The theater, she said, will help do that.