Ten restaurants that define Rochester's dining scene
Rochester's culinary community has developed into a dynamic scene over the last 10 years. It may be impossible to fully define, but City Newspaper's dining staff has set out to describe the area's food landscape through its first list of 10 essential Rochester restaurants.
This isn't a traditional top 10 list: These aren't necessarily the city's "best," "trendiest," or "favorite" restaurants, although they are exceptional. We looked at cafes, take-out stands, restaurants, and food trucks, and focused on places that have longevity; introduced new ways of cooking or eating to the area; or hold an iconic role in Rochester culture. This list reflects the way, where, and how city residents are eating now — all of which will inevitably change in the near future.
Deciding which restaurants define Rochester wasn't easy. In some cases, we were strongly divided, and we imagine some readers will be, too. If we missed your favorite spot, or if you disagree with this list, leave a comment below this article online at rochestercitynewspaper.com.
Good Luck
In many ways, when you think about the modern restaurant scene in Rochester, you have Good Luck to thank. When it opened in 2008, Good Luck was the definition of a trendsetter. From a decor perspective, the restaurant was a local pioneer in its use of exposed beams and Edison bulbs, no sign on the exterior, and an overall industrial yet rustic feel. The innovations continued with a craft cocktail menu that changed the game here, and the bar continues to be a standard for quality and a key host of events during the Rochester Cocktail Revival.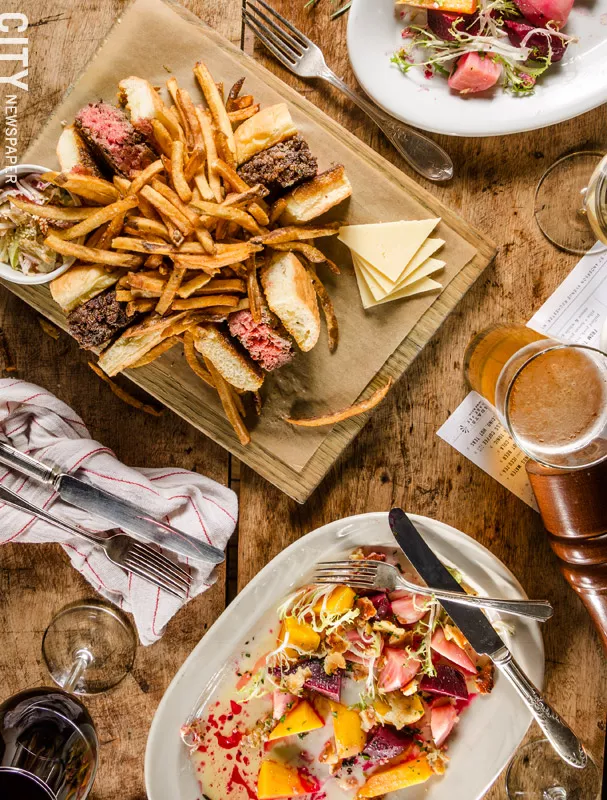 PHOTO BY MARK CHAMBERLIN
The Good Luck Burger at Good Luck Restaurant in Rochester acoompanied by a roasted beet salad.
The menu at Good Luck is based on sharing plates among the table, and is known for a massive, one-pound, house-ground burger. Served with a pile of perfectly cooked French fries, the dish is one of the best burgers in town. Good Luck has the best of both worlds: plenty of approachable dishes, and seasonal and creative options with consistently high execution.
Good Luck is open Wednesday through Saturday, 4:30 p.m. to 2 a.m. 50 Anderson Avenue. 340-6161; restaurantgoodluck.com.
Highland Park Diner
If the food weren't so damn good, you might be tempted to dismiss the hip-kitsch factor of the Highland Park Diner as gimmicky, but the food — from breakfast through dinner — is solid and made from scratch. And the décor is anything but gimmicky; it's the real deal.
FILE PHOTO
Highland Park Diner.
The Highland Park Diner, built by the Orleans Diner Company of Albion in 1948, is the only diner made by that firm still in existence. Inside the gleaming diner car is shiny polished chrome, and sparkly green and white upholstered booths and counter stools. While the restaurant does serve diner food, it expands on that concept with astounding diversity and quality.
The Highland Park Diner offers upwards of 15 kinds of salads, 15 varieties of burgers, more than 15 different deli sandwiches, 20 versions of eggs benedict, 30-plus omelet selections, French toast made with challah, Greek specialties, homemade corned beef hash, and the best and biggest kickass milkshake you'll find for $5. While some places that try to do too much often do little of it well, the Highland Park Diner is an exception to that maxim. This is delicious upscale diner food with a comfortable down-home feel.
Highland Park Diner is open Monday through Thursday, 7 a.m. to 9 p.m.; Friday, 7 a.m. to 10 p.m.; Saturday, 7 a.m. to 9 p.m.; and Sunday, 7 a.m. to 8 p.m. 960 South Clinton Avenue. 461-5040; search for Highland Park Diner on Facebook.
The Kitchen
You'll find many restaurants that are based around prix fixe menus in larger cities, but The Kitchen is one of only a meager handful in Rochester with this style. The restaurant has been open for little more than a year, and has made its mark on the dining scene in a serious way with its 5- and 9-course dinner offerings. The dedicated clientele is interested to see what Chef Joseph Cipolla has created on each new menu.
The experience at The Kitchen is refined, all the way from the decor to the service and the presentation. The food is artfully laid out on the plate to highlight the cooking techniques used on each dish's produce and meats. And the seafood is sourced from Browne Trading Company, which sells hand-picked fish to some of the finest restaurants in the country.
PHOTO BY MARK CHAMBERLIN
A Chef Cipolla creation for his tastingmenu at The Kitchen in Pittsford.
The Kitchen is a true dining experience; its techniques and presentation are modern in the best possible way.
The Kitchen is open for a 6:30 p.m. seating on Wednesday and Thursday; and 5 p.m. and 7:30 p.m. seatings on Friday and Saturday. 5 South Main Street, Pittsford. 310-2467; cipollaromaine.com.
Nick Tahou Hots
Where to get the best Rochester plate is a popular debate in our city, but sometimes you have to pay homage to the original. Nick Tahou Hots is the reason that owners of every other restaurant that serves a plate thumbs through the thesaurus trying to come up with a synonym for "garbage" — Nick Tahou has the "garbage plate" name on lockdown.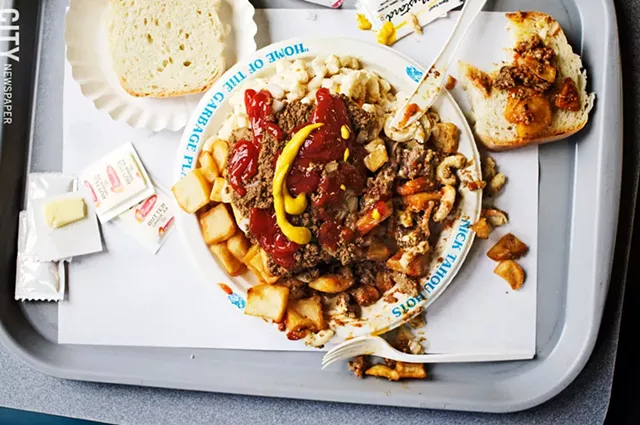 FILE PHOTO
The Garbage Plate from Nick Tahou's
Like it or not, the plate is Rochester's signature dish, and when you inevitably take someone from out of town to break their garbage plate cherry, you have to take them to where it all started. Let them gaze with wonder at the place that Nick Tahou first decided to place grilled meats on a glorious bed of mac salad and home fries, and then sprinkle with onions, mustard, and meat hot sauce, like some wizard — the patron saint of the hungover masses. Take them to church.
Nick Tahou Hots is open Monday through Thursday, 8 a.m. to 8 p.m.; and Friday and Saturday, 8 a.m. to midnight. 320 West Main Street. 436-0184; garbageplate.com.
Nino's Pizzeria
Walking into Nino's Pizzeria is in many ways like taking a step back through time. The classic-style pizzeria has been open in its Culver Road location since 1974, and not much has changed since. The pies have their roots in recipes from the old country, and Giacomo Cardella and his son continue to make their pies the same as they always have.
Nino's has found a new audience the last few years through word of mouth, and because its thicker crust, pan-cooked pies don't stick to the typical Rochester style. Multiple crust options and accompanying rustic sauces make up the base, and then the pies are generously topped with fresh ingredients. The crust comes up crunchy on the bottom with a hint of oil. The generous layer of cheeses (mozzarella and locatelli) are cooked on top of all the other ingredients.
PHOTO BY MARK CHAMBERLIN
Thick crust pizza from Nino's topped with peppers, onions, and sausage.
Near the counter is a newspaper article from 1979 espousing the virtues of the restaurant's pizza, and after more than 40 years since opening, it's still the finest takeout joint in the Flower City.
Nino's is open Sunday through Thursday, 4 p.m. to 10 p.m.; Friday and Saturday, 4 p.m. to midnight. 1330 Culver Road. 482-2264; ninospizzeriarochester.com.
The Owl House
Located in a charming old home on Marshall Street, just a stone's throw from downtown, The Owl House caters to herbivores, carnivores, and omnivores with equal opportunity and without pretension. Unlike many restaurants that offer (often uninspired) vegetarian options as an afterthought, The Owl House prepares delicious dishes from scratch for its concise seasonal menus. Some are vegan; some are vegetarian; some are gluten-free; and some are meat-centric. But all manifest culinary innovation.
The Owl House has been locally sourcing many of its ingredients — meats from Seven Bridges Farm in Lima; cheeses from First Light Creamery in East Bethany; pasta from Flour City Pasta in Macedon; greens from Bolton Farms in Hilton; and roasted coffee beans from Joe Bean Coffee Roasters —since 2010, before locavorism was cool. The restaurant takes as much pride in its bar creations as it does in its food. Expertly fashioned cocktails accentuate the dining experience, and a rotating selection of craft brews flow from 12 beer lines at the bar.
In addition to lunch and dinner, The Owl House puts on a distinct Sunday brunch. And it is one of the few Rochester restaurants to serve chicken and waffles. (True to form, the restaurant synchronously offers a vegan tofu and waffles dish at brunch.) And the Bloody Marys are second to none. When the weather warms, The Owl House expands its seating with a cozy outdoor patio, surrounded by hops growing on trellises, behind the house.
The Owl House is open Tuesday and Wednesday, 11:30 a.m. to 3 p.m., and 5 p.m. to 10 p.m.; Thursday and Friday, 11:30 a.m. to 3 p.m., and 5 p.m. to 11 p.m.; Saturday, 11 a.m. to 3 p.m., and 5 p.m. to 11 p.m.; and Sunday, 11 a.m. to 3 p.m., and 5 p.m. to 10 p.m. 75 Marshall Street. 360-2920; owlhouserochester.com.
Le Petit Poutine
Because of Rochester's proximity to Canada, ordering French fries with a side of gravy was commonplace even before establishments started serving Poutine, that heady combination of fries, gravy, and cheese curds. Le Petit Poutine was at the forefront of the food truck scene in Rochester, and after they gained popularity, more and more food trucks started popping up around town. And its poutine is giving competitors, and our northern neighbors a run for their money.
FILE PHOTO
Classic poutine from Le Petite Poutine food truck.
You can find the Le Petit Poutine food truck parked downtown for lunch, at public markets, or even outside of a bar providing nourishment to those with bellies full of beer. What sets Le Petit Poutine apart from other players in the Poutine game is the gravy. Both the vegan and meat gravy options stand out because they don't overwhelm the dish, and the consistency is thin and able to coat the fries underneath perfectly. Even if you aren't a vegetarian, try the vegan gravy, it's that good. The combination of the crispy French fries, the soft cheese, the gravy, and the thyme work deliciously together.
Le Petit Poutine is open at various locations and various times throughout the week. Follow the food truck on Twitter, @lepetitpoutine, for its daily location. lepetitpoutine.com.
Rocco
Walking into Rocco is a delicious assault on the senses as the dim lighting, the lull of conversation, and the smell of tomato and garlic enticingly mix together. Chef Mark Cupolo and his talented kitchen staff are sending out dishes like the Maiale Cotto a Fuoco Lento — slow-cooked pork that is so tender and flavorful it practically melts in your mouth.
The Ricotta Fatta in Casa — house-made ricotta drizzled with olive oil, sprinkled with fresh herbs, and served with charred bread — is a must "for the table." And that Butterscotch Budino will get you every time, even if you walk in saying you will not be having dessert tonight.
The staff is attentive and knowledgeable about both the menu and the carefully curated wine list. Once a year, Cupolo creates an entire garlic-themed menu for Rocco's Garlic Fest that runs for a week. It is not to be missed. There's love in this food.
Rocco is open Monday through Thursday, 5 p.m. to 9:30 p.m.; Friday and Saturday, 5 p.m. to 10 p.m.; and for lunch on Friday, 11:30 p.m. to 2 p.m. 165 Monroe Avenue. 454-3510; roccorochester.com.
Swan Market
At one time, any northeastern American city featured communal gathering places for any of the myriad ethnic groups that comprised the lifeblood of the city. And often these places revolved around food. Swan Market, in the same residential neighborhood on Rochester's east side for more than 80 years, is a genuine throwback to those times.
A German deli and a restaurant, Swan Market serves authentic dishes four days a week. If you stop in between 11 a.m. and 2 p.m. any Wednesday through Saturday, you can partake in one of the city's great lunch rituals: communal tables filled with invariably convivial diners enjoying anything from a sausage platter (Swan offers five varieties of wurst) to goulash, sauerbraten, jägerschnitzel, or rouladen.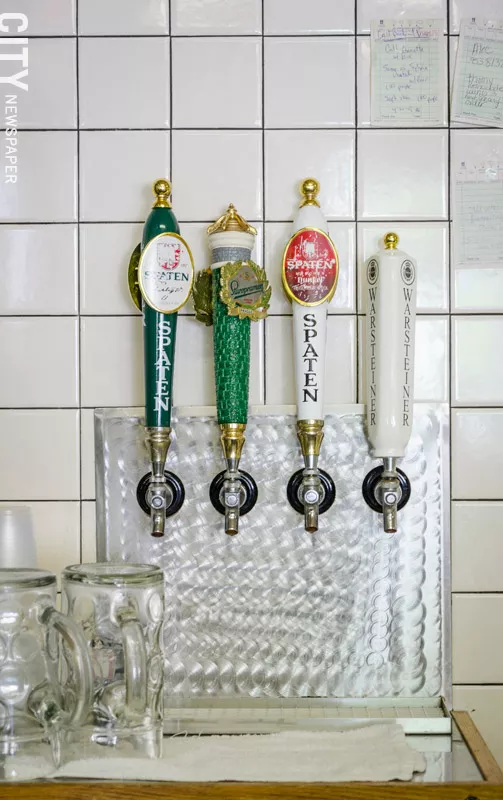 PHOTO BY MARK CHAMBERLIN
Classic German beers on tap at Swan Market.
The hearty meals, which come with two sides and baskets of dense German rye bread, are ridiculously affordable at either $8.50 or $9.50. To complement and complete your lunch, there are German beers on tap, available for the hearty spirit in liter-size steins. In addition to lunches, Swan Market is like a candy store for meat lovers. Owner Barry Fischer — who apprenticed with German master butchers — stocks his display case with handmade German-style cold cuts, smoked hams, salamis, and sausages. Swan also provides live German music on the last Thursday and Friday of each month.
Swan Market's deli counter is open Wednesday through Friday, 8 a.m. to 5 p.m.; Saturday, 8 a.m. to 2 p.m.; and is open for lunch on Wednesday through Saturday, 11 a.m. to 2 p.m. 231 Parsells Avenue. 288-5320; swanmarket.com.
Voula's Greek Sweets
It's hard not to be smitten by Voula's Greek Sweets. Warm and friendly, the café is decorated like your favorite great aunt's kitchen, complete with well-loved furniture, mismatched dishes, and vintage knick-knacks. Owner Voula Katsetos-Stratton keeps things humming, overseeing the kitchen and the dining room while serving small cups of potent Greek coffee with a genuine smile.
The centerpiece, though, is the deeply satisfying Greek food and desserts, which are also vegetarian (plus many vegan or gluten-free options). Voula's spanakopita is delicious: crisp layers of filo, earthy spinach, and tangy feta make for an addictive lunch. The garlicky skordalia spread is so good on wedges of lagana bread, it's hard to stop eating it — but then there wouldn't be room for tender lemon potatoes, sprinkled with salt and oregano.
Even when stuffed, there's always room for one of the many desserts. Baklava is a standard, but there's also Folitses, a pastry made with syrup-soaked shredded filo dough surrounding a core sweet nuts; Revani, a cake made with toothsome farina and flavored with orange zest; and Kariokes, dense half-moon shaped fudge bars scented with warm spices.
A visit to Voula's Greek Sweets never disappoints. It's like coming home, if you're lucky enough to have a loved one who's a damned good Greek cook.
Voula's Greek Sweets is open 10 a.m. to 4 p.m. on Monday through Wednesday and Friday through Sunday; and Thursdays, 10 a.m. to 8 p.m. 439 Monroe Avenue. 242-0935; facebook.com/voulasgreeksweets.