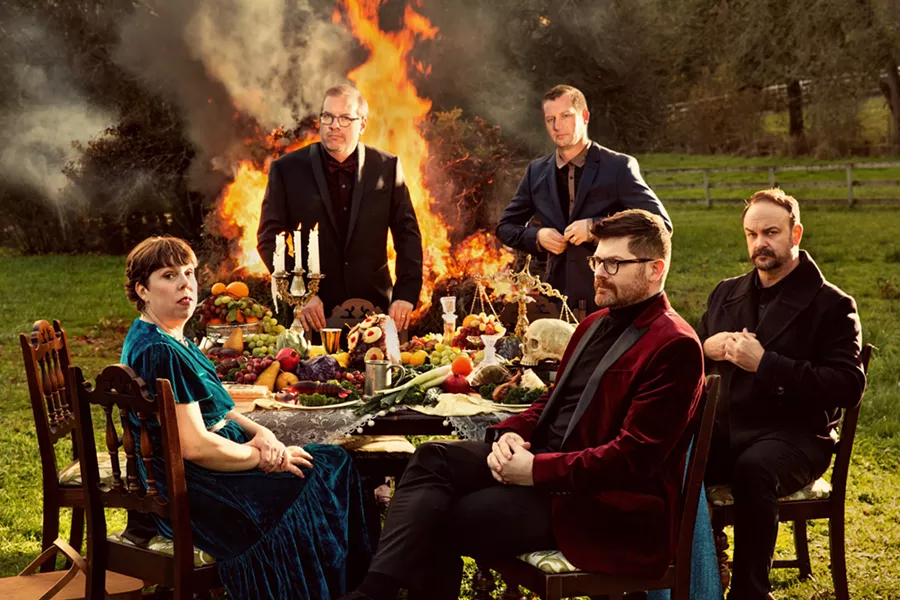 PHOTO BY HOLLY ANDRES
The Decemberists released its eighth full-length album, "I'llBe Your Girl," in March. The band is playing The Smith in Geneva on Monday.
The Decemberists spin tales that drip with richness. Front man and principal songwriter Colin Meloy's plots merge with his advanced vocabulary to produce sonic exercises in creative writing that have resonated with listeners for nearly two decades. Folk music, sea shanties, prog, and even stoner rock are among a menagerie of styles utilized by the Portland, Oregon, band.
The band — Meloy (vocals, guitars); Jenny Conlee (piano, keyboards); Chris Funk (multi-instrumentalist); Nate Query (bass); and John Moen (drums) — is at once a throwback and a leap forward. Its penchant for storytelling and old-fashioned, acoustic songs would have easily charmed audiences a century ago.
The band's latest album and its eighth full-length, "I'll Be Your Girl," finds the Decemberists in uncharted waters. Synthesizers at the forefront of a few tunes point toward a number of different directions: opening track "Once In My Life" channels Meloy's inner Morrissey while adding a gospel backdrop; studio-experiment-turned-lead-single "Severed" speaks volumes about the group's politics and love of 80's college rock; and "Rusalka, Rusalka / Wild Rushes" continues down the quintet's well-trodden path of scholarly rock rooted in folklore.
The Decemberists are performing at the Smith Center for the Arts in Geneva on Monday, April 23, so CITY reached out to Chris Funk with a few questions while he was at home in Portland on a short break before heading back on tour. An edited transcript of that interview follows.
CITY: What's something unique The Decemberists do while on tour?
Chris Funk: We have a pre-show ritual, more or less — pending other obligations — we huddle up and play board games backstage.
Is there someone who always wins?
Colin wins quite a bit. I'd say Colin wins like 95 percent of the time. I don't know if that's us allowing him to win as our benevolent dictator or ... [laughs] He's a smart dude.
The Decemberists are touring this year with Eleanor Friedberger and Gaelynn Lea. How does the group pick who it wants to tour with?
These days it takes submissions from agents, but then it's also a combination of friends and bands we like. We try to mix it up and think about the album we're putting out and about the style of music that other people are doing. Gaelynn played on our new album and she's a friend of the band. Eleanor is an old friend of the band. So both fall squarely into the friends department.
How has your audience evolved since the band started out?
We've been a band for 18 years. Initially it was very much an indie rock audience. We were playing small clubs and were identified as an indie band because of our label, Kill Rock Stars. Now our audience has grown to parents and children that like the band together.
I always think that we're getting old and that our audience is getting old, but when I look out, there's still young people coming to the shows. We're not a pop group, but we certainly have shot out of the small clubs. We're not a performing arts act either so our audience isn't a bunch of subscribers to orchestra concerts. It's a pretty diverse group of music lovers, and I think our music hits so many genres that if you have a deep record collection, you would probably grab onto us.
What song would you consider a high point?
Maybe the stuff on the "Hazards of Love" album — it could be argued that album in its entirety is one long song. "The Island" off the "The Crane Wife" has also showed our best colors. It's a longer prog-rock song that was patched together and has some complicated parts. Maybe the "Mariner's Revenge" defines us. The new album has songs that I'm excited about. "Severed" is an interesting song for us. I think "Rusalka, Rusalka / Wild Rushes" is cool and the tone of that song is exciting.
How does the new album fit into your catalog?
I hear it fitting squarely into our catalog. "The Hazards of Love" was very guitar heavy and stoner rock riff driven, so to use more synthesizers and to treat the drums so they sound more like a drum machine, at times on the new album, makes total sense. "I'll Be Your Girl" is being tagged as a synth-heavy album. I don't think that it is much of a departure for us, but I think it's cool that some people feel slightly challenged. I think it's your duty as a musician and an artist to push yourself and try to get out of the rut.
What did having a number one album [2011's "The King is Dead"] mean to the band?
It felt more like a celebration for the people that were working for us, and I don't think it changed anything for us musically. I always go back to the music because all the other things flying around are nice accolades but they don't really change your daily life and they certainly don't change the music. How you get a number one album? There's a bit of strategy and there's a bit of planning and there's a lot of luck. What it means is that we were at the right place at the right time.
Can you describe your songwriting process?
The genesis of most of the songs happens with Colin at his home, so I can't speak to those moments of inspiration. Sometimes the songs are fleshed out with a strong vision, and other times the songs are like "Severed," which was a completely different sounding punk rock song when that came into the studio.
There's an EP from when I first started playing with the band called "5 Songs" and there's a song called "My Mother was a Chinese Trapeze Artist," and it's fantastic, and I was just getting to know Colin at that time and asked him, "Is that really about your mom?" And he was like, "No, I'm from Montana." Colin always has had a fascination writing about non-narrative, character-driven subjects and later about writing from the first person and his experiences. But all of the songs are actually from experiences: effects from things he's read, movies he's watched, ideas or incidents that happened.
How does The Decemberists balance out being an eclectic, literate band with trying to attract a wide audience?
I don't think we've always considered ourselves a literate band. Colin, who was there at the beginning, was always writing what could be considered pop songs that were three minutes long, and it wasn't until later that we started expanding into prog-rock and trying to challenge our audience and frankly challenge ourselves. Colin gets the literate tag because he uses unusual words, and also uses synonyms that have a better pentameter. It's sort of like trying to do a couplet or a rhyme, but the word banana doesn't work, so you have to say plantain. I think it was out of trying to create a world, and maybe not being completely conscious of it. He's been writing songs like that forever.
Has your personal experience as a curator at the Newport Folk Festival impacted your contributions to the band?
I wouldn't say that it influenced the band, but it's an honor to get to do that. Unfortunately I can't do it this year because of our touring schedule. It's broadened my mind to have an avenue to explore and dig deeper, looking at other artists and to hear music from around the world.
I'm really interested in music from other cultures and interested in the shared experiences everyone has. Everyone is living the same struggles, and I think the world is so polarized nowadays that it's great to return to music and to see how someone in Iowa or Alabama is enjoying music just like somebody in Afghanistan, who is also just trying to get through the day and pay the bills and raise a family.
What has been the most rewarding thing about being a member of the Decemberists?
It's allowed me to not only focus on performing, recording, gaining experiences, and travel but also to wake up every day and say, "Cool, I get to do music today." I started taking it seriously from day one when I quit my job and got in the band.