Garth Fagan Dance opens its home season at Nazareth College Arts Center December 2 with performances that include new work by both Fagan and his protégé Norwood Pennewell, as well as older pieces from the company's extensive repertoire. And it's an important season: This year marks the company's 45th birthday and Fagan's 75th.
Not many modern dance companies achieve such longevity. Fagan's company is among an elite few that include Alvin Ailey American Dance Theater, Twyla Tharp Dance, and Paul Taylor Dance Company.
Garth Fagan's name is recognized by dancers and dance enthusiasts all over the world. And he has received a plethora of awards, including a Tony for his choreography in Disney's Broadway musical "The Lion King," the Laurence Olivier Award for the same, and a Bessie Award (the dance equivalent of an Oscar or Tony) for Sustained Achievement. "The Lion King" now has the most successful box office total of any work in any medium in entertainment history. But Fagan still choreographs mainly for Garth Fagan Dance, which has remained, in spite of its overwhelming success, a Rochester-based dance company.
Fagan was born and raised in Jamaica, and after moving to New York City in his youth, he studied with iconic dance figures Martha Graham, Jose Limon, Mary Hinkson, and Alvin Ailey. Their influence is still reflected in his unique choreography – a blend that includes elements of modern, Afro-Caribbean, and ballet. These elements are also reflected in the work of Pennewell – PJ – who began choreographing for Fagan in 2010, setting pieces on the company he has danced with since 1978.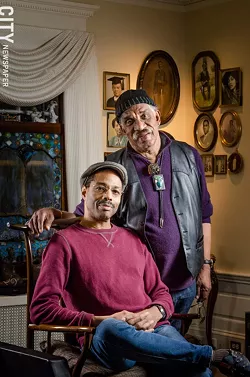 PHOTO BY MARK CHAMBERLIN
Garth Fagan is working closely with rehearsal director PJ Pennewell to prepare for his company's future.
Pennewell is assistant to Fagan and rehearsal director, teaching both company and master classes. He was a Bessie Award winner in 1988 for his dancing in "Moth Dreams," which Fagan created for him. And he's the first person Fagan has ever asked to choreograph for his company.
"I'm being groomed for the future, along with Natalie Rogers and William Ferguson," Pennewell said in a recent interview. "We're being groomed to carry the company forward in the future." Rogers is a veteran dancer and director of the Garth Fagan Dance School. Ferguson is artistic-administrative liaison and personal assistant to Fagan and instructor and choreographer at the school.
Pennewell's choreography is bound to the work of his mentor, yet it's distinctive enough to distinguish itself in its own right. So far, critics and audiences have responded enthusiastically.
"I haven't really scrutinized how I've done, because I've been enveloped in the work," Pennewell said, "but I use Garth as my barometer, and he seems pretty confident in me."
His fifth piece, "So You See," featuring soloist Sade Bully, is on the program for this home season.
"It's really an age-old story," Pennewell said. "The moral of the piece is that if you persevere, you can overcome obstacles and reach the goals you've set for yourself."
Pennewell himself seems to be doing this exceptionally well. And how does he handle the pressure? One day at a time, he says. One day at a time.
In a recent interview, Fagan and Pennewell talked about their work and shared their thoughts about the future, for themselves and the company. An edited version follows.
City: Garth Fagan Dance celebrates 45 years in existence this year. Very few modern dance companies withstand that test of time. What have been the most important factors in your company's successful longevity?
Fagan: Hard work, movement invention, and wonderfully trained, intelligent dancers. Our dancers are not just nourished in the studio but attend concerts and plays together; they go to art galleries and poetry readings. When they return to our studio, they are expected to critically discuss what they've seen, scoring the performance or show from one to ten and then backing up their opinion. This trains them to see and think analytically.
City: What distinguishes Garth Fagan Dance from other modern dance companies? What makes it unique?
Fagan: Movement invention. On my stage you see moves you have never seen before, because I created them with my dancers. Garth Fagan Dance blends the sharpness and precision of ballet, the weight of modern dance, and all the complex rhythms of Afro-Caribbean dance. That's a rich stew. All over the world people, seem to love that variety. I also use diverse musical styles – from jazz to classical to contemporary to Afro-Caribbean. Also important is that we are people dancing as opposed to dancers portraying people. You don't see preparations for my jumps. That's one of my big philosophies – do the step, get the jump, but I don't want to see the preparation.
City: You were the sole choreographer for the company for more than 40 years. Now you have Norwood Pennewell setting pieces on the company. You have said in the past that you will never retire, but do you foresee your role in the company changing in the future?
Fagan: In the future, yes, as PJ, Natalie, and Bill take over more responsibilities. But I'm going to be choreographing on my deathbed. It has not become a burden yet. I am so proud of PJ and this last piece. It is, to my taste, his best. He's finding his own voice, coming up with fresh new movement ideas. I originally pushed him into choreography, because he was always coming up with unique movements in class.
And Natalie may do some choreographing for the company, too. In her classroom she comes up with lots of beautiful sections. And she is an extraordinary teacher. She can quickly spot what a dancer is doing right and wrong.
Bill was an extraordinary performer. Now he's brilliant at working with the kids at the school. Especially the boys.
City: In what ways does PJ's choreography differ from yours?
Fagan: His choice of music is always unique and more contemporary than what I would choose. And he has new ways of using space. In his new piece he uses Sade Bully, who is an amazing dancer, and he really pushes and stretches her.
Choreographing is so difficult and makes you so vulnerable. I'm glad to see him going about it in a truly creative manner. He's going to meet obstacles, but he'll learn how to overcome them.
City: Do you have favorites among the works you have created, or do you love them impartially, like a parent loving his children?
Fagan: I love them all, but I especially love "Two Pieces of One: Green." I love "Passion Distanced." That's what got me here. I had to put aside my passions so I could focus on my dance company. I couldn't always go running off to the scrumptious parties I was invited to; I had to go to rehearsal. That is distancing your passions. "Woza" is another work I love.
PHOTO BY MARK CHAMBERLIN
Garth Fagan.
City: Which seem to be audience favorites?
Fagan: They love "Prelude." There's no story in that piece. You get to see the new dancers. I open half my programs with that. "Oatka Trail" is another audience favorite. This year we're doing it using women instead of just men. Refreshing. Very 21st century.
City: Can you recall any extra-memorable performances?
Fagan: When we performed in Spoleto, Italy, in 1993, it was raining hard and it was an outdoor stage. The audience wouldn't leave, so we performed in the rain, which is dangerous. But it was an amazing challenge to your brain to figure out how you would land a jump, how you would adjust things. And everyone in the audience just stayed. In the pouring rain.
When we performed at Jacob's Pillow in 1974 and the critic Anna Kisselgoff gave us our first rave review – that was another memorable performance.
City: You have earned a plethora of awards. Is there one of which are you the most proud?
Fagan: I love my Bessie, because that's a dance award. The Olivier Award from London means a lot to me, too. Those are hard to come by.
City: Do you ever regret remaining in Rochester and not moving the company to New York City or another large urban center?
Fagan: No. I would have made more money and become more famous if I did, but for my creative soul, I love Rochester. The spring, for example, is incredible in Rochester. And the fall.
City: Guy Thorne, who left Garth Fagan Dance for several years to form his own company – Futurpointe – is now back with your company. Would you comment on this?
Fagan: It's the return of a son. And now he has his own baby boy. I love seeing Guy on my stage. He's a class act.
City: How are you inspired as a choreographer? Where does the movement come from? Do intellect and emotion transpose themselves kinesthetically in you?
Fagan: I see the movement in my mind. Then my dancers do the moves and show me what's in my head. I milk it out of them; I squeeze it out of them. I'm looking for something different, something new. I have to recognize it once I see it.
City: You and PJ both presented new pieces during the Rochester International Fringe Festival that will be included in your upcoming home season at Nazareth College Arts Center. What would you like readers to understand about your piece, "Dance For/With Geoffrey," which premiered at Lincoln Center Out of Doors this summer?
Fagan: I'm very proud of it because it's a tribute to a friend who was a Renaissance man, a mentor to me and a Caribbean man like myself. And he and his gorgeous, talented wife (the dancer Carmen de Lavallade) were married for 59 years. You could feel their love when you were around them. And we need to celebrate a 59-year marriage – which I do in the carnival section of my piece. That part has some very complex polyrhythms and movements.