City, over the weekend, ventured outside the Rochester limits to peruse the Wine and Chocolate Festival at the Dome Center, and Winterfest at Mendon Ponds Park.
The Wine and Chocolate Festival, which took place Saturday, brought in local wineries, such as Merritt Winery, and chocolate vendors, like Candy Jar Confection, but the festival also brought out a few clever plays on the "wine and chocolate" theme. For instance, Soap Estella created the soaps "Wine Lovers" and "Chocolate Truffle" for customers amusement.
Winterfest, on Sunday, still celebrated the season, despite the lack of snow. Children were able to make their own pine cone bird feeders, pick out fossils with the Rochester Academy of Science, and take horse drawn carriage rides. Donna German and Frida Peisley from the Rochester Weavers Guild demonstrated circular sock machines and spinning wheels. The Wild Wings cottage had volunteers onsite handling various birds of prey, so they could be seen up close.
Check below for a slideshow from the weekend's events.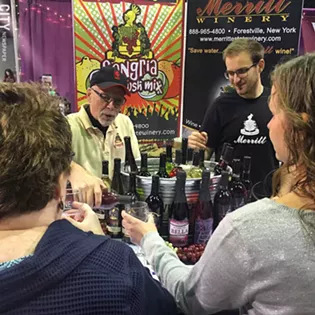 7 slides