Hollywood's night of nights has arrived. No, not the Oscars (those are happening this Sunday, for those inclined to watch); it's time for the 3rd Annual Lubies. That prestigious award ceremony in which we hand out Golden Everything Burritos to performances and films that are deserving of recognition. Little gold men are nice and all, but anyone can appreciate some tasty Mexican food.
What follows is a recap of the night's impossibly glamorous events. (Spoiler alert: Alejandro González Iñárritu gets nothing! Hahaha!) For a more traditional year-end wrap-up, you can also check out my picks for the Best Films of 2015 here. Now on with the festivities.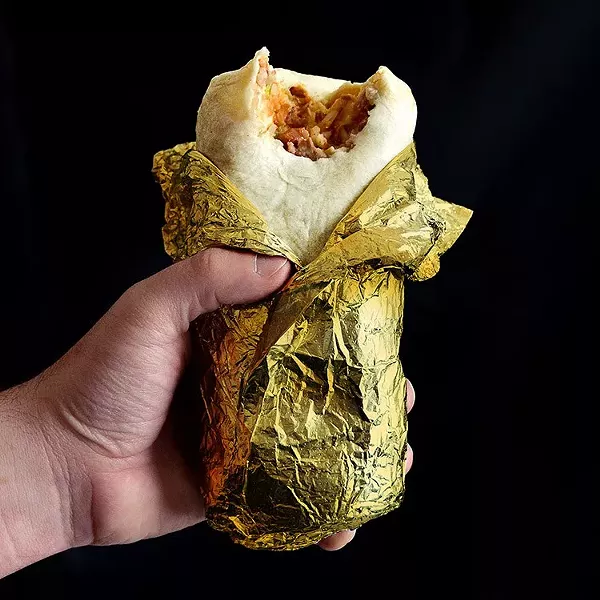 PHOTO BY MATT DETURCK
The coveted Lubies trophy, the Golden Everything Burrito.
Best Supporting Actress: Jada Pinkett Smith, "Magic Mike XXL"
I've already expressed my unadulterated love for "Magic Mike XXL" -- a joyously rowdy celebration of freedom, pleasure, and muscly male strippers in leather thongs -- but Pinkett Smith's performance deserves its own recognition. The actress plays Rome, the owner of a private club catering to the erotic needs of an exclusively black female clientele, who gets roped into playing emcee for the Kings of Tampa. It's a role that suits Pinkett perfectly: smart, commanding, and extremely sexy.
Best Supporting Actor: Richard Jenkins, "Bone Tomahawk"
S. Craig Zahler's brutal, witty western-horror-comedy mash-up -- about a group of frontiersman out to rescue their fellow townspeople who've been snatched by a tribe of primitive cannibals -- is a grisly tale, but well worth watching for anyone who can stomach it. And Richard Jenkins is the film's MVP, portraying the bumbling deputy sheriff, Chicory. With his typical skill, Jenkins turns the lovably hangdog character into the film's most unforgettable creation.
Best Actress: Laia Costa, "Victoria"
I admired the technical skill of Sebastian Schipper's "Victoria," the story of Victoria, a young Spanish woman who falls in with a group of thuggish young men and becomes involved in their scheme to rob a bank. What makes it unique is that it's told entirely in one single take. No "Birdman"-style digital trickery here, the film is actually one shot from start to finish -- almost 2 hours and 20 minutes later. But as impressive as the technique is, the story left me a little cold. Costa's performance, on the other hand, blew me away. Without benefit of an editor cutting together her strongest moments, she delivered a powerful, emotional performance, which we're allowed to watch unfold in real time. Simply astonishing.
Best Actor: Michael B. Jordan, "Creed"
Not content to make just a soulless continuation of the 40-year-old "Rocky" franchise, director Ryan Coogler turned "Creed" into one of the most skillfully crafted, crowd-pleasing films of the year, and the filmmaker once again gets great work from his "Fruitvale Station" star, Michael B. Jordan. As Adonis Creed, Jordan used his impressive physicality and oodles of charisma to turn a cocky young boxer into a hero worth rooting for.
All Your Scenes are Belong to Me: Jessica Chastain, "Crimson Peak"
Runner up: Rose Byrne, "Spy"
Chastain perfectly captured the tricky tone of Guillermo del Toro's gothic romance, "Crimson Peak," in a performance that firmly straddles the line between camp and utter sincerity. The film's production designer must have hated her when the actress started chowing down on all that gorgeous scenery.
Byrne has proved her comedic chops in films like "Bridesmaids" and "Neighbors," but with "Spy," she took it to another level. As the villainous Rayna Boyanov -- and foil to Melissa McCarthy's heroic CIA analyst -- Byrne delivers a master class in comedic timing.
PHOTO COURTESY WARNER BROS. PICTURES
Michael B. Jordan in "Creed."
Better Than It Had Any Right to Be: "Goosebumps"
I didn't have high expectations for a movie based on R.L. Stine's hugely popular series of kid-friendly spooky stories, but Rob Letterman's clever adaptation caught me off guard: a perfect introductory horror film for younger audiences, it takes its characters, and most importantly its monsters, very seriously.
This is Why We Can't Have Nice Things: "The Walk"
Over the years, there's been a lot of discussion about the massive shift in the way audiences consume films. With the rise of streaming and digital downloads, we don't have to go out to the theater to take in a movie anymore. But when a well-made film comes along that begs to be viewed on the biggest screen possible, hardly anyone bothered to see it. It's a shame, because seeing Robert Zemeckis' "The Walk" in IMAX 3D last October was an exhilarating and palm-sweating theatrical experience. If you're watching the film at home or (shudder) on a tiny mobile device, I promise you aren't seeing the same movie.
Welcome Back Award: Harrison Ford, Actor
Harrison Ford is a movie star -- no one would argue otherwise -- but it's been years since he did some honest-to-god acting in a movie, choosing instead to rely on that star persona to carry him through. But this year, it appears that Ford decided it was time to start trying again. He's quite good returning to one of his most iconic roles in "Star Wars: Episode VII - The Force Awakens." But he's even better in "The Age of Adaline" as a man bewildered to suddenly be reunited with his ageless long-lost love. It's all very silly, but Ford sells it, delivering a performance with more passion and emotion than we've seen from him in decades.
Who Knew?: John Cena, comedic genius
The professional wrestler stole scenes in not one, but two comedies this past year. First with his, um, revealing work opposite Amy Schumer in "Trainwreck," and again last December as a tough yet tender drug dealer who catches Tina Fey's eye in "Sisters." I'm kind of hoping he appears in every comedy from here on out.
Hollywood Finally Understands the Internet: "Unfriended"
In "Unfriended," a group of friends find their Skype chat session interrupted by a malicious and possibly supernatural presence demanding vengeance for their past misdeeds. The entire film unfolds on a teenage girl's laptop screen -- we see only what she sees, cycling from chat windows to email to her music library on Spotify. It's a clever concept, pulled off with ingenuity and skill by director Levan Gabriadze. Even more shocking, it's the rare film that's completely realistic about how people interact with the internet.
Where'd You Come From?: Alicia Vikander
The talented Swedish actress had a breakout year of almost unprecedented proportions in 2015, appearing in "Ex Machina," "The Danish Girl," "Testament of Youth," "Burnt," and "The Man From U.N.C.L.E" (I'll be kind and leave the long-delayed "The Seventh Son" off that list). To top it off, her incredible year is likely about to be capped with an Oscar win, so we can expect to see a whole lot more of her in the years to come.
I Can't Think of a Clever Award Title, But Cate Blanchett is a Treasure
Blanchett is an Oscar nominee this year for her impeccable performance in Todd Haynes's achingly tender romance "Carol," but the actress also deserves credit for adding shades and dimension to what should have been the very definition of a one-note character: the evil stepmother in Disney's live-action "Cinderella."
Most Spine-tingling Notes: "It Follows"
One of my favorite horror films of the year was David Robert Mitchell's unnerving, sexually-transmitted monster movie. The director deserves credit for crafting a creepy and originally scary movie, but the film's chilling mood was expertly set by the indelible retro-synth score from electronic musician Disasterpeace. Easily my most listened to soundtrack of the year.
Best Case For Casting Against Type: Jason Bateman, "The Gift"
Best known for his comedic work playing the exasperated straight man, Bateman dials into untapped wells of malicious machismo for this nasty little domestic thriller. Writer-director and star Joel Edgerton uses Bateman to expert effect, casting him as an alpha male faced with an unwanted blast from his past.
PHOTO COURTESY THE WEINSTEIN COMPANY
Don't worry about "No Escape." It's not worth it.
Eff This Movie: "No Escape"
Owen Wilson and Lake Bell star as a married American couple with two young daughters, who move to an unnamed Asian country just as a violent coup erupts, forcing the family to run for their lives. Director John Erick Dowdle might as well have written a zombie movie, for all the shading he gives the film's hordes of bloodthirsty Asians. Instead he asks the audience to root for the family of middle-class white folks as they flee the scary brown people. This movie isn't just bad, it's completely reprehensible.
The Importance of Fact-Checkers: "The Boy Next Door"
J.Lo stars in this trashy (but not trashy enough) thriller about a high school English teacher whose affair with a student turns deadly when he turns out to be a sociopath. But worse than any flat performance or awkward sex scene is the unintentionally hilarious moment when J.Lo's would-be boy toy gifts her with a first edition copy of "The Iliad." Yes, Homer's "The Iliad." A work written sometime around 760-710 B.C. And somehow that's not even the most ridiculous thing to happen in the movie.
Let's Hear It For the Bloodsucking Freaks: "What We Do in the Shadows"
We've gotten plenty of vampire movies over the years, but nothing quite like Taika Waititi's funny and oddly touching mockumentary about a group of vampire roommates sharing a New Zealand flat. Simultaneously spoofing the genre while creating a cast of characters we actually end up caring about, it was one of the best comedies of the year. I'm looking forward to the already-in-production sequel, "We're Wolves" (say it out loud).