Tenants at 447 Thurston Road, an apartment building in the 19th Ward, held a press conference Tuesday to protest the building's terrible, unaddressed conditions, and to announce a rent strike beginning in March. The speakers also praised Assemblymember Harry Bronson's introduction of a Rochester Housing Court Act into the New York State Legislature.
The City of Rochester has cited the building, owned by Peter Hungerford under 447 Thurston Road, LLC, for 38 code violations — documented violations, the tenants emphasized. During the press conference, four tenants spoke about sewage backing up in their apartments; mold; electrical problems; broken doors; a rat infestation; and needing to use their ovens to warm their apartments due to a lack of heating. Last August, the building
was in the news
for garbage piling up for weeks.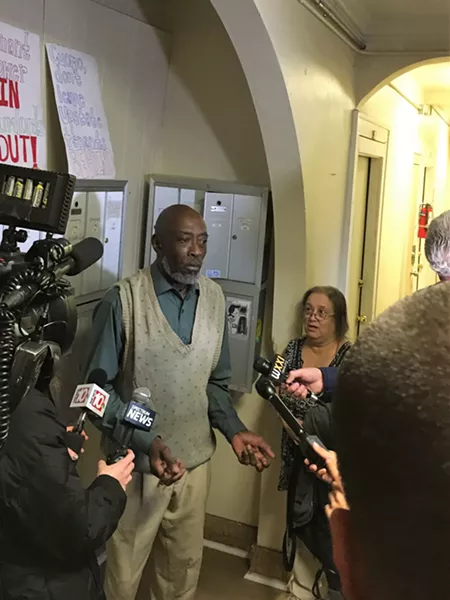 PHOTO BY JAKE CLAPP
John Lindsey, a tenant of 447 Thurston Road whose bathroom ceiling collapsed several weeks ago and hasn't been repaired, speaks to reporters at a press conference in his building.
Tenants say they have lost count of the number of times they have reported problems with no results. Part of the problem is there's one maintenance worker for multiple buildings, they say.
"You raise our rent but then you don't want to fix anything," said Mary Brown, a tenant for seven years. "We are all human beings, and we deserve to be treated right."
Beginning March 1, about a quarter of the building's tenants will start to fight back through a rent strike, until necessary repairs are made. "I will pay him when the conditions are met," Brown said. "He's not living through this. Why put us through it?"
Members of the City-Wide Tenant Union also spoke about the
Rochester Housing Court Act,
introduced into the State Assembly by Harry Bronson. The bill would establish a housing part of City Court, giving Rochester tenants the right to take their landlords to court for housing violations.
"Tenants shouldn't have to live any worse than their landlords," said Kawanais Smith, a Tenant Union member.