Many of us are looking for ways to support black-owned businesses at this time.
We'd like to direct you to
bobrochester.com
, one of our favorite resources for black-owned businesses in Rochester, as well as a recent and continuously updated spreadsheet CITY writer Leah Stacy created that lists
black-owned restaurants
with notes about which spots are currently serving (and their menus), and which spots have temporarily closed due to the pandemic.
And if you're looking for a little more information, below you'll find reviews and profiles our writers have written about some of these restaurants, cafes, and bakeries.
Note: The City of Rochester Neighborhood & Business Development (NBD) Department today announced it will offer assistance to local businesses affected by this past weekend's events. The department has been busy reaching out to ownership and management of 86 affected businesses it has identified, but local business owners can also reach out to NBD directly by calling 428-7848.


The Arnett Cafe: Warmth and Waffles

FILE PHOTO
Fried chicken and waffles from The Arnett Cafe.
"The waffles are astounding: slightly sweet and malty. The size of a dinner plate, they're light with a delicate interior, and on the outside, the waffles are golden brown with an addictive crispness that stays intact, even after being covered with butter and syrup. Usually a waffle gets soggy under toppings, or softens from its own steam; I don't know how The Arnett Café keeps them both crisp and tender.
Kim Brown, who co-owns the restaurant with her husband Norman, and Shenise Wright, says there aren't any secrets to the preparation — "Just love." (But there's got to be something more to it than that, right?)"
— Laura Rebecca Kenyon


Bobo's Chicken Shack: Soul food & a side of perseverance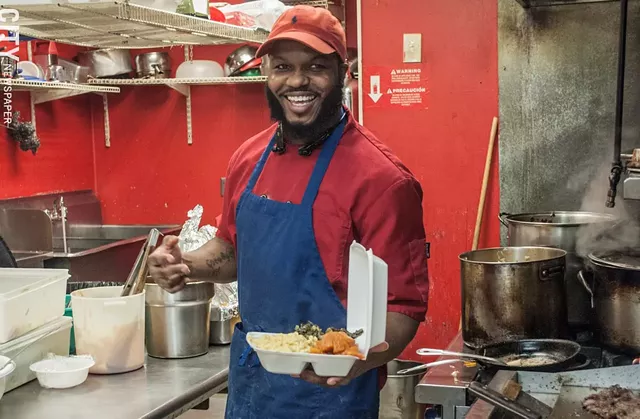 FILE PHOTO
Bobo's Chicken Shack owner Devon "Bobo" Crittenden.
"When it comes to sides, Bobo's mac and cheese has a stick-to-the-ribs satisfaction that tastes, oddly, even better the second day (portions are so big there may be leftovers). Yams are bathed in a sweet, vanilla-tinged glaze. Collard greens offer a savory refuge, with a classic, earthy bitterness from the smoke and salt of ham hocks hidden inside. Shrimp, which can be added to a combo and served over rice, are plump and snappy in texture, with a dash of Cajun flavors in the mix. Finally, included in each meal is a square of Bobo's sweet bread, a vanilla-flavored crumbling pound cake; a kiss sending the diner to that inevitable post-meal nap."
— Pete Wayner
Caribbean Heritage Restaurant: A mighty meal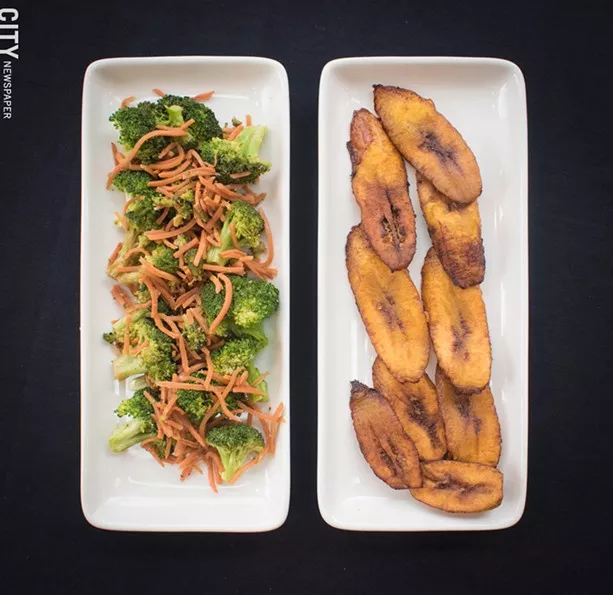 FILE PHOTO
The broccoli and carrots plate and fried plantains at Caribbean Heritage Restaurant.
"There is something to be said for a decent sized piece of cod stewed in a hearty curry sauce. The key to a good cod filet is to not overcook it. As little as a minute too long, and you wind up with rubber. But here the filet was both fluffy and flaky, and nearly melted in my mouth. The joy of eating the zucchini and squash and plantains, which had been sitting in the curry sauce while I was distracted by the cod and my own nostalgia, was a bonus.
Though I was nearly full, there was no way I was going to leave without having a slice of the black cake ($4). This is a signature rum-soaked fruit cake that Lorna makes and many love. I can see why. The cake is dense and sweet, and the rum she uses gives it a bold aftertaste. Our photographer enjoyed a juicy, tender oxtail with rice ($14), a Jamaican staple. We both left Caribbean Heritage Restaurant satisfied."
—Chris Thompson
Pan-Cart: The curry is calling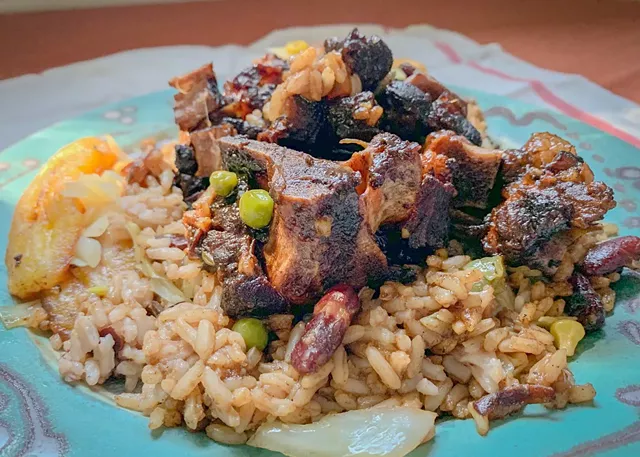 FILE PHOTO
Jerk oxtail, rice and beans, and sweet plantains at Pan-Cart on East Main Street.
"I didn't take much time determining what I wanted. That curry that I'd been smelling was calling me, but I still browsed the menu just in case something else popped out. This may be shallow of me, but I tend to judge my neighborhood take-away spot by whether they have a white board menu, which Pan-Cart has. Though they have an extensive printed menu, Stewart ensures that everything in print is also written out neatly on the board, along with any specials. The joy of this is seeing what has been scratched out due to selling out, which is a reminder that next time I'd best come early to get that higher-demand item.
Fortunately, the meal I wanted was still available: a medium-sized box of curry chicken with rice and beans, steamed cabbage, plantains, and a dumpling on the side ($10). How he packed so much food into a medium box is beyond me, but I am not complaining."
—Chris Thompson
Roc City Ramen
The ramen at Roc City is still as abundant as it was at Alexander Street, with noodles cooked just right in broths that complement the respective dishes' main protein. The Shio ($11.25) is pork medallions and seaweed accompanied by fried onions, sesame seeds, and radishes, all swimming in a small sea of clear chicken broth. Noodles flow in abundance in the bottom of the bowl like a bed of savory kelp on an ocean floor.
For the meat-free, the Vegan Miso ($10.25) is a cloudy, creamy broth that masks the berg of noodles, corn, bamboo shoots, sprouts, and mushrooms. And there are three other ramen choices and a menu that offers gyozas (fried dumplings), curries, and rice dishes, so there's a food scenario for anyone's palate. Owner Michael Kiyoshi Goode has always been an enthusiastic chef, and he has maintained that positive energy at the Exchange location, where he greets everyone with an ear-to-ear smile.
—Chris Thompson


Somali African Cuisine: Sharing a taste of home

"The menu includes tender, curried goat meat or curried chicken with rice; hummus; suqaar (finely diced, sautéed meat) with a sourdough anjero pancake; sambusas (crispy, flaky triangle pastries stuffed with lamb and spices); and American dishes including chicken wings, a fried fish sandwich, and chicken and Philly steak wraps.
"We also have an Italian dish, because Somalia was colonized by the Italians," Urur says. "Most of our food has some Italian influence, like the spaghetti, which our people like a lot," he says with a laugh.
And there it is, on the wall-mounted menu behind the counter: a plate of thick spaghetti noodles and red sauce."
—Rebecca Rafferty
The Sweet Potato Pie Factory & More: Roc's oldest soul food joint specializes in sweet potato pies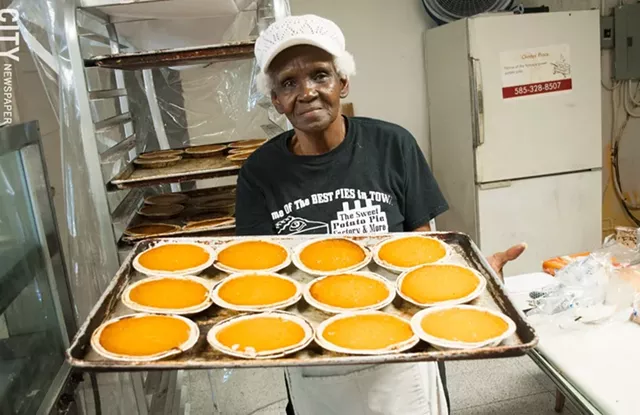 FILE PHOTO
Alberta Jacque presents a tray of fresh pies at Sweet Potato Pie Factory & More.
"The crust on the pies is a sweet, flaky wafer. It gives upon contact with your teeth, letting loose the sweet potato filling, often warm from the oven. The flavor, at first, is reminiscent of pumpkin pie, full of autumnal spice, but then the higher, sweeter notes of the potatoes come out.
For visitors to the restaurant, collard greens and cornbread dressing are unmissable. Although greens are usually cooked with ham hocks, the restaurant serves no pork products — a custom held over from the House of God, which Lang says forbade the consumption of pork. In this case, the ham isn't missed. Briny, deep rolling earth flavors smack with salt on every forkful."
— Pete Wayner
Unkl Moe's BBQ & Catering: Good-for-the-soul food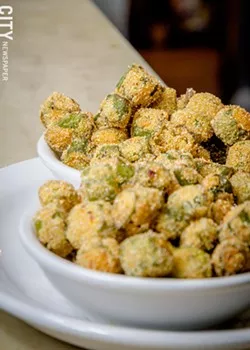 FILE PHOTO
Fried okra from Unkl Moe's.
"The candied yams are sweet enough to be a dessert in and of themselves. With brown sugar, butter, vanilla, and nutmeg — at least, that's what I think; Smith is coy on the details — they're a taste of Thanksgiving available all year. The fried okra, sliced into bite-sized chunks, has a lightly salted, cornmeal-coated crunch. Hot from the kitchen, it's all too easy to pop them into your mouth so quickly that it's a surprise when the bowl comes up empty.
The macaroni salad is made with cavatappi (corkscrew), a toothy, mouth-filling pasta, giving the mayo dressing and flavors of celery, pepper, and onion lots of room and ridges on which to cling. Best of all are the sweet-potato fries. Crispy on the outside with a pillowy interior, these plank-shaped fries are sprinkled with touches of sugar and cinnamon. In some spots, the heat from the fries melts and caramelizes the sugar, leaving little pockets of glaze; they're phenomenal."
— Laura Rebecca Kenyon
Zemeta Ethiopian Restaurant: Feast your eyes
&
Sharing a taste of home

FILE PHOTO
A vegetarian combination platter from Zemeta Ethiopian Restaurant.
"Like other Ethiopian eateries, Zemeta offers diners the options to order a la carte or sample different dishes through a variety of combination platters. There are several meat-based combos featuring beef, chicken, and lamb, but at $8.95, the vegetarian version is a steal, consisting of an array of exquisitely seasoned lentils, greens, and other vegetables, all artfully arranged atop the traditional teff flatbread known as injera, which diners use to scoop up the food. (Besides being totally nutritious, teff flour is gluten-free.) Zemeta also serves a popular vegetarian buffet on Fridays and Saturdays, and coffee lovers might like taking the high-octane Ethio coffee ($2.25) out for a spin."
— Dayna Papaleo
Zoc's Gourmet Burgers & Shakes: Zoc's brings comfort food to Chili Ave

I do not recall having a turkey burger that was so juicy and full of flavor. It had a hint of Old Bay in it that triggered fond memories of my hometown of Baltimore, and lightly sautéed onions, which created a mild flavor that complemented the peppery turkey taste. There was also a house-made sweet-spicy sauce usually used for Zoc's chicken Philly sandwich that I dabbed on the sandwich. It's hard to describe the sauce flavor without again getting nostalgic about Baltimore and DC, because it brought me back to when I'd take an hour trip to NW DC for the sole purpose of getting chicken boxes smothered in mambo sauce.
—Chris Thompson
Feedback on this round-up can be directed to CITY's arts & entertainment editor, Rebecca Rafferty, at becca@rochester-citynews.com.